Are you on the hunt for the best wireless router for Comcast Xfinity? Whether you are on high-speed internet plans like Gigabit, Gigabit Pro, or medium speed plans like Extreme Pro+, Blast Pro+, Performance Pro+, or even the slowest Performance starter plan, the Xfinity compatible routers in this list will work without any trouble.
Service providers may insist you opt for equipment on rental as that helps them earn money. However, buying your own router for Xfinity is better than renting because, in less than 2 years, the equipment would've paid for itself. Besides, the routers or modem/router gateways offered in the rental won't be suitable for specific purposes or use-cases.
Also, if you think your Xfinity connection is not giving you the speeds you pay for, this is possible because of a dated networking device. No matter how fast a connection your ISP gives you, the speed will ultimately be determined by the router and the modem. So, ensure you stay away from bad equipment and invest in a good Wi-Fi router compatible with Xfinity.
8 Best Routers for Xfinity in 2023
I have tested about 31 routing devices from different brands, including Netgear, Asus, TP-Link, Linksys, etc. I've tested them on different Xfinity internet packages for consistency, speed, and ease of installation. Out of 31 options, I finalised only 8 and reviewed them below.
The list starts with premium options with top-of-the-line specs, followed by some capable mid-range offerings and the budget picks at the end. So, what are you waiting for? Find out routers compatible with Xfinity and place your order today.
1. Best Overall:

TP-Link Archer AX90
The AX90 brings a tri-band operation, a powerful processor, improved memory, and a vast improvement in speed capacity over its predecessor. A multi-gig WAN port and an additional bandwidth with the latest wireless standard make TP-Link Archer AX90 my top recommendation.
Why is it suited for Xfinity?
The AX90 supports a top speed of 574 Mbps on 2.4GHz with legacy devices and reaches high speeds of 1201 & 4804 Mbps on its dual 5GHz bands. With a 1000 Mbps internet plan, it achieved an impressive 900Mbps download speeds & 500Mbps upload speeds on 5GHz and 300 Mbps on 2.4GHz.
This makes it the fastest router for Xfinity for the Gigabit Pro plan. With advanced features like MU-MIMO, OFDMA, QoS, and support of additional channels, you'll be able to support over 30 devices within your home and office. Powerful antennas ensure your 2000 sq ft home is dead zone-free.
Hardware & Performance
The 1.5GHz quad-core processor brings a wealth of processing capacity combined with the memory duo of 512MB RAM and 128MB flash storage. With 8 streams to operate on, households will find the device easing through activities like online gaming and 4K/8K media streaming.
Its support for an additional 160MHz & DFS channels will come in handy to access higher speeds and avoid network congestion.
Design & Ports
Weighing over 2 pounds, the chassis comes in a shiny striped design. You'll find 8 external beamforming antennas spread across the unit. Leave your apprehensions about having dead zones outside your home.
TP-Link puts a 2.5Gig WAN port, 1 Gig WAN port, 3 Gig LAN ports, and two USB ports on its rear. The bulky-looking unit measures 12.2 x 8.1 x 6.8 inches in dimensions.
Setup & Security
The intuitive design of the Tether application keeps your initial setup and home network management quick and easy. Switch to the web interface for more comprehensive customization, including NAT port settings, maintaining device blacklist, etc. For automated homes, the Homeshield Pro is a blessing.
The latest WPA 3 encryption standards (learn how to configure a router to use WPA 3), extensive parental controls, firewalls, and inbuilt VPN support, will allow you to keep your home network safe from cyber threats and unauthorized usage.
Conclusion
If you live in a smart home with plenty of devices, you could certainly exploit the additional bandwidth offered by the tri-band support. A solid hardware unit, additional streams, and improved bandwidth with various features make it the best router for Xfinity Gigabit over its Netgear counterpart.
Wi-Fi 6 standard

Tri-band operation

2.5G WAN port

MU-MIMO, Beamforming

HomeShield Pro security
2. Best Runner Up:

Netgear Nighthawk RAX45
Upgrading the processing unit makes RAX45 better equipped for high-speed plans than its predecessor RAX40. At the helm of the latest wireless standard (Wi-Fi 6) and secure Netgear ecosystem puts Nighthawk RAX45 closer to the top of my list.
Why is it suited for Xfinity?
The aggregate speed of 4.3Gbps converts to top speeds of 480Mbps on 2.4GHz and 3840Mbps on 5GHz frequency. Results were impressive with a 940Mbps plan, with reliable download speeds over 800Mbps on 5GHz while within the vicinity of the routing device. The legacy devices cranked consistently around 300Mbps of download speeds.
This performance makes it a perfect fit for the Gigabit Plan of Xfinity. Advanced technology like MU-MIMO and OFDMA, in tandem with QoS Prioritization, allows you to use up to 20 devices without a drop in performance. If you're searching for a Wi-Fi router for a 2500 sq ft house, the RAX45 will not disappoint.
Hardware & Performance
The strength of a triple-core processor clocking at 1.5GHz gives the device the ability to cruise through multiple heavy streaming units, including TVs, tablets and mobile gadgets. If you want to set up remote working solutions for your home office, this model will handle it with ease.
The combination of 512MB RAM and 256MB storage memory makes this an efficient multitasker. Netgear brings features like an additional 160MHz and DFS channels that help you navigate network congested environments.
Design & Ports
The matte-black chassis comes in an angled design with a heat-regulating rear half and vertically aligned LED lights on the front. Netgear accommodates 4 beamforming antennas within a lightweight body of 1.25 pounds and a sleek measuring 11.6 x 8.11 x 2.25-inches.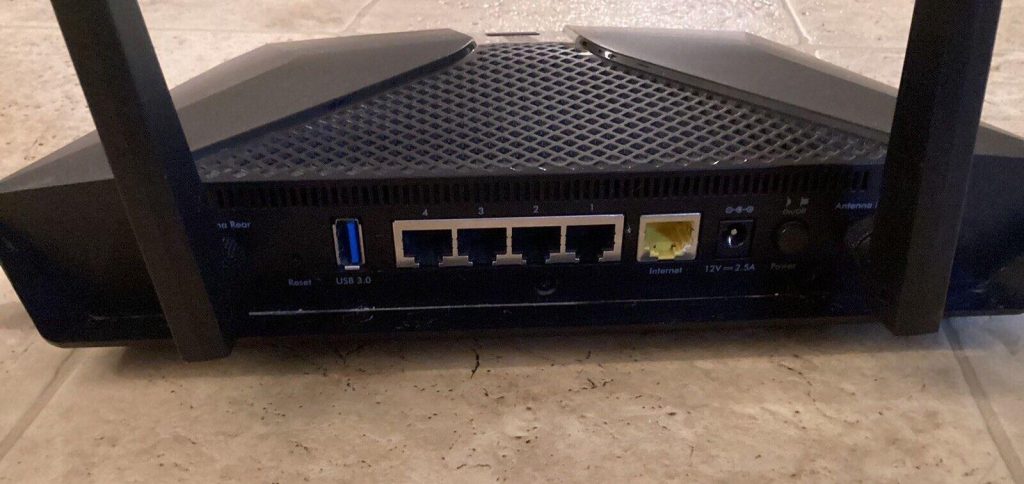 You'll find adequate wired connectivity for TV gaming consoles, and PC's as the RAX45 comes with 4Gig Ethernet ports and a 1Gig WAN port. The high-speed USB 3.0 port can come in handy for shared printers or hard drives.
Setup & Security
Use the Nighthawk mobile application or Netgear web portal for installations. Monitor and control your network through the app even when you're away from home. Netgear Armor allays your fear of internet threats with Netgear Armor.
The frequent update of the Netgear ecosystem, parental controls, inbuilt VPN, double firewalls, and WPA encryption lay a firm foundation for keeping your internet security.
Conclusion
Do you live in a 2 story house or a congested apartment? Is internet security paramount for you? This is undoubtedly the best Netgear router for Xfinity internet. Netgear finds the right combination of features in a robust hardware unit that keeps it above the Archer AX55.
Wi-Fi 6 standard

160MHz & DFS Channels

MU-MIMO &

OFDMA

Great coverage
3. Best Value for Money:

TP-Link Archer AX55
Improvements to the hardware and memory to the previous edition of Archer make it one of the best Wi-Fi routers under $150. Aggressive pricing, latest features, decent coverage, and easy management allow TP-Link Archer AX55 to punch over its weight, and warrant inclusion as a top Xfinity recommended router.
Why is it suited for Xfinity?
TP-Link claims individual speeds of 574 Mbps on 2.4GHz and 2402 Mbps on 5GHz. On testing with a 940Mbps internet, the device reached a download speed of 800Mbps in line of sight and approx. 200 Mbps at the farther end of the house. The Gigabit plan of Xfinity will power all your devices with high-speed internet.
3Gbps of aggregate speeds turns out to be adequate bandwidth for over 25 devices. If you're in a medium-sized household, the range of 2500 sq ft will come in handy for you.
Hardware & Performance
The 1GHz dual-core processor in a Qualcomm chipset delivers consistent performance over the AX50. While the memory duo is kept at 512MB RAM and 128MB Storage, their synergy is imperative to its performance‌.
Operate gaming consoles, Smart TVs PC's and mobile gadgets with ease. Ensure to find the optimal internet load to get the best out of your internet. You'll be able to ease through business meetings, virtual conferences, media streaming, and audio and video calling at the same time.
Design & Ports
TP-Link sticks to the beveled ventilated chassis with a shiny black tone. The sleek demeanor finds room for 4 external beamforming antennas at its rear.
Along with 4Gig Ethernet ports, 1Gig WAN port, and 1 USB3.0 port. The intelligent design packs everything within 10.2 x 5.3 x 1.5-inches in 2.1 pounds.
Setup & Security
Tether application is a testament to TP-Link's modern design. Use the Tether application on your mobile or the web portal to set up your network. The mobile app brings a lot of features along with creating a guest network, remote monitoring, and control.
The device also comes with a more sophisticated and paid Homeshield protection that keeps your network safe from intrusions & DDoS attacks. The presence of firewalls, parental & access controls with inbuilt VPN support enhances protection and control to keep your network safe for children and adults alike.
Conclusion
The AX55 is a great value-for-money offering that brings excellent features which are very hard to resist. If you're looking for value for money without compromising on features, there is no better choice than AX-55. Support for the latest wireless standards puts it above the Asus device.
MU-MIMO

160MHz Channels

Beamforming

DFS Certification

Wi-Fi 6
Subscription-based advanced protection
4. Best for Gaming:

ASUS GT-AC2900
A downsized version of its more powerful beast of a gaming-focused router in GT-AC5300, the ASUS GT-AC2900 comes with a subdued hardware unit to accommodate its price range. The gaming acceleration boost and a dedicated gaming port put this model in the top half of the list.
Why is it suited for Xfinity?
Asus brings theoretical top speeds of 750 Mbps on 2.4GHz and 2167 Mbps on 5GHz frequency. With a 1Gbps internet connection, the device delivered 700Mbps download speeds and 450Mbps upload speeds in 5GHz. The performance levels of the legacy devices stayed in the range of 150-200 Mbps.
If you combine the features like MU-MIMO and adaptive QoS with Xfinity Extreme Pro internet plans, you'll have an adequate bandwidth for up to 30 devices. The coverage of 2500 sq ft makes it suitable for medium-large homes.
Hardware & Performance
A 1.8GHz dual-core processor in a Broadcomm Chipset is tailor-made for high-speed internet. The synergy of 256MB flash storage and 512MB RAM makes ASUS GT-AC2900 capable of handling data-intensive high-quality media streaming & online gaming. Triple-level gaming acceleration reduces latency and ping for an improved gaming experience.
Design & Ports
Multiple shades of black and accents of red align with its gaming nature. At 1.72 pounds and vertically standing at 8.75 x 6.65 x 4.37 inches, the device has 3 beamforming antennas extending on its top.
Two USB ports, 3Gig Ethernet ports with Link aggregation, and a gaming port leave you with adequate high-speed wired connections for TVs, gaming consoles, and work PCs.
Setup & Security
You'll be able to set up this device within minutes via the web interface. The combination of the ASUS router APP and the web interface offers extensive control over the network management. You can create guest networks, configure parental controls, access filters, VPN, and access detailed traffic analysis reports via the web interface.
If you want to avoid any subscription fees for internet protection, the AiProtection Pro offers lifetime internet security along with WPA 2 encryption.
Conclusion
Are you a gaming enthusiast looking for the best budget gaming router? Asus finds the right balance of features at a very competitive price. The overall capacity and pricing put it above the Netgear mesh system.
Gaming acceleration Boost

Dedicated gaming port

Link Aggregation

Lifetime internet security

MU-MIMO and Beamforming
5. Best Mesh Wi-Fi System for Xfinity:

Netgear Orbi Pro
This affordable version of SXK80 comes with plenty of ports to fortify your facility with wired high-speed internet. Its price point and wired connectivity make it more affordable with a slight compromise incapacity, which makes Netgear Orbi Pro (SXK30) a worthy inclusion as the best mesh Wi-Fi system for Xfinity.
Why is it suited for Xfinity?
The individual top speeds of 600Mbps on 2.4GHz and 1200Mbps on 5GHz will be a handful when you effectively use the wired backhaul the orbi pro allows. On a complete wireless mode and a sub-gigabit plan, the mesh system delivered download speeds up to 600Mbps on 5GHz. On 2.4GJz, the speeds were limited to 210Mbps at most.
Pair this device with a Gigabit plan from Xfinity and get the best out of the latest wireless standards. It supports automated homes and small business centers measuring up to 4000 sqft and handles up to 40 devices with ease. Mu-MIMO and OFDMA are critical to improving the data communication back and forth from the devices.
Hardware & Performance
This Xfinity supported mesh system comes with a powerful quad-core processor setup. The duo of 512MB operating memory and 512MB flash storage leaves your capacity to cope with the demands of multiple connections.
The latest standards and high-speed internet will translate to data-intensive activities on multiple devices. 4K Video streaming, online mobile gaming, video calling, voice calls, etc., with seamless connectivity, makes this an excellent piece of equipment.
Design & Ports
The white rectangular units each house 2 internal beamforming high-performance antennas. Simple aesthetics keep the device at 5.8 x 2.7 x 7.4 inches in dimensions and weighs 1.06 pounds, making it blend into any setting.
You have a total of 7 Gig Ethernet ports and 1 WAN port, imperative for its wired backhaul.
Setup & Security
Netgear Insight App offers you an easy installation. The web-based portal for the Orbi Pro is also a breeze. The cloud-based local and remote management solution allows you to create 4 SSIDs, guest networks, and control over the network. Netgear offers business-grade security protection with access control.
Conclusion
Do you run a small lodging-based business? If you're looking to future-proof your business with one of the top-rated Wi-Fi 6 Mesh systems, Orbi Pro gives you an excellent option with the requisite features and flexibility. Limited throughput capacity pegs it down below the Asus counterpart.
Wi-Fi 6 standard

Mesh Wi-Fi

WPA3 encryption

IoT protection

Netgear Insight
6. Best Modem/Router Combo for Xfinity:

Arris G34
This Modem Router combo brings the latest wireless standards with improved throughput, backed up by a solid hardware unit. The memory duo gives tremendous improvement to the performance of the gateways preceded by this version. The advantage of the Surfboard central App and compatibility with Gigabit plans make Arris Surfboard G34 a great choice.
Why is it suited for Xfinity?
Impressive top speeds of 600Mbps on 2.4GHz and 2400 Mbps on 5GHz will come in handy for the data-intensive tasks in your household. The 1Gig plan returned up to 860 Mbps consistently on 5GHz and 300Mbps of download speed on 2.4GHz at shorter distances.
The latest wireless standards, and advanced features like MU-MIMO, will allow you to get the best out of a Gigabit connection from Xfinity. Get coverage of over 3000 sq ft, a perfect routing device for a larger home with over 25 devices sharing the connection.
Hardware & Performance
The Intel Puma-based dual-core processor clocks at 2.5GHz. The 1GB RAM and 512MB storage in this router-modem combo allows you to stream multiple instances of 4K videos, breeze through multiplayer gaming, and support HD video calling, along with other mobile gadget activities of surfing and data transfers.
The latest DOCSIS 3.1 technology comes with 32 downstream channels and 8 upstream channels, allowing congestion-free data transfers. In tandem with additional OFDM channels, the modem is built to support 10Gig connections.
Design & Ports
The rectangular black unit comes with ventilated sides and has a sleek structure, which fits easily into any household. It has powerful internal beamforming antennas that support up to 7 streams of communication.
At 1.9 pounds, the unit packs a modem-combo unit within 9.33 x 2.87 x 8 inches. Arris places 4Gig Ethernet ports on the rear side of the gateway.
Setup & Security
The SURFboard central App and Web interface remain the easy mode of installation and management. Both modalities allow easy management. Setting up parental controls, access controls, and guest networks is as simple as it gets with the mobile application. Its compatibility with Alexa allows it to be used with voice assistants.
Conclusion
If you are looking to avoid rentals for your modem and looking forward to futureproofing your home for the latest wireless standards, Arris G34 has amazing capabilities for a combo device. The price point puts it below the Orbi mesh system.
Wi-Fi 6 standard

DOCSIS 3.1 technology

OFDMA

Alexa compatible

Surface central App
7. Best for Small Businesses:

Linksys EA8100
The improved throughput capacity gives this Linksys contender the upper hand over its preceding version, EA7500. Wired connectivity and competitive pricing make Linksys EA8100 valuable addition to my list of recommended routers for Xfinity.
Why is it suited for Xfinity?
The theoretical speeds of 800 Mbps on the 2.4GHz and 1733 Mbps on the 5GHz are impressive at the price range. Test with a 600Mbps connection found the EA8100 delivering consistently over 425Mbps on its 5GHz and over 200Mbps download speeds on 2.4GHz.
Along with the performance pro package, EA8100 is one of the best routers to use with Xfinity. Combining the aggregate speeds of 2.6 Gbps with features like MU-MIMO and QoS, you'll have sufficient capacity for 15 devices in your household. Small houses would find their match in the coverage capacity of 1800 Sq ft.
Hardware & Performance
While not a performance beast, the 880MHz dual-core processor, when put together with a 256MB RAM and 128MB storage, works well for a balanced internet load. You can find a balance by optimizing your usage with one heavy streaming device and a bunch of mobile gadgets.
As one of the best Xfinity routers, the Linksys device will cruise through activities like video/audio calling, faster file downloads, mobile and smart TV streaming, etc. The support of DFS channels will help you outmaneuver congested homes.
Design & Ports
Linksys sticks to its classic black chassis in a high heat regulated setup. At 1.23 pounds, the device leaves a larger footprint at 10.12 x 7.24 x 2.2-inches. With 4 external antennas reinforced with beamforming, you'll not find dead zones in your small home.
Find wired avenues for all the essential devices at your home. Credit to 4Gig LAN Ports, 1Gig WAN port, 1 USB 3.0 port, and 1 USB 2.0 port are put together on its rear end.
Setup & Security
Both the web-based setup and Linksys Wi-Fi smart make the initial setup a breeze and allow you to complete it within 5 minutes. Prioritize your devices, assign parental controls, create a guest network, set up passwords and take control of your home network and protect it from any unauthorized usage.
Conclusion
If you're looking for a budget alternative for a small office home office setup, the USB ports will come in handy to connect printers and shared hard drives to the network. Higher aggregate throughput with an improved RAM gives the EA8100 a slight edge over the ASUS counterpart as the best budget router for Xfinity.
DFS Channels

MU-MIMO

Beamforming

Parental control

Aggressive price
8. Cheapest Option:

ASUS RT-AC67P
The improved capacity of ASUS RT-AC67P results from the upgraded processor over its preceding version. Aggressive pricing without compromising on the essential features puts ASUS RT-AC67P as a good router for Xfinity on a budget.
Why is it suited for Xfinity?
The device can handle individual band speeds of 600Mbps on 2.4GHz and 1300Mbps on 5GHz. The sustained download speed of 520Mbps on 5GHZ was impressive. On 2.4GHz, both the download and upload speeds fluctuate around 180-200 Mbps.
Couple the speed capacity with a 600Mbps Performance Pro plan from Xfinity, and you'll be able to support up to 30 devices spread across 3000 sq ft. Medium to large households and people living in congested apartments can go for the RT-AC67P.
Hardware & Performance
The 1.2GHz dual-core processor translates into a higher capacity for legacy devices. Stream videos on your TV, play mobile games like PUBG and manage your productivity with a work PC with ease at the helm of a capable processing unit.
128MB RAM and 128MB flash storage memory duo demands a balanced workload for optimal performance.
Design & Ports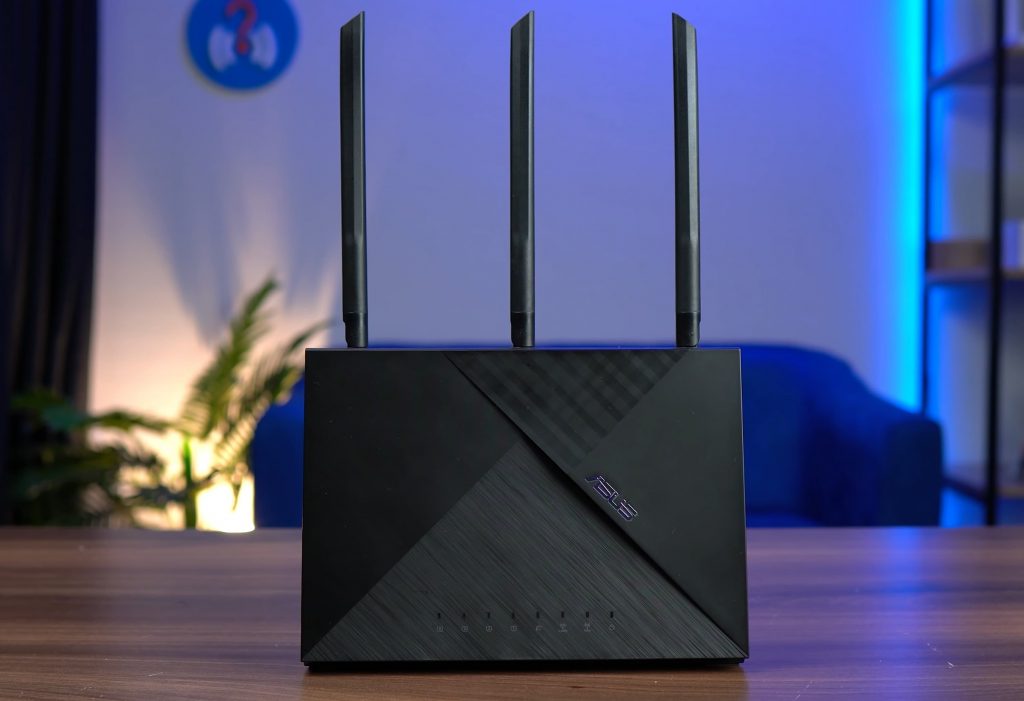 The 3 external beamforming antennas tower on top of the grey chassis. A lightweight device weighing a little over a pound measures 8.66 x 6.3 x 3.43 inches. A beveled design in a multi-shaded design with LED lights aligned at the front leaves a simple yet modern feel.
The 4 Gig Ethernet ports, 1Gig WAN port & a USB 3.0 port, can take care of wired connectivity requirements.
Setup & Security
You can choose between the Asus Router App or the web interface to complete your setup. The parental controls, WPA2 encryption, and inbuilt firewalls keep the internet safe for the kids.
Conclusion
If you are looking for a wallet-friendly option for your large home, there is hardly a reason to look beyond Asus RT-AC67P. The bigger operating memory of the Linksys EA8100 keeps the Asus RT-AC67P at the end of the list.
Budget-Friendly

MU-MIMO

Beamforming

Parental controls
Buying Guide to Choose the Best Router for Comcast
The guide lets you focus on the important features and makes your decision process easier to select the best router to use with Xfinity.
Understand User Requirements
The major influence on the decision to pick a Wi-Fi router for your Xfinity internet has to be driven by user preferences and requirements. Having a clear understanding of requirements in terms of features, coverage, and capacity helps you find a suitable routing device.
Check Compatibility with Xfinity
While most Wi-Fi-5 and Wi-Fi 6 supported routers will be compatible with Xfinity internet, it is critical to find the right combination. When you get a clear picture of your requirements, choose the Xfinity plan based on your usage.
The nature of usage determines the internet load. Select a routing device capable of handling the load you're going to put through. Go through the rest of the buying guide to make a logical assessment.
Wi-Fi Standard & Speeds
When you're looking for the best Wi-Fi routers compatible with Xfinity, Wi-Fi standards play an essential role. Go for Wi-Fi-6 routers if you're looking to future-proof your home. Otherwise, settle for Wi-Fi 5 routers operating simultaneously in dual/tri-band.
Emphasize both the aggregated and individual speeds. Aggregate speeds determine the overall capacity of the device. If you have more than 15 devices in your household, go for multi-gigabit aggregate speeds. Having features like MU-MIMO and OFDMA helps minimise the lag in communication between the routing device and devices.
Coverage & Devices Support
You might have a high-speed Xfinity internet package, and it would still lack coverage in certain nooks and corners of the house, creating dead zones. If you're in a small household, coverage of 1500 sq ft would be sufficient. As the size of your home increases, look for wireless routers with coverage up to 3000 sq ft.
The hardware unit decides the overall performance while handling multiple devices. Count on your mobile gadgets, tablets, laptops, TVs, and PCs to get a clear picture of the processing load. Go for multi-core processors and higher memory if you have over 20 devices in your household.
Ports & Connectivity options
If you are looking to use the speeds and find routers that work best with Xfinity internet, you should look to use stable high-wired connections. Not only that will allow you more capacity for wireless sharing, there will be a minimal loss of speed. Connect your TV, gaming console, and desktops via the Ethernet ports.
Do you want to share a printer within the household? The USB ports will come in handy. Look for Wi-Fi routers with USB 3.0 ports that support faster transfer speeds. That translates to quicker data sharing within the network from a hard drive.
Installation & Management
You'll most likely have two ways to install an Xfinity dual-band/tri-band option. Choose between mobile app-based or web interface installation. If you prefer to customize and play around with the settings, go for Web interface-based management. Asus and TP-Link web interfaces are amongst the best in the market.
Frequently Asked Questions
Can I use my own router with Xfinity?
Yes, you can use your own routing device for Comcast Xfinity internet plans. It just needs to be compatible with the ISP and should support the internet package speeds you've opted for. You can check whether or not a device is compatible with Comcast by going on this page: mydeviceinfo.xfinity.com.
What routers are compatible with Xfinity?
Many routers are compatible with Xfinity, but not all would perform as intended. That's why I tested 31 devices, out of which I have finalized 8 models that you shall consider investing in.
Which is the best Netgear router to use with Xfinity?
There are quite a few Netgear routers that work with Xfinity. In my thorough testing, I found that the Netgear Nighthawk RAX45 is the overall best performer. It has the latest Wi-Fi standards, excellent range, and powerful hardware.
Verdict
Whether you are getting a new subscription from Xfinity or are an old customer, you will not regret buying any of these devices. If you're still not sure which one should you be buying, let me quickly help you make a perfect buying decision:
If budget allows, you should opt for the

TP-Link Archer AX90

. It is the best Wi-Fi router for Xfinity Gigabit plans.
If you're in search of a value for money device to handle your home network or the office, nothing can beat the

TP-Link Archer AX55

.
If you prefer a modem router combo over a standalone router, the

Arris Surfboard G34

is a great 2-in-1 option for you.
Lastly, if you are low on money and need a reliable option that lasts long and provides essential features at an affordable price, I'd recommend buying the

ASUS RT-AC67P

.
The only way to get the most out of your internet connection is to get the best routing device compatible with your ISP, i.e., Comcast Xfinity. The options reviewed above are indeed top of the line, and each of them works seamlessly with Comcast.
For Morton, reviewing a router is just like spending another day at the office. As BCCA's senior copywriter, Morton believes is explaining every concept concerning routers, networking technologies, and additional routing specs. Also, Morton is our go-to man if we are looking to get the ISP-dependent internet plans tested across devices.