Are the signals of your Comcast gateway falling short? Does the Xfinity Pod seem overkill, while also being expensive? Are you looking for Wi-Fi extenders that work with Xfinity? Worried about the plan compatibility, connectivity options, and the ease of remote monitoring? You will find all of these addressed here.
A lot of things become easier if the Wi-Fi extender can support the internet speed. Having advanced features like MU-MIMO, Beamforming would be a valuable addition to households with plenty of devices. Add dedicated backhauls and easy setup to the list. You might have found the perfect extender for your household already.
Factoring the requisites & preferences for different households, I narrowed down the list from a huge list of Wi-Fi extenders compatible with Xfinity. The list lays its emphasis on devices with essential features like MU-MIMO, Beamforming, & security supported by a capable hardware unit. Read further to find our top recommendations & suggestions.
7 Best WiFi Extenders For Xfinity in 2023
Multiple selection criteria and the abundance of extenders from the top players Linksys, TP-Link, Netgear, and ASUS complicate the entire selection process. From a list of over 25 Wi-Fi Extenders, I have narrowed the top 7 Xfinity Wi-Fi boosters, ranked based on fulfilling preferences in terms of price, requirements, and suitability.
The list starts with the extenders with advanced features. I have later focused on the mid-tier extenders hitting the sweet spot with a balance between features, utility, and cost. If you are looking for budget recommendations, jump to the end of the article.
1. Best Overall:

TP-Link RE650
TP-Link marks an improvement over its previous model through upgrades in the speed capacity and an improved processing unit. The range, connectivity options, and the internet throughput along with the advanced features, keep the TP-Link RE650 my top pick that fits into any medium-large households or small commercial facilities.
Why is it suitable for Comcast Xfinity?
RE650 comes with a consolidated speed of 2600 Mbps supporting dual-band operations. The top speeds of 800 Mbps in 2.4GHz and 1733 Mbps in 5GHz, work well with the high-speed plans of Xfinity. The throughput capacity can support up to 30 devices and extend signals up to 2000 sq ft.
Design & Connectivity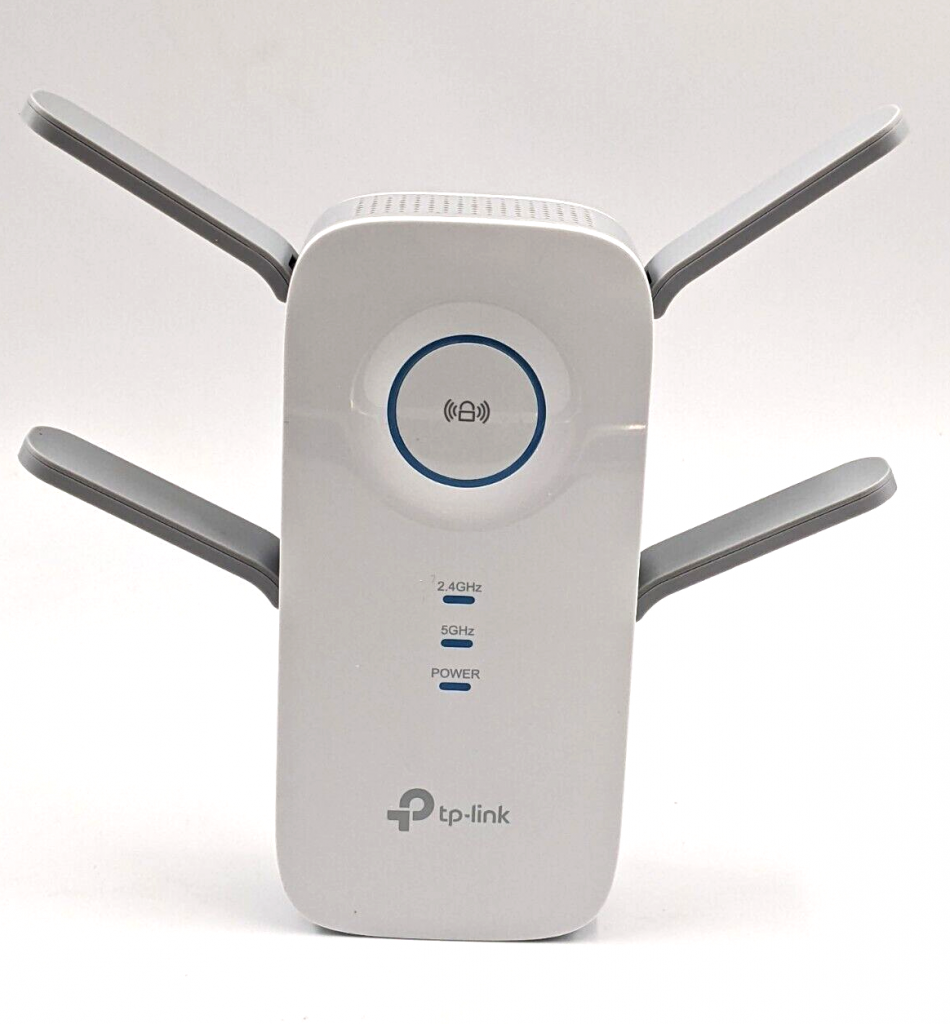 The 4 flexible, external antennas ensure effective signal delivery with Beamforming. At 1 pound, the plug-in design comes in a compact white chassis and Blue colored indicators. The device measures 6.4 x 3.4 x 1.6 inches in dimensions. TP-Link Extender comes with a Gigabit port.
Setup & Other Features
TP-Link's mobile app gives you access to remote monitoring and keeps the network management simple. The extender can act both as an access point and as an extender, offering you more flexibility. You can switch between multiple modes and control your capacity with parental controls in the comfort of your mobile app.
Don't worry about multiple devices creating a lag in communication. The extender comes in with MU-MIMO that transmits data to devices concurrently. The access to filters, WPA2 security standards, and the efficient reporting system will make the job easier for you.
Conclusion
TP-Link RE650 matches its price with a plethora of features at the helm of a dual-core processing unit. Its high-speed throughput for legacy devices and the comfort of mobile App qualify it as the best Wi-Fi extender for Xfinity over its Linksys counterpart.
Dual-core processing unit

MU-MIMO

Beamforming Antennas

Alexa compatibility

Ethernet Port
2. Best Runner Up:

Linksys RE7000
Linksys compromised on the direct audio streaming ability of its predecessor but adds on the latest features to the extender at a competitive price point. If you want more control over the bandwidth with QoS and access controls along with advanced features, the Linksys RE7000 offers the bang for the buck.
Why is it suitable for Comcast Xfinity?
Stop worrying about its compatibility and capacity to handle the speeds of Comcast plans. The Linksys extender can support individual speeds of 300 Mbps in 2.4GHz and 1733 Mbps in 5GHz and support up to 25 devices. Does your home have an enormous yard that needs to be covered? The 2500 Sq Ft coverage of Linksys will handle it.
Design & Connectivity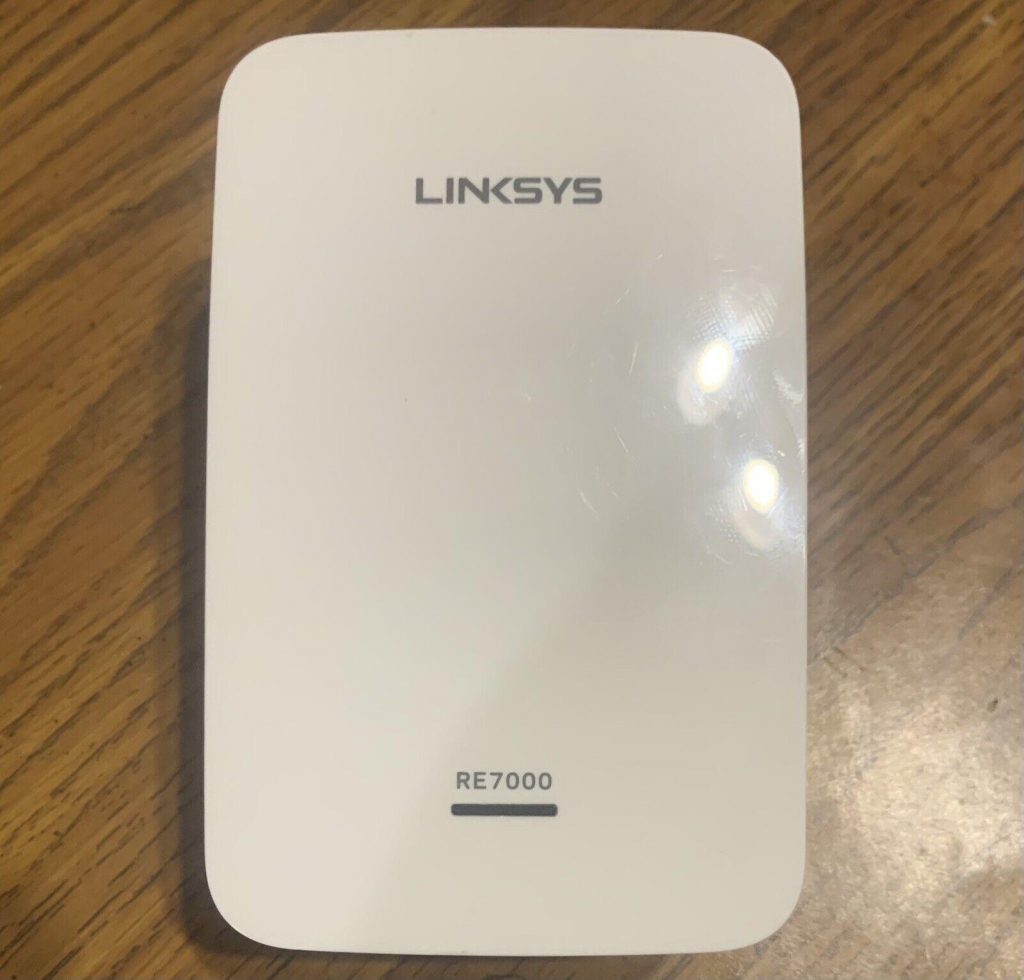 The extender comes in a compact white chassis, weighs approximately 0.4 pounds, and measures 4.96 x 3.88 x 1.81 inches. Don't let the absence of external antennas convince you otherwise. The extender has internal antennas, equipped with beamforming. It also comes with a gigabit ethernet port, offering the flexibility of multiple modes.
Setup & Other Features
The lack of a mobile app makes network management tedious. But Linksys makes the setup and installation easy with an easy connect button and the spot finder technology. Linksys brings additional features like Cross-band technology to optimize data transmission for data-laden HD streaming and gaming.
Conclusion
As a Comcast Wi-Fi signal booster, Linksys RE7000 brings a plethora of features. Despite the lack of mobile app support and a limited 2.4GHz performance. The nominal pricing gives an advantage over its close competitor from Netgear.
MU-MIMO

Beamforming

Push connect Feature

Crossband Technology

QoS and Access control
3. Best Wi-Fi Mesh Extender:

Netgear EX6250
Are you in search of the best Wi-Fi mesh extender for Xfinity? If yes, then your search should end here. With Netgear adding mesh compatibility in EX6250, you can make your mesh setup even stronger.
The EX6250 is a slightly modified version of its predecessor and its earlier models. If you are a user looking for high-speed wired connectivity and avoiding the hassle of switching between bands and networks, Netgear EX 6250 fits right into your preferences with its smart roaming, seamless connectivity, and gigabit Ethernet port.
Why is it suitable for Comcast Xfinity?
The high-speed throughput of the extender can support up to 400 Mbps in 2.4GHz and 1733 Mbps in 5GHz, ideal for mid-range and top speed packages of Xfinity Internet. Do you have plenty of devices including automated home devices? The extender can cover up to 2000 Sq Ft and handle up to 32 devices.
Design & Connectivity
Bulky for an extender unit, it weighs 0.66 pounds and measures 6.34 x 3.2 x 1.75 inches. Connect your extender and find the right spot with the smart LED indicators. Use the Gigabit port if you require stable connectivity for high-graphic online gaming or HD media streaming.
Setup & Other Features
The Nighthawk application makes the setup and remote management easy. The extender will be up and running in a few minutes. Use the fast lane technology if you don't want to switch between bands constantly. Connect to the network using a single SSID and get seamless roaming with this Netgear Extender.
Conclusion
While Netgear misses some of the most advanced features, it offers a bunch of features, remote monitoring ability, high speed wired and wireless connectivity, that fits into the requirements of most households. The overall utility of the extender, ease of use, keeps it closer to the top half of the list.
Mesh Compatibility

Seamless/smart Roaming

Fast Lane technology

Ethernet port
No advanced features

Bulky unit
4. Best for Large Homes:

ASUS RP-AC55
A toned-down version of its predecessor accommodates the price cut with a single-core processing unit. The ASUS RP-AC55 extender brings a combination of wireless and wired capability for larger homes. Security, guest access, parental control features make it an ideal Wi-Fi extender for Xfinity.
Why is it suitable for Comcast Xfinity?
Are you looking for a reliable Wi-Fi range extender for a relatively large house? Bring ASUS RP-AC55 to your place and extend the Wi-Fi signals across all floors of your 3000 Sq Ft large house and even beyond your kitchen, garage, etc.
The Asus extender delivers top speeds of 300 & 867 Mbps over 2.4GHz and 5GHz, respectively. It can extend your signal strength for areas as large as 3000 Sq Ft and support a balanced usage of 30 devices in a large household.
Design & Connectivity
The wall-mount, plug-in unit comes in a minimalist design, white rectangular chassis with 2 external antennas towering on its sides. Not being the lightest device, it weighs 0.75 pounds and has a larger footprint than the other OEM's with a dimension of 6.89 x 3.51 x 5.2 inches. Ethernet port on the side, LED indicators to the front are a part of its design.
Setup & Other Features
Get control of your device with the Asus extender app. It makes the setup and monitoring easier. The extender can operate in 3 modes, switching between repeater, access point, and media bridge mode. Be it high-speed gaming, or media consumption, you get to make the most out of the network with its processing capability.
Conclusion
Don't let the lack of advanced features undermine the value the Asus RP-AC55 brings to your household. Larger homes will prefer its superior coverage and mobile app over the Netgear router. Overall, the long wireless coverage on Asus RP-AC55 readily qualifies it as one of the best Wi-Fi extenders for large homes.
AiMesh compatibility

Seamless roaming

Asus Extender App

Parental controls

Firewall
Lack of advanced features
5. Best for Gaming / Streaming:

Netgear EX6120
One of the early ventures of Netgear into the extender market space, the EX6120, supports online gaming and HD streaming. If you are looking for a high internet speed for gaming, the Netgear device features dual-band Wi-Fi featuring external antennas and a wired ethernet port that adds more value for your money.
Why is it suitable for Comcast Xfinity?
Considering its ability to support individual speeds of 300 Mbps and 867 Mbps in 2.4GHz and 5GHz respectively, the extender is ideal for working with the starting plans of the Xfinity Internet. The Netgear extender brings the advantage of 2 high-power external antennas to cover areas up to 1500 Sq Ft and support up to 25 devices.
Fun Fact: It's also featured in my list of recommended Wi-Fi extenders for gaming.
Design & Connectivity
The compact unit comes with a wall-plug design that fits easily into any home. Don't let this lightweight device weighing 0.30 pounds and measuring 2.17 x 2.64 x 1.54 inches underestimate its capability. The extender brings a 100 Mbps ethernet port and the advantage of FastLane technology to support high-speed data transmissions.
Setup & Other Features
Netgear misses out on the support of mobile app functionality. Although with the Netgear Wi-Fi analyzer app, and a quick-fix setup, the extender will be up and running in the right spot in no time. The WPA 2 security protocols are essential to keep your network safer.
Conclusion
Looking for a Wi-Fi range extender for Xfinity with backhauls to support data-intensive HD gaming and streaming? Go with Netgear EX6120 for its coverage and internet throughput. The unit finds itself above the Tenda unit for the advantage it brings with FastLane technology.
Compact

Wired Connectivity

External antennas

Fast lane technology

WPA2 Security
6. Best for Smart Home Gadgets:

Tenda A18
Tenda revamps its previous model and extends its operation to simultaneous dual-band operation. Keeping the compact wall-plug design of its predecessor, Tenda A18 adds a 100 Mbps ethernet port to offer more flexibility and wired connectivity for people looking for a budget Wi-Fi extender that's compatible with Comcast.
Why is it suitable for Comcast Xfinity?
A18 delivers the right set of speeds and capacity that works well with the entry range plan of Xfinity. It can support up to 300 Mbps, 867 Mbps on 2.4GHz and 5GHz. The pair of external antennas ensure the extender supports the balanced usage of 20 devices across 1292 Sq Ft.
If you have a couple of active smart home automation gadgets that need a low bandwidth yet stable internet connection, Tenda A18 has got you covered. Anyone looking for a reliable extender for ring cameras or security cameras will benefit from this budget-friendly device.
Design & Connectivity
The Tenda A18 is a lightweight unit that comes with a groovy design. The wall plug aesthetics fits seamlessly into any household with its compact build measuring 3.14 x 2.2 x 1.88 inches, and weighing 0.40 pounds. The wired connectivity of a 100Mbps Ethernet port makes sure you have the most bandwidth for priority devices.
Setup & Other Features
Don't let the lack of mobile application downplay its value. The smart indicator LED light lets you find the optimal placement and makes the setup easier. Support to WPA2 encryption standards and the option to hide SSID keeps your network away from any unauthorized access.
Conclusion
Looking to extend your Wi-Fi signal without causing a dent in your wallet? Go for the Tenda A18, for its universal compatibility towards multiple OEMs. It outranks the TP-Link model owing to its speed throughput across the dual-band.
Compact & affordable

Ethernet port

Smart LED indicator

Easy setup
7. Best Budget Option:

TP-Link RE220
TP-Link meets the standard requirements for a basic entry-level extender with this RE-220, a modified version of its earlier ventures into the extender market. If you are looking for an extender with remote monitoring and a mobile application for your workshop, TP-Link RE220 will fit right into your slot.
Why is it suitable for Comcast Xfinity?
The TP-Link extender unit works in tandem with the starting internet pack of the Xfinity, owing to its ability to deliver top speeds of 300 Mbps on 2.4GHz and 867 Mbps on 5GHz. Do you want to extend the coverage up to 1200 Sq Ft? This compact unit packs the punch to extend the range and handles up to 20 devices.
Design & Connectivity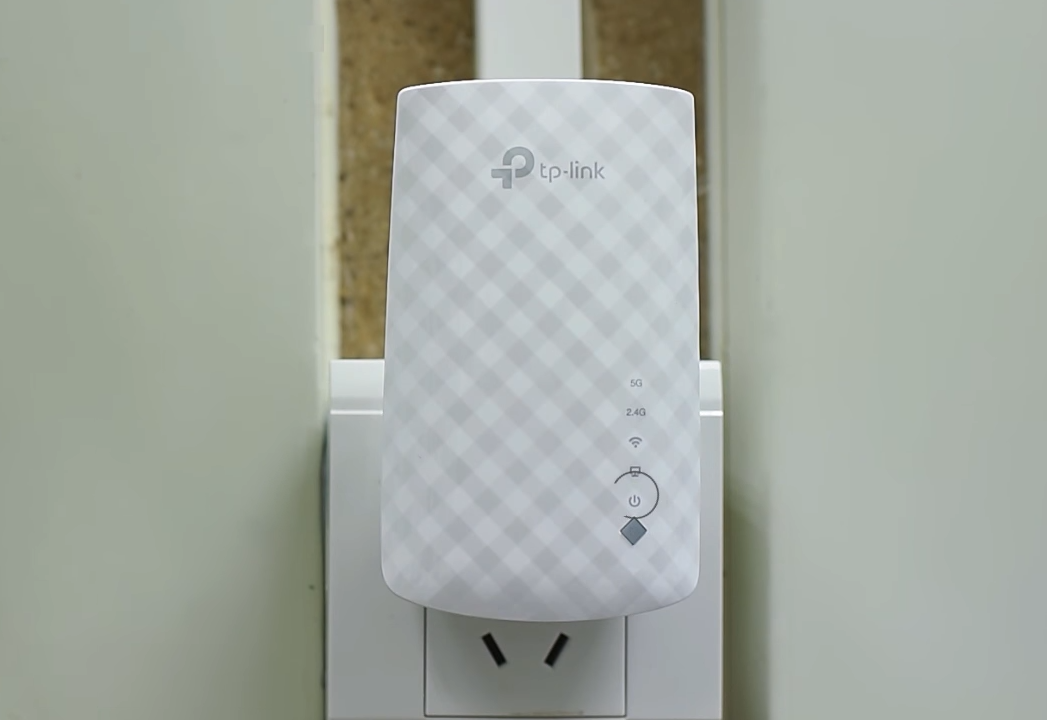 The rounded rectangular body of the extender unit houses 3 internal antennas. It measures 4.3 x 2.6 x 3.0 inches and weighs less than 0.30 pounds. The one-touch connection button and the LED indicators are on the front side panel. The Ethernet port comes in handy for establishing wired connectivity.
Setup & Other Features
The tether app of TP-Link makes the setup easier. It gives you more control over your network even when you are away from your home. Set access controls, filters, enforce a bedtime for kids, at the comfort of your mobile. The backhaul comes in handy for switching to high-speed mode during gaming and high-quality media streaming.
Conclusion
If you want to extend your network to the basement or your garage outside without spending a lot, RE220 offers the right features. The comfort of the mobile app, its easy setup, and its functionality make it an excellent budget choice.
Tether Application

Easy Mesh compatibility

Ethernet port

Smart Indicator lights
Frequently Asked Questions
How to improve Xfinity Wi-Fi signal?
The best way to extend Xfinity Wi-Fi is to correct the router placement by avoiding apparent physical & radio interference. If that doesn't help with your coverage issues, a Wi-Fi extender compatible with Comcast would definitely improve your internet coverage.
Can I use any Wi-Fi extender with Xfinity?
Yes. Comcast Xfinity supports a wide range of Wi-Fi extenders, and the most popular ones from top OEMs work with Comcast Xfinity. Top market players like TP-Link, Netgear, Asus offer a wide range of products that work with Comcast Xfinity and other top internet service providers in the US.
What Wi-Fi extender works best with Xfinity?
TP-Link RE650 and Linksys RE7000 are amongst the best extenders your money can buy. Easy setup & compatibility, advanced features like MU-MIMO, Beamforming, powerful processor, and multiple modes of operation make them the best Wi-Fi extenders for Comcast.
Are Wi-Fi extenders better than the Xfinity Pods?
Wi-Fi extenders are not necessarily better than the Xfinity Pods. The Wi-Fi extenders offer more flexibility in terms of range extension, speeds, and budget, while Xfinity pods are rather pricey and don't come with multiple configurations. But the quicker setups, seamless connectivity, and Xfinity-based management system make it appealing to Xfinity users.
Verdict
The clarity of understanding your requirements in the present and foreseeable future helps you land the perfect device and get the most out of your hard-earned money. Extenders listed here are amongst the best in the market. Please find our recommendations for the most popular requirements.
Go for

TP-Link RE650

or

Linksys RE7000

if you don't want to miss out on advanced features like MU-MIMO and Beamforming.
ASUS RP-AC55 brings a strong processing unit, an extended range, and value for money for the larger households. It finds the right balance with price and utility.
Tenda A18 is the best budget extender in the market, but if the mobile app functionality is highly indispensable, go for

TP-Link RE220

.
Extender Recommendations for Other ISPs:
For Morton, reviewing a router is just like spending another day at the office. As BCCA's senior copywriter, Morton believes is explaining every concept concerning routers, networking technologies, and additional routing specs. Also, Morton is our go-to man if we are looking to get the ISP-dependent internet plans tested across devices.