Are the dead zones at your home causing frequent internet disruptions? Do you have an annex or a garage or a basement that is beyond the reach of your router signal strength? Are you looking for a cheaper alternative to improve signal strength? Read further and find out about the highly effective Wi-Fi extenders for home use.
The plenty of devices at your home could get the best out of the internet with MU-MIMO and other latest features. You can avoid the overhead of switching between different SSID's every time you move to another room.
Finding out the best Wi-Fi range extenders for home becomes complicated with enormous choices. I have narrowed them, taking the essential features like MU-MIMO, Beamforming, wired connectivity, mobile application support, and internet security into consideration. Find out our final list and recommendations as you read further.
Best Wi-Fi Extenders for Home in 2023
With OEM's like Netgear, TP-Link, Linksys, and ASUS flooding the market space with top Wi-Fi extenders, I have handpicked the top 7 extenders from a list exceeding 30 products. I curated the list to fulfil all the requirements that I mentioned earlier.
Starting with an extender that ticks most of the requirements, the list tapers down to the mid-range extenders, offering a balance between features and price. You'll find the budget alternatives towards the end of the article.
1. Best Overall:

TP-Link RE650 AC2600
TP-Link adds more potential speeds and handling capacity to its predecessor by upgrading its processing unit. The extended coverage and high-speed throughput with the support of advanced features, make TP-Link RE650 our top choice.
Why is it suitable for Home?
RE650 brings an aggregated speed of 2600 Mbps while supporting simultaneous dual-band operations at 802.11ac standards and the capability to achieve 800 Mbps in 2.4GHz and 1733 Mbps in 5GHz. It can extend the range to 2000 sq ft and cater to 30 devices.
Design & Connectivity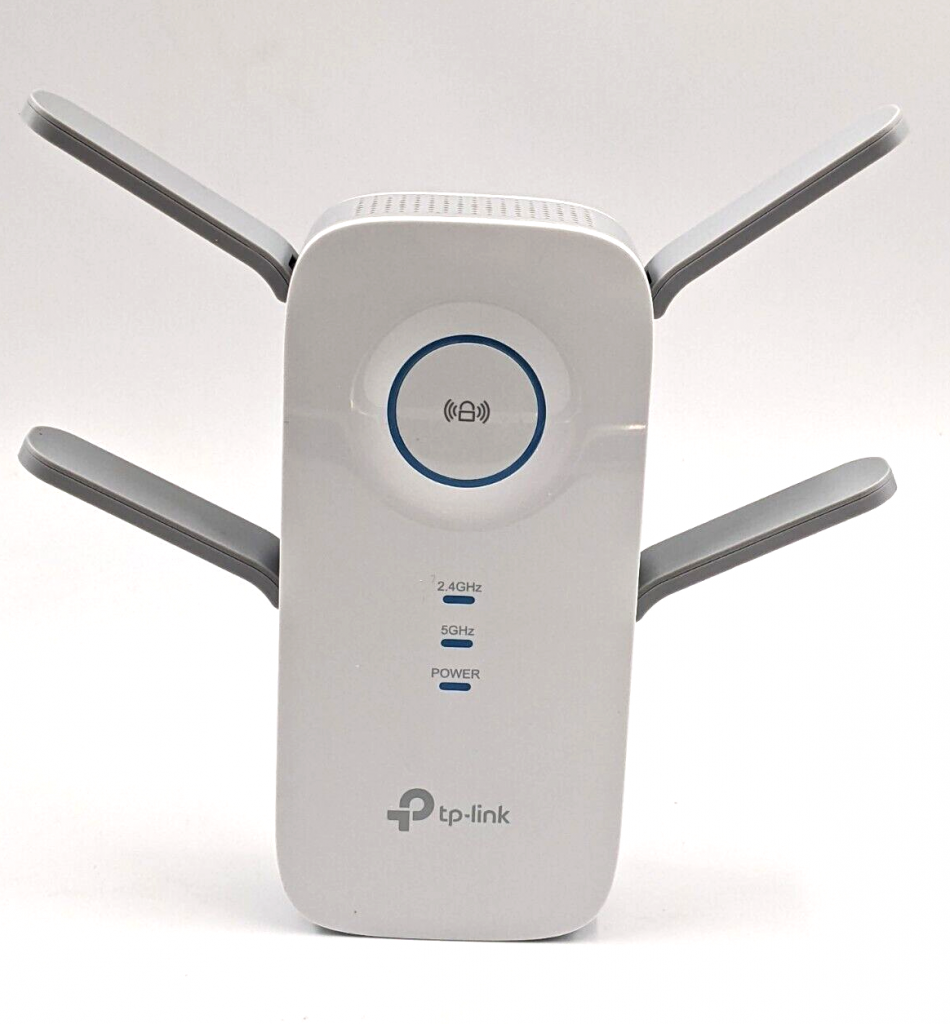 Beamforming in 4 external antennas ensures directed signal delivery, adding more efficiency. Weighing close to 1 pound, the simplistic white chassis with blue LED indicators comes as a wall plug-in with the measurement of 6.4 x 3.4 x 1.6 inches, which could block other gadgets out of your plug unit.
The gigabit Ethernet port turns this into a high-speed access point, keeping most of the speeds. Use the smart indicator lights to find the optimal signal strength and avoid the worries of finding the right placement for your router/extender.
Setup & Other Features
TP-Link's proprietary mobile application makes the extender management simple with its simple, user-intuitive design. The dual-mode of operation as an access point or as a range extender gives you flexibility. Switch to the high-speed mode for data-laden activities, control your led lights, set parental limits for devices through the mobile app.
The Wave2 MU-MIMO opens up signal transmission to multiple devices simultaneously. Access control, reports, and statistics make your extender further easier to manage.
Conclusion
TP-Link RE650 justifies its price tag with its selection of the latest features, processing capability. It trumps EX7300 to the top spot for its higher throughput capacity in the 2.4GHz band. Large offices, community halls, convention centers can get the most of the RE650 extender.
MU-MIMO

Beamforming

Alexa compatible

Dual-core processor

Multiple modes of operation
2. Best Runner Up:

Netgear EX7300 AC2200
The EX7300 is a modified wireless version of its preceding model, improvised to offer seamless wireless connectivity. The inclusion of advanced features like MU-MIMO and Beamforming makes Netgear EX7300 ideal for extending the wireless connectivity of your router.
Why is it suitable for home?
Equipped with Wi-Fi-5 wireless standards and a simultaneous dual mode of operation, the extender can support up to 400 Mbps in 2.4GHz and 1733 Mbps in 5GHz. If you have smart home gadgets that require wireless connectivity at the further end of your home? The extender brings the capacity to cover 2300 sq ft and handle up to 40 devices.
Design & Connectivity
A highly ventilated wall plug-in extender comes with internal antennas, albeit powerful ones capable of extending your range. Weighing 0.66 pounds and measuring 6.34 x 3.2 x 1.7 inches, it is bulkier than its TP-Link competitor. The smart LED indicators reduce your overhead for finding the right placement and optimal signal strength.
The extender unit comes with a 1 Gigabit Ethernet port, that comes in handy for setting up high-speed wired connectivity for devices like TV, gaming consoles, etc.
Setup & Other Features
The Nighthawk application makes the management of your extender easier. With the web browser setup, the extender gets up and running in about 5 minutes. Tired of switching between dual bands, activate the fast lane technology to activate a dedicated backhaul with your router.
Use a single SSID for the entire home and avoid the hassle of switching between networks every time you move in the house. Get the advantage of MU-MIMO transmitting to multiple devices at home concurrently, while beamforming ensures the signal gets focussed towards the devices.
Conclusion
Netgear EX7300 is amongst the best Wi-Fi extender units for your home. Its application ranges from large offices & homes to indoor stadiums and sports setups. EX7300 offers improved internet throughput, and advanced features compared to its ASUS counterpart making a better choice for seamless wireless connectivity at your home.
MU-MIMO

Beamforming

Fast Lane Technology

Seamless roaming

Mesh compatibility
3. Best for Large Homes:

ASUS RP-AC1900
A changed version of its router counterpart, the ASUS RP-AC1900 range extender brings an excellent wired and wireless capability to your large home. The dedicated backhaul allows you to utilize the best out of your internet, minimizing the loss of bandwidth in wireless transmission.
Why is it suitable for home?
Operating with Wi-Fi-5 standards and supporting top speeds of 600 & 1330 Mbps over 2.4GHz and 5GHz respectively, the Asus extender can improve your signal strength to 3000 Sq Ft and handle approximately 30 devices.
Design & Connectivity
The wall-mountable vertical unit has a black chassis with 3 external antennas extending from its sides. Weighing close to 1.75 pounds, the extender has a larger footprint compared to its TP-Link and Netgear counterparts. It stands 12.01 x 9.06 x 3.78 inches in dimensions.
Four 1 Gigabit Ethernet ports and a WAN port for dedicated Backhaul ensures you have adequate wired connectivity for all the essential devices at home including the additional tv, gaming console, remote work setup, etc. The operation condition of the ports and the dual bands is denoted by the corresponding LED indicators.
Setup & Other Features
Asus extender app brings the comfort of easy management, control over your extender. Easy setups and access to adaptive QoS, parental controls, and AiProtection ensure you have control over the bandwidth allocation, internet consumption, and security.
Get the flexibility of using it with other ASUS routers and forming an AiMesh for seamless connectivity. Give yourself the choice of single or multiple SSID as per your preference and requirement.
Conclusion
While the Asus extender doesn't bring the advanced features that the TP-Link and Netgear bring to the table, it brings a wealth of wired connectivity and flexibility of wireless connectivity to your home. It's ideal for larger households with feasibility for wired connectivity.
AiMesh compatibility

Adaptive QoS

Asus Extender App

AiProtection

Parental controls
Lack of advanced features
4. Best Value for Money:

Linksys RE7000 AC1900
While it doesn't have the 3.5mm audio jack to stream music directly like its predecessor, it brings the efficiency of the latest features at a very affordable price. Get access to QoS, access control with Linksys RE7000.
Why is it suitable for home?
Max stream Linksys extender brings the improved capacity to the home network through its dual-band operation at 802.11ac standards and top speeds of 300 Mbps in 2.4GHz and 1733 Mbps in 5GHz. It covers up to 2500 Sq Ft and supports up to 25 devices without any hassles.
Design & Connectivity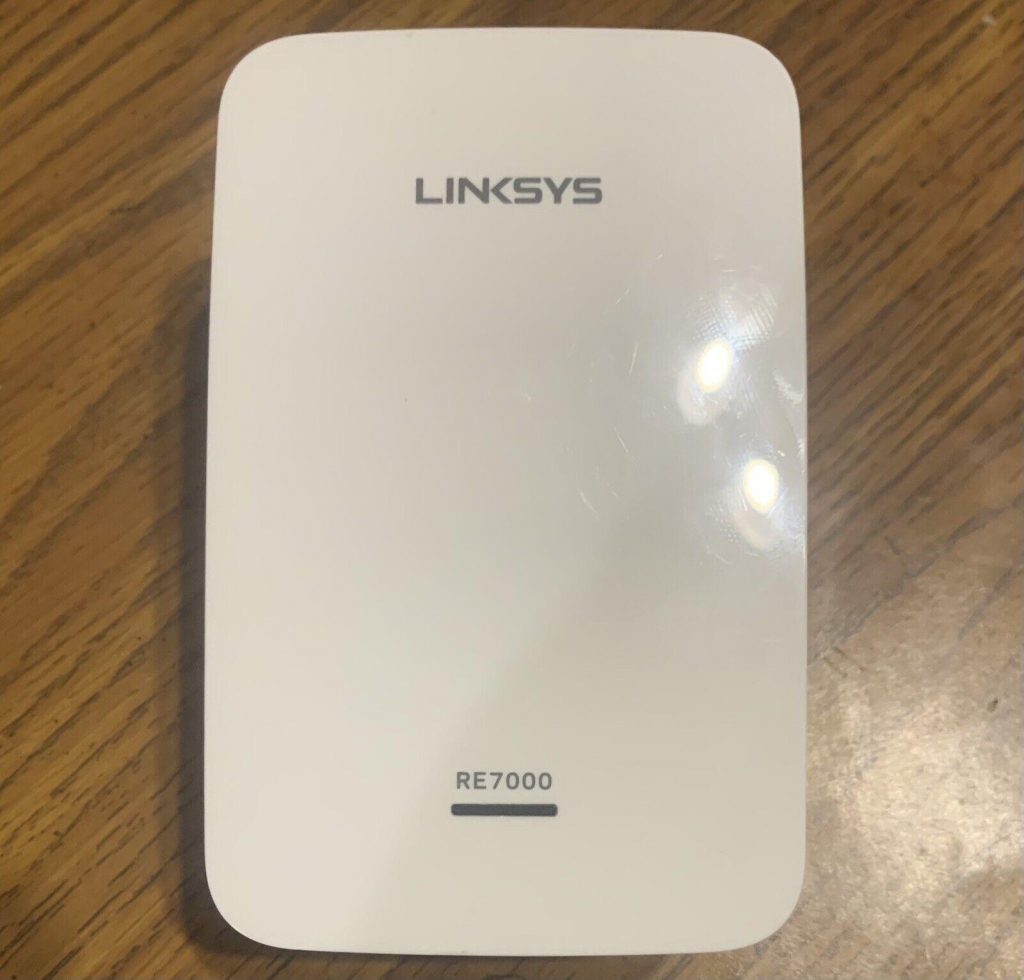 The compact white unit is lightweight, weighing 0.56 pounds and measuring 4.96 x 3.88 x 1.81 inches, blending seamlessly into your household. The wall plug unit comes with internal antennas and a gigabit ethernet port.
Setup & Other Features
While the Linksys extender doesn't have a dedicated mobile app, its setup is rather easy with a spot finder to find the right placement. One of the earliest Linksys extenders with MU-MIMO support, besides the Beamforming that optimizes signal delivery and data transmission.
Cross-band technology allows you to combine bands and use them according to your preferences. With access filters to restrict devices, QoS to prioritize your traffic based on activity, you get control over the internet consumption and any unauthorized access.
Conclusion
Linksys RE7000 is not the fastest extender performance-wise. If you are looking for the latest features to improve your router's coverage at a nominal price, the RE7000 does that for you.
MU-MIMO

Beamforming

Spot Finder

Crossband

Access control
5. Best for Basement:

Netgear EX6120 AC1200
One of the early releases of Netgear in the Wi-Fi extender market, the Netgear EX6120 expands your coverage to more devices at a very affordable price. It features dual operation modes, external antennas, and an ethernet port that makes it a preferred choice among most users.
Why is it suitable for home?
With top speeds of 300 Mbps and 867 Mbps in 2.4GHz and 5GHz respectively, the extender brings the advantage of Wi-Fi 5 speeds to your home. It can handle up to 25 devices spread across 1500 sq ft.
Design & Connectivity
The rectangular white, compact-looking unit packs a powerful performance while weighing a little under 0.30 pounds and measuring 2.17 x 2.64 x 1.54 inches in dimensions.
With 2 external antennas to deliver signals, the extender adds an ethernet port to establish wired connectivity or facilitate access point mode operations.
Setup & Other Features
Netgear doesn't offer mobile app functionality for this version. While you can use the Wi-Fi analyzer app to find the right placement for your extender. A simple setup with smart roaming and load balancing makes this an excellent networking companion.
Conclusion
If you are looking to complement your router to extend its capability to manage and cover all your smart home devices, Netgear 6120 does the job for you without making a dent in your wallet. The value for money purchase puts this extender closer to the mid-range products.
Compact

Wired Connectivity

Multiple modes of operation

External antennas

Fast lane technology
6. Best for Kitchen/Backyard:

Tenda A18 AC1200
Tenda builds upon its previous model and delivers an improved extender that supports dual-band operation. Retaining the design from its predecessor, Tenda A18 sticks to a compact wall-plug design and supports the access point mode of operation with a 100 Mbps ethernet port.
Why is it suitable for home?
If you are looking for an entry-level extender at an affordable price range, the Tenda A18 delivers a compatible device that can deliver 300 Mbps on 2.4GHz and 867 Mbps on 5GHz. It can support up to 20 devices spread across 1292 sq ft.
Design & Connectivity
A striped groovy design in a white compact chassis makes this A18 blend into your household with no hassles. The Tenda extender is lightweight, weighing less than 0.40 pounds while measuring 3.14 x 2.2 x 1.88 inches. The 100Mbps Ethernet port lets you connect devices for stable connectivity.
Setup & Other Features
Tenda has no dedicated mobile application support that allows you to manage the extender remotely. Nonetheless, setup is simple with the Smart indicator LED light and the extender gets running in less than a few minutes. Its universally compatible design makes it work with most of the routers in the market.
WPA2 encryption standards, option to hide SSID offer basic protection from any unauthorized access.
Conclusion
Looking to expand your coverage and avoid dead zones in your house with multiple rooms? Go for Tenda A18 if you are looking for an entry-level, budget extender. It gets better than the TP-Link competitor, for its compactness, wired connectivity, and slight price advantage.
Affordable

Compact design

Wired connectivity

Simple setup
7. Cheapest Option:

TP-Link RE300 AC1200
Dropping the Ethernet ports present in its line of predecessors, TP-Link RE300 improves its wireless functionality in this version. Smart roaming and adaptive path selection make this a valuable addition to your home.
Why is it suitable for home?
The 802.11 ac standard extender operates on a simultaneous dual-band, capable of delivering top speeds of 300 Mbps in 2.4GHz and 867 Mbps in 5GHz. It brings the capacity to cover 1500 sq ft and support up to 25 devices in a small household.
Design & Connectivity
A rectangular-shaped heat regulated body comes in a simple white casing that measures 4.9 x 2.7 x 2.0 inches in dimensions while weighing less than 0.50 pounds. The chassis houses only internal antennas to deliver signals. The LED indicators, denoting operating status, are present on its front side.
Setup & Other Features
A simple setup aided by easy management of the user-intuitive design of the tether app adds ease to the users. Access control Mac filters, LED controls, statistics, and monitoring capacity, high power mode are value additions to this extending unit.
Conclusion
Are you looking to extend your network to the basement in your home, but require a mobile application? Go for TP-Link RE300 for its simplistic app design, and app functionality, which makes it one of the best budget level extenders in the market.
Tether Application

High-Speed mode

Adaptive path selection

Mesh compatibility

Smart Roaming
Frequently Asked Questions
How do I choose a Wi-Fi extender for my home?
Look for a Wi-Fi extender that matches the specifications of your router, if there are plenty of devices to be covered; ie Speed throughput, MU-MIMO, Beamforming, access/parental controls, etc. If the number of devices in the scope of extension is very limited, look for speed throughput and basic features that come with the entry-level extenders.
Which Wi-Fi extender is the best for the home?
The Wi-Fi extender depends on the type of your home and the number of devices. TP-Link RE650 and Netgear EX7300 are the best extenders that have a wide range of applications that includes large homes. For a few smaller houses, they might be overkill.
What is the best place to put a Wi-Fi extender in a home?
Be it your router or the extender, it's best to place it a few feet above the floor. You can get the best out of an extender by placing it mid-way between the router and the dead spots in your room that can do with some signal boosting.
Do Wi-Fi range extenders make a difference?
Yes, Wi-Fi range extenders make a huge difference to the signal strength and quality. While the Wi-Fi extender does not boost or slow down your internet speeds, it will help you get the best internet performance out of what's available at your disposal.
Verdict
Homes come in different sizes and shapes. Fortifying your house with the internet is subject to your preference and your household setting. Once you get a clear picture of your preferences narrowing down the best fit gets simplified further. Please find our suggestions for the most common scenarios and requirements.
TP-Link RE650 offers the best features and has a wide range of utility including large multi-tier homes and community center.
ASUS RP-AC1900 is ideal if you are looking to fortify your home with a combination of wired and wireless connectivity.
Tenda A18 is one of the best budget extenders that offers both wired and wireless connectivity.
Other Wi-Fi Extender Articles on BCCA:
For Morton, reviewing a router is just like spending another day at the office. As BCCA's senior copywriter, Morton believes is explaining every concept concerning routers, networking technologies, and additional routing specs. Also, Morton is our go-to man if we are looking to get the ISP-dependent internet plans tested across devices.