In this review you will learn which routers are best for your Cox Internet service. Cox Internet, a large ISP that mostly offers single-band cable-centric connectivity and Gigablast plans. However, Cox Internet has started offering fiber optics options in certain areas. As a result, to maximize your internet service it is important to use compatible routers for your cable, Gigaplast, and fiber optics plans.
Internet services offered by Cox are known to be fast and reliable. However, this does depend on what ISP technical standards your plan is for your home and office requirements. In short, it is important that you always compare multiple routers compatible with Cox and choose the one that works well with your setup.
As you start your journey of figuring out the best router for your Cox Internet service, it is important to determine what your requirements are. For example, these requirements may include speed limits, size and layout of your home/office, your subscribed service package, budget, and DOCSIS standards (if you utilize a modem router combo).
7 Best Routers for Cox Internet in 2023
After careful analysis of 13+ Cox compatible Wi-Fi routers I have created reviews for the 7 most reliable options available. These routers are compatible with all plans from Cox, have the latest specifications, and cater to the needs of all types of households. As a result, these reviews span from high-end premium offerings, mid-range options, and budget-friendly picks at the end.
1. Best Router for Cox Gigablast:

TP-Link Archer AX6000
As a toned-down dual-band version of a superior predecessor AX11000, the AX6000 finds itself perfect in balancing features, utility, and price. The selection of Ethernet ports along with advanced features puts TP-Link Archer AX6000 at the top of my list.
Why is it suited for Cox?
The AX6000 offers additional 160MHz channels to deliver individual speeds of 1148 Mbps on 2.4GHz and 4804 Mbps on 5GHz. In addition, its real-time performance stood out with high download speeds clocking over 900Mbps with a 1Gig plan, which makes this an ideal match for the Gigablast plan by Cox.
MU-MIMO and OFDMA allows the Wi-Fi router to connect multiple devices, rendering the Archer AX6000 a good capacity to handle 50 devices. Additionally, if you are searching for a router to support a larger home, this router has a range of 3000 sq. ft. to deliver strong connectivity throughout the home.
Hardware & Performance
TP-Link Archer's rides on the strength of a quad-core processor achieving speeds of 1.8GHz, coupled with a duo of 1GB RAM and 128MB storage. Not only that, the combo gives the power to deliver an unfettered gaming performance even in competitive gaming scenarios and data-intensive options like 4K streaming.
QoS and Airtime Fairness enhances the efficiency of maintaining a balanced load with custom set priority and the DFS channels will save you from a throttled network if you happen to live in an area that is constantly congested.
Design & Ports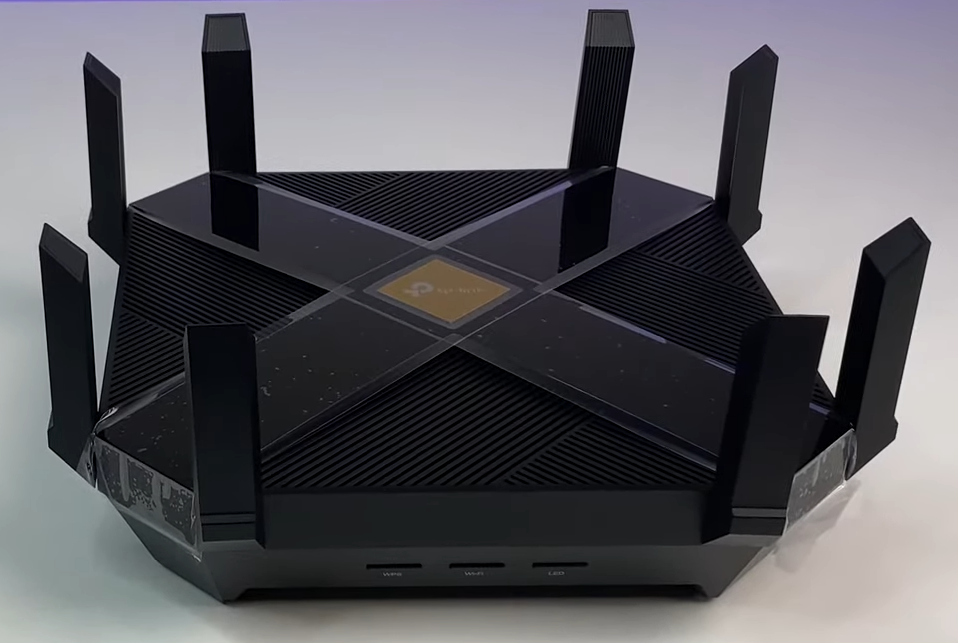 This Cox recommended router weighs 3.6 pounds and comes in a black, highly ventilated chassis with a beveled cross. In addition, it offers eight high-powered beamforming antennas that surround the router which has dimensions of 10.3 x 10.3 x 2.4 inches.
The selection of 2.5Gbps WAN port, 8 LAN ports, and Link aggregation puts you in a great position to handle multi-gigabit connections. Offering 2 USB 3.0 ports, you are able to connect both hard drives and printers at the same time.
Setup & Security
The intuitive design of the Tether mobile application is a game-changer for setting up and managing the network. However, if you prefer to utilize a web interface, this router offers a comprehensive interface to install and manage your home network.
Regarding security, it is one of the few wireless routers that come with robust parental controls, double firewalls, dual QoS, and subscription-free lifetime protection of Homecare security over and above the WPA2 encryption standards making it an absolute steal!
Conclusion
Therefore, if you are looking for a fantastic router that offers Wi-Fi 6 support, powerful hardware, longer coverage, Link Aggregation, and device handing capacity, this is a great option. Especially for Cox Gigablast. In addition, the multi-gig WAN port and wired connectivity make Archer AX6000 my top pick over RAX45 by distance.
Suggested Read: Dedicated review of the TP-Link AX6000
Link Aggregation

160Hz & DFS Channels

BSS Coloring

2.5G WAN &

8 LAN ports

3000 Sq Ft long coverage
2. Best Runner Up:

Netgear Nighthawk RAX45
Improvements to the hardware make Netgear Nighthawk RAX45 more well-equipped than its frontrunner RAX40 for high-speed performance. In addition, the latest wireless standard (Wi-Fi 6) with the ultra-secure Netgear ecosystem, you have a top Cox Internet compatible router.
Why is it suited for Cox?
This model delivers top speeds of 480Mbps on 2.4GHz and 3840Mbps on 5GHz bands. In addition, a 940Mbps internet plan displayed consistent download speeds of 810Mbps on 5GHz if you stayed within the vicinity of the device, which makes it ideal for pairing with the Gigablast plan of Cox.
This router offers advanced features like MU-MIMO and OFDMA with manual QoS which allows you to utilize the internet for over 20 devices – a common number for many homes! Not only that, the RAX45 offers great coverage for homes and offices up to 2500 sq ft so you don't need to be concerned about having dead zones in your space.
Hardware & Performance
With a triple-core processor clocking at 1.5GHz, this router will support multiple streaming units, such as TV, PCs, tablets, and mobile devices.
The duo of 512MB RAM and 256MB storage memory allows it to replicate several instances of heavy gaming and streaming activities without deterring the overall performance. In addition, the 160MHz and DFS channels lead to effective bandwidth management.
Design & Ports
The RAX45 boasts an angled design with a matte-black chassis providing a very sophisticated look. Not only that, the router has an intelligent heat-regulating rear which you will want to ensure is in a location that allows for air-flow. In addition, the LED lights are aligned vertically in the middle of the router and has 4 beamforming antennas on the sides to make a vast difference in signal quality. As a result, this lightweight device (weighing 1.25 pounds) with solid dimensions of 11.6 x 8.11 x 2.25-inches will be not only powerful in your home/office but also offers a stylish techy design.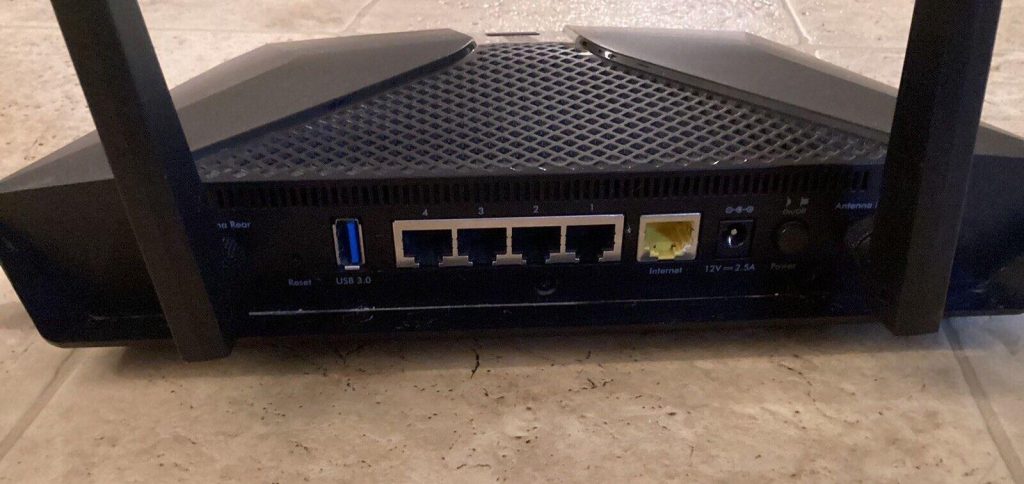 The RAX45 doesn't disappoint with wired connectivity as it is equipped with 4 Gig Ethernet ports, 1 Gig WAN port, and a fast USB 3.0 port for internal data sharing.
Setup & Security
The setup and security features enabled on this router are not only easy to install but simple to manage. Leveraging the easy-to-use Nighthawk mobile application and Netgear web portal, you will have at your fingertips a robust tool that allows you to maintain control of your network remotely and not just when you're in the vicinity of the router.
The Netgear ecosystem offers real-time protection and boasts comprehensive parental controls. It is important to note however that the advanced protection is only offered with a monthly or annual subscription fee. This router also offers inbuilt VPN, firewalls, and WPA3 encryption to provide solid protection to your network.
Suggested Read: How to Configure Router for WPA3 Encryption?
Conclusion
If you live in an area that has larger amounts of population per square mile, such as apartment buildings and downtown areas, you will find the RAX45 one of the best Netgear routers for Cox Internet. This router can offers fantastic features to offset internet congestion in addition to offering a solid operating core that puts it above the AX55 router.
Wi-Fi 6 support

Great Wi-Fi coverage

OFDMA &

MU-MIMO

Reasonable pricing

DFS channels
Armor pricey subscription
3. Best Value for Money:

TP-Link Archer AX55
TP-Link has made some marginal improvements to the CPU and memory to make this router better than its predecessor. This router is still considered one of the fastest routers to use for Cox internet with the added bonus of the more budget friendly price and user-intuitive interface. As a result, the TP-Link Archer AX55 falls in the top half on our list for best routers to use with Cox Internet.
Why is it suited for Cox?
The Archer AX55 router boasts theoretical speeds of 574 Mbps on 2.4GHz and 2402 Mbps on 5GHz which is a lot of bandwidth. It is important to note that with a 940Mbps internet, the download speeds stayed consistently above 800Mbps and dropped to 210Mbps as I moved away from the line of sight. The most ideal plan to is the Ultimate 500 from Cox as it will not affect your performance.
Offering aggregate speeds of 3Gbps, the AX-55 router can accommodate over 25 devices without any challenges. Additionally, the router is most effective in a medium-sized home or have work from home setup, you cannot go wrong with the coverage of 2500 sq ft in place.
Hardware & Performance
The 1GHz dual-core processor in a Qualcomm chipset boasts an improvement over the AX- 50 router. Also, the synergy of 512MB RAM and 128MB storage gears the device as a robust multitasking unit.
At the helm of Archer AX-55 router, you are be able to connect Smart TVs, work PCs, and plenty of mobile gadgets to your home network without a loss in speed/performance. You can also balance your loads when you are streaming 4K/8K content or engaged in heavy gaming. The AX55 will otherwise ease through simultaneous surfing, Wi-Fi calling, and streaming Netflix, YouTube, etc.
Design & Ports
This router has a beveled heat-regulated chassis with a glossy black tone to replicate its standard design. It is important to note that this router measures at 10.2 x 5.3 x 1.5-inches and weighs 2.1 pounds so you will want to have open space to manage the larger size.
TP-Link accommodates 4 powerful external beamforming antennas at its rear, among the 4Gig Ethernet ports, 1Gig WAN port, and a USB 3.0 port.
Setup & Security
The router can be set up either by the Tether mobile app or web portal with both being configured in less than a few minutes. Of course, with the Mobile App you are able to remotely and locally monitor your router which offers greater convenience. Furthermore, to easily manage your network and setup advanced internet protection requirements, this Cox Internet compatible router offers Homeshield protection to protect your network from intrusions & DDoS attacks.
Conclusion
If you are seeking a router that can future-proof your home and office leveraging the latest wireless standards while also seeking a budget-friend option, I recommend the TP-Link Archer AX-55. With this product, you are able to get a lot of essential features such as MU-MIMO and Beamforming. As a result, with the latest wireless standards and price advantage, I purposely rank this router higher than the Asus gaming beast.
Suggested Read: Dedicated Review of TP-LINK AX3000 (AX55)
Wi-Fi-6

160Mhz Channels

Beamforming

DFS Channels

MU-MIMO
4. Best for Gaming :

ASUS GT-AC2900
As a downgraded version of its predecessor (GT-AC5300), this router offers reduced specs to accommodate the lesser price range. However, with the gaming acceleration boost, the gaming port, along with its throughput capacity, the ASUS GT-AC2900 is considered on of the better routers for Cox Internet.
Why is it suited for Cox?
Offering top speeds of 750 Mbps on 2.4GHz and 2167 Mbps on the 5GHz band, this router is able to support ultra-fast connections. During testing, this router consistently delivered speeds of 500Mbps download and 350Mbps upload speeds in 5GHz on the 600Mbps internet package.
In addition, features like MU-MIMO, smart QoS, and an ultimate 500 Cox Internet package, the GT-AC2900 can handle up to 30 devices. With smart placement in your home or office, this router can comfortably manage a space of 2500 sq ft but I anticipate it can likely serve larger homes and offices as well.
Hardware & Performance
ASUS puts a solid 1.8GHz dual-core processor on a Broadcomm Chipset. Additionally, it comes with 256MB flash storage and 512MB RAM. As a result, the GT-AC2900 delivers lag-free gaming performance for games like Far Cry and Call on Duty with its gaming acceleration and minimized latency in communication.
Design & Ports
This router is definitely one of the more appealing gaming routers with its multiple tones of black and red. Weighing close to 1.72 pounds, the device stands vertically at 8.75 x 6.65 x 4.37 inches with 3 beamforming antennas towering on its top which is a unique design compared to other routers on the market.
ASUS delivers top of its game in wired connectivity with 2 USB ports, 3Gig Ethernet ports, and a gaming port. Not to mention, link aggregation allows you to combine two distinct lines to improve bandwidth.
Setup & Security
The setup of the ASUS GT-AC2900 can be completed with an easy guided process through the web portal. In addition, there is an app that allows comprehensive control over your home internet. You can also make changes on the web portal as well if you prefer. In both cases, this router has easy-to-use parental controls and access filters for you to customize if needed.
Another helpful solution is the inbuilt VPN protocols and extensive reporting section for efficient monitoring. The AiProtection Pro allows you to avoid further subscription costs with a lifetime of commercial-grade internet security.
Conclusion
If you're a gaming enthusiast looking for the best gaming router on a budget to stream gameplay on Twitch, don't look beyond the ASUS T-AC2900. The GT-AC2900 finds the sweet spot with its overall capacity and aggressive pricing, placing it above the Linksys Mesh system.
Gaming port

Link Aggregation support

Gamers VPN

Lifetime internet security

MU-MIMO
5. Best Wi-Fi Mesh System for Cox:

Linksys WHW0302B
As one of Linksys' early ventures into the Velop mesh system, this two-pack unit brings an additional 5GHz band to accommodate more devices in your home or office. This solid hardware unit and its seamless connectivity puts the Linksys WHW0302B on my list of best routers for Cox.
Why is it suited for Cox?
This Linksys router operates on a simultaneous tri-band. As a result, this mesh system can achieve theoretical speeds of 400 Mbps on 2.4GHz and 876 Mbps on its dual 5GHz bands. In my initial test with 600 Mbps, the device achieved a consistent 450Mbps on the 5GHz band.
As a result, when you combine the capacity with features like MU-MIMO & seamless connectivity, this router can easily support over 40 devices. Additionally, boasting flexible placement in your home or office, the two units can support spaces up to 4000 sq ft.
Hardware & Performance
The quad-core CPU performance at 716MHz on a Qualcomm chipset is the backbone of this routers strong performance. Not to mention, Linksys complements the processing unit with 512MB RAM and 4GB storage.
Additionally, this router can support a variety of needs including high-quality 4K/8K streaming, gaming consoles, security cameras, and video doorbells utilizing the capabilities of this mesh system. With the power-packed performance of the 2 units it easily supports a variety of mobile and tablet gadgets in addition to your home tech.
Design & Ports
The square towers boasts a minimalist design with a ventilated top. As a result, it is not an invasive decor item and quite easy to miss. Each node stands at 3.1 x 3.1 x 7.3 -inches, housing 6 high-power internal antennas equipped with beamforming.
It is important to note that the bottom of each node is where two auto-sensing LAN/WAN ports are located which can be used to establish wired connections.
Setup & Security
This router offers app-based setup making for a fast installatin. Providing WPA2 encryption standards, the Linksys Velop system gives you access to the Linksys shield to protect your home from any vulnerabilities. In addition, you are able to control your network, place parental controls, access filters, and device priority from the mobile application.
Conclusion
As a result, if you are looking for a solid mesh system for your multiplex house or office, the Linksys WHW0302B is a great option. The two-pack system offers tri-band capacity and is a great balance between utility and price. Additionally, the unit's flexibility puts it above the pricey Arris G34.
Tri-band operation

Beamforming support

MU-MIMO technology

Seamless connectivity

Self-healing network
6. Best Modem Router Combo for Cox:

Arris G34
Arris G34 is a Cox approved wireless router + modem combo with the latest wireless standards. it also boasts improvements over the previous release. The comfort of the Surfboard Central App and compatibility with multi-Gig speeds warrant the inclusion of Arris Surfboard G34 on our list.
Why is it suited for Cox?
Offering top speeds of 600Mbps on 2.4GHz and 2400 Mbps on 5GHz is extremely to support large households or multiple devices. Also, with a 940Mbps internet plan you are able to achieve consistent 840 Mbps download speeds on 5GHz with maximum upload speeds of 450Mbps.
The latest Wi-Fi-6 standards coupled with MU-MIMO will deliver the best results with the Gigabit Blast package from Cox. This router is able to cover a 3000+ sq ft home and mitigates dead zones. This router also offers strong performance when multiple devices are operating simultaneously.
Hardware & Performance
The Intel-based multi-core atomic processor clocks a max speed of 2.5GHz. In addition, the 1GB RAM and 512MB flash storage make a huge difference to its performance. With this router, you can stream 4K videos, play high-graphic games like Red Dead Redemption, and Call on Duty, make Zoom & Skype calls, and surf the internet with multiple mobile gadgets with ease.
The advantage of the latest DOCSIS 3.1 technology allows you to have access to 32 downstream channels and 8 upstream channels. As a result, this is a tremendous improvement in bandwidth and access speeds. Not to mention, at the helm of 2 OFDM channels, the modem can handle multi-gig connections.
Design & Ports
This router offers a compact rectangular design and has a heat-regulated black chassis. As a result, with this simple aesthetic the design nicely blends into any household with ease. Additionally, the router boasts powerful internal beamforming antennas that can accommodate up to 7 simultaneous streams of communication channels.
Weighing in at 1.9 pounds, the combo device stands at 9.33 x 2.87 x 8 inches. Finally, you will find 4Gig Ethernet ports on its back.
Setup & Security
With the SURFboard central App and Web interface, the initial setup is quick and simple which is a definite win for this router. In addition, with the platforms you are able to set up parental and access controls and create guest networks within a few simple touches. Lastly, with the WPA2 encryption standards and inbuilt firewalls offer the requisite security for your home network.
Conclusion
With the Arris G34, you can future-proof your home with the latest wireless standards and save the monthly rentals of the COX Internet plan. As one of the best modem router combos we analyzed, this device does land below the Linksys mesh system.
Wi-Fi 6 standard

DOCSIS 3.1 support

Excellent coverage

MU-MIMO &

OFDMA

Alexa compatible
Limited security

Expensive
7. Best Budget Option:

Netgear R6900P
Netgear improved the throughput and coverage with this latest version of the router making it a better product than the former release last year. Device capacity and the Netgear ecosystem make a powerful statement on the inclusion of Netgear R6900P in my list of best Wi-Fi routers for Cox.
Why is it suited for Cox?
The routing device supports top speeds of 600 Mbps on the 2.4GHz and 1300 Mbps on the 5GHz. Initial tests with 300Mbps internet returned results of the R6900P raking up 250Mbps on its 5GHz and hitting 140Mbps download speeds on 2.4GHz.
With the preferred 250 packages, R6900P finds its match as one of the best sub $100 routers to use with Cox. Aggregate speeds of 1900Mbps in synergy with advanced features like MU-MIMO enable the router to handle up to 30 devices spread across 1800 Sqft.
Hardware & Performance
The 1GHz dual-core processor finds itself in the company of a 256MB RAM and 128MB storage, which can cater to the requirements of a small household. Balance your 4K streaming/gaming activities with other lighter activities and get the most out of your internet.
As one of the best Cox routers, this model will have no issues dealing with video/audio calling, media file downloads, HD streaming on tablets and smart TV, and gaming.
Design & Ports
The shiny black chassis sports a simplistic design with ventilation on both its sides. For a lightweight device weighing 1.65 pounds, the device has a bulkier presence with dimensions of 11.22 x 7.26 x 1.97-inches. Three external removable antennas with beamforming are crucial to its coverage capacity.
Netgear sticks to a standard wired setup found in most lower-end counterparts. A 4Gig LAN Ports, a 1Gig WAN port on the rear side, and a 1 USB 3.0 port on the front offer adequate avenues to connect devices like printers, storage drives, USB dongles, and TVs in a home.
Setup & Security
With access to the Netgear nighthawk mobile app and the web interface you will enjoy a quick initial setup for the router. You can easily set up parental controls, assign priority, create a guest network and monitor the internet remotely in the comfort of your palm. Netgear Armor comes with advanced security features to keep your home safe, along with firewalls, encryption, and inbuild VPN support.
Conclusion
It's very hard to beat the features that Netgear R6900P offers in terms of value for money and a secure network ecosystem of Netgear, which places my best budget alternative right below the Arris G34.
MU-MIMO

Beamforming

Alexa compatible

Parental controls
Buying Guide for the Best Cox Wi-Fi Router
In this section I have listed the factors that will impact which router is best for you to use with Cox Internet for your home or office.
User Requirements
The Cox Internet router you select will be based on your specific requirements, including the size of your house, the number of devices, and your specific preferences drive the decision.
Wi-Fi 6-powered mesh systems will work better with multiplex or large homes with extended yards, annexes, and garages. A gaming-friendly Wi-Fi router will have features to prioritize your gaming traffic over other activities.
Compatibility with Cox
The latest Wi-Fi 5 and Wi-Fi 6 routers will work with Cox Internet. Choose a Cox supported router that matches the capacity of your internet package. Without that, you'll be missing out on the faster speeds.
Wi-Fi Standard & Speeds
If you're after the best Wi-Fi routers compatible with Cox, turn your attention to the Wi-Fi standards and speed throughput. Got the latest Apple devices or PlayStation at your home? Go for a Wi-Fi 6 router. If you have more legacy devices., a Wi-Fi 5 router will do just fine.
Look for both the aggregated & individual speeds. If you have over 20 devices, look for aggregate speeds over 2Gbps. Additionally, features like MU-MIMO and OFDMA are also important when you want a router that can handle multiple devices leveraging the internet simultaneously.
Coverage & Devices
Having a high-speed Cox internet pack doesn't guarantee high speed for all your devices at home. If you're stuck in a dead zone without coverage, you'll hardly get any internet. Smaller homes can choose from wireless routers that cover 1500 sq ft.
If you're in a medium/large house, look for routers covering 3000 sq ft, the higher the antennas, the better the coverage. You cannot ignore the role of CPU and RAM in handling more devices. Choose multi-core processors if you have smart TVs, gaming consoles along with plenty of other mobile gadgets.
Ports & Connectivity options
Wired connectivity decides on how well you get the most out of the router that works best with Cox internet. If you're looking for stable connectivity, go for more Ethernet ports. Connect all your priority devices like TV, gaming console, and Work PC through the Ethernet ports.
If you want to share a single printer or a hard drive with your family member, look for the latest wireless routers with USB ports. If you have the latest USB 3.0 ports, the quicker the data transfer speeds within the network.
Installation & Management
Most Cox-supported routers will leave you to choose between wired or wireless setup through a mobile application or a web-based setup. You can choose the modality you're comfortable with.
Major OEMs allow remote monitoring and control through mobile apps. Look at OEMs like TP-Link and Netgear if you require both remote and local management.
Frequently Asked Questions
Does any router work with Cox?
The Cox Internet comes with a cable-modem setup. Most Wi-Fi 5 and Wi-Fi 6 compatible routers will work with Cox Internet connection via Ethernet cable. The matching speed capacity in line with your internet package allows you to use the full potential of the internet.
What is the best modem router combo for Cox?
Arris G34 is easily one of the best modem router combos for Cox Internet. It saves you the monthly rentals and brings you the latest technology for the modem and router. DOCSIS 3.1 supports gigabit-speed internet and the router supports the latest wireless standards.
Which standalone router is best for Cox Internet?
TP-Link Archer AX6000 is the best router to replace Cox gateway. With a robust hardware unit and a plethora of wired connectivity options, the latest features come with advanced internet protection that makes it ideal for large homes with plenty of devices.
How to choose a wireless router for Cox?
Get a clear understanding of the requirements such as coverage area, number of devices, and an overview of activities involved. Select the best router to use with Cox whose throughput capacity matches or exceeds the speed offered by your package. Heavy streaming and gaming activities will require a multi-core processing unit.
Verdict
There are many wireless routers, mesh systems, and Modem-Router combos available in the market that are compatible with Cox Internet. The final choice depends on the type of service package, budget, features desired, and the coverage area.
If you are an avid gamer and a high-end streamer planning to go with the Gigablast plan, the

TP-Link Archer AX6000

is my go-to recommendation.
If you are into a more compact system, the

Arris G34

router-modem combo is the best possible choice for every Cox plan.
Finally, for smaller packages like Internet 50 and Starter, the

Netgear R6900P

is the most affordable and efficient option.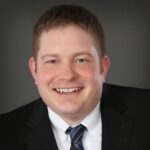 Chris loves technology, specifically smart home technology! With both hands-on and executive leadership experience in his corporate career, Chris stays abreast of emerging technology and solutions and immerses himself in BCCA when not in the office.