Do you like to enjoy the pleasure of an immersive experience at the comfort of your home theatre? Are you a hardcore gamer generating high-quality content for streaming on Twitch or YouTube? Or if you are in a large household with multiple TVs streaming 4K content. It doesn't matter what your needs are, here, you'll be able to find a suitable router for streaming in 4K.
If there is a dilemma about choosing Wi-Fi 6 or Wi-Fi 5 routers? Or if you are unsure about the important features to look for in a router or If you are looking for a budget router that supports 4K streaming, the article clarifies your doubts and helps you find the best router for your streaming requirements.
I narrowed down the important features indispensable for 4K streaming. If you are relying on wireless connectivity, OFDMA, MU-MIMO, and beamforming are vital for stability. An adequate selection of Ethernet ports, backed by powerful hardware (Dual-core or higher processor and RAM) remains crucial.
8 Best Routers for 4K Streaming in 2023
After a comparative analysis of over 34 routers in the market space, I have shortlisted these 8 routers for 4K streaming, fitting for different scenarios one might come across. Starting at high-end workhorses that support multiple streaming and gaming, I transitioned into mid-range products.
I looked for products offering all-around utility with decent coverage and speeds that translate to gaming and streaming. The last part lists the best budget routers that support 4K streaming.
1. Best Overall:

Netgear Nighthawk RAX50
If you are a content creator or an artist or a Twitch streamer requiring a powerful router to support multiple instances of 4K streaming, the Netgear Nighthawk RAX50 will be capable of handling it. Throw in DFS, 160MHz channels, and the latest encryption standards to the mix, one gets their money's worth.
Coverage & Speeds
With Netgear RAX50, you get an aggregated speed of 5400mbps. A high-speed connection can take it closer to 600mbps in 2.4GHz and 4800mbps in the 5GHz band. Medium households spanning 2500 sq ft with over 25 devices will find this router useful.
Design & Hardware
The sophisticated-looking device from Netgear weighs 1.25 pounds. In a sleek-looking body, the LED indicators line up in the middle and the design leaves adequate ventilation at the rear.
A triple-core processor clocking at 1.5GHz and the combination of 512MB RAM and 256MB storage, gives the power to handle high-quality streaming.
Antenna & Ports
The 4 external antennas deliver signals to your devices. OFDMA, beamforming, and MU-MIMO ensure minimal loss in quality. Be it streaming smart TV or gaming on PS 4, connect them to the router via the 4 Gigabit Ethernet ports. Sharing drives becomes easier with a high-speed USB 3.0 port.
App Support
Nighthawk application makes the installation process simple. Find all the advanced settings in the web interface to configure the way your home network works. You can set up Port Forwarding and other tweaks to improve communication with the streaming servers.
Security Features
With Netgear's smart parental controls, you can create profiles for multiple devices and control the internet schedules with your mobile. The Netgear Armor protects the devices at the home network from cyber threats.
Should you buy it?
Stream your games or watch movies over Netflix, HBO, or Hulu in 4K/8K, RAX50 cruises through them, credit to powerful hardware and the latest technologies at its disposal. The mid-range 500mbps to Gigabit connection from Verizon FiOS, Google Fiber, or Frontier FiOS will power through multiple devices streaming in 4K.
MU-MIMO, OFDMA

DFS and 160MHz channels

WPA3 encryption

Smart parental controls
Dynamic QoS
1024-QAM & Smart Connect
2. Best Runner Up:

ASUS RT-AX3000
Speeds & Coverage
The ASUS RT-AX3000 can reach high speeds of 575mbps on 2.5GHz and 2402mbps on 5GHz. The router will find its match in a household filled with over 30 devices requiring high-speed internet spread across an area of 3000 sq ft.
Design & Hardware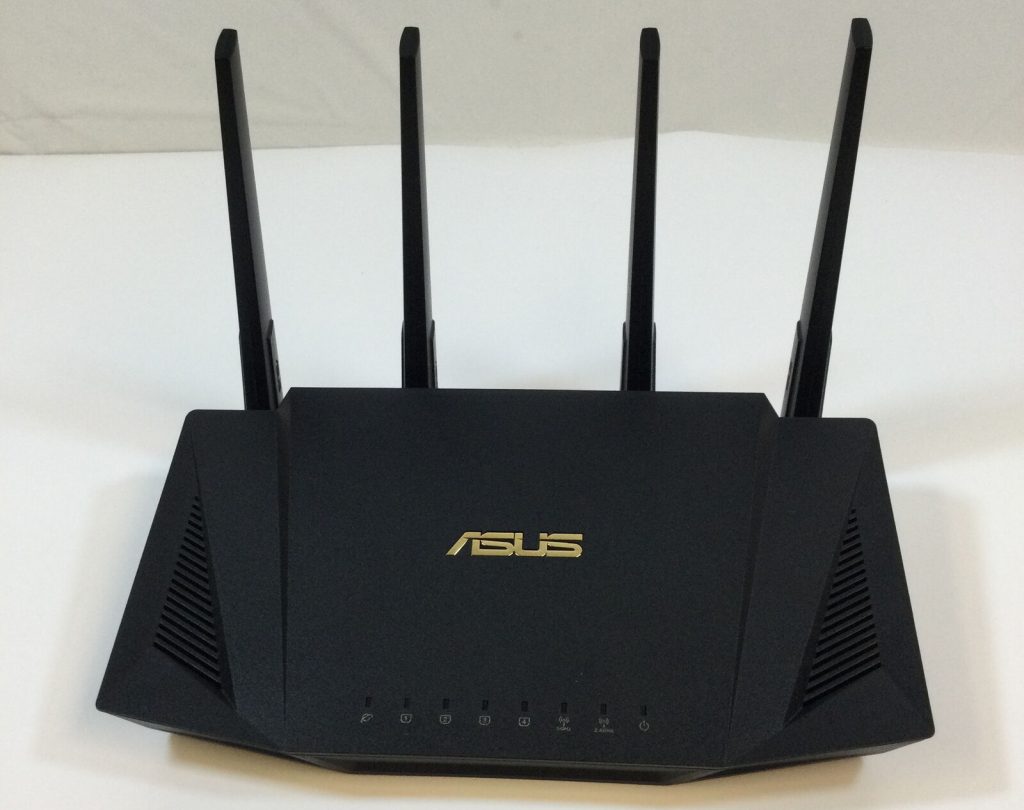 At 1.2 lbs, it's a lightweight router with a powerhouse performance. It comes in a wedged black body with sufficient ventilation at the sides and the back.
The power of a 1.5GHz Tri-core processor, 512MB operating memory, 256MB of storage memory will ease you through the demands of 4K streaming and leave you an unhindered visual experience with Curiosity Stream or HBO, or National Geography.
Antenna & Ports

Asus puts 4 external antennas, geared with OFDMA, MU-MIMO amongst the four Gig LAN ports, one Gig WAN port, and a USB 3.1 port on its backside. You can connect your gaming console and the streaming device through LAN and get the best out of your internet.
App Support
Asus mobile interface gives simpler management solutions to your home network. If you login into the web GUI and it allows you to control every aspect of the network. Pick your mode and get through the installation within minutes.
Security Features
With parental controls, you get to limit access to websites and applications, based on pre-designed categories. Schedule your kid's internet access at fixed hours. AiProtection gives you the requisite real-time protection from cyber threats and unauthorized usage.
Should you buy it?
If you are a gamer looking to monetize your exploits of gaming with high-quality streaming, ASUS RT-AX3000 gives excellent value for money with Wi-Fi 6 and the ability to expand it to a mesh system at a little more than $150. The Gigabit connections from Google Fiber, Verizon FiOS give the best ecosystem for your streaming experience.
Wi-Fi 6 support

MU-MIMO, OFDMA

Lifetime internet security

Excellent coverage

Wall-mountable

Works with Alexa
3. Best for OTT Streaming:

Linksys E8450
If you are living in a highly congested apartment with Wi-Fi networks sharing the same space and that is affecting your Wi-Fi performance, Linksys E8450 might be the perfect router for 4K streaming on Firestick.
Speeds & Coverage
With an aggregated speed of 2600mbps and top speeds of 800mbps in 2.4GHz and 2400mbps on 5GHz, you get sufficient bandwidth to operate 4K streaming devices. The device can cover surface areas up to 2500 sq ft and support up to 25 simultaneous connections, making it easier to stream web series on TV, PC, and mobile devices.
Design & Hardware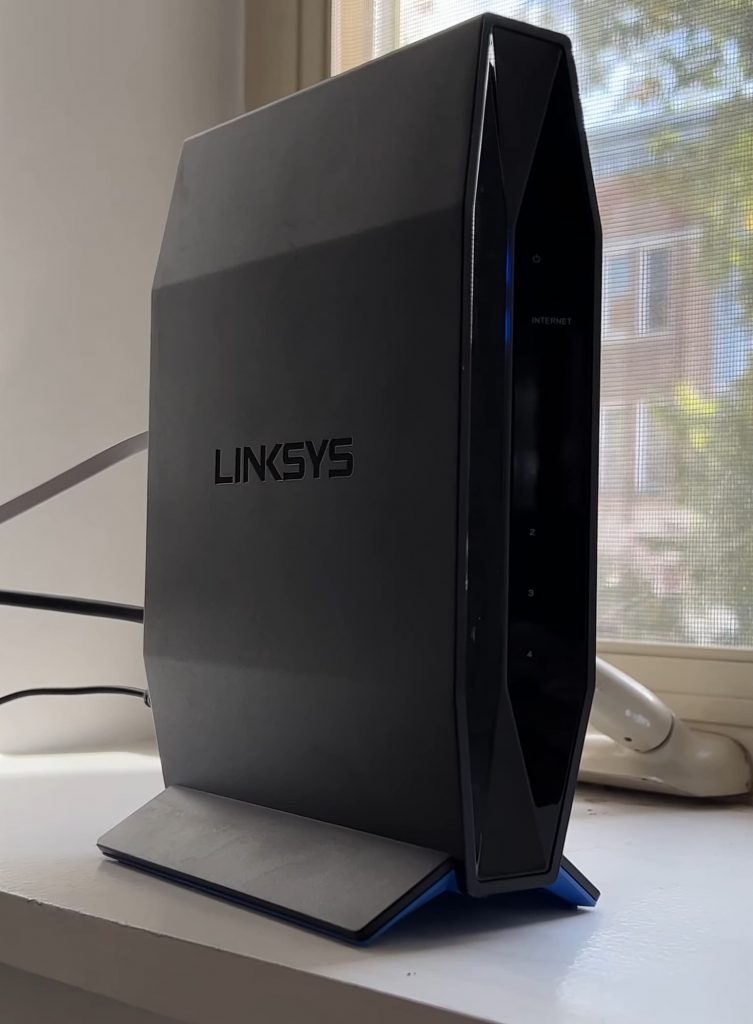 The rectangular black casing weighs 1.41lbs and sports a simple perforated design. A dual-core processor clocking at 1.4GHz, RAM of 512MB, and flash memory of 128MB remain the power behind the Linksys machine.
Antenna & Ports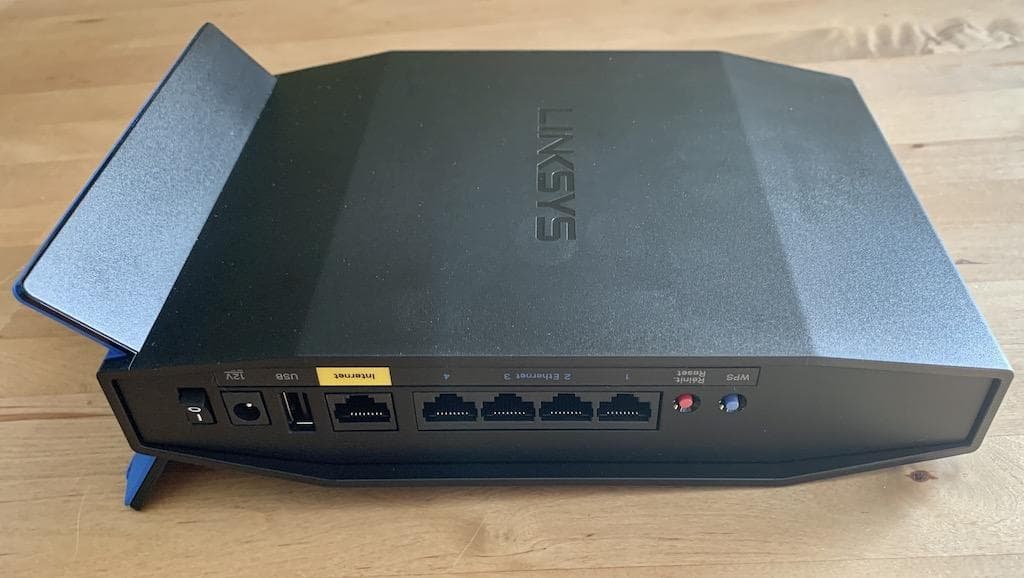 With 4 internal antennas designed to deliver signals, Linksys finds space for one WAN port, four Gigabit Ethernet ports, and one USB port, offering ample avenues for wired connections and shared printers/storage devices.
App Support
The Linksys Wi-Fi app is not supported in this router so you have to go the web-interface road to install this 4K streaming router. However, the web UI is simple and easy to follow both in terms of setting the router as well as configuring the security options.
Security Features
If you need to control the child's internet consumption, enable parental controls of devices, block access to websites, and limit access to the scheduled time frame. The interface allows you to set up firewalls, configure VPN and customize settings for port forwarding.
Should you buy it?
Supplement your gigabit-speed connections from ISP like Google Fiber, Xfinity with this value for money router from Linksys and get a seamless 4K experience in your jam-packed apartment, credit to technologies like MU-MIMO, DFS, and beamforming
Affordable price
Wi-Fi 6 support

MU-MIMO &

Beamforming

Support for DFS

WPA 3 &

Parental controls

Minimal design
4. Best Wi-Fi Mesh System:

TP-Link Deco X20
If you don't want the complications of managing your network in a large household, TP-Link Deco X20 packs the latest networking, encryption standards, and the extended coverage of a three-pack mesh system. Stream multiple devices from every corner of your house.
Speeds & Coverage
With a total speed of 1800mbps and high speeds of 600mbps in 2.4GHz & 1200mbps on 5GHz, the TP-Link Wi-Fi system can cover long surface areas of 4000 sq ft and support multiple devices simultaneously.
Design & Hardware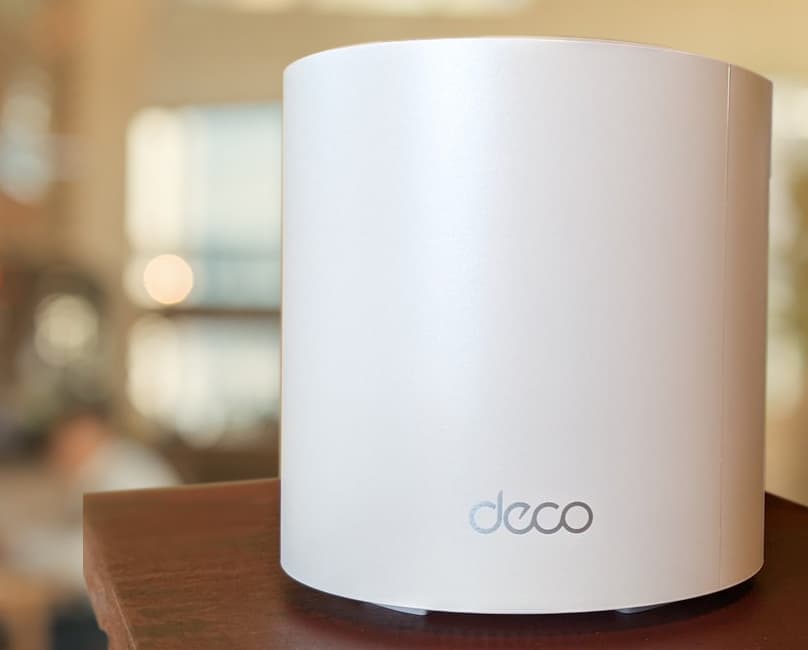 The rectangular Wi-Fi 6 mesh routers weigh close to 2.58 pounds The matte-white design with groovy edges holds a powerful 1GHz quad-core processor. The operating and storage memory of 512MB and 128MB respectively brings 4K streaming possible.
Antenna & Ports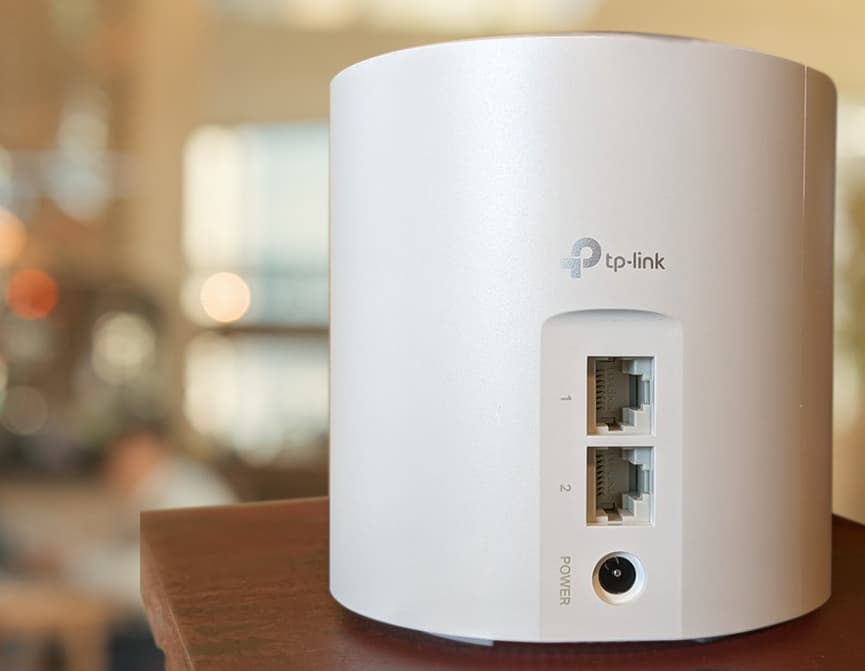 The Deco X20comes with only 2 internal antennas. If you don't rely on wired connections, one WAN port and one LAN port per unit would be just sufficient.
App Support
You get the choice of wired/wireless to take care of the initial router setup. With one of the simplest interfaces in mobile, Tp-Link brings a well-designed Deco mobile application to offer more control over the router.
Security Features
Schedule the streaming hours on multiple devices and set priority. Users can protect their network from malicious sites, inappropriate usage, and the threat of virus-infected devices.
Should you buy it?
TP-Link Deco X20 throws in the latest standards for speed and encryption for keeping your large house dead zone free. Connect your Smart TV through the LAN port and enjoy 4K videos. If you are in one of the major cities, supplement your router with mid-range packages from ISPs like Cox, Spectrum, and Comcast Xfinity.
Also Read: TP-Link Deco X20 complete review
Wi-Fi 6 support

Supports over 100 devices
Covers large homes
Robust parental controls

WPA3 encryption

QoS device priority
5. Best for TV Streaming:

D-Link DIR-2640-US
Need a router to stream educational content for your kids that can limit the user's access when necessary, DIR 2640 will be a fit for your small/medium household with ample connectivity for smart TV, gaming consoles, Apple devices, and desktop.
Speeds & Coverage
With a total speed of 2600mbps and higher speeds of 800mbps and 1733mbps in 2.4GHz and 5GHz, you get ample bandwidth for streaming 4K content through your TV. With optimized usage, the router can support up to 20 devices spread across 1500 sq ft.
Design & Hardware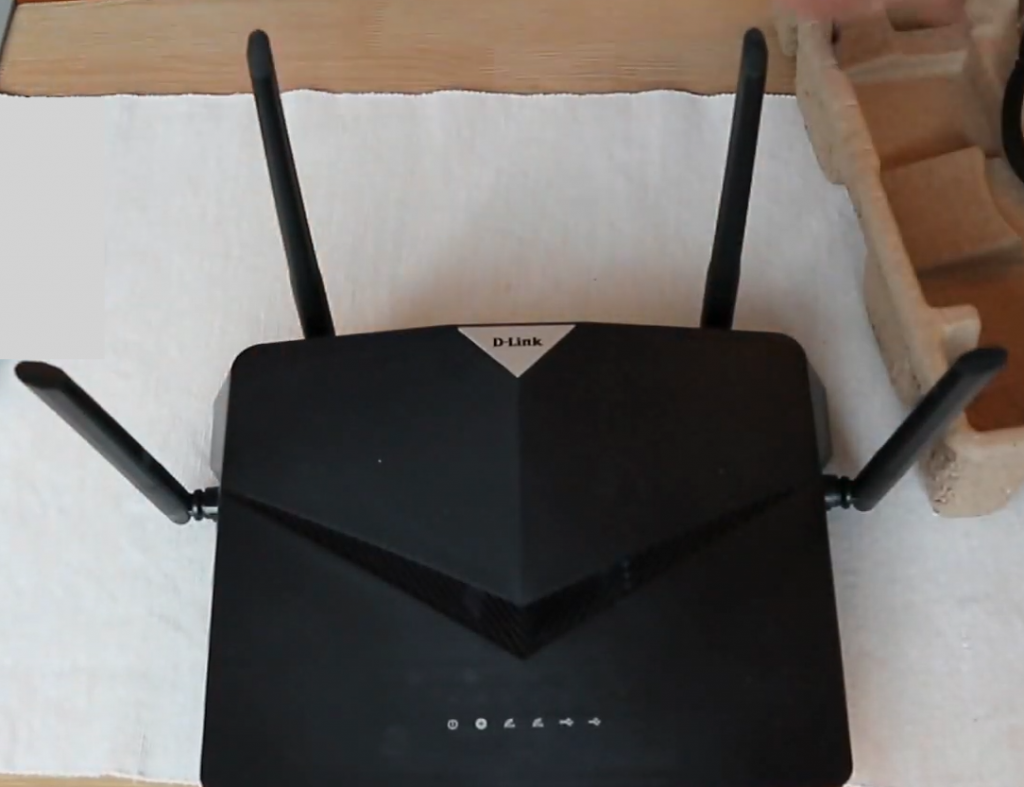 At 1.35lbs, the D-Link router is a lightweight device with a simplistic design. It houses a dual-core processor and 256MB of operating memory and 128MB of storage memory to help with data-intensive TV streaming applications like YouTube Netflix, Hulu, Voot, and HBO.
Antenna & Ports
4 huge external antennas attached to the rear half of the router act as reliable carriers of Wi-Fi signals. Two USB ports ensure wireless access to shared printers/network drives within the network. You can rely on the stability of wired connectivity of one WAN port and four Gigabit Ethernet ports.
App Support
The D-link application offers an easy way of installation and remote control over the home network. You can allocate bandwidth and set priority through the QoS and prioritize the streaming device, create guest zones and protect the network from unauthorized devices.
Security Features
Create a profile for every person using the network, link the devices to profiles, and have control over when they access the internet. Limit internet access to particular devices, if necessary. Enable port forwarding to improve the communication to OTT servers, configure VPN, firewalls with the extensive interface.
Should you buy it?
If you are looking for a router for a small/medium home, that offers profile-based parental controls, has an intelligent QoS to prioritize the 4K streaming device, and has mesh compatibility, the DIR-2640 works well with your 150-500mbps/mid-range connections from Optimum and AT&T Uverse.
MU-MIMO & SmartBeam

Mesh compatibility

Has parental controls

Voice control compatible

QoS for prioritization
Limited range

No Wi-Fi 6 support
6. Best Under $100:

TP-Link Archer AX21
Power your gaming console and 4K TV with the latest standards of TP-Link Archer AX21, backed by OFDMA, MU-MIMO, and Beamforming.
Speeds & Coverage
The top speeds of 574mbps in 2.4GHz & 1200mbps on 5GHz should stream 4K quality content easily. With a large coverage area of 2200 sq ft, it fits perfectly for large homes and 2 story houses with 30 devices running concurrently.
Design & Hardware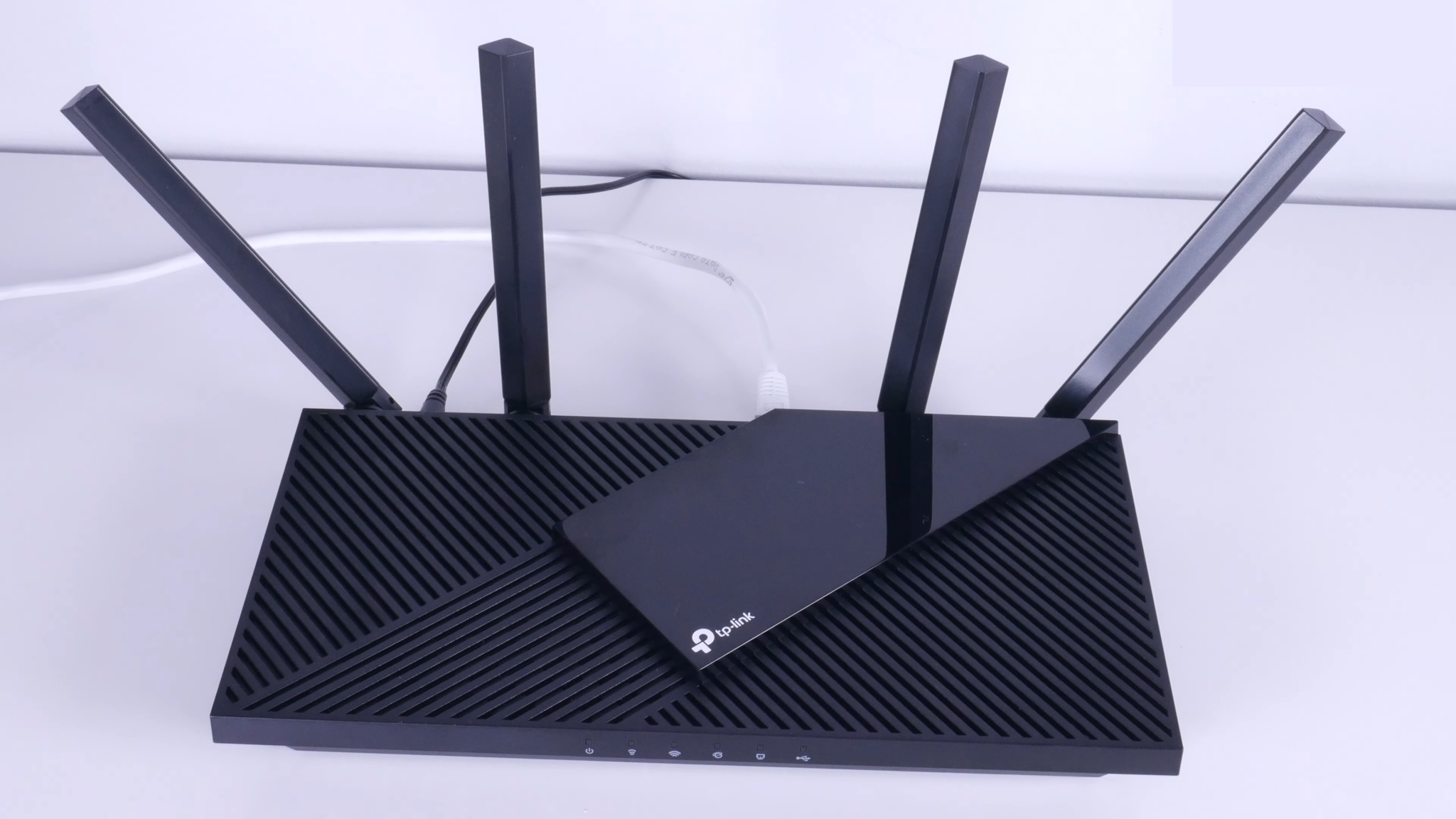 At 1.1lbs, this lightweight router sports a modern design with a beveled top and striped design. The black casing holds a powerful 1.5GHz quad-core processor. The combination of 256MB of RAM and 16MB of storage memory might be a limiting factor during multiple 4K Streaming.
Antenna & Ports
The 4 external antennas are equipped with Beamforming MU-MIMO and OFDMA that ensure minimal loss of bandwidth. With one Gigabit WAN port, and four Gigabit LAN ports keep your gaming console and TV connected to the router. The USB 2.0 lets you share printers within the network.
App Support
The TP-link application remains the most simplistic and intuitive application on offer to manage your network. Set priority for devices and ensure the best bandwidth for your streaming device.
It allows you to filter URLs and restrict access to your kid's devices with time control. With the latest encryption of WPA3, you can protect your network from unauthorized usage.
Security Features
This model offers ample features like firewalls, access controls, VPN support to protect the network and devices connected to the home network.
Should you buy it?
If you want to future-proof your streaming device with Wi-Fi 6, without considering scalability, TP-Link AX21 fits the bill perfectly for small businesses at an affordable price. You can start with the budget plans of google-fiber and FiOS and upgrade the connection based on future requirements.
Wi-Fi 6 support

MU-MIMO & OFDMA

Affordable price
Supports over 30 devices

Beamforming

Target Wake Time
7. Best for Home Use:

Netgear Nighthawk R7350
You may not have the support for the latest wireless standards (Wi-Fi 6), but the Netgear Nighthawk R7350 delivers high-speed internet with sufficient speeds, ports, and long coverage for your Streaming devices. Not just that, this 100 dollars wireless router also facilitates advanced QoS settings to prioritize your internet traffic.
Speeds & Coverage
A total of 2400mbps is split into high speeds of 600mbps on 2.5GHz, and 1733mbps on 5GHz. A perfect fit for your medium-sized home measuring 2500 sq ft, and over 25+ devices operating simultaneously.
Design & Hardware
At 1.65 pounds, the Netgear router sports a simplistic black plastic body with a USB port placed in the front. The Broadcom BCM4709A0, a dual-core processor clocking at 1GHz, an operating memory of 256MB, and a flash memory of 128MB find enough power for 4K streaming.
Antenna & Ports
The 3 adjustable antennas aided by MU-MIMO and Beamforming+ technology act as carriers of quality signals across your home. The R7350 leaves sufficient room for wired connections, shared network storage devices with four LAN ports, one WAN port, and one USB 3.0 port.
App Support
The Netgear R7350 also has the comfort of a mobile application. The Nighthawk app helps with initial setup and network monitoring.
Security Features
This sub $100 wireless router doesn't leave the parents completely dry. With customized filters and internet schedules, they can still protect their children from undue exposure. You can set up guest networks, and protect your network from infected/unauthorized usage.
Should you buy it?
An affordable solution for homes with limited devices at the helm. Its wired connections can handle 4K streaming and still support multiple devices concurrently. The starting level plans from Google Fiber or Frontier FiOS at major cities would be a fit for people operating on a budget.
Affordable

MU-MIMO &

Beamforming+

Great wireless coverage
Supports 25+ devices
WPA3 encryption
QoS prioritization
8. Cheapest Option:

TP-Link Archer A7
The TP-Link Archer A7 isn't your fancy router. It doesn't come with MU-MIMO or Beamforming. You get all the basics right with an effective QoS, and parental controls, that can prioritize 4K streaming devices and power high-speed internet to multiple wired devices at the same time.
Speeds & Coverage
With a total speed of 1750mbps and speeds of up to 450mbps and 1300mbps in 2.4GHz & 5GHz, A7 provides sufficient bandwidth for high-quality streaming. The coverage area of 2500 sq ft, should cover medium-large homes and handle up to 40 devices (with optimized usage) simultaneously.
Design & Hardware
Amongst one of the lightest routers on market, the Archer A7 weighs 0.90 lbs. A glossy black casing divided by two thin grooves houses the 750MHz processor and RAM of 128MB and flash memory of 16MB.
Antenna & Ports
The router has 3 tall antennas rising from the rear side. It has four Gig ethernet ports, one Gigabit WAN port, and a USB 2.0 port. Wire your streaming device to the ethernet port and get high-speed connectivity. You can share printers on the network or storage devices if you can handle the slower NAS performance.
Security Features
Install the router within minutes and manage the basic settings from an intuitively designed Tether mobile application. Advanced QoS allows you to prioritize the streaming device and ensures an unhindered experience.
Should you buy it?
Families can put the parental controls to use by creating multiple profiles, create a customized blacklist for URLs, restrict certain devices, and pause the internet in line with a schedule., and protect the network from intrusions. Small households with limited gadgets can rely on the performance of the TP-Link Archer A7.
Pocket friendly

QoS prioritization

Mesh compatibility

Works with Alexa

Great coverage

Intuitive Application design
Frequently Asked Questions
Can I stream 4K content on multiple devices?
Even the latest generation gaming consoles from Xbox like Xbox One X and Xbox One S don't support Wi-Fi 6. PlayStation 5 from Sony is the only gaming console supporting the latest Wi-Fi standards. But the Wi-Fi 6 routers are backward-compatible and support your Xbox One.
Should I go for a Wi-Fi 6 router or Wi-Fi 5 is just fine for streaming?
The utility of a Wi-Fi 6 router depends on ISP and the streaming device. If you are looking to future-proof your routers to the latest standards, you can choose Wi-Fi 6 routers. If you are operating within a budget, a Wi-Fi 5 router will do just fine.
Are mesh Wi-Fi systems any good for streaming in 4K?
If you live in a household with multiple Smart TVs streaming in 4K quality, the mesh Wi-Fi system gives the best chance for a seamless performance. Mesh systems come with extenders/multiple units with LAN ports equipped with smart routing capabilities to optimize your internet speed across multiple devices.
What should I look for in a router for streaming?
Features like MU-MIMO, OFDMA, Beamforming, QoS, and LAN ports are vital to delivering wireless/wired high-speed internet to important devices at home. A strong processor and adequate RAM decide the performance of the router in the instances of simultaneous streaming.
Verdict
Finding the best router for 4K streaming depends on the total number of devices of the household, the size of the home, and the population density of the neighborhood.
If you require a powerhouse of a router, offering support to gaming and has ample wired connectivity, go for

Netgear Nighthawk RAX50

.
Need to cover a large household close to 4000 sq ft, go for the

Deco X20

from TP-Link.
ASUS RT-AX3000 offers all-around performance with its support to gaming, prioritization engine, and utility at an affordable price.
The

Archer A7

fits the bill for a household with a single high-quality streaming device and if you are constrained by budget.
Understanding the requirements clearly will lead to the router that complements your internet connection and offers sufficient bandwidth for your devices.
For Morton, reviewing a router is just like spending another day at the office. As BCCA's senior copywriter, Morton believes is explaining every concept concerning routers, networking technologies, and additional routing specs. Also, Morton is our go-to man if we are looking to get the ISP-dependent internet plans tested across devices.