Are you wondering why aren't you getting the full potential of your 400 Mbps internet? Is the ISP-rented equipment unable to handle the bandwidth load? Do you need a secure environment to protect the devices on your home network? Well, all this can be addressed if you invest in a good router for your 400 Mbps connection. And this article shall help you with the selection.
It wouldn't hurt to have features that enable you to navigate network congested apartments. A higher number of home gadgets will make you appreciate the advantage of the mesh systems. You might also look for parental control routers to control the internet usage of kids at home.
After hours of nitpicking and analyzing, I have prepared a list of wireless routers that can handle a 400 Mbps plan with relative ease. Some of them have the upper hand owing to the latest standards, improved throughput, & coverage. Features like MU-MIMO, Beamforming, QoS, Parental controls, & internet security sweeten the deal further.
7 Best Routers for 400 Mbps Internet in 2023
The ulterior motive of the article is to review the top-rated 400 Mbps routers that help you bring the best out of your internet while catering to your preferences.
The list starts with high-end wireless routers in terms of features — the focus shifts to mid-range value choices suited for diverse requirements. You'll also find some affordable, budget-friendly mesh systems & standalone routers at the end of the list.
Find my top 7 recommendations here:
1. Best Overall: TP-Link Archer AX73
The AX73 gets substantial improvements compared to the AX50. A better processing unit, upgraded RAM, and the two additional antennas are paramount to its coverage and throughput. The addition of DFS, 160MHz channels & Link aggregation support brings TP-Link AX73 to the topmost recommendation.
Why is it suited for the 400 Mbps Plan?
Fire up your top-tier internet package with the top speeds. of 574Mbps on 2.4GHz and 4804Mbps on the 5GHz band. The router can support high-speed 1 Gigabit plans, owing to its throughput & selection of features like MU-MIMO, OFDMA, & 160 MHz channels. Prefer to assign device/application priority? You'll enjoy the flexibility of the inbuilt QoS.
When you have the 6 external antennas with beamforming support, you don't have to worry about dead zones or loss of signal because of dispersion. The device can support up to 30 devices and is recommended to use in 2500 sq ft homes.
Hardware & Design
TP-Link pairs a triple-core processor clocking at 1.5GHz with 512MB RAM & 16MB storage to deliver a machine that's capable of handling the demands of a large household. It can sustain 4K media streaming devices, data-intensive gaming consoles & a few mobile gadgets.
Archer AX73 sports a beveled top on a glossy black chassis. At 1.46 pounds, it's sleek yet a powerhouse device measuring 10.7 x 5.8 x 1.9 inches. Combine multiple connections via Link aggregation using the available 4 LAN ports. The USB 3.0 port lets you share shared hard drives and printers over the network.
App & Security Features
Tether mobile application's user-friendly design makes Archer AX-73 easier to set up & manage. Bothered about internet security? Go for the Homeshield protection pro, which offers real-time protection for the gadgets along with comprehensive parental controls, firewalls, and WPA 3 encryption standards.
Conclusion
If you are in a congested network environment, the DFS can be paramount to avoid any loss of capacity. Overall, AX73 is the best Wi-Fi router for a 400 Mbps connection, and it makes a lot of things easier with its latest features. The advantage of improved speeds & link aggregation puts it right ahead of a tough competitor in RAX45.
Wi-Fi 6 standard

DFS &

160MHz Channels

Link Aggregation support

MU-MIMO & OFDMA

Triple-core processor
Subscription-based Internet security

Restrictive flash storage
2. Best for Xfinity 400 Mbps: Netgear RAX45
The upgraded processor & storage equips Nighthawk RAX45 to improve its throughput capacity and support the latest wireless standards a tad better than its predecessor. The Netgear ecosystem, combined with the vast selection of features, makes it difficult to leave it anywhere but the top of the list.
Why is it suited for the 400 Mbps Plan?
The aggregated speeds of 4.3Gbps can accommodate the higher tier speeds up to 1Gbps from Google Fiber or AT&T. Throwing MU-MIMO, OFDMA, additional 160MHz channels & QoS, makes RAX45 ease through 480Mbps, 3840Mbps on 2.4GHz and 5GHz, respectively.
The presence of 4 external antennas with beamforming support ensures none of your 20 devices miss out on the signal quality. Placed optimally, the router leaves no dead zones while covering 2500 sq ft.
Hardware & Design
Do you need a reliable routing device for Twitch streaming? or do you have heavy streaming devices at your home? The triple-core processor clocking at a high frequency of 1.5GHz is a beast. It works in tandem with 512MB RAM and 256MB storage to support the data-laden devices.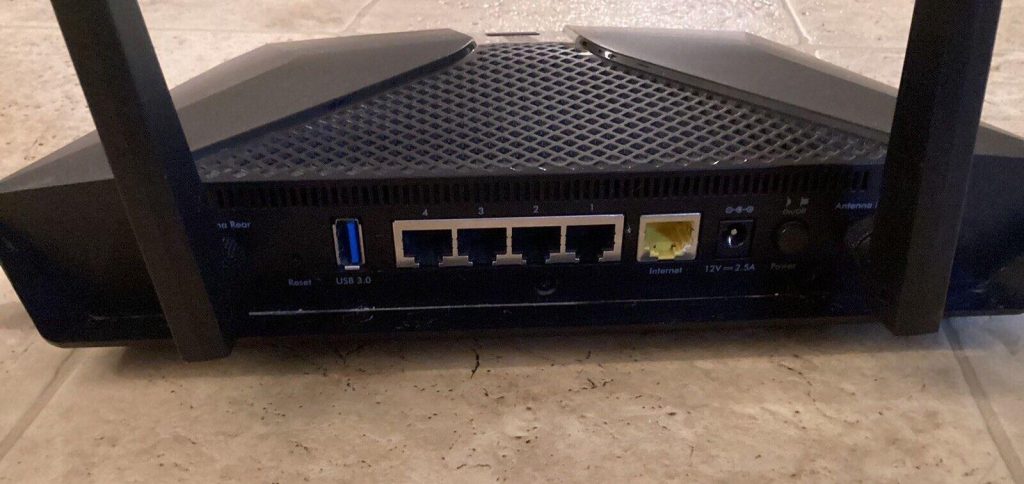 The sleek black body & wedged design leaves an impression of a futuristic device. The beast of a device packs everything within 1.25 pounds and 11.6 x 8.11 x 2.25-inches. Keep your smart TV, gaming console, PC wired to the router with 4 Ethernet and 1 WAN ports.
App & Security Features
Nighthawk mobile app brings ease to the setup & customization. Despite the subscription fee, the Netgear Armor & frequently updated ecosystem offers substantial protection against intrusions & malicious content. On top of that, double firewalls, VPN support, WPA 3 encryption ensure privacy to the devices on the network. (Learn how to set up WPA 3 on a wireless router)
Conclusion
Do you want to protect your internet plan with advanced internet security? It's very hard to say no to the brilliant selection of features that make RAX45 the best-rated Netgear Wi-Fi router for a 400 Mbps connection. The speed throughput of Archer AX-73 is the differentiating factor that keeps the RAX 45 in second place.
Wi-Fi 6 support

DFS & 160MHz Channels

OFDMA &

Beamforming

Powerful processing unit
WPA3 encryption
Netgear Armor subscription
3. Best for Work From Home: Motorola MR2600
The benefits of a faster USB 3.0 port, an improved processing unit make Motorola MR2600 better than its front runner. The stability of its dual-band Wi-Fi speeds, wired connectivity & Motorola's aggressive pricing brings the product closer to the top of my list. Also, this is one of the few budget-friendly routers that complements work-from-home setups.
Why is it suited for the 400 Mbps Plan?
The top speeds of 800Mbps on the 2.4GHz and 1733Mbps on the 5GHz band will complement a 400 Mbps speed plan from the top service providers like Verizon FiOS. Features like MU-MIMO and bandwidth management using QoS further optimize your network for efficiency.
At the helm of 4 high-powered, external Beamforming antennas, you can ensure a strong signal delivery to 20 devices in your household. That makes coverage of areas as large as 2000 sq ft a tad easier.
Hardware & Design
The dual-core processor clocking at 880MHz is vital to keep the multiple devices engaged in data-intensive activities. The 128MB RAM and 16MB storage warrant a balanced usage.
The device comes in a chequered black chassis weighing 1 pound and measuring 7.06 x 12.0 x 7.12 inches. If you are reliant on wired connectivity for stable internet, the MR2600 offers 4 Gigabit Ethernet ports and 1 WAN port. Small offices can take advantage of a USB 3.0 port to share data/printer with the network.
App & Security Features
The lack of a mobile app dwarfs the remote ability. The web interface allows you to configure firewalls, set up guest networks, implement parental controls & access filters. The inbuilt system offers protection from Denial of Service attacks and WPA2 encryption.
Conclusion
If you are not keen on remote management, the Motorola MR2600 is a value-for-money router for work-from-home setups and small business setups. Features like MU-MIMO, Beamforming, throughput capacity are essential to its inclusion. The extended coverage keeps this Wi-Fi router a place above the Linksys one.
MU-MIMO &

Beamforming

Dual-Core processor

Faster USB 3.0 port

Parental controls

Affordable price
No Mobile app support

Awkard USB placement
4. Best for Spectrum 400 Mbps: Linksys EA8100
Is Spectrum your choice of a service provider? Looking for the best wireless router to use with Spectrum 400 Mbps plan? Well, Linksys EA8100 shall be sufficient enough to handle the plan and provide you with strong signals across your home or office setup.
The selection of features & the improved capacity makes Linksys EA8100 a better prospect than its predecessor. The value for money & presence of the DFS channel suffices to justify its inclusion as a highly rated recommendation.
Why is it suited for the 400 Mbps Plan?
The aggregate speed of 2.6Gbps & MU-MIMO is a game-changer for any top-tier internet plan over 400 Mbps. The routing device can handle top speeds of 800Mbps on 2.4GHz and 1733Mbps on 5GHz, powering multiple devices with speed.
Worried about loss of signal quality? The 4 external antennas & beamforming technology make sure the signals get focused towards the devices. The routing supports 15+ devices and is well-geared to cover homes measuring 1800 sq ft.
Hardware & Design
The ability of 880MHz dual-core processing combined with 256MB RAM and 128MB flash memory will be adequate for smaller households. It keeps your streaming devices, gaming console & gadgets powered with high-speed internet.
The perforated chassis in a black body is reminiscent of Linksys classic design. The bulky-looking unit weighs 1.23 pounds & measures 10.12 x 7.24 x 2.2-inches in dimensions. Linksys doesn't disappoint in the wired connectivity. You'll have 4 LAN ports to keep the devices wired to the router. A pair of USB ports ensure Home-offices can share devices.
App & Security Features
The Linksys Wi-Fi comes in handy during installations. Old schoolers can use the web interface to set up firewalls, customize access filters, configure inbuilt VPN, set parental controls. Gain more control over the kid's internet exposure with the routing device.
Conclusion
Need a value for your small household in a congested apartment? Don't look beyond Linksys EA8100. Do you plan to upgrade the network and add more devices, then you may consider the Linksys MR8300. It was a tough choice to leave it below the Motorola router for the advantage of better coverage.
MU-MIMO

Beamforming

DFS Certification

Device prioritization
5. Best for Gaming & Streaming: ASUS RT-AX55
A modification in design means the ASUS RT-AX55 gets to keep most of the hardware with a compromise in the memory unit and the USB port of its predecessor. There is a lot to cheer about its support to the latest standards, throughput & coverage. The surprise comes via price, warranting its place closer to the top of the list.
Why is it suited for the 400 Mbps Plan?
Combining a 400/500 Mbps plan from ISP's like Verizon or AT&T will bring the best out of its speeds throughput of 574Mbps on 2.4GHz and 1201Mbps on 5GHz. With features like MU-MIMO, dual QoS & OFDMA, the priority devices will ease through demands of data-laden streaming & gaming.
Equipped with 4 antennas & beamforming, you can lay rest to the doubts of covering larger surface areas up to 3000 sq ft. The Wi-Fi router can keep up its stellar performance to 25 devices.
Hardware & Design
The quad-core processor clocking at 1.5GHz brings a top-tier performance. With 128MB Flash storage and 256MB RAM, you can get through high-quality media streaming & online gaming.
Don't let the appearance of a 9.06 x 5.28 x 2.2 inches device weighing 0.82 pounds mislead you about its performance. A striped design on black matte finish finds the room to accommodate 4 LAN ports & a WAN port.
App & Security Features
Installations or remote management, the friendly design of the ASUS router APP makes it easy. The AiProtection offers comprehensive control over the router with a comprehensive traffic monitoring system and parental controls. The system protects you against external infections & malicious content for a lifetime at no additional cost.
Conclusion
Looking to future proof your large household? Tag your high-speed internet with RT-AX55 at a highly competitive price. If not for the absence of a USB port, this Wi-Fi router would have been closer to the top of the list above its Linksys competitor, for the overall value it offers.
Wi-Fi-6

MU-MIMO

OFDMA

Works with Alexa

AiProtection Internet security
6. Best Wi-Fi Mesh System: TP-Link Deco X20
Are you living in a large household with a lot of smart gadgets set up for home automation? Want to select the best Wi-Fi mesh router for your 400 Mbps Internet? Deco X20 from TP-Link should be your ideal choice then! It's an affordable yet powerful mesh system with Wi-Fi 6 support.
The improved memory makes Deco X20 more capable of handling plenty of devices than its predecessor. The coverage, the latest wireless standards & the capacity to support & manage automated homes cements its position as a top recommendation.
Why is it suited for the 400 Mbps Plan?
Given the support to the latest wireless standards and the latest features like MU-MIMO & OFDMA, the system handles speeds up to 574Mbps on 2.4GHz and 1201Mbps on 5GHz. Get your device priority right with the inbuilt QoS, and make the most out of top tier speeds of 400 or 500 Mbps from service providers like AT&T or Verizon FiOS.
Don't let the absence of external antennas underestimate the efficiency of this machine. With beamforming & 4 internal antennas in every unit, the two-pack system can handle up to 100 devices in an automated home measuring 4000 sq ft.
Hardware & Design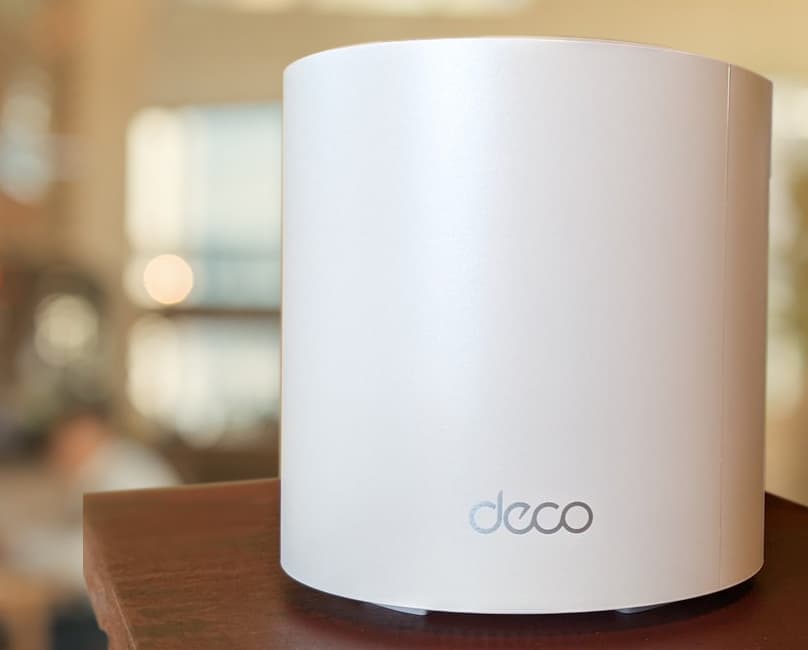 A quad-core processor clocking at 1GHz works in tandem with 512MB operating memory and 128MB flash storage, which becomes crucial for managing multiple instances of 4K quality streaming and high-quality online gaming/ twitch streaming.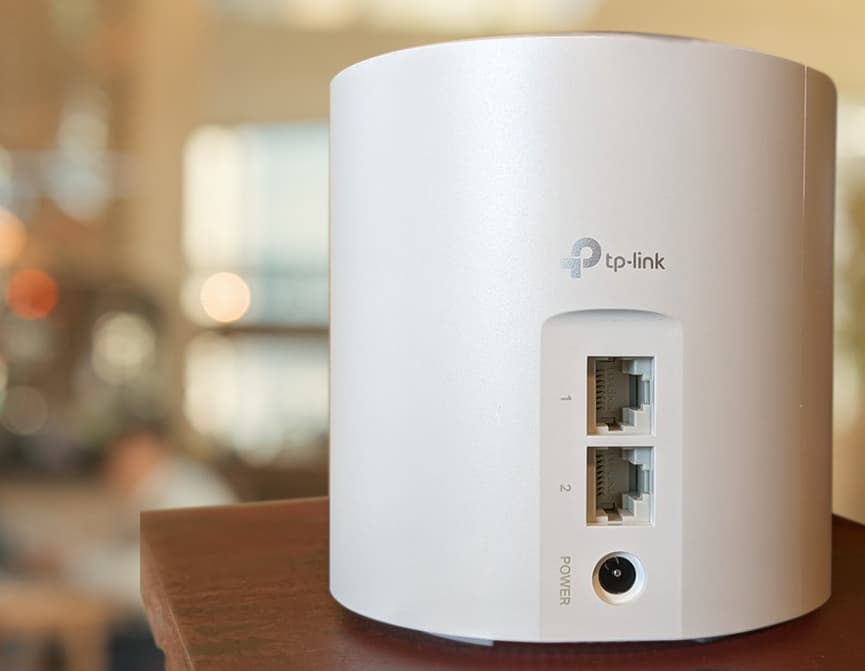 The aesthetics of the minimalist design make the white cylindrical units easy to blend into any home. It measures 4.49 x 4.3 x 4.3 inches & weighs approximately 2 pounds. The dynamic backhaul support of the two Ethernet ports can be handy for getting the best out of your 400 Mbps Internet connection.
App & Security Features
The setup & finding optimal placement becomes easier with the deco mobile application. You can monitor & control your internet remotely in the comfort of your palm. TP-Link's Homecare offers lifetime protection from cyber threats at no additional cost. The WPA 3 encryption, parental control give you more control over the home network.
Conclusion
Looking for a mesh system to cover your duplex automated home? Do you want to avoid the hassle of disrupting weaker connections with seamless roaming ability? The Deco X20 brings the latest features with excellent coverage. The price advantage keeps it below the ASUS counterpart.
If you are into specifics, read the full review of the Deco X20 mesh Wi-Fi.
Wi-Fi 6 standard

Supports over 100 devices
Excellent coverage
Smart parental controls

Ethernet Backhauls
7. Cheapest Option: ASUS RT-AC65
ASUS RT-AC65 gets an upgraded processing unit that complements its support of improved throughput. What makes this wireless router stand out is its affordability without compromising on the features that are imperative to blanket homes with high-speed internet.
Why is it suited for the 400 Mbps Plan?
The advantage of MU-MIMO equips the device to support speeds of individual speeds of 450Mbps 2.4GHz & 1300Mbps on 5GHz bands. Ideal to support gaming activities, work-from-home setups, & media streaming in multiple devices in tandem with plans ranging from 300-500 Mbps internet from AT&T, Verizon, or Xfinity.
This Wi-Fi router can handle up to 30 devices. With three external beamforming antennas towering on top of the router, the device can cover larger homes spanning as large as 3000 sq ft.
Hardware & Design
The dual-core processor is the engine behind the router's ability to handle HD streaming & gaming. The 128MB RAM & 128 MB storage plays a critical role in its multitasking ability.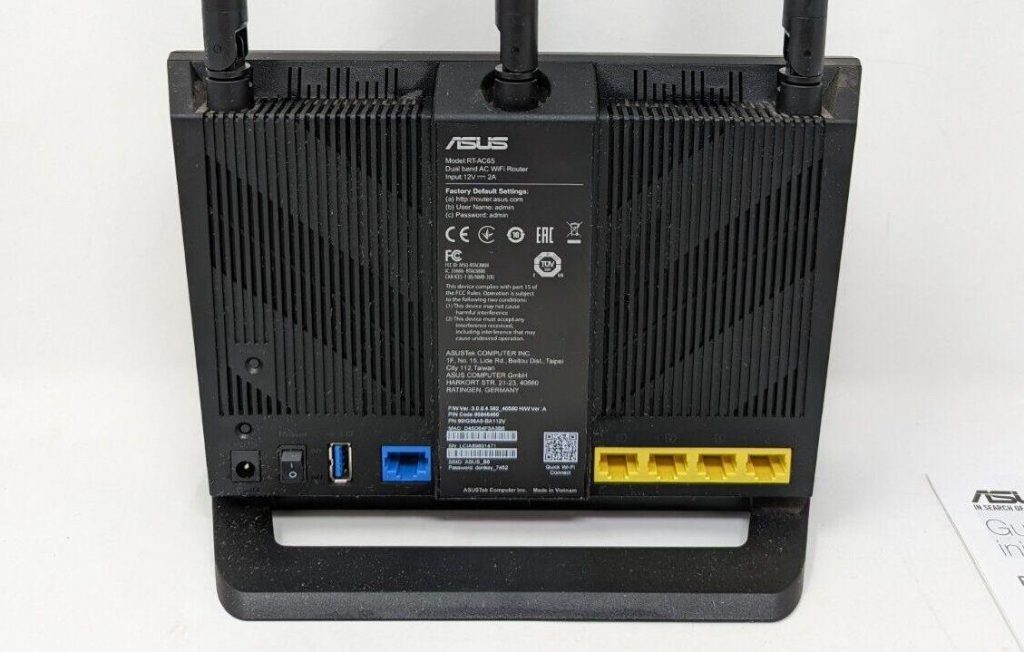 The multiple tones of gray & the matte finish give the router device a premium look. The aesthetic design keeps it light at 1 pound while measuring 8.66 x 6.3 x 3.43 inches. Do you need wired connectivity? The 4 Gig Ethernet ports, 1 WAN port would give you adequate avenues. Use the advantage of USB 3.0 to keep data sharing simple & fast.
App & Security Features
Get the router up & running using the Asus Router app. With WPA2 encryption standards & the inbuilt firewalls, you can prevent unauthorized usage & loss of bandwidth. If you have kids at your home? The parental controls are going to be handy.
Conclusion
For affordable alternatives, it doesn't get any better than the ASUS RT-AC65. If you are looking for a budget-friendly wireless router for your large home, you cannot go wrong with this device. Limited customization & security features keep this device at the end of the list.
MU-MIMO &

Beamforming

1.2GHz Dual-core processor

Parental controls

3000 Sq Ft coverage
USB 3.0 port
Limited security & customization
Frequently Asked Questions
Is 400 Mbps good internet speed?
A 400 Mbps is on the higher end of the internet speeds. The speed can support multiple high-quality streaming, and gaming on multiple consoles. It will ease through video calling & large file transfers.
What is the best Wi-Fi router to handle Spectrum 400 Mbps?
Netgear RAX45 and Linksys EA8100 are amongst the best wireless routers for 400 Mbps connection from Spectrum. It's a matter of ‌preference over the security ecosystem & the number of devices in a household that play the major differentiating factors between the top two routers.
Is 400 Mbps fast for streaming & gaming?
Yes, with a 400 Mbps internet speed, you can stream 4K quality videos & gaming simultaneously. It will ‌support extensive multi-player gaming scenarios with no hassles.
How many devices can a 400 Mbps plan handle?
With the right Wi-Fi router supporting higher speed limits, 400 Mbps can support up to 40 devices. It might include multiple streaming devices, gaming consoles, and other gadgets in a large household.
Verdict
Having a fast internet plan doesn't guarantee high internet speeds for your devices. With the right 400 Mbps Wi-Fi router in place, you can ensure the resources are well-accounted for & utilized. Find out the top suggestions for different scenarios.
TP-Link Archer AX73 & Nighthawk RAX45 deliver a diverse range of applications, credit to their latest features. Most Homes, Home-offices/Small-offices will find their value.
ASUS RT-AX55 and RT-AC65 are primed to punch above their weights credit to their budget-friendly pricing & an excellent selection of features.
For automated homes, look no further than Deco X20 if you are looking for value.
For Morton, reviewing a router is just like spending another day at the office. As BCCA's senior copywriter, Morton believes is explaining every concept concerning routers, networking technologies, and additional routing specs. Also, Morton is our go-to man if we are looking to get the ISP-dependent internet plans tested across devices.