Do you need to extend Wi-Fi outside to operate smart lights, garage doors, and security cameras? Is your Wi-Fi limiting you from streaming live videos, photos from your pool in your backyard? Do read further to understand how you can extend your Wi-Fi outside and enjoy seamless internet while you are sitting by your pool or having a barbecue gathering in your backyard.
With limited OEM's specializing in outdoor Wi-Fi range extenders, it is a challenge to find the right device for your requirement within a specific budget. Fluctuating weather and climatic conditions add further complications to narrowing to the right device for your home.
Research into different kinds of requirements of Outdoor Wi-Fi Extender gives insight into the essential features for seamless connectivity. PoE compatibility, LED indicators, type of antennas (different types serve a specific purpose), resistance to weather extremities are paramount before considering an external Wi-Fi extender.
Best Outdoor WiFi Extenders in 2023
After delving into finding Wi-Fi extenders in the market, I handpicked the top 6 extenders out of a list of 20 devices from OEM's like Netgear, TP-Link, WAVLink, etc. The ulterior motive of the analysis is to find a balance between the utility and price.
The list comprises Wi-Fi range extenders of varying price ranges. Starting with the most favored picks and feature-rich expensive ones, the articles end with value for money additions and cheaper alternatives offering the best bang for your buck.
1.

TP-Link EAP225
TP-Link brings an excellent outdoor wireless Wi-Fi extender in the form of TP-Link EAP225 and throws in a lot of flexibility and advanced features, making it ideal for a range of indoor and outdoor applications. Setting up Wi-Fi networks for small businesses like event planners, and home backyards get easier and affordable with this extender.
Why is it suitable for Outdoors?
A consolidated speed of 1200 Mbps translates to 300 Mbps in 2.4GHz and 867 Mbps in 5GHz that offers the adequate capacity to balance the usage of around 60 devices spread across 2000 sq ft. Weatherproof rating IP 65 of the enclosure makes the router withstand dust and varying water exposure.
Design & Connectivity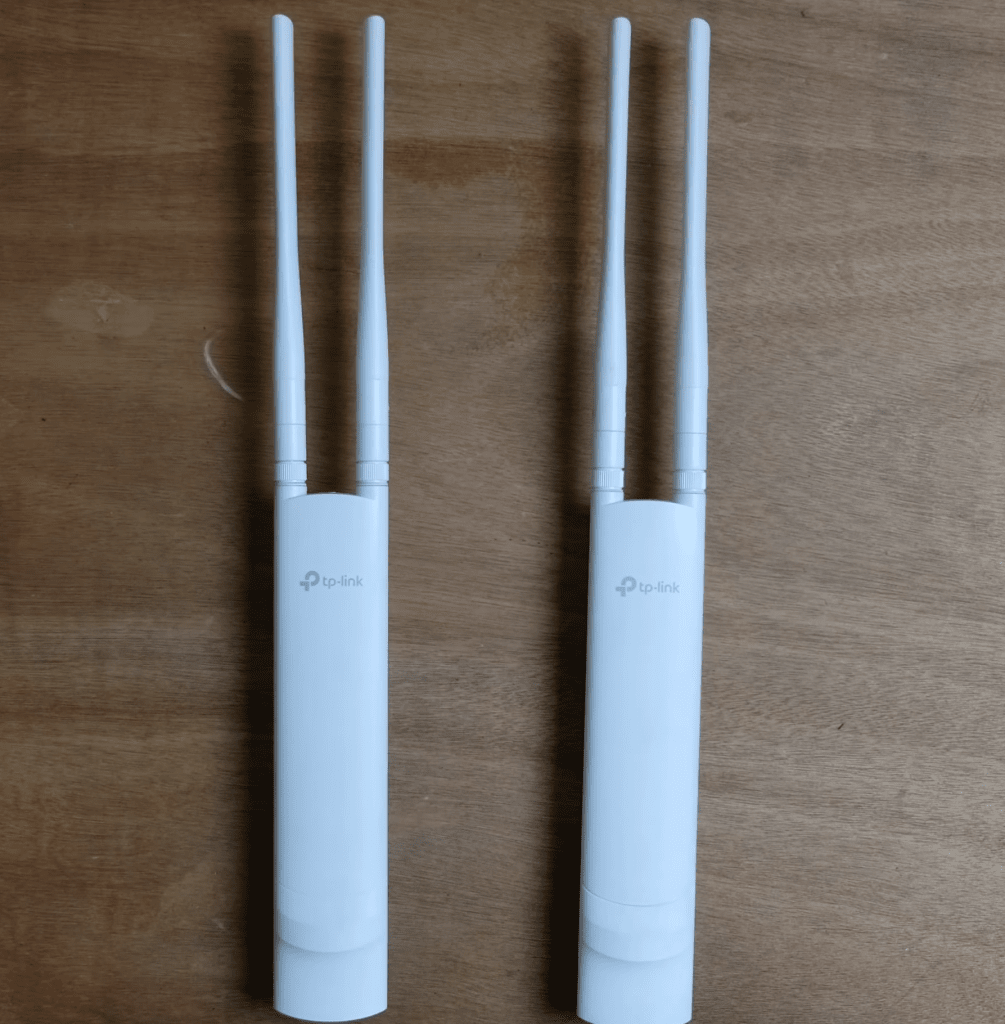 The two detachable Omni-directional antennas allow room for upgrades in the while colored compact body that comes with pole and wall mounting options. It measures 8.42 x 1.81 x 1.05 inches and weighs 0.4 pounds approximately.
It comes with one Ethernet port which is PoE enabled, making installations easier, while LED Lights denote different connectivity statuses.
Setup & Other Features
TP-Link offers a cloud-based app for effective real-time management and easier setups. Don't have to worry about setting up power lines, the PoE-enabled ports transmit data and power over the same line, making it act as an access point. QoS gives you control over priority for different types of incoming traffic.
A plethora of features like MU-MIMO, Beamforming, Band steering, and load balancing, make TP-LINK EAP 225 is an able device to transmit signals to multiple devices and make it amongst the best value for money outdoor extenders in the market.
Conclusion
The advanced features and utility in the price range take the Wi-Fi extender to the top of the list, bettering in value addition even the higher-priced Netgear Orbi unit.
MU-MIMO

Band Steering

Beamforming

Airtime Fairness

Active PoE support
2.

Netgear Orbi RBS50Y
Despite its premium price, the Netgear Orbi RBS50Y offers a great range of features, mesh compatibility, and ample bandwidth to handle plenty of devices. It is ideal for secure facilities with easy power access like open-air lounges, swimming pools, resorts, and homes with large backyards.
Why is it suitable for the outdoors?
The IP66 weather rating makes the ride through harsh weather conditions ranging from rain, snow, and temperatures hot to cold at varying levels. Looking for additional bandwidth?
The Orbi satellite operating at simultaneous tri-band the device can achieve top speeds of 400 Mbps on 2.4GHz, and 866 & 1733 Mbps on its dual 5GHz frequency. It gives the capacity to cover 2500 sq ft and supports up to 75 devices. It is compatible with all ISPs and also featured in my list of recommended Wi-Fi extenders for Optimum.
Design & Connectivity
The complete white prism-shaped unit can be placed on a stand or wall-mounted. It weighs a little over 3 pounds and measures 8.3 x 2.7 x 10.6 inches in dimensions. You'll find all the buttons, LED indicators on its rear indicating signal strength and connectivity.
A robust hardware unit with ample RAM and storage makes the unit a solid processing unit capable of handling data-laden high-quality streaming, online gaming, and offering remote outdoor work solutions.
Setup & Other Features
Amongst the easiest to set up, the Orbi app makes your installations and remote management fast and simple. The Orbi unit doesn't come with an ethernet port, but the additional 5GHz band with a dedicated backhaul ensures you don't miss out on the top speeds.
The satellite unit is reinforced with advanced features like MU-MIMO, Beamforming, ensuring the data transmission to multiple devices is seamless and bandwidth loss is minimal.
Conclusion
Despite its lack of PoE or Ethernet ports, the Netgear Orbi gets closer to the top of the list for its strong Wi-Fi outdoor performance, ease of management, and wide selection of features making it the best Wi-Fi extender for the backyard. If you are looking for an Access point to limit the loss of internet bandwidth, Netgear WAX610Y brings excellent capacity and features.
MU-MIMO

Beamforming

IP-66

Dedicated Backhaul

Ambient light features
Compatible only with Orbi systems

Requires power line proximity
3.

WAVLINK WL-WN572HP3-US
Wavlink brings an excellent exterior Wi-Fi extender capable of withstanding tough weather conditions, operating on simultaneous dual-mode. The price point makes WAVLINK WL-WN572HP3-US a viable option for households with barns, garages, annexes, and parking units.
Why is it suitable for the outdoors?
The IP65 rated, robust Wi-Fi extender is tailor-made to withstand harsh conditions outdoors. Dual-band operation with speeds of 300 & 867 Mbps covers up to 1700 Sq Ft and makes it capable of handling up to 20 devices.
Design & Connectivity
The white cylindrical tower weighs 1.40 pounds and measures 7.09 x 1.97 x 1.97 inches in dimensions. Two pairs of Omni-directional detachable high power antennas are attached to the top and closer to the base. It comes with a 1 gigabit WAN port and 100 Mbps LAN port, along with LED indicators denoting signal strength.
Setup & Other Features
The weatherproof Wi-Fi extender doesn't come with cloud-based mobile application support. But the web-based portal makes the management of units easier. With passive PoE, you don't have to bother about looking for power connections. It features WPA2 encryption methods that keep your network away from unauthorized usage.
Conclusion
The feature-rich TP-Link and Netgear Orbi find themselves way above this high-quality extender unit owing to the plethora of advanced features that are missing in this unit. Don't let the frontrunner overshadow the utility value of the PoE-powered outdoor Wavlink extender.
Signal Strength LED indicators

Passive PoE

4 Detachable Omnidirectional Antennas

Weatherproof casing
4.

JOOWIN
Joowin finds its way into the list with its robust design, coverage, and support to plenty of devices. That makes it a suitable unit for small parks, community centers, parks, etc.
Why is it suitable for the outdoors?
The weather-resistant unit, highly durable even in the worst of climatic conditions, comes with an IP66 rating. It supports high speeds of 300 Mbps and 867 Mbps, making it capable of handling some data-intensive media streaming, gaming. Its capacity to support up to 64 devices with balanced usage and cover 1500 sq ft makes it a steal at this price.
Design & Connectivity
The cylindrical compact white tower is a lightweight outdoor extender weighing close to 1.17 pounds while measuring 14.96 x 1.85 x 1.85 inches in dimensions. It features smart LED indicators detecting signal strength. It has 2 Omnidirectional antennas towering from its top while a single ethernet port is placed underneath.
Setup & Other Features
While the Joowin unit doesn't have a dedicated mobile application, it doesn't impact its uncomplicated setup. Wire your extender through the active PoE and customize your placement with flexibility.
Conclusion
A solid performing Joowin outdoor unit is more likely to find a place amongst the valuable, affordable extender in the market. Placed amongst powerful performers in Netgear, Wavlink, and TP-link, the Joowin finds itself closer to the end of the list.
Active PoE powered

Wired Ethernet port

Multiple modes of operation

Smart LED for placement
Lacks mobile application support
5.

TP-Link CPE210
Looking to fortify your parking garage, elevator units, or remote rural facility with wireless internet? TP-Link CPE210 offers a long-range solution to your requirements. Its centralized management facility is an added advantage for monitoring the network from afar.
Why is it suitable for the outdoors?
The IPX5 rated, Point to Point, Multipoint transmission compatible long-range outdoor extender can cover up to 4000 sq ft, transmit signals up to 5km and handle a total of 15 devices at a time. It operates on a 2.4GHz spectrum and can achieve up to 300 Mbps.
Design & Connectivity
The white rectangular unit features unidirectional high power dual antennas housed in a unit that measures 8.8 x 3.1 x 2.4 inches in dimensions and weighs 1.10 pounds. The LED indicators are placed on the side denoting the varying levels of signal strength. TP-Link puts a passive PoE port ensuring wired connectivity to maintain signal quality.
Setup & Other Features
The pharos control application plays a vital role in the installation and remote management of this outdoor extender. The outdoor unit brings TDMA technology and a passive PoE to ensure minimal loss of bandwidth and reduced latency in communication.
Conclusion
TP-Link brings excellent value at such a low cost. It manages to find its way into the list owing to its wide range of applications in outdoor scenarios taking the internet to remote areas.
High powered antennas

Long-distance transmission

Remote access

Passive PoE

Multiple modes of operation
6.

WAVLINK N300
The flexibility of the PoE-based deployment makes this wavlink extender amongst the best outdoor units in the market. If you are looking for a budget outdoor unit in dry weather conditions and require a resilient unit protecting your connectivity against dust storms and rain, WAVLINK N300 is your go-to choice.
Why is it suitable for the outdoors?
Built to withstand extreme temperatures, dust, and rains, rated IP65, the Wavlink outdoor unit brings the capacity to deliver speeds up to 300Mbps operating on a single band. It has two external antennas extending its reach to 2000 sq ft while supporting 20 devices with ease.
Design & Connectivity
Resembling other outdoor extenders, the wavlink unit sports a similar white cylindrical lightweight design weighing 1.06 pounds and measuring 11.34 x 4.8 x 2.36 inches in dimension. A passive PoE port is located underneath while the LED indicators adorn the front.
Setup & Other Features
A simple setup sans the support of a mobile application ensures the device is installed and running quickly. Supporting WPA2 encryption standards to protect unauthorized usage. The PoE makes it a flexible device to install and customize placement according to your requirements.
Conclusion
WAVlink as a unit offers a cheaper alternative for your outdoor networking solution. The TP-Link unit scores better owing to its cost-effectiveness and long-range antennas equipped to extend and reach impenetrable areas.
Passive PoE

IP65 Weather resistant

MU-MIMO

Multiple modes
No mobile application support
Frequently Asked Questions
Can Wi-Fi Extenders be placed outside?
Yes. The market is flush with Wi-Fi Extenders that are tailor-made to be placed outside your house. Luxury homes, manors with huge backyards, courtyards, and farms that extend further away from the main building remain the target audience for these Wi-Fi Extenders.
How far will a Wi-Fi extender reach outside?
The reach of an Extender outside the home is dependent are two factors, physical interference, and the antenna's signal strength. Different kinds of amplified antennas can broadcast signals ranging from 100 yards to 1/4 mile based on the environment, number of buildings, & trees.
What is the most powerful outdoor Wi-Fi extender?
With limited OEM's for Outdoor Wi-Fi Extenders, it's not very difficult to pinpoint one of the best extending devices. Netgear, known for its sophisticated networking products, delivers impressive features, weather resistance, and extensive coverage that makes up for its premium price tag.
What should I look for when buying a Wi-Fi extender for outdoors?
Look for the weather resistance rating (IP rating), Radio Frequency Power, type of antenna, Bandwidth Spectrum compatibility, Coverage area/PoE compatibility, and support for multiple modes of operation.
Verdict
While most of the outdoor Wi-Fi extenders are built with a degree of weather resistance, the difference in rating makes a huge difference to their resilience. It's imperative to consider the local weather fluctuations and your requirements before choosing the device.
TP-Link EAP225 offers overall value for money with a multitude of features under its hood and its suitability to both long-range indoor and outdoor requirements.
Netgear Orbi RBS50Y is ideal if the price isn't a deciding factor. Outdoor cafes, lounges, large backyards will find the right device capable of handling data-intensive activities.
Go for

TP-Link CPE210

if you need a cheaper alternative to cover your backyard and workshop.
For Morton, reviewing a router is just like spending another day at the office. As BCCA's senior copywriter, Morton believes is explaining every concept concerning routers, networking technologies, and additional routing specs. Also, Morton is our go-to man if we are looking to get the ISP-dependent internet plans tested across devices.