There are several situations where your modem begins to give you trouble, which may lead to an inability to access the internet. Resetting a Cox modem can be done online via the Cox app and manually using the reset button on the Cox device.
In such circumstances as a faulty Cox modem, you begin to find solutions on how to reset the Cox modem. If you do not fix your Cox modem issue, you may not be able to restore your internet access.
Resetting your Cox modem may fix many of your modem issues, but it will also clear all your modem configurations, therefore we recommend manual or online resetting as the options of last resort.
In this guide, we will show what to do if your Cox modem becomes faulty, and how to rest your Cox modem. We will also look at how to reboot your Cox modem as a solution to your Cox modem faulty before resetting the modem.
What is a Cox Modem?
A Cox modem device provides and connects users' computers or other internet-enabled devices with high-speed cable broadband.
The Cox modem is connected over a hybrid fiber-coaxial network. Cox Communications provides the broadband services of Cox modem and also provides its users with high-end WiFi gateway services at an affordable rental price.
How to Reboot Your Cox Contour Box?
Before you decide to reset your Cox modem, we advise that you consider every other troubleshooting option to fix your Cox modem issue.
Rebooting your Cox modem sometimes helps to fix your Cox modem faults. Follow these steps to reboot your Cox modem:
Unplug from the power outlet the panoramic router of your Cox modem together with the modem.
Unplugging your Cox modem is different from turning off the modem, as it initiates a forced soft reset on the modem.
After unplugging your modem from the power mains, wait for two minutes to ensure there is no more stored power in the modem.
Then plug back in the modem to the power mains, then restart the modem
On restarting the modem, wait patiently for it to connect and then check for any connection faults.
Note, after you have rebooted your modem, and find the fault has persisted then you can resort to full modem reset.
How To Reset Cox Modem?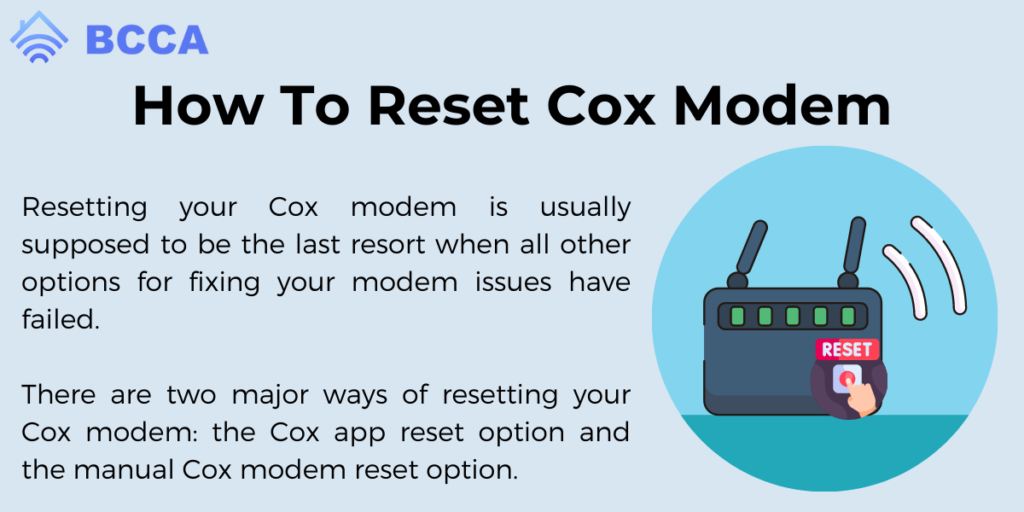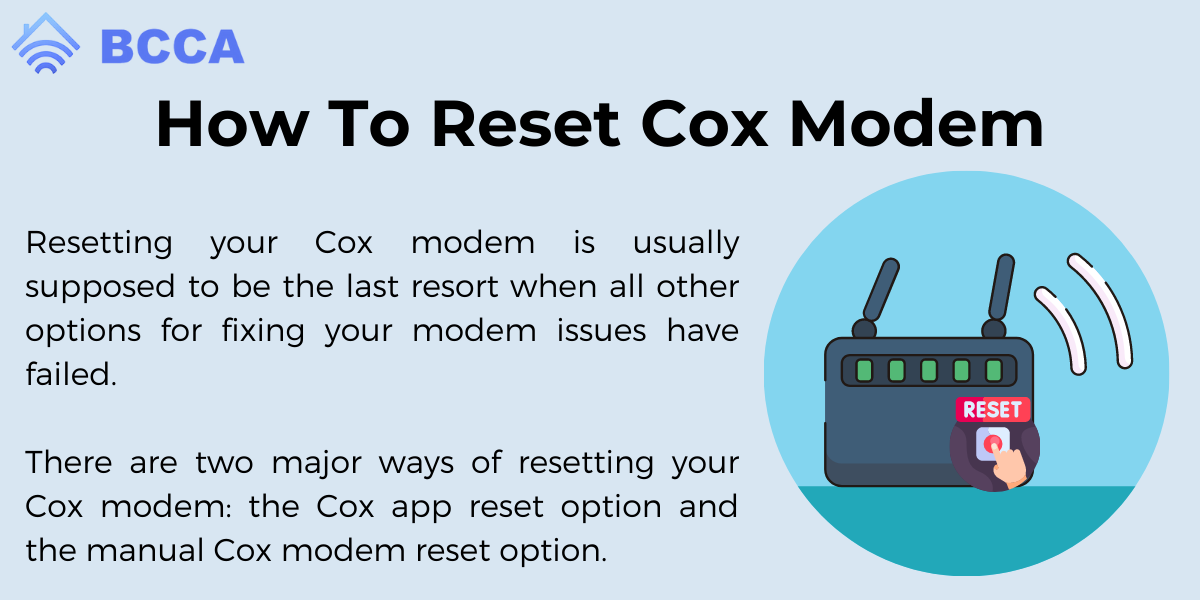 Resetting your Cox modem is usually supposed to be the last resort when all other options for fixing your modem issues have failed.
There are two major ways of resetting your Cox modem: the Cox app reset option and the manual Cox modem reset option.
So before you proceed to reset your Cox modem, note that resetting your Cox modem results in the clearing of your modem's saved existing configurations.
The step-by-step instructions on how to reset the Cox modem are given below.
Cox App Method of Resetting Cox Modem
The Cox App modem reset option is seen as a soft reset option for resetting faulty modems.
This is because the Cox App reset option does not erase your modem stored data; hence many people prefer to go for the Cox App modem reset option.
The Cox App modem reset process is similar to rebooting your modem; therefore, the app modem resetting option is another way of rebooting the modem.
To reset your modem using the Cox App follow these steps:
To reset your modem you need to have the Cox App. You can download the app from the Play Store for Android users and the app store for iOS users.
Login to your Cox App account using your user ID and password. If you do not have an account on Cox App, sign up for an account to proceed.
Once logged into your account, navigate to the home screen and locate "My Services" Click on the "my services" button.
Then click on "My Internet" on the next page to select your preferred internet plan.
Then navigate by searching and finding your modem on the Cox app database, it will take a few minutes for the Cox app to find your modem.
After finding your modem, then click on the "Reset Modem" option on your selected modem.
Selecting the reset modem option sends a signal to your registered modem, which you wish to reset.
The Cox app will ask you to confirm that you want to reset the selected modem on the next page after you have clicked on the reset modem option.
On confirming that you want to reset your modem, the reset process begins. You will need to wait for a maximum of 10 minutes or less for the reset to be completed.
Once your modem reset is completed, the modem will restart. On restarting, you can verify if your modem is back to proper functioning and if you can access the internet.
Manual Method of Resetting Cox Modem
Know that resetting your Cox modem using the manual method carries out a form of hard reset on your modem. Hard resetting permanently deletes all the available information on any device, including your modem.
The manual method is another Cox modem reset method that brings about the return of your SSID and modem password to their manufacture date.
Here are the steps to follow in resetting your Cox modem using the manual method:
Power up your modem by turning it on; while doing this, ensure your modem is properly connected to the power source.
Ensure your modem is plugged in and connected for the modem for the duration of the modem reset process.
Locate the "Reset" of your modem. The Cox modem reset button is often located at the back of the modem device.
The reset button may be located in varying places on the device, depending on the modem model; the reset button is always labeled.
After you have located the reset button, which is a small hole, find a tiny pointed object like a pin, then insert the tiny object into the small reset button hole.
Press the "Reset" button while holding down the button for 10-15 seconds.
On pressing the reset button, you will hear a click sound that tells you to hold down the reset button for 10-15 seconds.
After holding down the reset button, the LED indicator of the modem flashes, indicating that the modem has started resetting by turning off and coming back on.
Allow your modem to complete the reset process. During this process ensure you do not disrupt the modem by any means, allow the modem to reset and restart completely.
The reset process of your modem may take up to a maximum of 5 minutes or less.
Once the last above step is done, your modem returns to its factory state on restarting.
Frequently Asked Questions
Is Cox's modem a router?
The Cox panoramic WiFi gateway is both a modem and a router. The device greatly reduces and removes interference to your internet access experience.
The Cox modem also provides high-speed internet to its users.
How do I reset my Cox panoramic modem to factory settings?
To restore your Cox panoramic modem to its factory setting press the reset button and hold down the button for 10 secs or more while pressing on it. 
Continue to press down on the reset button, until the LED light on the front of the device flashes.
After you have completely reset the factory settings, your Cox modem returns to its factory SSID and WiFi password.
Can I purchase a Cox Wi-Fi gateway?
You cannot purchase a Cox wifi gateway, this is because Cox Communications only offer the Cox wifi gateway for rent.
Conclusion
Modems are very essential as we have discussed, and we know that they can develop faults that would require them to be fixed. We have discussed that you can try to reboot your modem before deciding to hard reset your modem device.
We have discussed that you can reset your Cox modem either by using the Cox App or through the manual reset button on the back of the Cox modem hardware.
Having learned the steps to resetting your Cox modem, we still recommend that hard resetting your Cox modem, either via the mobile app or the manual method, should be the option of last resort.
You should always seek options that will not lead to wiping off saved modem configurations, in trying to fix your modem faults. Cox Communications is always open to help if you need any customer service support as the provider of Cox modem services.
If all the reset options fail to fix your modem issues, then you may need to contact Cox Communications for a firmware upgrade.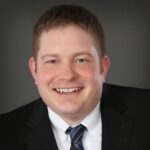 Chris loves technology, specifically smart home technology! With both hands-on and executive leadership experience in his corporate career, Chris stays abreast of emerging technology and solutions and immerses himself in BCCA when not in the office.