If you have been looking for a Wi-Fi 6-based mesh system without breaking the bank, then Deco X20 warrants serious consideration. On top of the latest features, it offers commercial-grade security and easy App based home network control.
Before diving deep into the TP-Link Deco X20 review, let's quickly understand how X20 differs from its predecessor, Deco M5. A better processor guarantees higher speeds & throughput with minimal lags. The memory unit gets an upgrade, which directly reflects its device capacity. You also get support for Wi-Fi 6 and OFDMA.
So, on paper, X20 is a sure-shot winner but can it survive the litmus test in real life? Let's find out in this detailed review of the TP-Link Deco X20.
TP-Link Deco X20 Specs
| | |
| --- | --- |
| Wireless Standard | Wi-Fi 6 (802.11ax) |
| Band Frequency | Dual-Band |
| Speeds | 574 Mbps (2.4GHz) + 1201 Mbps (5GHz) |
| Range/Coverage | Up to 5800 Sq Ft |
| Processor | 1GHz Qualcomm Chipset (Quad-Core) |
| RAM Memory | 512MB |
| Flash Memory | 128MB |
| MU-MIMO | Yes |
| OFDMA | Yes |
| Beamforming | Yes |
| 160MHz Channels | No |
| Compatible Voice Assistant | Amazon Alexa |
| QoS | Yes |
| Encryption | WPA2, WPA3 |
| Security | Yes, HomeCare |
Who is it best suited for?
Large automated multiplex homes
Old-fashioned houses with large backyards/front yards
Household with Annexe & garages
Medium-sized Bed & Breakfast establishments (Up to 25 rooms)
30-50 individuals in lodging facility depending on the internet package
TP-Link Deco X20 Review
How do I qualify to review the Deco X20?
Being a networking expert, I have tested many wireless routers over the past few years. I had the whole setup ready to push the limits of the Deco mesh Wi-Fi for 3 weeks. The setup included two smart TVs, a gaming console, tablets, door cameras, an Alexa device, and a couple of smartphones.
Pros & Cons of Deco X20
Wi-Fi 6 standard

Seamless Roaming

Wired Backhaul

Quad-core CPU

HomeCare Antivirus

App-based control
No USB Port

No 160MHz support
Speeds & Performance
Using dual bands, TP-Link suggests the X20 can reach top speeds of 574 Mbps on 2.4GHz and 1201 Mbps on 5GHz. It aggregates up to 1.8Gbps, leaving room for plenty of gadgets.
I used a 940 Mbps internet pack of Verizon FiOS for the test. On 5GHz, the devices consistently raked over 600 Mbps of download speeds, as long as they stayed within 10 feet of the primary router. When I moved to the next room with a wall separating the device and as much as 30 feet away, the speeds dropped close to 210 Mbps.
The uploads were over 300 Mbps in the vicinity and dropped to the early 100s as the devices moved farther. On the 2.4GHz band, the results were pretty convincing. Even at the furthest point of my house, the download speeds hovered around 100 Mbps.
Coverage & Connectivity
The three-pack TP Link mesh Wi-Fi 6 system can cover up to 5800 Sq ft, while each unit comes with an approximate range of 1800-2000 Sq ft. That's plenty of coverage area for the tiny units.
What makes this possible?
Well, every unit has 2 powerful internal antennas. When you add Beamforming technology in the mix, the signals are directed toward the devices rather than dispersing them all around.
I could cover the entire house with just the two units, which included a basement, a small front yard, and a couple of large bedrooms on the first floor. With the ideal router placement, I could stream high-quality videos, surf, and make video calls from every corner of my house. The two units covered both the video doorbells at either end of my house.
Can TP-Link Deco X20 handle multiple devices?
TP-Link says the X20 could handle up to 150 devices in a smart home. This includes smart appliances, Alexa devices, security cameras, and mobile gadgets. We pulled off quick Fortnite sessions while videos were streaming on our smart TVs on the first floor.
And what about wired connectivity?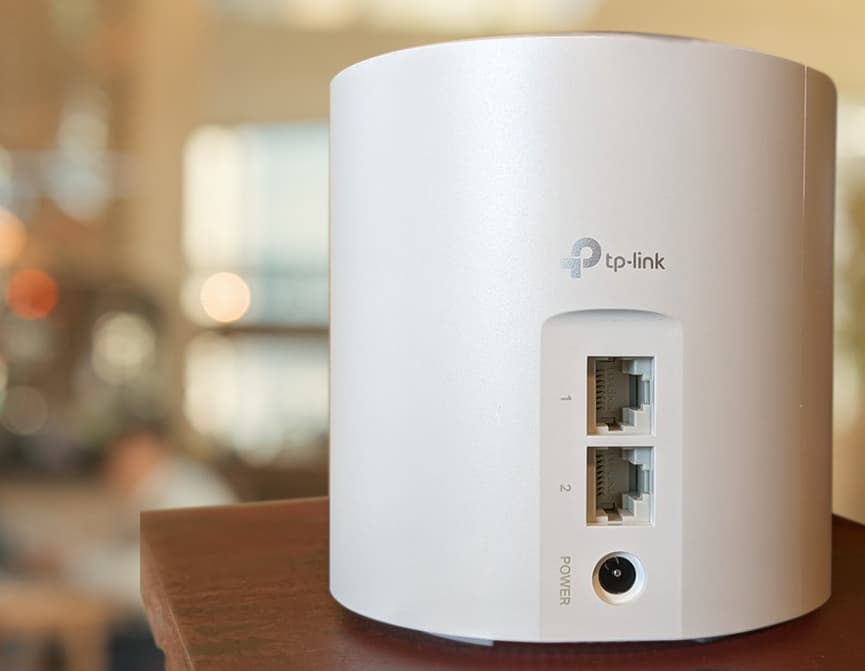 Every unit comes with 2 Gigabit Ethernet ports, and the TP-Link X20 supports wired backhaul. You can wire the satellite units to the main router and minimize the loss of capacity that usually happens with wireless signal hops. And it will still leave you with one Ethernet port on each of those satellite nodes to wire a TV or gaming console at the other end of your home.
Service Package Suitability
The Deco X20 can handle high-speed plans ranging from 400 Mbps to 1Gbps. Contingent on the number of devices and the activities you engage in, you might have to choose your internet package. But no matter what you choose, the Deco X20 got you covered.
If you have less than 40 devices, go for the 500 Mbps plans of AT&T fiber, Superfast plan (600 Mbps) of Xfinity, or the Ultimate 500 of Cox based on location and availability.
If you're in a smart home with multiple streaming and gaming devices, you can opt for 1 Gbps of Google Fiber or AT&T Fiber, Gigablast plan of Cox, or 940 Mbps of Verizon FiOS, depending on the neighborhood and service feasibility.
Security Features
One of the key features of the Deco X20 whole home mesh Wi-Fi system is that it offers commercial-grade security for all the devices at your home. The Homecare Antivirus comes with protection against malicious contents and an Intrusion detection system to find security vulnerabilities and externally infected devices.
The WPA 3 encryption configuration is state-of-the-art, protecting against unauthorized access and data thefts. The SPI firewalls, and built-in VPN, ensure data privacy for all the devices connected to your home.
Parental controls from Homecare are comprehensive. With URL/Content-based filtering, time scheduling, and custom profile creation, you can ensure a safe internet environment for your kids at home.
TP-Link Deco X20 Setup
Setting up has never been easier. The Deco App trademark of the TP Link Wi-Fi 6 mesh comes with an intuitive interface and is the only way to install & manage the router.
Set up the primary Deco within a few touches and add the satellite units to the network later. You'll be able to find the right placement with the strength indicators.
The app interface is clean and user-friendly. See it for yourself!
You can create networks for different rooms and add smart home devices to a room for easy management. Set triggers for automation devices with a simple touch, create guest networks, and maintain a device blacklist.
It also lets you create user profiles, add devices to the user profile and apply the same set of rules for every device of a particular user. Configure your Alexa device through the Deco App with no hassles. The app gives you data consumption reports, allows you to prioritize devices, and takes complete control of your home network.
Hardware & Internals
TP-Link Deco AX1800 backs the quad-core processing cores on the Qualcomm-based chipset to deliver an impressive performance. Each core clocks up to 1GHz, generating a wealth of processing ability to handle the heaviest of tasks with minimal lag in performance. The gaming sessions with Assassin's creed were seamless and smooth, even in the high-graphic mode.
The smart TVs could stream videos at FHD quality with no buffer, while a bunch of mobile devices were active with music streaming, surfing, and accessing social media. Credit goes to the capable memory unit. The 512MB RAM and 128MB storage are very crucial to multitasking and managing smart home devices at home.
Design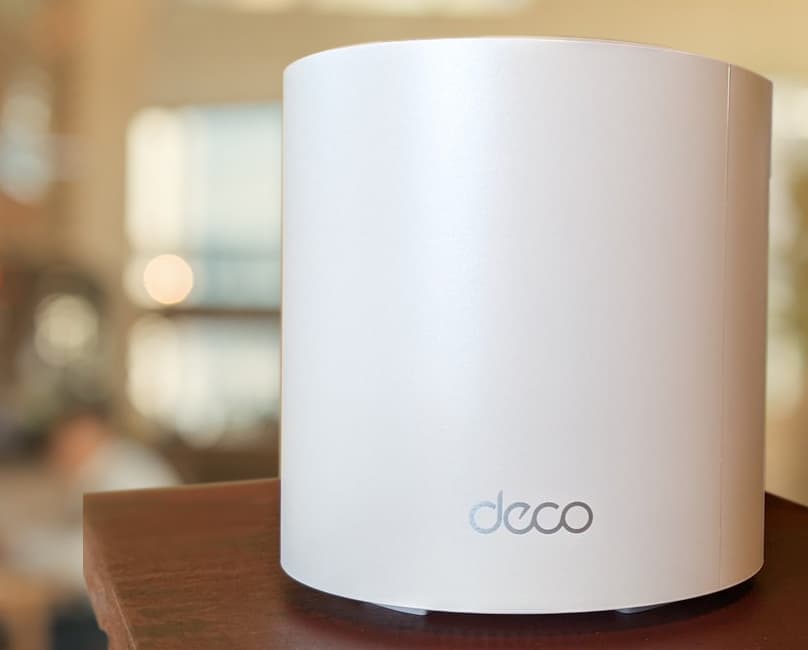 TP-Link keeps the design minimalist and very utilitarian. Both the main and satellite units come in a short white cylindrical tower made of durable plastic weighing less than 2 pounds each.
It has a groovy top that helps regulate the unit's heat. You'll be able to spot the LED light on the front close to its base and the Ethernet ports on the rear side.
The units measure no larger than 4.33 x 4.33 x 4.49 inches, which makes them easy to blend into any household. You can place them in a room and forget they even exist.
Frequently Asked Questions
Is the Deco X20 good?
Deco X20 is a testament to how TP-Link gets the right balance between price and utility. With the selection of the latest features, reliable hardware, and a secure ecosystem, Deco X20 is a worthy buy for larger smart homes and commercial facilities with multiple partitions.
Which is better, Deco M5 or X20?
X20 boasts better hardware and throughput capacity and supports the latest wireless standards but comes at a higher price. Deco M5 will be a suitable buy if you are looking at Wi-Fi 5 mesh systems for homes with a limited set of devices within a specific budget.
Does TP-link Deco X20 need a modem?
Yes, TP-Link Deco X20 needs a modem or an active internet subscription from a service provider. Deco X20 is a whole home mesh Wi-Fi system designed to efficiently share and manage your internet connection with several devices.
How many devices can Deco X20 handle?
The three-pack Deco router can handle up to 150 devices, which include smart home appliances, ring security cameras, video doorbells, smart TVs, desktops, laptops, gaming consoles, and smartphones.
Verdict
The TP-Link Deco Mesh Wi-Fi system not only passes our test but aces it in a few departments. Coverage and security features make this TP-Link X20 stand out. Consistent speeds, wired backhaul support, and seamless roaming at this price point make it one of the best value-for-money Wi-Fi-6 Mesh systems in the market.
Other Popular Reviews:
For Morton, reviewing a router is just like spending another day at the office. As BCCA's senior copywriter, Morton believes is explaining every concept concerning routers, networking technologies, and additional routing specs. Also, Morton is our go-to man if we are looking to get the ISP-dependent internet plans tested across devices.