Archer AX6000 has been making some noise as a heavy-duty gaming router in the mid-range segment. Can it handle 4K streaming along with high-graphic gaming? What are the ins and out? Here's a TP-Link Archer AX6000 review to see how well it copes with the demands of these data-laden activities.
Built with the same core unit as its predecessor, C5400X, AX6000 offers a higher throughput capacity and a 2.5G WAN port while missing out on the tri-band. But it comes with eight ethernet ports, enabling you to achieve the best possible wired connectivity.
Is that enough? Does it justify the price? Let's find out through this detailed review of the TP Link Archer AX6000 Wi-Fi 6 router.
TP-Link Archer AX6000 Specs
| | |
| --- | --- |
| Wireless Standard | Wi-Fi 6 (802.11ax) |
| Band Frequency | Dual-Band |
| Speeds | 1148 Mbps (2.4GHz) + 4804 Mbps (5GHz) |
| Range/Coverage | Up to 2500 Sq Ft |
| Processor | 1.8GHz 64-bit Broadcom BCM4908 (Quad-Core) |
| RAM Memory | 1GB |
| Flash Memory | 128MB |
| MU-MIMO | Yes |
| OFDMA | Yes |
| Beamforming | Yes |
| 160MHz Channels | Yes |
| 2.5G WAN | Yes |
| DFS | Yes |
| QoS | Yes |
| Link Aggregation | Yes |
| OneMesh | Yes |
| Voice Assistant | Amazon Alexa |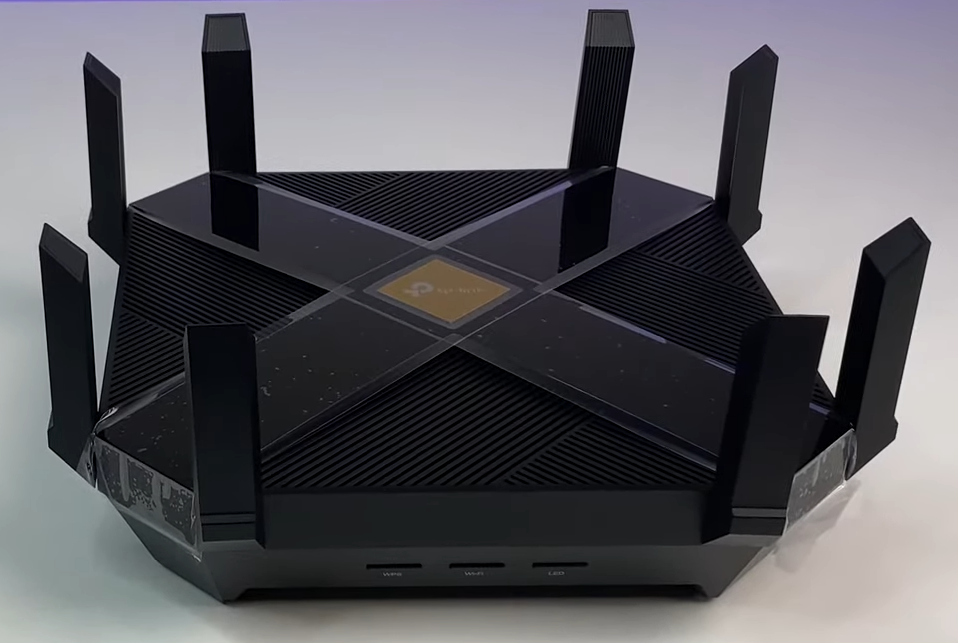 Who is it best suited for?
Single Floor Large Households
Automated Homes
Small Offices
30-40 Individuals with mobile gadgets/tablets
6-8 heavy streaming devices
TP-Link AX6000 Review
As a network engineer and gaming enthusiast, there was a sense of excitement at drilling the TP-Link AX6000 for its gaming capabilities. I used a three-pronged approach for testing the routing device. Tests were carried out on PS5, a gaming laptop, and a smartphone.
Plus, there are a lot of smart home gadgets and multiple TVs running at the same time, which helped me test the performance of TP-Link AX6000 thoroughly.
Pros & Cons of TP-Link AX6000
Wi-Fi 6 standard

8 Ethernet ports

2.5G WAN port

1.8GHz Quad-core processor

Advanced internet security
Large footprint

Dual-Band
Speeds & Performance
Operating on dual bands, TP Link Archer AX6000 Wi-Fi 6 router can reach individual band speeds of 1148 Mbps on 2.4GHz and 4804 Mbps on 5GHz. The aggregate speeds of 6 Gbps leave a wealth of throughput, making it an ideal router for large households.
For the speed tests, I relied on the 1000 Mbps internet package from AT&T Fiber. The results on the 5GHz frequency were pretty impressive. The client device clocked over 860 Mbps of download speeds consistently while I was moving around in a large living room within 10-15 feet of the router. The upload speeds averaged above 350 Mbps.
When I moved further away from the router to the adjoining room, the 5GHz download speeds dropped closer to 600 Mbps. The legacy devices in the household raked download speeds close to 200 Mbps in the router's vicinity and dropped to 90Mbps, with a couple of walls separating the device.
Coverage & Connectivity
Regarding the TP-Link Archer AX6000 coverage, it worked perfectly throughout a 2500 Sq Ft house with relatively larger rooms on two floors.
The router relies on the range boosting capacity of the 8 high-power antennas encircling the device. These high-powered antennas, reinforced with beamforming, ensure the signal quality remains more vital for devices spread across the house.
The AX6000 features a BSS coloring technology that helps you avoid signal interference. In-network congested environments, you'll be able to check and switch to a less crowded channel, ‌improving overall signal quality and performance.
AX6000 can easily handle over 40 devices. The OFDMA technology uses an optimized algorithm to manage the data transmission to the devices, which leads to improved capacity and minimized lags. Media streaming in mobile gadgets was seamless, even on the first floor.
The routing unit comes with excellent connectivity. The 2.5G WAN port opens to a world of multi-gigabit speed connections. It also has 8 Ethernet ports that support Link Aggregation. You'll have more capacity combining two connections. With 8 LAN ports, you'll hardly run out of wired connections for your primary gadgets like TV, gaming console, Work PC, etc.
The ports are packed so closely that plugging/unplugging them requires extra attention. You'll also have two USB 3 ports (1 Type-A & 1 Type-C) that leave sufficient room to connect USB dongles, printers, and storage devices and share them within the home network.
Service Package Suitability
The beast of a routing device is geared to handle multi-gigabit speeds, although most households would find anything more than 1Gbps to be overkill. If you have limited devices, stick to the plans ranging from 500Mbps – 600Mbps, depending on the availability in your neighborhood.
If you are living in a household of gaming enthusiasts or twitch streamers, you can go for the 1Gbps plans of Google Fiber or 940 Mbps of Verizon FiOS or AT&T. If you are running a small business that requires servers in one of the larger cities, you'll be able to save a bunch with the cost-effective 2 Gbps plan of Google Fiber.
Security Features
TP-Link trademark Homecare security offers top-tier protection for your home network. Here's a screenshot from its web interface:
It secures the devices from malware and other malicious content. There is a robust intrusion protection system and a mechanism to isolate your network from infected devices.
Archer AX6000 lines up with a plethora of security features like WPA 3 encryption configuration, firewall setup, and built-in VPN support, which are paramount to keeping sensitive data safe from unauthorized access. The comprehensive parental controls are a blessing for households with a mixed crowd of adults and kids.
Create custom profiles for your kids, add devices, and schedule internet access time. One of my favorite parts is the detailed reports. You'd be able to drill down on usage statistics of specific devices, giving you more control over the household's internet exposure.
TP-Link AX6000 Setup
You can use Tether App or the Web portal to set up the router. TP-Link user interface is familiar for its modern yet straightforward user-intuitive interface. Even the newbie users can figure the way around the app or portal & get a good hang of the router management quickly.
You can use the tether app to monitor and control your network while away. Create priority for devices based on streaming and gaming activities. If your activity doesn't fit into a profile, create custom QoS rules and prioritize devices on Wi-Fi.
For automated homes, you can customize scenarios, and set/control temperature and lighting settings, triggered by a specific set of actions. The network experts will cherish the advanced settings in the System parameters, leading up to fine-tuning and tweaking.
While it doesn't have the gaming dedicated fine-tuning to reduce ping timings, you'll be able to customize your port settings for gaming activities with NAT Firewall and Advanced Port settings.
Hardware & Internals
The Broadcom BCM4908 Chipset comes with four processing cores with additional co-processors to tackle the heavy activities thrown at the device. Each core can clock up to 1.8GHz speeds, capable of powering through multiple 4K/8K videos simultaneously.
Two smart TVs were streaming 4K videos without a stutter while we cranked up the gaming heat with the call of duty multiplayer sessions. Credit to its 1GB RAM and 128MB Flash storage, the router cruised through it.
For a non-gaming router, the gaming performances were surprising. The frame captures consistently recorded over 120 fps, despite the multiple gadgets sharing the bandwidth. There was a substantial improvement in frame rate and quality when I prioritized my laptop for gaming.
Design
With a design unique to TP-Link, the AX6000 comes in a square black chassis measuring 10.3 x 10.3 x 2.4-inches.
As you can see in the picture above, it has a beveled top with a sole LED light at the center, beneath the golden logo, while each flat edge accommodates a pair of antennas. If you find the LED light too bright at night, you can turn them off using the manual switch.
The striped design on the surface serves to regulate the heat. Weighing around 3 pounds, the device is bulky, leaving a large footprint. Yet, you would hardly want to confine this beastly performer to a corner of your house.
Frequently Asked Questions
Is the TP-Link Archer AX6000 good for gaming?
Archer AX6000 doesn't feature dedicated gaming support. But a higher internet throughput backed by a strong processor and a customizable QoS brings you a seamless gaming experience.
What is the range for TP-Link AX6000?
TP-Link suggests the AX6000 can extend its coverage up to 2500 sq ft, which brings medium-large homes under its purview. Get the placement right, and the 8 amplified beamforming antennas will ‌reach the nook and corner of your home.
How many devices can the TP-Link AX6000 handle?
Archer AX6000 can easily handle up to 40 devices. This can be a combination of heavy streaming devices like 4K LED TVs, gaming consoles, IFTTT devices, voice assistants, desktops, tablets, and smartphones.
Does Archer AX6000 support mesh?
You can combine the Archer AX6000 with TP-Link's range extenders to upgrade your home network and extend the signal coverage. This would allow you to access seamless roaming and easy app-based management.
Verdict
While most hardcore gamers would rue the lack of gaming-specific features, the TP-Link Archer AX6000 compensates for excellent wired connectivity, throughput capacity, and customizable QoS. At this price point, it readily held its ground with superb performance. I feel it's a worthy buy even in 2023.
For Morton, reviewing a router is just like spending another day at the office. As BCCA's senior copywriter, Morton believes is explaining every concept concerning routers, networking technologies, and additional routing specs. Also, Morton is our go-to man if we are looking to get the ISP-dependent internet plans tested across devices.