Netgear has been creating ripples in the networking space since 1996 by innovating speeds, throughput, and usability over everything else. But that's not the fun part. The company ensures that you have ample choices when it comes to routing devices. And this is where it becomes crucial to compare two of their popular product lineups, i.e., Orbi and Nighthawk.
Orbi and Nighthawk aren't competing wireless systems from Netgear. Instead, they serve different clientele. Still, there are a few similarities along the way, considering both product lines aim at offering seamless connectivity. As an end-user, you might end up heading into a store and still stay confused about choosing between Orbi and Nighthawk.
From looking for better value to identifying an ideal wireless router that perfectly aligns with your home or office premise to anything else, questions galore when picking the suitable networking device. Keeping every possible question in mind, I have come up with a comprehensive, Orbi vs Nighthawk comparison to make an informed call for your next router purchase.
The Key Differences
Pressed for time? Looking to rush through the review? You can quickly go over the key differences between the Orbi and Nighthawk routers, which include:
Nighthawk vs Orbi: Quick Differences
Coverage: Nighthawk routers are standalone devices capable of covering around 3000 Sq Ft. Meanwhile, Orbi devices belong to large mesh setups and offer extensive coverage of up to 5000 Sq Ft.
Device Handling Capacity: Nighthawk, courtesy of the latest networking technology, allows you to connect double the number of devices you can connect using an Orbi.
Speeds & Throughput: If raw and cumulative wireless speeds are concerned, Orbi offers better speeds than Nighthawk routers, courtesy of a more complete setup.
Security Standards: Nighthawk lets you handle device and networking security better, courtesy of robust security measures and dedicated application.
Design & Connectivity: Orbi looks better, courtesy of the dome-like, uber-cool structure. Also, Orbi comes with a better set of ethernet ports.
Pricing: Standard Nighthawk routers are more affordable as compared to Orbi systems.
Orbi vs Nighthawk [Detailed Comparison]
If the quick differences didn't sync well, sit tight as I compare every aspect in detail. Also, before moving further, it is essential to note that Netgear Nighthawk vs Orbi cannot be an objective exercise. There are several Orbi variants and even a higher number of Nighthawk routers.
Just so you're aware, I've extensively used the Orbi RBK50 and the Nighthawk X6 before I decided to compare Netgear Orbi with Nighthawk. And the reason for picking these particular models is the comparable price tag.
1. Design and Looks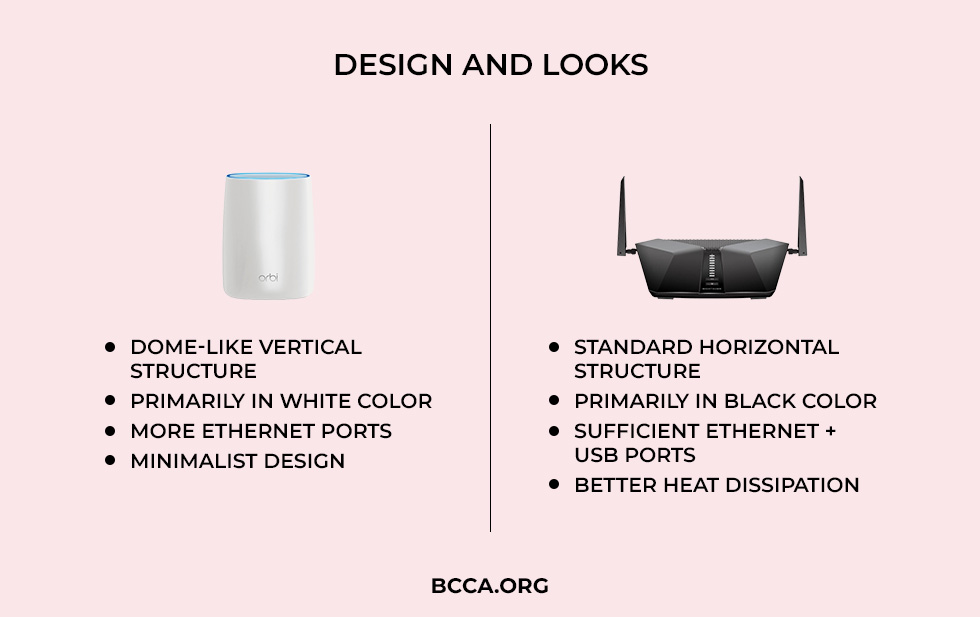 Yes, router design is an important factor. More so when you end up placing the device right in your living room. Almost every Nighthawk router you check out features a standard, horizontal, black-colored form factor.
Orbis, on the other hand, looks great, minimalist, and primarily white. An Orbi router doesn't look like a slab of hardened plastic but a vase-like networking device.
As far as design-specific functionality is concerned, Nighthawk routers are better at heat dissipation. Orbi wins it in terms of soft curves and an eye-pleasing design.
Winner: Orbi wins by a small margin, courtesy of its aesthetic layout.
2. Wi-Fi Coverage
Orbi routers are standard mesh routers — aimed at covering the relatively large house. Therefore, they usually offer an extensive Wi-Fi range. I tested the Orbo RBK50 and discovered that the 2.4GHz band worked well at even 5000 Sq Ft.
Nighthawk routers are still good and known for excellent speeds. However, regardless of the model you pick, you can get close to 3000 Sq Ft of coverage.
Winner: Orbi wins in terms of coverage, as it is initially touted as a wireless mesh system.
3. Device Capacity
The Nighthawk X6 that I tested boasts built-in QoS support and even tri-band support. And all these specs work n harmony to help you connect over 40 devices at once. A Nighthawk router seems like a better bet if you have multiple smart IoT products in plain sight.
Orbi routers aren't all that bad either. A 2-pack device lets you connect close to 30+ devices at once. But if connection quality is a matter of concern, I would suggest a Nighthawk.
Winner: Netgear Nighthawk is a clear winner if you are interested in device connecting capacity.
4. Speeds & Performance
Attention speed lovers, both Orbi and Nighthawk routers have got you covered. But now that we're into Netgear Orbi vs Nighthawk battle, let us get down to the exact offerings. A started Orbi router can help you attain cumulative wireless speeds of up to 3Gbps. For wired setups, you can get access to Gig internet speeds.
Nighthawk can help you get wireless speeds of up to 1.8Gbps. As it is a standard router and not a mesh device, Orbi promises better speeds and allows you to stay connected better to the 2.4GHz band. As far as gaming and streaming speeds are concerned, Nighthawk offers better throughput, but Orbi lets you cover many areas, making it easier for you to stay connected at all times.
Winner: Orbi offers better cumulative speeds and therefore wins this segment.
5. Security Standards
Nighthawk routers can be managed with a curated application, unlike Orbi, which needs to rely on a generic one. Therefore, if you want a Wi-Fi router that lets you keep DDoS attacks at bay while making way for parental controls and guest network management, I would pick a Nighthawk router any day.
Orbi isn't all that bad and allows you to configure firewalls, VPNs, and more. But Nighthawk is any day, a better bet in case you seek the highest levels of security safeguards.
Winner: I liked the Netgear Nighthawk more when high-end security standards are concerned.
6. Other Features
When it comes to handling the routers better, the dedicated application associated with both lineups makes it easier to set up and manage the home network. But high-end Nighthawk routers also come equipped with dedicated gaming bands, allowing you to attain excellent gaming speeds and minimal latency, despite the interference around.
As far as the port setup is concerned, most Nighthawk routers come equipped with at least 4 Gig ethernet ports. However, if you play your cards right, you can even get a device with 6 Gig ethernet slots and a standard 10G port dedicated to gaming.
And yes, two USB ports are easy to find, allowing you to share data and media across networks. Orbi routers, on the other hand, bring in one USB port on each device. As far as the port setup is concerned, there are 4 Gig ethernet ports to make life easier for the mesh fanatics.
Coming to the processing setup, Nighthawk features a better processor and a sizable chunk of RAM to help you manage latency even better. And if you want device sharing capabilities, Orbi lets you share the printer, whereas Nighthawk lets you handle a USD data drive and printer with ease.
Winner: The Nighthawk wins this segment hands down, especially regarding the processing setup, port arrangement, and more.
7. Pricing
And finally, we've come to the last aspect of comparing Netgear Orbi with Nighthawk!
As far as the pricing goes, Orbi routers are a tad pricier. Also, they often come in packs of 2 or more, so a higher price point is often justified. However, if you are into Nighthawk routers, you can purchase devices across a wide range of prices such as:
Winner: Netgear Nighthawk routers win this round by offering a better cost-to-ownership ratio.
Frequently Asked Questions
Which is better, Orbi or Nighthawk?
There is no straightforward answer to the Orbi or Nighthawk question as both are aimed at different audiences and serve different use cases. If you emphasize 5GHz speeds and minimal gaming performance, I would recommend Nighthawk. Orbi, on the other hand, scales above and beyond if you prioritize coverage over anything else.
Is the Netgear Orbi worth it?
Yes, Netgear Orbi routers are worth investing in as they are arguably the best mesh routers in the retail space. They offer massive coverage and are even replete with several ports — Ethernet and USB included.
Are Orbi and Nighthawk compatible?
Yes, Orbi and Nighthawk are compatible devices and can be used interchangeably if you have a good Docsis 3.1 modem at your disposal. Plus, it is better to get hold of a gig internet plan in case you want to maximize the potential of the same.
Who should prefer an Orbi over Nighthawk or vice versa?
Orbi is a better bet for offices, where coverage is of importance. However, Nighthawk routers steal the show if you prefer better control over the device, better gaming performances, and a wide range of ethernet and USB ports.
Verdict
As per the comparative analysis, Orbi and Nighthawk are excellent wireless routers. While Orbi Mesh systems are known for excellent coverage, exceptional cumulative speeds, and a better-looking form factor, standalone Nighthawk routers make life easier with better performances, port arrangement, and a competitive price.
And if you are planning to purchase one right away, you are better off getting the Orbi for offices, hotels, and other wider areas. Nighthawk routers, often with tri-band or even dual-band support, are great for online gaming and streaming. Therefore, you must first ascertain your requirements before purchasing the preferred type of router.