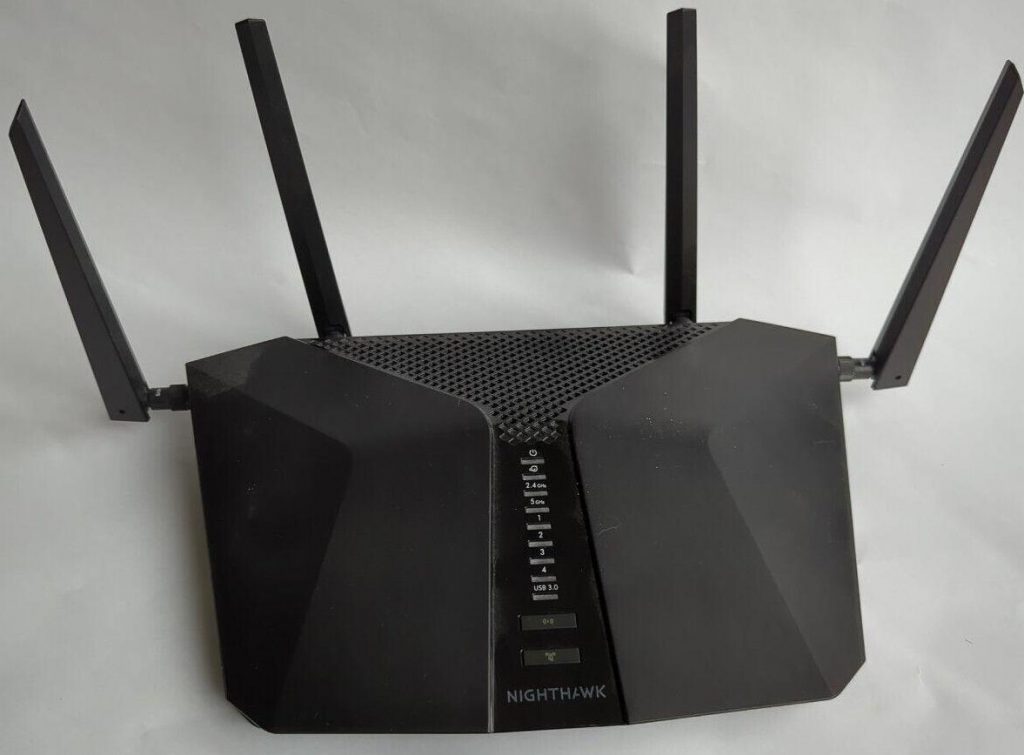 As a market leader, Netgear has always sensed the market mood, foresee trends & deliver. Boasting a vast selection of wireless routers for retail and commercial consumers, the company yet again hits a home run with the Netgear Nighthawk AX6. But how does it perform? Does it keep up the promises? Let's find out through this Netgear Nighthawk AX6 AX4300 review.
Brought in to capture the mid-range market audience, the Netgear Nighthawk AX4300 checks a lot of boxes. I used this networking device as my primary internet setup for over a month, and I will be sharing my experience (what I liked and what I didn't) through this Netgear AX4300 review.
Before I get into the essence of the Netgear Nighthawk 6-Stream AX4300 Wi-Fi 6 router, take a glimpse of the upgrades from its predecessor, RAX40. The tremendous performance boost through an upgraded processing unit makes a lot of difference. Two extra antennas bring additional data streams, aggregated speeds, device capability, and an extended range.
Netgear Nighthawk AX6 Specs
| | |
| --- | --- |
| Wireless Standard | Wi-Fi 6 |
| Band Frequency | Dual-Band |
| Speeds | 480 Mbps (2.4GHz) + 3804 Mbps (5GHz) |
| Range / Coverage | Up to 2500 Sq Ft |
| Device Handling Capacity | 35 |
| Ports | 4 LAN + 1 WAN + 1 USB 3.0 |
| Processor | 1.5GHz Intel AnyWAN GRX350 |
| RAM Memory | 512MB |
| Flash Memory | 256MB |
| App Support | Yes |
| MU-MIMO | Yes |
| OFDMA | Yes |
| Beamforming | Yes |
| 160MHz Channels | Yes |
| DFS | Yes |
| QoS | Yes |
| Voice Assistant | Amazon Alexa & Google Assistant |
Netgear Nighthawk AX6 AX4300 Review
Now that you're aware of the upgrades it brings, it's time to break down the review of the Netgear AX6 AX4300 into several sections and analyze how it fares on several attributes.
1. Design & Key Features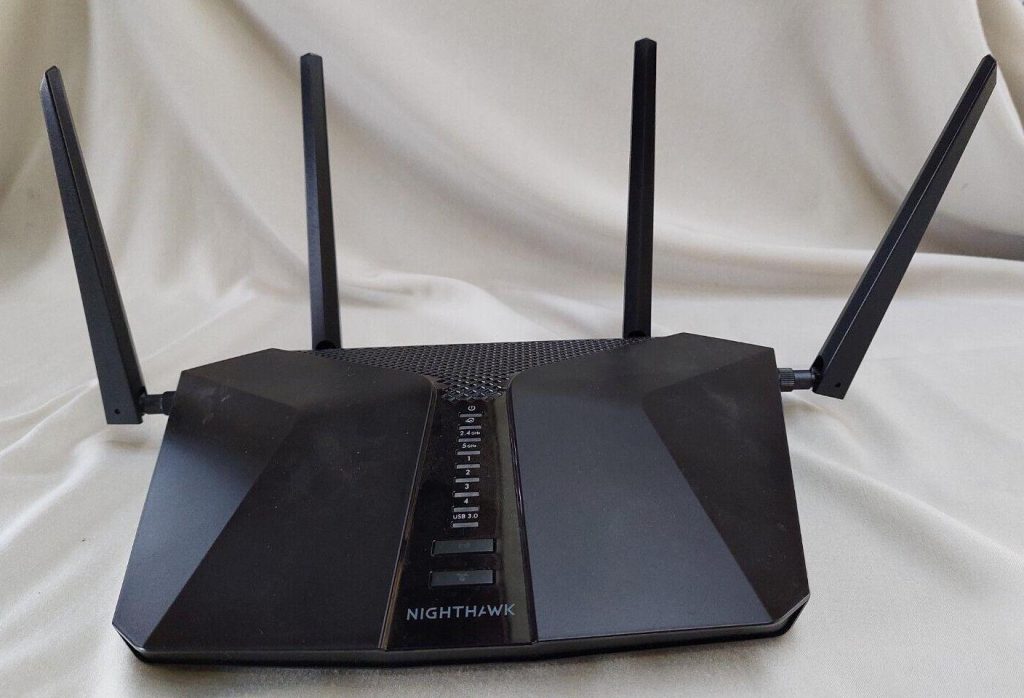 I'll start the Netgear RAX45 review with a drill down on its design aesthetics and critical features that make it an interesting buy. The matte-black chassis of the AX6 router resembles its predecessor sans the antennas. Angled design plastic body sports vertically lined up indicators in the center of the front half and a heat regulating rear half.
The sleek unit finds room for 4 external antennas, 1 WAN port, 4 Ethernet ports, and a USB 3.0 port on its rear well within 1.25 pounds and 11.6 x 8.11 x 2.25 inches. The design aesthetics ensure the device doesn't stick out like a sore thumb.
Netgear RAX45 brings Wi-Fi 6 standard complemented by a brilliant selection of features, including MU-MIMO, OFDMA & 160MHz channels. A set of parental controls gives more control over how the family members consume the internet. With OFDMA & MU-MIMO, the router minimizes the lag in communication to multiple devices and ensures the bandwidth is used optimally.
2. Speeds & Throughput
The improved capacity of Nighthawk AX4300 can help the legacy devices reach individual top speeds of 480 Mbps in 2.4GHz, and the latest gadgets reach 3804 Mbps in 5GHz frequency. The real-world internet speeds are contingent on the ISP package and environment in which the router operates, accounting for the physical & radio interference.
In my testing, the router raked over 800 Mbps of downlink throughput with an AT&T 940 Mbps connection on the 5GHz frequency. As long as the devices were in the same room, the fluctuations in speed were minimal. The speeds dropped up to 400 Mbps when I moved two rooms farther. On the 2.4 GHz band, the throughput was close to 300 Mbps.
3. Coverage & Device Allocation
The 4 powerful antennas make a vast difference to the Netgear nighthawk AX6 AX4300 range and capacity. Equipped with beamforming, it has become one of the best wireless routers for large homes spanning up to 2500 sq ft.
Choose the best location for your router and avoid physical interference to get the best coverage out of the AX6 router.
With 6 streams across dual bands, the Netgear Nighthawk AX6 can handle 35 devices. You'll have seamless connectivity for your security camera and video doorbells despite connecting to a plethora of smart home gadgets. You'll have the capacity for smart TVs, gaming consoles, voice assistant devices (Alexa & Google), Desktop PCs, smartphones, and tablets.
4. Service Package suitability
What's a Nighthawk AX4300 review without analyzing the compatible ISP plans? Let's dive straight into it. The aggregated speeds give the capacity to handle gigabit-speed connections. The lack of a multi-gigabit port means the capacity is limited to 1000 Mbps. A Gigabit plan from Xfinity would be an excellent match-up for Netgear nighthawk AX6 AX4300.
If you live in a neighborhood with the availability of AT&T, Verizon FiOS, or Spectrum, you can opt for their 940 Mbps plan. Do you have the luxury of living in the urban areas under the coverage of Google Fiber? You are bound to save a lot of bucks on with their 1Gbps Fiber plan.
5. Hardware & Performance
A critical part of the Netgear AX4300 review is the peek into its hardware unit, which sets it apart from its competitors. The triple-core processing unit brings a wealth of processing capacity. It can clock up to high frequencies of 1.5GHz, making it an ideal wireless router for 1000 Mbps connections.
Including an off-load processor makes a substantial difference when multiple devices are hogging up the internet. Netgear pairs the CPU with a memory duo of 512MB RAM & 256MB flash storage. The synergy of the hardware unit gives an upper hand in handling 4k streaming, high-graphic online gaming, and supporting home-office solutions without breaking a sweat.
6. Security Features
Are you precarious about the vulnerabilities of the internet? Pay attention, and don't miss out on this critical part of the Netgear Nighthawk AX4300 review. Netgear brings the most advanced protection with the Netgear Armor. It keeps the devices in your network protected from malicious content and ransom wares.
VPN powered by Bitdefender and the latest WPA3 encryption standard (configuring WPA 3 on a wireless router) plays a crucial role in maintaining the security and privacy of your network.
The comprehensive parental controls let you turn off, pause the internet on specific devices, monitor internet traffic, and control your consumption remotely. The Armor subscription gives you access to detailed reports and customized filters.
7. Netgear Nighthawk AX4300 Setup
You'll have the freedom of setting up your router in the comfort of your mobile or the web interface. Either way, the guided installation makes the process easy and quick. The same applies to network management. Old-school network enthusiasts will ‌use the extensive web interface for customizing the networks, be it setting up firewalls, access filters, or device priority.
Nighthawk mobile application is a breath of fresh air with its lightweight interface and smooth operability. Monitor your internet, and control the exposure even while you're away from home. Set up a guest network and voice assistants within a few touches.
Netgear RAX45: Pros & Cons
Wi-Fi 6 support

DFS & 160MHz channels

Supports over 35 devices

MU-MIMO & OFDMA

Beamforming+
Pricey security subscription
Frequently Asked Questions
What is the range of Netgear RAX45?
Four external antennas ensure the Netgear Nighthawk AX6 AX4300 range can extend to large homes measuring over 2500 sq ft. The beamforming feature in the antennas ensures consistent Wi-Fi signals on multiple devices, further guaranteeing signal quality.
Is the Netgear AX6 AX4300 good for gaming?
A triple-core processing unit and the offload processor make sure the RAX-45 
handles online gaming activities. Don't let the lack of gaming accelerators or 
ports make you believe otherwise. Enable QoS, prioritize your gaming traffic, and get the best out of your high-speed internet.
Is it worth investing in the Netgear AX6 Wi-Fi 6 router?
A robust hardware unit, backed up by the latest features and advanced technology, could handle your networking requirements for the foreseeable future. If you want to blanket your smart home with high-speed internet, it doesn't get any better than the Netgear Nighthawk AX6 AX4300 router.
Does Netgear Armor Security subscription hold any advantage?
Yes. If you have a home office that concerns data confidentiality and privacy, the real-time protection of the Netgear Armor can play a significant role in keeping the network secure. The frequency of updates brings exceptional value in the form of regular bug fixes addressing security concerns.
Verdict
I hope you enjoyed the Netgear Nighthawk AX6 AX4300 Wi-Fi 6 router review. The upgrade to the processing unit makes it a top contender for the best wireless routers under $150. Aggressive pricing makes this a steal deal. To sum up, we've seen how Netgear has built a device capable of coping with the demands of a large household in terms of range, advanced features, and user interface.
---
Low on budget? Check out my review of the TP-Link AX3000 (AX55)
For Morton, reviewing a router is just like spending another day at the office. As BCCA's senior copywriter, Morton believes is explaining every concept concerning routers, networking technologies, and additional routing specs. Also, Morton is our go-to man if we are looking to get the ISP-dependent internet plans tested across devices.