Are you worried about the privacy of the devices connected to your home/office network? Do you feel your ISP is limiting & throttling your connection? Do you want to get rid of geography-based content blocks in streaming apps? You need a VPN router, preferably one that works with ExpressVPN and can support the internet speeds of your ISP.
It doesn't feel good to miss out on the latest wireless standards and higher speeds. Also, having adequate wired connectivity eases the load of those wireless transmissions. Top it up with some device prioritization, you achieve better performance. Kids using the internet at home puts the emphasis on the importance of parental controls.
After testing a bunch of ExpressVPN compatible routers, I've factored in the essential requirements while creating this list. Support for Wi-Fi 6 standards, wired connectivity, advanced features like MU-MIMO, Beamforming, OFDMA, and better internet security setup are other features.
8 Best Routers for ExpressVPN in 2023
This list consists of 8 ExpressVPN supported routers, out of which the top 4 come with a pre-configured firmware file. You need to simply upload the firmware file pertaining to a model you choose, and you're good to go. For the rest of the 4 models, you'll need to configure the ExpressVPN on a router manually.
Rest assured, the Express VPN routers featured here cover diverse use cases, speeds, and price ranges. Starting the list with a premium product, I have focused on devices that offer great value for money for varying preferences. You'll find some value buys and budget-friendly suggestions under $100 closer to the end.
1. Best Overall:

Linksys WRT3200ACM
With boosts to processing capacity and speed limits, Linksys puts together a robust unit, better equipped than its predecessor. The support of 160Tri-stream technology and customizable firmware makes the Linksys WRT3200ACM stand out as the best VPN router, claiming the top spot in my recommendations.
Why is it suited for ExpressVPN?
The preconfigured firmware for ExpressVPN allows you to make the best out of high-speed internet connections. With Wi-Fi 5 standards and aggregated speeds of 3200 Mbps, you'll have an abundance of bandwidth to play around with.
The top speeds of 600 Mbps on 2.4GHz and 2600 Mbps on 5GHz are complemented by advanced features like 160MHz channels, MU-MIMO, and QoS to deliver an impressive performance. The ExpressVPN compatible router can cover large homes extending to 2500 Sq ft. It can support over 30 devices connected to the network.
Hardware & Performance
Linksys combines a 1.8GHz dual-core processing unit with 512MB RAM and 256MB storage memory in this version. The solid hardware unit can handle data-intense activities simultaneously. Be it online gaming or 4K streaming, this VPN router can ease through with no hassles.
Design & Ports
With WRT3200ACM, Linksys reverts to its classic design. A combination of the blue front half and a perforated black rear half put this unit at 1.76 pounds and 9.67 x 7.63 x 2.04 inches.
It has 4 high-powered external antennas equipped with beamforming. Linksys accommodates 1 Gig WAN port, 4 LAN ports, and two USB ports on its rear.
App & Security Features
Linksys Wi-Fi App makes quick work of the setup and the network management. At the helm of open source firmware, set up a secure network, manage network traffic, and detect intrusions. The parental controls and guest network access will come in handy in having more control over the network.
Conclusion
If you want a Wi-Fi router to host multiple devices, you will ‌exploit the features of open-source software. The freedom to get around content restrictions is icing on the cake, making it the best router for ExpressVPN. However, if you're looking for a cheaper alternative, Linksys EA6200 can be a good value for money choice.
MU-MIMO

Beamforming

Tri-Stream 160

Advanced customization

Wired Connectivity
Pricey

Limited 2.4GHz performance
2. Best Runner Up:

Netgear R7000
Upgrades to the processing unit gear it for improved performance via higher speed limits, making it a tad better than its predecessor. The latest features, pre-configured firmware makes Netgear R7000 and robust internet security makes this a worthy inclusion to the list.
Why is it suited for ExpressVPN?
Do you have the privilege of access to high-speed internet from top players like Google Fiber or AT&T? It's high time to switch to a gigabit plan and a capable 1000 Mbps router. Exploit the high-speed internet with top speeds of 574 Mbps on 2.4GHz and 4804 Mbps on 5GHz.
Given the latest standards, MU-MIMO, OFDMA & adaptive QoS, the device delivers a breezy performance to over 25 devices. It's well equipped to cover homes as large as 2500 Sq Ft.
Hardware & Performance
Netgear puts a dual-core processing unit clocking at 1GHz for this version. Which, in tandem with a memory duo of 256MB RAM and 128MB storage, can support the workload of a small household. Be it remote work stations or concurrent media streaming on TV or virtual meetings on mobile devices or gaming activities, the VPN-ready router cruises through them.
Design & Ports
A matte-black unit with ventilated sides comes with 3 external beamforming antennas towering from its rear. At 1.65 pounds, the VPN router sports a large footprint measuring 11.22 x 7.26 x 1.97 inches.
You'll have adequate wired connectivity with 4 Ethernet ports. Share printer and storage devices within the household, credit to two USB ports.
App & Security Features
The Nighthawk mobile app brings ease to your installation and management. Upon subscription, Netgear Armor offers advanced protection against internet security threats. The circle smart parental controls, WPA2 encryption standards, Guest Wi-Fi, & double firewall are paramount to retaining control over the network.
Conclusion
Are you looking for a Wi-Fi router that supports VPN with a sophisticated internet security system for a small home? You cannot go wrong with the superior Netgear ecosystem. The device brings a fine balance of features along with its ecosystem that puts it above its Asus counterpart.
MU-MIMO

Beamforming

Dynamic QoS

Smart Connect

Netgear Armor
3. Best for Large Homes:

Asus RT-AC68U
Upgrades to the processing unit and storage memory make this a better choice than its previous version. The extended coverage, Lifetime internet security, and easy compatibility with ExpressVPN at a competitive price bring Asus RT-AC68U to the top half of my list of Express VPN supported routers.
Why is it suited for ExpressVPN?
The support for Wi-Fi 5 standards and an aggregated speed of 1900 Mbps make this a solid companion to configure a VPN on a router with high-speed internet.
Delivering over 600 Mbps on 2.4GHz and 1300 Mbps on 5GHz makes this a robust unit. Features like MU-MIMO and Dynamic QoS improve its ability to optimize its usage across multiple devices. With a 3000 Sq Ft range, it qualifies as one of the best Wi-Fi routers to cover large homes. Plus, it brings the capacity to handle up to 30 devices concurrently.
Hardware & Performance
Its capacity to handle over 30 devices is backed up by a dual-core processor clocking at 1.0GHz. Adding a memory duo of 256MB RAM and 128MB storage on this wireless router with VPN support makes it a solid multi-tasking unit.
Design & Ports
Sporting a vertical design in dual-tone black and gray combination, the VPN ready router has 3 external beamforming antennas towering on top of it. Leave your worries about coverage and signal quality aside. Asus packs the unit within 1.4 pounds while measuring 6.3 x 3.3 x 8.6-inches in dimensions.
Do you prefer wired connections over wireless? RT-AC68U comes with 4 Gig Ethernet ports and 1 WAN port that brings sufficient avenues for the essential gadgets. With 2 USB ports, you don't have to compromise between sharing a printer or a hard drive.
App & Security Features
The combination of the Asus mobile app and web interface brings comprehensive customization and monitoring capability to you. Support to ExpressVPN adds excellent value to this device. An excellent network monitoring system, parental controls, WPA2 configuration, and commercial-grade security of AiProtection Pro make this a robust Wi-Fi router that supports ExpressVPN.
Conclusion
If you are looking for a solid wireless router compatible with ExpressVPN but don't have a budget for antivirus protection, you can go for Asus RT-AC68U. The coverage and set of features keep this above Netgear's competitor.
MU-MIMO

Beamforming

AiMesh Compatible

Lifetime Internet security

Alexa Compatible
Pricey Armor subscription
4. Best for Small Homes:

Netgear R6700
The 1024-QAM data rate amplifying the top individual speeds in the 5GHz is a vast improvement over its predecessor. The extended coverage & additional capacity to handle plenty of devices makes Netgear R6700 an ideal Wi-Fi router to use with ExpressVPN.
Why is it suited for ExpressVPN?
Support to Wi-Fi 5 standards and consolidated speeds pf 1750 Mbps brings the excellent capacity to make this one of the affordable and easy to setup ExpressVPN router. The pre-configured firmware makes it easy to configure VPN on router.
Individual top speeds of 450 Mbps on 2.4GHz and 1300 Mbps on 5GHz get a substantial boost from MU-MIMO and QoS, improving your internet performance of media and gaming traffic. Ideal for smaller apartments and households, this one covers up to 1500 sq ft. Connect mobile gadgets, tablets, and other devices to the tune of 25 devices within your home.
Hardware & Performance
With a dual-core processor clocking at 1GHz, and a memory duo of 256MB RAM and 128MB flash storage, the device brings the capacity to handle data-intensive activities in a small household. Balance a load of high-quality media streaming, online gaming, and work from setups and avoid those performance issues with ease.
Design & Ports
A minimalist design on a matte-black chassis measures 7.20 x 11.22 x 2.44 inches and weighs approximately 1.58 pounds. It has 3 external beamforming antennas towering on its rear sides and heat vents on the sides.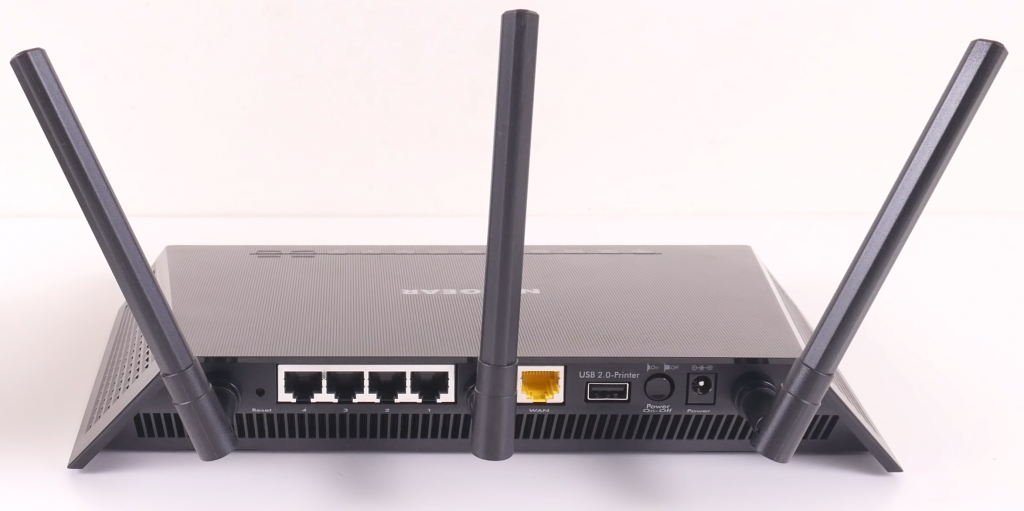 You'll have sufficient wired connectivity with 1 Gig WAN port, 4 Gig Ethernet ports, and 1 USB 3.0 port.
App & Security Features
Require easy installations and remote management solutions? Nighthawk mobile application makes it both possible. Double firewalls, DoS protection, WPA2 encryption offer a basic level of protection to your network. For advanced protection switch to Netgear Armor, a paid service. With parental controls, control your kid's internet exposure.
Conclusion
Do you need an affordable Wi-Fi router that work with ExpressVPN for a small apartment? It doesn't get any better than Netgear R6700 and its affordability. The advanced protection of the Netgear ecosystem and compatibility to ExpressVPN makes this a better choice than its TP-Link counterpart.
Affordable

Beamforming+

MU-MIMO

QoS

Compatible with voice assistants
5. Best VPN Router for Streaming:

TP-Link AX55
Upgrades to the hardware unit, including the memory, make Archer AX-55 better than its front runner for handling high-speed connections. Improved throughput capacity and coverage with advanced features put TP-Link Archer AX55 on my list of Express VPN routers.
Why is it suited for ExpressVPN?
Don't let the lack of pre-configured firmware underestimate the utility of the latest Wi-Fi 6 standards and the aggregate speed of 3Gbps. From futureproofing your home internet to maneuvering congested environments, this is a good option to set up VPN to home network.
Advanced like MU-MIMO & OFDMA bring the best out of 574 Mbps on 2.4GHz and 2402 Mbps on 5GHz. Ideal for medium-large network congested apartments, this can be a fastest VPN router that covers up to 2500 Sq Ft and handle up to 25 devices. The support of 160MHz and additional DFS helps you bring the best out of your internet.
Hardware & Performance
The Archer comes with a 1GHz dual-core processing unit on a Qualcomm chipset. When combined with 512MB RAM it brings the adequate capacity to support the demands of media streaming, high-quality gaming, and several mobile gadgets.
Design & Ports
The heat-regulated chassis with a sleek demeanor puts this Express VPN supported router within 10.2 x 5.3 x 1.5-inches and lightweight of fewer than 2 pounds. Don't fret about the signal quality.
The routing unit comes with 4 external beamforming antennas. You'll find 4 LAN ports, 1 WAN port, and a USB 3.0 port on its rear.
App & Security Features
The user intuitiveness of the Tether application makes installations & remote monitoring quick and easy. With Homeshield's protection against intrusions & DDoS attacks layered with firewalls, access controls make the home network secure. Parental controls offer you the freedom to restrict and limit internet usage.
Conclusion
Are you living in a congested urban apartment? Future proof your home by setting up ExpressVPN on router and enjoy multiple OTT content. The latest wireless standards and features put Archer AX55 in contention over its ASUS counterpart.
Suggested Read: Detailed Review of the TP-Link Archer AX55
Wi-Fi 6 support

OFDMA

160MHz Channels

DFS channels

Beamforming
Pricey advanced protection
Are you wondering if you could install ExpressVPN on Asus router? Well, ASUS GT-AC2900 allows you to manually configure the VPN and lets you use it for gaming, streaming, and all the other activities.
An excellent selection of gaming features makes this VPN gaming router a better value for money than its preceding unit. Boosts to gaming traffic, dedicated gaming port, and aggressive pricing warrants ASUS GT-AC2900's inclusion to one of my recommendations.
Why is it suited for ExpressVPN?
Do you need gaming features for your household? Manually configure ExpressVPN on ASUS router and exploit the gaming capabilities along with its excellent throughput capacity of 2900 Mbps with Wi-Fi 5 wireless standards.
This ASUS router with VPN capabilities can support up to 750 Mbps on 2.4GHz and 2167 Mbps on 5GHz. Add MU-MIMO, adaptive QoS into the mix, you are set for a seamless gaming experience. The GT-AC2900 can cover 2500 Sq Ft homes while handling up to 30 devices simultaneously.
Hardware & Performance
A robust dual-core processor clocking at 1.8GHz brings sufficient processing ability to cope-up with high-speed connections and high-quality gaming. The presence of 256MB storage and 512MB operating memory makes using the ExpressVPN easier.
Design & Ports
The presence of multiple color accents on a black chassis reflects its gaming capacity. Intelligent design puts the device at less than 1.72 pounds while measuring 8.75 x 6.65 x 4.37 inches. With 3 beamforming antennas on top of the device, lay your apprehensions of signal quality to rest.
Use the 2 USB ports for adding peripherals and accessories to the home network. The presence of 3 Ethernet ports and Link aggregation improves the potential and value. Connect your gaming consoles to a dedicated gaming port and enjoy a seamless gaming experience.
App & Security Features
The Asus router APP can come in handy to get through the installations. The lifetime protection of AiProtection Pro along with a detailed traffic monitoring system, comprehensive parental controls, dedicated guest access, and WPA2 encryption helps you keep the devices safe.
Conclusion
If you require a gaming-friendly Wi-Fi router that can be set up with ExpressVPN, Asus GT-AC2900 is as good as it gets. Reduced latency in communication, dedicated gaming port, puts it above the Wi-Fi 6 Netgear beast.
Gaming acceleration

Dedicated gaming port

MU-MIMO

Beamforming

Link Aggregation
7. Best Budget Option:

Netgear R6700AX
An overhauled version of predecessor brings the latest wireless standards, complemented by advanced features, making it a valuable addition. The Netgear R6700AX is a Wi-Fi 6 version of its predecessor, which announces itself in the list with an excellent price to utility ratio.
Why is it suited for ExpressVPN?
It might require an effort to set up ExpressVPN on this device, but it is worthwhile considering the latest Wi-Fi 6 standards and an aggregated speed of 1800 Mbps.
The advantage of MU-MIMO, OFDMA, and QoS help you bring the best out of 600 Mbps for the legacy devices on 2.4GHz & 1200 Mbps on the 5GHz band. Connect up to 20 devices spread across 1500 Sq Ft without noticeable performance issues.
Hardware & Performance
The strength of the quad-core processing unit clocking at 1.5GHz puts it in pole position to handle heavy streaming and gaming activities. Complementing the CPU unit is the memory duo of 512MB RAM and 256MB storage.
Design & Ports
Netgear R6700AX comes in a sleek matte black chassis. The lightweight device weighs 1.1 pounds and measures 9.27 x 7.26 x 2.25 inches in dimensions. The 3 external beamforming antennas guarantee reliable coverage and quality signal across the corners of our home.
Rely on the four Gig Ethernet ports to offer you stable wired connectivity.
App & Security Features
The Nighthawk mobile app brings you the advantage of quick setup and remote management. Are you concerned about advanced security? Leave that to Netgear Armor's sophisticated real-time security with the WPA3 encryption standards. Worried about kids' exposure? The parental controls will be your trustworthy companion.
Conclusion
If you want to buy a VPN router with Wi-Fi 6 to future-proof your home, R6700AX fits the bill better than any other model. Don't let the hassle of manually configuring ExpressVPN dissuade you from its great value. The selection of features puts it above the D-Link's cheap offering.
Wi-Fi 6

MU-MIMO

Beamforming

Netgear Armor

Quad-core processing unit
8. Cheapest Option:

D-Link DIR-1950-US
Improvements to the speed limits and latest encryption standards make this a good router for ExpressVPN compared to its frontrunner. The price advantage without compromising on some of the latest features justifies D-Link DIR-1950-US's inclusion as one of my favorite budget recommendations.
Why is it suited for ExpressVPN?
A couple of hours of hard work of manually configuring ExpressVPN is well worth the value with D-Link brings in terms of Wi-Fi 5 standards and aggregated speeds of 1900 Mbps. The welcome addition of MU-MIMO and QoS brings the best out of top speeds of 600Mbps 2.4GHz & 1300Mbps on 5GHz bands across multiple devices.
Courtesy of its high-powered antennas, the ExpressVPN configurable router can cover 2000 Sq Ft and handle up to 15 devices.
Hardware & Performance
The 1.2GHz dual-core processor makes a light work of handling data-intense activities. Despite being the limiting factor, the memory combo of 128MB RAM & storage is paramount for handling multiple mobile gadgets, PCs, and TV in a household.
Design & Ports
With 4 external beamforming antennas equipped towering on matte gray chassis, the router compatible with ExpressVPN delivers stable signals. The modern look device weighs 0.92 pounds and measures 8.92 x 6.85 x 2.04 inches.
D-Link fits in 4 Gig Ethernet ports, and 1 WAN port to take care of wired connectivity.
App & Security Features
The web-based configuration and D-Link mobile app help with local network management. The latest encryption standards, firewalls, access are paramount to the security of the devices connected to your home network.
Conclusion
Looking for a scaleable, mesh-compatible Wi-Fi router that also works with ExpressVPN? D-Link DIR-1950-US offers processing capacity, features at a budget-friendly price. Despite the lack of USB ports and limited security options, the value it brings makes it one of your top budget recommendations.
WPA3 encryption

MU-MIMO

Beamforming

Easy Mesh scalability

Parental controls
Buying Guide for ExpressVPN Router
If you're not able to narrow down the right choice, use the factors listed above to find the best wireless router for ExpressVPN. Most devices will involve manually installation, while the most popular ones get a pre-flashed quick setup firmware file from ExpressVPN.
User Requirements
Having a pre-configured VPN router can level up your streaming & gaming scenarios. You can out-maneuver location-based restrictions and get access to multiple OTT content & streaming applications that were not available before. Your favorite game is blocked? Geo-spoofing your way out with VPN opens up to a new world of gaming.
Are you concerned about privacy issues? Do you want to protect your online identity? A VPN service offers additional encryption and routes your traffic via a VPN server, protecting you from unwarranted activity tracking.
Compatibility
Before you choose a routing device, ensure its compatibility with the service provider, in this case, ExpressVPN.
If you're hard-pressed to choose one out of the comprehensive ExpressVPN router list, you should setup VPN manually. It might involve some complex settings and flashing your device with third-party firmware. Any misstep in the process can make your routing device obsolete, devoid of any chance of recuperation from the OEM.
Wi-Fi Standard & Speeds
Configuring the router for VPN introduces two extra steps in every attempt to communicate with the internet. This makes the Wi-Fi standard and its capacity paramount. Devices supporting the Wi-Fi 5 & Wi-Fi 6 standard bring in the latest features that further optimize the network for improved performance.
The aggregate speed is imperative to measure the capacity. Without adequate capacity, your routing device would end up throttling the internet and delivering a subpar performance, despite having high-speed internet at your disposal. Go for Wi-Fi 6 compatible wireless routers if you have the latest Apple devices at home.
Coverage & Devices Support
If you plan on sharing your VPN router to every device across the household, turn your attention to the external antennas. With flexible beamforming antennas, you get focused signal towards the devices, preventing loss of signal quality.
When you have more devices at home, the hardware unit comes to the party. A multi-core processing unit, backed by sufficient RAM & storage makes a routing device capable of handling plenty of devices. It helps to deliver seamless internet without compromising the overall performance.
Ports & Connectivity
If you are installing ExpressVPN on your router, you likely have multiple streaming devices and gaming consoles at your home. Without wired connectivity, users will miss out on stable internet.
Look for a device with 4 Ethernet ports, ensuring there are adequate avenues for work PCs, TV, & gaming devices. Got a printer at home? Don't miss out on the USB port. Configure the printer/hard drive to the device and enable easy access to all devices connected to the network.
Installation & Management
Most devices allow installations via their mobile app and the web portal. If you prefer quick installations, go for reputed OEMs like Netgear, Asus, TP-Link, which are known for their intuitive interface.
Do you want to monitor your network even when you're away from home? Ensure the device has remote monitoring with parental controls, and access filters to keep the kid's internet exposure under control.
Other Features
When you have the latest features like MU-MIMO, OFDMA, there is minimal latency in data communication. With features like smart connect, airtime fairness at disposal, you are bound to have an optimized, balanced network sharing the bandwidth amongst the devices judiciously.
Having a dedicated gaming port or acceleration will improve your gaming experience. If not at least ensure the device has QoS to prioritize the internet based on devices or applications.
Frequently Asked Questions
Do I need a special router for VPN?
Yes, if you are planning to install VPN on the router, you'll need a router that is compatible with the VPN service providers. It is also imperative to buy a router that matches your requirements, and ISP speeds on offer. Any mismatch can lead to less than ideal performance, slowing down the potential of the internet.
How to setup ExpressVPN on a router?
ExpressVPN has configured firmware for certain OEMs and models. Find the firmware available for your model on the Official ExpressVPN website. Download the file and save it on a local hard drive. Login to the admin page and manually update the firmware by choosing the saved file. Don't interrupt the process.
Are all routers VPN compatible?
Most routing devices can be used with a VPN service installed in the device separately. If you want to install the VPN directly in the router, that may not be possible with all devices. The VPN service provider offers pre-configured firmware for your model.
Does a VPN router slow down Internet speed?
Yes, a VPN can slow down your internet speed. VPN encrypts your data and routes it via a secure server. The extra steps might slow down your connection, contingent on location and the load attached to the VPN server. If you are using a high-speed connection and premium VPN service, the speed loss will be negligible.
Verdict
Not every router in the list comes with pre-configured ExpressVPN firmware. Some require manual configuration. ExpressVPN makes the job easier with configuration setups and help.
Find some of our recommendations for routers compatible with ExpressVPN for some potential scenarios.
Looking for a solid router with pre-configured firmware to handle plenty of devices,

Linksys WRT3200ACM

hits the sweet spot w.r.t to features, customization, and connectivity.
The

ASUS GT-AC2900

is the ideal gaming router to set up ExpressVPN if you are looking at a gaming acceleration boost and dedicated ports.
The

Netgear R6700

offers great value for the money with its overall combination of features, advanced internet security, and ease of installation.
For Morton, reviewing a router is just like spending another day at the office. As BCCA's senior copywriter, Morton believes is explaining every concept concerning routers, networking technologies, and additional routing specs. Also, Morton is our go-to man if we are looking to get the ISP-dependent internet plans tested across devices.