Whether you already live in an apartment or are moved to one, if you're looking for a reliable router for your apartment that won't have Wi-Fi dead zones or will work fine in a crowded environment, then you've come to the right place.
Unlike separate houses where you just have to make sure that the router is compatible with your service package and is suitable for the number of devices at your place, you'll need to check a lot of other features when it comes to apartments. For instance, a router with DFS (Dynamic Frequency Selection) shall ensure seamless connectivity in a crowded environment.
While you can start researching and find a good router for an apartment, but not everyone is a networking expert, understanding different wireless bands (knowing which is good for what), technical terms like MU-MIMO, DFS, etc., can be time-consuming.
The good thing is I've done a thorough research and have 10 years of experience in networking, specifically, testing wireless routers, modems, etc. Trust me, I have made sure that the routers listed here won't have slow internet or dead zones in your apartment.
The Essential Factors While Purchasing a Router For Your Apartment
1. Make sure that your router has at least 128MB RAM for video streaming, file downloads, data backups, gaming on Xbox One (or other devices), and other tasks that require lots of data to be transferred back and forth from the internet.
2. It should have a dual-core processor and higher that clocks in at a frequency of at least 660 MHz.
3. If you want seamless wireless connectivity in your apartment, then always go for a dual-band router or higher. Dual-band and higher routers suffer lesser interference (you can switch between 2.4Ghz and 5Ghz) and deliver faster internet speeds with the latest beamforming and QoS features.
4. Before you splurge on a router, always verify the real-time speed of the router online or from the customer care of the manufacturer directly.
5. Not very specific to apartments, but something that'll make your life easier: App support to control your router's settings through your smartphone for better parental controls and user experience is a good feature to have.
6. Make sure that the router you're purchasing has USB ports. I always prefer a USB 3.0 port over a USB 2.0 port due to its ability to support the latest devices.
7. Check for VPN, antivirus, firewall protection, and other advanced security features.
8. Lastly, don't go overboard while purchasing a router. Make sure to stick to your budget while taking care of your network requirements.
8 Best Routers for Apartment in 2023
Now that you've understood how to check your apartment for wired connection and the factors to consider when buying a router let's take a closer look at the best-suited wireless routers for apartments and large living spaces. Note that I have listed these devices after extensive tests both at my office and home. I ditched a couple of high-end routers for the below-reviewed devices. Sound interesting? Find out why:
1. Best Overall:

Netgear Nighthawk R8000P
The Netgear Nighthawk R8000P is the perfect router for 4K/8K streaming due to its excellent performance and tri-band operation. It supports MU-MIMO and Beamforming+ to spread consistent signals in large apartments.
Speeds
This model delivers a combined maximum speed of 4Gbps. The 2.4GHz band can deliver a maximum speed of 750mbps, while the dual 5GHz bands can deliver a maximum of 1625mbps. The DFS (Dynamic Frequency Selection) is perfect, making it highly suitable for large apartments with crowded wireless networks.
The built-in DFS support automatically switches to a different band for seamless connectivity in crowded areas. For instance, if neighbors are using a particular band, it gets crowded and causes interference. But with DFS, your device will automatically switch to a non-crowded band.
Hardware
The tri-band router comes equipped with a 1.8GHz dual-core processor. It has a RAM capacity of 512MB RAM, which is sufficient to power high-end gaming and other business operations. Plus, 128MB of flash memory is a good addition to installing extra applications and adding data for the home network.
Antennas & Coverage
The R8000P has 6 collapsible external antennas that perform beamforming for better and directed signals. Furthermore, the router is perfect for big living spaces and offices as it can cover a maximum range of 3500 Sq Ft.
Design & Ports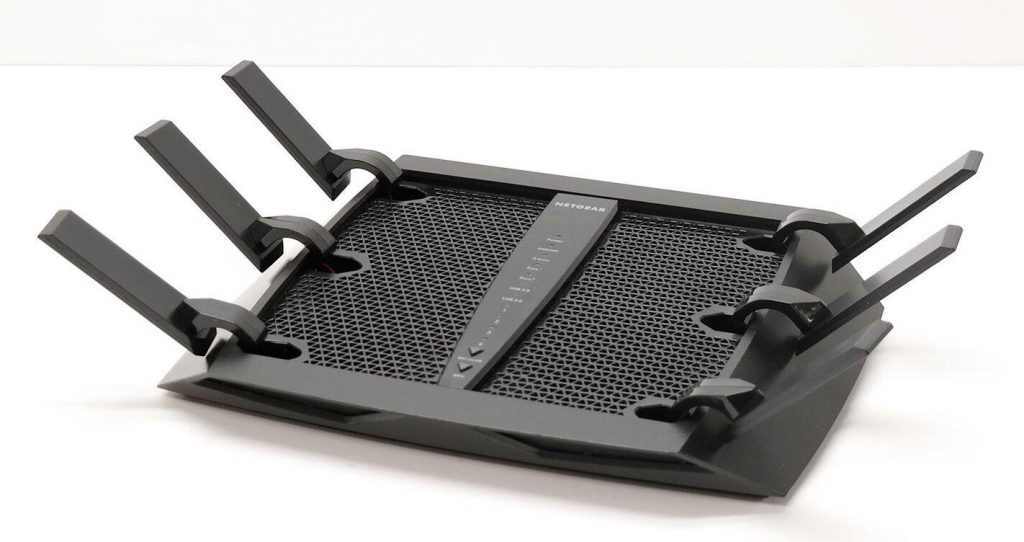 This device has a beautiful black body. It measures 11.63 x 8.92 x 2.14 inches and weighs 2.43 pounds.
It has 2 USB ports (1 x USB 2.0 & 1 x USB 3.0) to connect external devices and 4 wired LAN ports that can deliver up to 1Gbps. Furthermore, it has a WAN port that can deliver a speed of 1Gbps.
Setup & App Support
You can control the settings of your router using your Android or iOS smartphone with the Nighthawk app. Using this app, you can also set up your router at home within just five minutes. Moreover, this model also supports the Circle app, which is designed to set up smart parental controls.
Final Thoughts!
Overall, it is one of the better long-range wireless routers for your apartment. It is future-proof in Wi-Fi technology and speeds, giving you the liberty to choose any plan from the service provider and connect multiple devices. The DFS technology it comes with makes it a worthy purchase at this price.
Tri-band operation
Support for DFS

MU-MIMO & Beamforming+

Long wireless coverage

Includes 2 USB ports

Smart parental controls
2. Best Runner Up:

ASUS RT-AC88U
Asus has built its name in the tech world with its quality of service and technologically advanced products. One such beast of a router developed by Asus is the ASUS RT-AC88U. It's considered to be one of the best routers for gaming and live streaming. It's also the only router on the list that features 8 LAN ports.
Speeds
This beast can deliver a combined maximum speed of 3.1Gbps. Talking individually, each 2.4GHz frequency band of the router can deliver a speed of 1Gbps, and the 5GHz band can deliver speed up to 2165mbps. These are great speeds for unhindered gaming and streaming gameplay on Twitch.
Hardware
The powerful dual-core processor clocks at a 1.4GHz frequency. It has 512MB RAM that can easily perform multiple functions such as high-end gaming, 4K streaming, and other daily operations without any lags, freezes, or Wi-Fi dead zones. The additional 128MB flash memory aids to store any other applications and security features.
Antennas & Coverage
The router has 4 detachable high-performance external antennas that deliver consistent performance and stronger signals with AiRadar Beamforming. It can also provide support for up to eight downstream channels and eight upstream channels. It can cover a maximum distance of 5000 Sq Ft.
Design & Ports
This gaming router has a gorgeous black plastic body with red accents on the antennas. It measures 11.8 x 7.4 x 2.3 inches and weighs around 2.1 pounds.
Furthermore, it has 1 WAN port and a whopping 8 Gig LAN ports. It also has two USB ports (USB 3.0 and USB 2.0) to support the latest devices such as printers and smartphones.
Setup & App Support
You can easily control the settings of this ASUS gaming router and know about its real-time features using the ASUS Router app that can be downloaded on both Android and iOS devices. You can even set up this router at home using this app within just a few minutes.
Final Thoughts!
The ASUS RT-AC88U delivers low ping gaming with support for the WTFast game acceleration engine. This router is perfect for your apartment if you live in a large living space and require a fast wireless connection at every corner of your home.
Extensive coverage
Adaptive QoS & Smart Connect
WTFast Game Accelerator
AiProtection security
8 Gig LAN ports
Link Aggregation
Doesn't offer DFS
Expensive
3. Best Value for Money:

TP-Link Archer AX50
The TP-Link Archer AX50 provides strong performance and features at a competitive price. It supports the latest wireless standards (Wi-Fi 6), has decent coverage and a good amount of security, making it a value-for-money device.
Speeds
The router can deliver a maximum speed of 3Gbps. Talking about individual speeds, the 2.4GHz band delivers a maximum speed of 574mbps, and the 5GHz band delivers 2402mbps. However, these are theoretical numbers, which may vary based on your ISP package and modem's capacity.
Hardware
The Archer AX50 is powered by a dual-core processor that clocks in at a frequency of 800MHz. It has a RAM capacity of a whopping 256MB, ensuring to perform advanced tasks. It also has 128MB of flash memory to install extra applications and security features.
Antennas & Coverage
The device has 4 high-performance external antennas for promising wireless coverage, beamforming, and bandwidth distribution. It can easily support up to 40 household wireless connections providing seamless wireless coverage in a 2500 Sq Ft house.
Design & Ports
This Wi-Fi 6 enabled router has an elegant black body that measures 10 x 12 x 4 inches. It weighs 1.2 pounds and feels lightweight.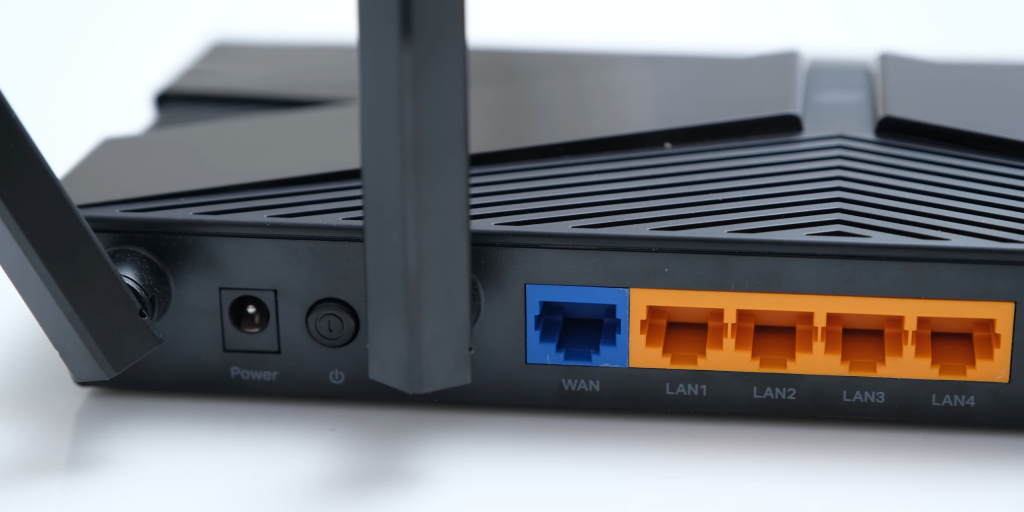 The device sports a standard port selection. There are 4 Gigabit LAN ports and 1 WAN port. It also has a USB 3.0 port to connect compatible devices.
Setup & App Support
With the help of the TP-Link Tether app available on Android and iOS devices, you can control the settings of this router and establish the 802.11ax wireless network in your home.
Final Thoughts!
You'll definitely be excited to buy the TP-Link AX3000 due to its future-proof standards, advanced security features, excellent speed, coverage, and app support.
Wi-Fi 6 support
Value for money
MU-MIMO & OFDMA
Parental controls
Decent coverage
HomeCare protection
App has limited functionalities
4. Best for Large Apartements:

Linksys MR9000
The Linksys MR9000 is a tri-band AC router that is built with premium quality hardware and delivers durable and consistent performance at a sub $150 price tag.
Speeds
The router delivers a combined speed of 3Gbps. It delivers speeds of up to 400mbps on the 2.4GHz and 867mbps + 1733mbps on its 5GHz bands. This device has the latest quad-stream MU-MIMO technology.
Hardware
The router is powered by a quad-core processor that clocks in at a frequency of 716MHz. It has a RAM capacity of 512MB and 128MB of flash memory that allows you to perform operations such as online gaming, TV streaming, and Wi-Fi calling without any interruptions.
Antennas & Coverage
There are four high-performance external antennas that help the router in providing better wireless coverage and beamforming. Operating at over 3Gbps, it can cover a maximum coverage of up to 3000 Sq Ft. Moreover, Linksys allows you to connect over 25 smart devices.
Design & Ports
The device has a black plastic body with a good textured design on the top. It measures 7.28 x 10.24 x 7.48 inches and weighs about 1.30 pounds.
Coming to connectivity, it has one WAN port and four Gig LAN ports for high-speed wired connections. It also has one USB 3.0 port that can connect extra devices such as printers, storage devices, etc.
Setup & App Support
Unlike Linksys E8450, the MR9000 does come with app support. You can install the Linksys app on your Android or iOS device and facilitate the setup. The app is quite user-friendly and very easy to use.
Final Thoughts!
If you're looking to buy a good budget tri-band router, this is just the perfect option to consider for large-sized apartments. It has MU-MIMO, Beamforming+, QoS, and Parental Controls. It allows you to create a separate guest network.
Tri-band operation
MU-MIMO & Beamforming+
Connect over 25 devices
QoS device prioritization
Supports mesh networking
Excellent coverage
Lacks Wi-Fi 6
WPA2 standard
5. Best Under $100:

Netgear Nighthawk R7350
This budget router from Netgear is perfect for people living in a medium-size apartment. The Netgear Nighthawk R7350 provides consistent performance throughout 2500 Sq Ft apartment that will leave you impressed.
Speeds
It delivers a combined maximum speed of 2.4Gbps. You can get up to 600mbps speed on the 2.4GHz band and up to 1733mbps speed on the 5GHz frequency band. Furthermore, the router supports the latest MU-MIMO technology with 6 simultaneous streams.
Hardware
The dual-band router is fueled by the Broadcom BCM4709A0 processor that clocks in at a frequency of 1GHz. The combination of 256GB RAM and 128MB storage space aids in day-to-day activities such as web browsing, Wi-Fi calling, etc., and is enough for an average user.
Antennas & Coverage
This device has 3 external antennas for increased wireless coverage and beamforming features. It can cover an apartment having a range of up to 2500 Sq Ft. With MU-MIMO technology, this $100 Wi-Fi router becomes efficient to share Wi-Fi among 30 smart devices.
Design & Ports
Following the design trend of the brand, the Nighthawk R7350also comes in a black plastic body and measures 13.07 x 9.8 x 3.86 inches. It is light and weighs just 1.65 pounds.
It has 1 WAN port and 4 Gig LAN ports for your wired connections such as laptops, computers, gaming consoles, etc. It also features one USB 3.0 port to connect additional devices.
Setup & App Support
The Netgear smart app has a user-friendly interface to set up the device in a matter of minutes. It is available for both Android and iOS devices, making it accessible to everyone in the family.
Final Thoughts!
The Nighthawk R7350 is a good option to consider if you are looking for one of the most reliable routers under the $100 price bracket. At this price, it is definitely a worthy investment for your medium-sized apartment.
Great coverage

Supports over 30 devices
WPA 3 security standards

MU-MIMO,

QoS, and Beamforming

Easy to setup & control with app
Affordable price
Lacks parental controls

Network map features need improvement
6. Best Wi-Fi Mesh System:

TP-Link Deco X20
Next up, I have the TP-Link Deco X20 on the list that is a Wi-Fi 6 mesh system with outstanding speeds, long-range, and security on a mesh network. It has a strong and dependable performance that'll surely leave you impressed.
Speeds
The mesh router offers a combined maximum speed of 1.8Gbps. As for the individual speeds, support 575mbps on 2.4GHz and up to 1200mbps on the 5GHz band. It also supports MU-MIMO technology with 4 x 4 streaming and beamforming for a more powerful signal. With the help of this technology, you can enjoy seamless OTT streaming via Firestick (without buffering).
Hardware
The 1GHz quad-core chipset powers the mesh system. It has 512MB RAM and 128MB of flash memory, which is a decent space for daily operations.
Antennas & Coverage
This model has 4 high-power internal antennas for better wireless range, stronger directed signals, and beamforming. It provides you with a super long range of over 4000 Sq Ft, making it an ideal router for a large apartment. It works great with 2 story houses as well.
Design & Ports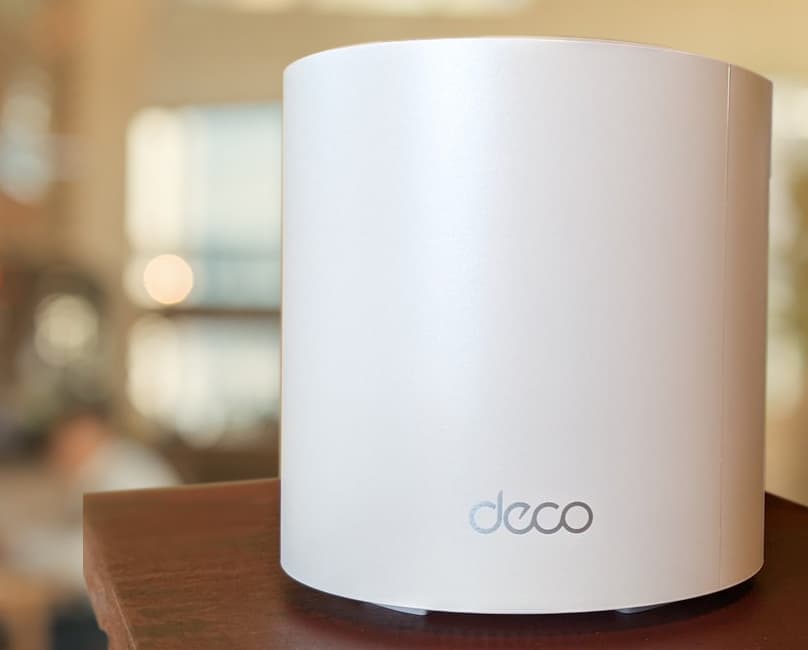 The router is aesthetically pleasing due to its ergonomic design and elegant white body. It measures 4.33 x 4.33 x 4.49 inches and is light in terms of weight.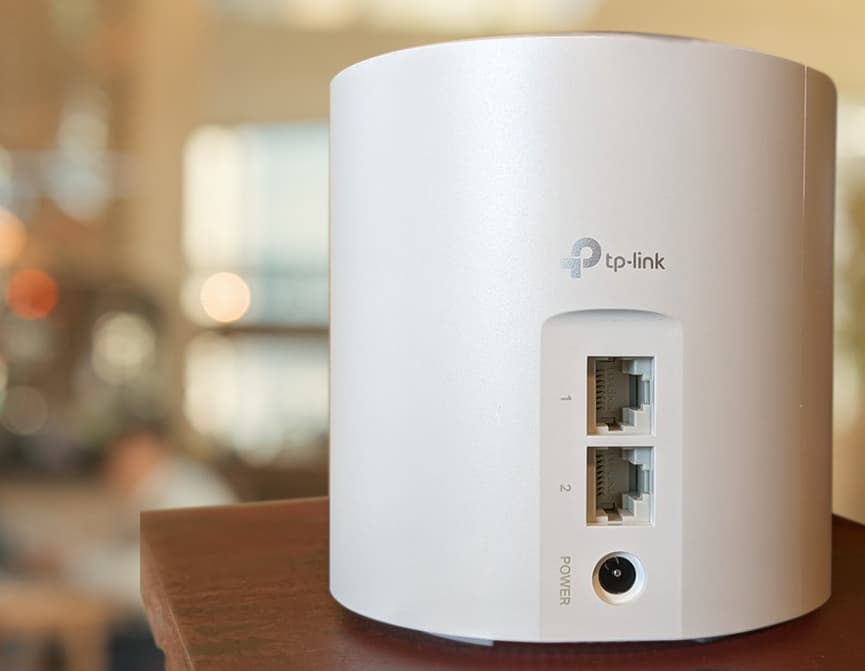 Each unit (node) has 2 LAN ports with Ethernet backhaul to provide you a seamless wired connection at a maximum speed of 1Gbps. However, unlike standard routers, you'll miss the USB ports on this mesh system.
Setup & App Support
You can manage your router settings using the TP-Link Deco mobile app available on Android and iOS devices. The router is also simple to set up using the same app. It has got one of the best user interfaces.
Final Thoughts!
Overall, this is a good mid-range mesh router with Wi-Fi 6 support, great speeds, range, robust parental controls, 1024 QAM, and WPA3 protection protocol. If you need an easy-to-use router that also covers a vast area, then this would be my go-to recommendation for you.
Great speeds on both bands

Supports up to 150 devices

Easy to setup with app

MU-MIMO and QoS
Built-in Antivirus protection

Robust Parental controls
Limited ports

Doesn't support 160MHz channels
7. Best Modem/Router Combo:

Motorola MG8702
Motorola is known for its strong and technologically advanced devices. Unlike other routers on this list, the Motorola MG8702 is a 2-in-1 device that comes with a built-in modem & router. It's a powerful combo featuring the latest DOCSIS 3.1 technology and 32 x 8 channel bonding.
Speeds
The built-in router can provide a combined maximum speed of up to 3200mbps. Speaking of individual band speeds, the 2.4GHz can achieve up to 1Gbps, and a 5GHz band can go up to 2160mbps. It also supports the MU-MIMO technology to make sure that you have an ultimate user experience.
ISP Compatibility
As you might already know, not all modems work with all internet service providers. Similarly, the Motorola MG8702 only works with certain ISPs, and some of these include Comcast Xfinity, Cox, and Spectrum. So, if you have internet from ISP other than these, avoid buying this model as it simply won't work with your connection.
Antennas & Coverage
The Motorola MG8702 has four internal antennas that perform the features of bandwidth distribution. With beamforming and intelligent power-boost technologies, it further improves wireless coverage. It can cover a maximum range of up to 2500 Sq Ft which is suitable for medium-sized homes. Moreover, it supports up to 55 devices, which is great.
Design & Ports
Motorola has packed this powerhouse routing device in a sleek form factor. The silver metallic body will complement any living space. It measures 9.5 x 2.88 x 9.75 inches and weighs just 2.15 pounds.
The device sports four 1-Gig LAN ports for wired connections. Fortunately, the router also consists of a USB port. So, connecting external storage devices will be easy.
Setup & App Support
For the initial configuration, you'll need to rely on the web interface. All you need is to follow the manual provided in the box. Once it's done, you can use the MotoManage app available for Android and iOS to control basic to advanced features.
Final Thoughts!
Overall, this modem/router combo delivers a brilliant performance, and you'll surely love to have it in your 3 BHK apartment. It comes with features like MU-MIMO, intelligent power boost, beamforming, etc. So if you're a fan of minimalism, this sleek 2-in-1 device is an amazing option for you; just ensure your ISP supports it.
Modem + Router in a sleek design
Lets you connect over 55 devices
Compatible with several ISPs
Inclusion of one USB port
Latest DOCSIS 3.1 technology
8. Cheapest Option:

Asus RT-ACRH12
The Asus RT-ACRH12 is an absolute jewel as it offers you an indestructible and strong wireless connection at every corner of your apartment. Although it doesn't come with the latest wireless standards, it does offer some good specs at a lower price.
Speeds
It delivers a maximum speed of 1267mbps, distributed as 867mbps speed on the 5GHz band and up to 300mbps on the 2.4GHz band. The router also has the latest MU-MIMO technology and can support 2 x 2 streams.
Hardware
Powered by the MediaTek MT7628AN processor clocked at 580MHz, this router easily becomes one of the best picks in its price segment. It comes equipped with 128MB RAM and 16MB of storage to keep up with your routine needs. I know it's not an impressive setup, but I can't really complain, considering the price point.
Antennas & Coverage
The RT-ACRH12 has 4 external high-performance 5dBi antennas for more promising wireless coverage and the capacity to support multiple devices. Furthermore, the wireless router can cover a full apartment of 3000 Sq Ft, which is great, isn't it?
Design & Ports
This ASUS router has a thick build and is available in a black plastic body. It measures 4.92 x 7.56 x 1.18 inches and is super lightweight at just 0.77 pounds.
This device sports 4 LAN ports, 1 WAN port that delivers a speed of 1Gbps to all your wired connections. Moreover, it also has one USB 2.0 port to share external drives with your wireless connection.
Setup & App Support
All thanks to the ASUS router app, setting up this router is super easy. All you've got to do is follow three fundamental steps on the web interface or the router app and install this ASUS router within a few minutes.
Final Thoughts!
This router is an absolute buy for tech enthusiasts and students who need internet service at their fingertips. This is indeed a good cheap router for medium to large apartments.
Excellent range of 3000 Sq Ft

MU-MIMO
Has parental controls
Includes one USB port
Incredibly affordable
Easy to setup & manage with app
Supports Alexa voice commands
Where to Place Router in Apartment for Best Wi-Fi Connection?
Choose a Central Location
Routers deliver wireless signals in all directions, and hence if it is placed in some corner of your house, the chances are that more than half of its signals will be wasted. That's why you should pick a central location forz your router and install it over there for better signal optimization.
At times, this may also mean that your router will be far away from your modem. You'll have to run a CAT5 cable to connect your router and modem to fix this problem. But the improved wireless speed and coverage will make it totally worth it.
We all tend to have a lot of furniture at your apartment that can work as obstacles to the wireless signals sent out by routers. Furthermore, routers tend to send signals in a downward direction.
Therefore, it is best to place your newly bought router at a raised position for better coverage and speed. You can place it on a table, a bookshelf, or even mount it on a wall.
Position of the Router Antennas
As you know, some routers have external antennas, some have internal ones, and some have both. While you can't adjust the internal antennas of a router, the outer ones are pretty adjustable. So, if your device has two or more antennas, make sure not to position them in the same direction.
The best position for router antennas to deliver stronger wireless signals is perpendicular to each other. If your router has multiple antennas, you can even position them in various angles for better coverage.
Things to Avoid While Setting Up a Router
Stay Away from the Kitchen
Some router buyers think of placing it inside their kitchen so as to not spoil the aesthetics of their apartment. However, this is a terrible idea. It is because the radio wave transmission by your router can be dissipated by the metal pots and pans inside your kitchen.
Furthermore, kitchen appliances such as microwaves also operate using the 2.4GHz frequency band and can disrupt the wireless signals from your router due to high co-channel and adjacent-channel interference. Therefore, if you place your router in the kitchen, you'll encounter poor wireless signals and coverage all day long.
Say No to Insulating the Router by Internal Walls
Walls, in general, can disrupt your wireless signals. And walls made out of concrete, brick, and stone can be especially problematic due to their ability to absorb radio waves. Therefore, such walls can weaken your Wi-Fi signal.
Stay Away from Electronics
Do not place your router in a room with a lot of electronics. This is because electronics or other metal objects can create a lot of co-channel and adjacent channel interference as they use similar frequency bands. This can lead to a poor Wi-Fi signal, range, and dead zones.
Stay Away from Large Gatherings
Another enemy of routers is water. And as humans have a large amount of water in their bodies, it interferes with the ability of the router to deliver stronger Wi-Fi signals. Therefore, it's best to place your router in a room where you don't entertain a lot of people.
Frequently Asked Questions
What kind of router do I need for an apartment?
When you're looking to buy a router for your apartment, you need to consider the size of your place, how many people will be using it, and what other network requirements you have. This list consists of routers suitable for different sizes of apartments. Go through them and match them with your requirements.
Is mesh Wi-Fi good for apartment?
Well, mesh Wi-Fi systems are good enough for small to medium-sized apartments. They get a minimal and aesthetic design that improves your home decor. They also offer you more range, though they lack external antennas and some even lack USB ports. So, there are a few pros and cons you need to consider before getting a mesh router. But overall, they work just fine!
What is the best router for a small apartment?
If you are an advanced user who needs the latest wireless standards and a good port setup for external workflow, then Netgear Nighthawk R7350 would be my recommendation for a small apartment. If you don't care much about the latest specs but need a good reliable, and affordable router for your apartment, then Asus RT-ACRH12 should be sufficient for you.
How do I set up Ethernet in my apartment?
There are two ways to set up Ethernet in your apartment:
– Buy one or multiple extra-long cables and run them along with your router to the device you want to connect it to. This method is easy but also quite messy.
– Or map out a mental picture of where all your devices are and measure their distance from the router. Then buy an Ethernet cable that is more than the measured length and connect them to your device.
Verdict
I hope that this article answers all your questions about setting up an internet connection in your apartment. If you're still confused about choosing the best router for your needs, let me quickly help you make an informed decision:
If you need the absolute reliable routing device to handle a lot of devices in a large household, the

Netgear Nighthawk R8000P

is your best bet. It coveres 3500 sq ft of area and supports over 55 devices at once.
If you are on hunt for a router with a lot of LAN ports, the

ASUS RT-AC88U

is an incredible router with extensive coverage. It can handle low-ping gaming and seamless 4K streaming.
If you prefer a balanced device to handle the latest gadgets at your apartment, the

TP-Link Archer AX50

is a great option to consider. It offers the best value for money.
Lastly, If you are a student or a professional looking for an affordable router to use in a small to medium size apartment, the

Netgear Nighthawk R7350

is a great budget option to cater to your internet needs.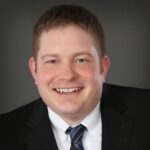 Chris loves technology, specifically smart home technology! With both hands-on and executive leadership experience in his corporate career, Chris stays abreast of emerging technology and solutions and immerses himself in BCCA when not in the office.