Looking to set up wireless security cameras at your office? Struggling to find the right device to extend Wi-Fi coverage? Do you own a house with a backyard farm or a large front yard that requires additional security? Are you looking for cheaper alternatives? Read further to find out the best wireless camera range extenders in the market.
Improved wireless technology and the latest features in an extender can make the signal transmission seamless and efficient. Topping it up with the ability to monitor and control the wireless transmission to wireless security cameras will make your work even easier.
Targeting the essential features for effective signal transmission and easy management, I have picked Wi-Fi extenders that support features like MU-MIMO, Beamforming, and offer mobile application support. The ulterior motive remains to find the right balance between the price, requirements, and utility value of the product.
Best Wi-Fi Extenders for Outdoor Security Cameras in 2023
I have chosen the Wi-Fi extenders and added them to the final list from a shortlist of over 35 extenders from market players like TP-Link, Linksys, Netgear, D-Link, etc. The list starts with extenders at the premium end of the market.
Then we look into wireless extenders that offer an overall value of money with a wide range of applicability. I finish the article with the budget alternatives and the entry-level Wi-Fi extenders.
1. Best Overall:

TP-Link RE650
The TP-Link RE650 comes with an upgrade to its processing unit as an improvement over its previous versions. The combination of high internet throughput at dual bands, coverage, and selection of the latest features makes this an excellent choice.
Why is it suitable for outdoor security cameras?
RE650, with its aggregated speed of 2600 Mbps operating in simultaneous dual-band, brings the capacity to handle over 30 devices. The potential throughput of 800 Mbps in 2.4GHz and multi-gigabit speeds of 1733 Mbps in 5 GHz can accommodate multiple cameras outside your facility.
Design & Connectivity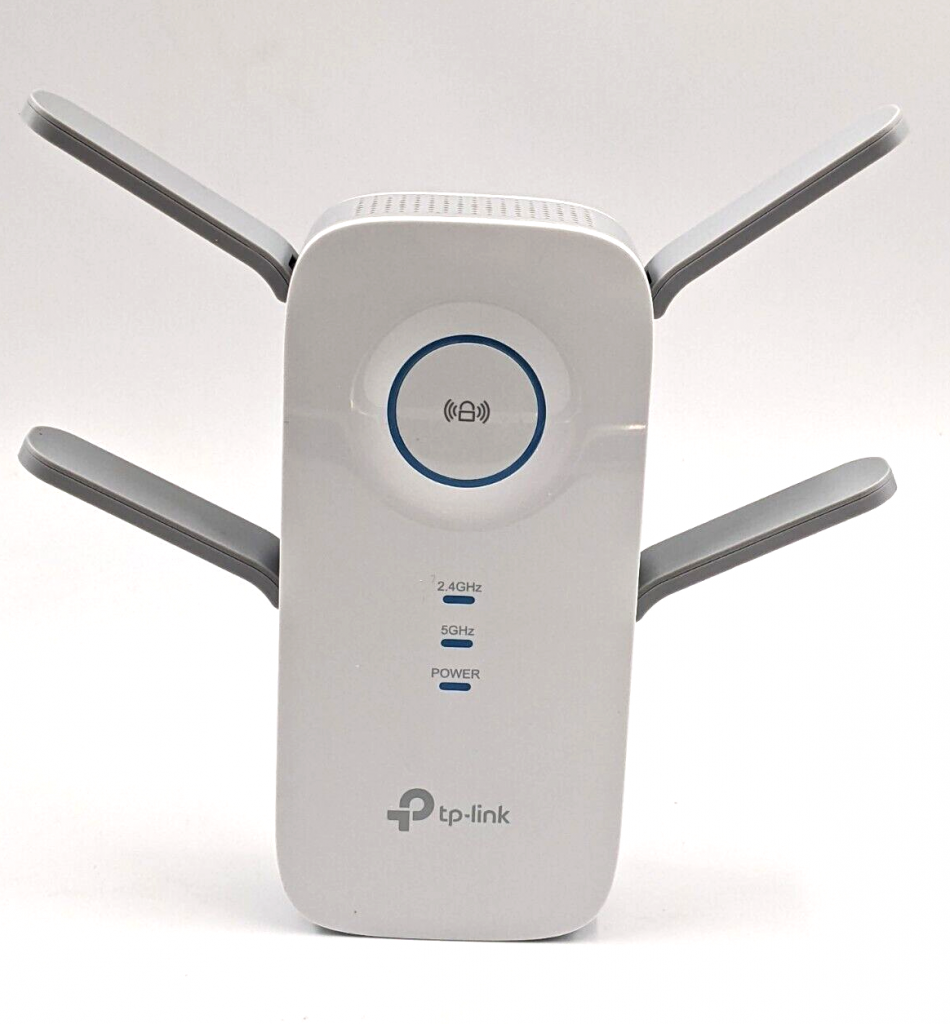 The presence of Beamforming in the 4 external antennas focuses the signal towards your devices and avoids any loss of bandwidth. At 1 pound, the white chassis comes with blue LED indicators in a wall plug setup measuring 6.4 x 3.4 x 1.6 inches in dimensions.
The extender unit has a high-speed gigabit Ethernet port that makes this an efficient access point. Connect your extender to the router and use the smart indicator lights to find the right placement with no trouble.
Setup & Other Features
Tether mobile application makes it a light work of monitoring and management. The flexibility to switch between multiple modes, control the LED indicators, have control over internet consumption with parental controls makes this an excellent purchase for a diverse household.
MU-MIMO gets the best out of your internet with efficient transmission to multiple devices. With access to multiple reports, and data consumption statistics, managing your internet becomes easier.
Conclusion
TP-Link model RE650 gets the better out of Netgear and Linksys counterparts with its exceptional throughput capacity operating in the 2.4GHz. If you have to cover large parks, open-air yards, swimming pools in your lodging facility, you can bet on RE650 to meet your requirements.
MU-MIMO

Beamforming

Powerful Dual-core processor

High-speed modes for quality streaming

4 External antennas
2. Best Runner Up:

Netgear EX7300
The Netgear EX7300 improved the wireless extending capacity of its preceding model by improving its speed throughput and combining it with advanced features like MU-MIMO and Beamforming.
Why is it suitable for outdoor security cameras?
Operating on a simultaneous dual-band, the wireless extender can deliver speeds up to 400 Mbps in 2.4GHz and 1733 Mbps in 5GHz, making it ideal for a wide range of suitability, including smart homes, luxury hotels, etc. It can support up to 40 devices and extend your signals further to an area of 2300 sq ft.
Design & Connectivity
The wall plug-in-type extender equipped with adequate ventilation houses powerful internal antennas. At a lightweight of 0.66 pounds, the unit sits on the larger side of the dimensions, measuring 6.34 x 3.2 x 1.7 inches.
The smart LED indicators remove the hassle of finding the right placement. The addition of the Gigabit Ethernet port is a welcome addition to the capability of the extender, which offers wired internet for more data-laden activities.
Setup & Other Features
The Nighthawk application brings router management to the comfort of your mobile. A quick setup gets the router up and running in a matter of a few minutes. The Fastlane technology lets you establish a dedicated band for backhauling the connection to your router.
If you are tired of switching between different network IDs, the Netgear extenders save you from the trouble of finding the right frequency to operate. With MU-MIMO and Beamforming, your devices get the best out of your internet with seamless communication and focused signals.
Conclusion
Netgear EX7300 is ideal for setting up security details for indoor stadiums, auditoriums, community halls, and single-floor office setups. If not for its slightly lower internet throughput the extender would have been at the top of the list replacing the TP-Link unit.
Dedicated Backhaul

MU-MIMO

Beamforming

WPA2 security encryption
3. Best Wireless Coverage:

Linksys RE7000
The Linksys extender leaves out the audio jack and direct streaming capability from its previous models but adds in a plethora of the latest features at a very competitive price. The ability to monitor your internet with QoS and access control makes Linksys RE7000, a worthy purchase.
Why is it suitable for outdoor security cameras?
The simultaneous dual-band operation at Wi-Fi-5 standards brings the ability to achieve top speeds of 300 Mbps in 2.4GHz and a multi-gigabit speed of 1733 Mbps in 5GHz. The bandwidth can easily support over 25 devices, including outdoor security cameras, garage doors, workshops spread across a large area of 2500 Sq Ft.
Design & Connectivity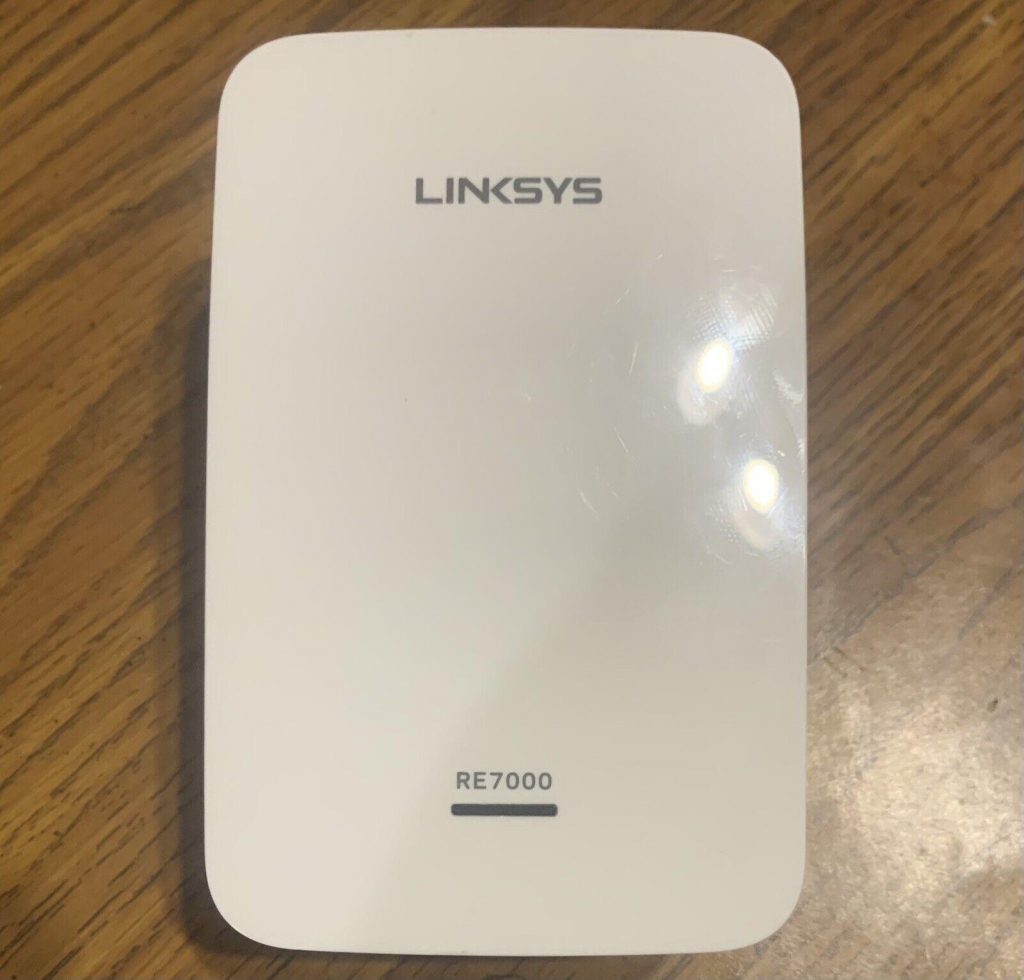 With the minimalist white design, the compact unit weighs 0.4 pounds and measures 4.96 x 3.18 x 1.81 inches. Designed as a wall plug unit, houses powerful internal antennas and accommodates a gigabit ethernet port that gives the flexibility of both extender or access point.
Setup & Other Features
Despite the lack of mobile application support, Linksys has one of the simpler setups with a smart spot indicator and an LED light to find the optimal signal strength. Features MU-MIMO complements the ability of Beamforming to deliver signals concurrently reducing loss of bandwidth.
Avoid the hassle of choosing between the bands with the Cross-Band technology. Do you need to block devices from accessing your internet or limit consumption? The Access control and QoS settings let you manage your internet and give you more control.
Conclusion
Linksys RE7000 may not be the fastest extender in the market, but it offers you a peek into the latest features without causing a dent in your wallet. Smaller to medium size homes with vast back/front yards already operating a Linksys router will find this extender to be an excellent value addition to their networking arsenal.
MU-MIMO

Beamforming

Crossband technology

QoS, Access control
Not the fastest performer
4. Best with Ethernet Backhaul:

D-Link DAP-1755-US
D-Link brings improved capacity and the advantage of MU-MIMO in the D-Link DAP-1755-US. The dual-band extender bring excellent range and let you transmit signals to your security cameras simultaneously with no delay or latency in communication.
Why is it suitable for outdoor security cameras?
The individual top speeds of 450 Mbps on 2.4GHz and 1300 Mbps on 5GHz offer the adequate capacity to handle over 15 devices, including security cameras, mobile phones, and other electronic gadgets. It can extend the coverage of your router up to 2000 sq ft.
Design & Connectivity
The rounded rectangular compact unit weighs 0.70 pounds and measures 1.13 x 2.0 x 3.88 inches in dimensions. It relies on powerful internal antennas to transmit signals. The smart LED signal indicators help you identify the right placement while an Ethernet port lends you a choice of wired connectivity to further prioritize your internet bandwidth.
Setup & Other Features
D-Link Wi-Fi offers the comfort of easy network management. Easy and quicker setups, one-touch WPS for password-free connectivity, WPA2 encryptions, seamless Wi-Fi roaming add more value and comfort to its utility.
Conclusion
D-Link Extender finds an optimal balance between price and value with its selection of features that place it above our cheaper alternatives. If you are looking to extend your internet connectivity to security cameras monitoring swimming pools, garages in your backyard, D-Link can be the right device for you.
Seamless roaming

D-Link Mesh

Smart Signal indicator

Ethernet backhaul

MU-MIMO
5. Best Mesh Compatible:

TP-Link RE300
The TP-Link RE300 poses itself as a complete wireless extender by leaving out the Ethernet port, a part of its previous models. Features like smart roaming, easy mesh compatibility, and a smart path selection algorithm help you fortify your home with additional wireless security cameras.
Why is it suitable for outdoor security cameras?
A dual-band extender operating in 802.11 ac standards can deliver top speeds of 300 Mbps, 867 Mbps on 2.4GHz and 5GHz, respectively. If you want to cover up to 1500 sq ft with fewer devices capping at 25 devices, RE300 will be a perfect fit for you.
Design & Connectivity
A highly ventilated white casing measures 4.9 x 2.7 x 2.0 inches and weighs not over 0.50 pounds. The LED lights at the front are indicators of signal strength and operating condition. TP-Link sticks to the internal antennas for this version.
Setup & Other Features
Are you looking for an extender with easy management and remote monitoring ability? RE300 comes with the support of the Tether App that makes setups, and management easier. Control your internet through access filters, and monitor your consumption with statistics and reports.
Conclusion
Wired setups are a hassle for you? Need the comfort of network management at your palm. TP-Link RE300 will slot right into your preference placed ahead of the Tenda unit, owing to its set of additional features.
Tether App

Different modes of operation

Path selection algorithm

Easy Mesh compatibility
6. Best Budget Option:

Tenda A18
Builds upon its predecessor with an additional band of operation making Tenda A18 a viable option for people looking for entry-level extenders, The 100 Mbps ethernet port adds the flexibility of operating as an access point.
Why is it suitable for outdoor security cameras?
Tenda A18 operates on dual bands at 802.11 ac standards. It can achieve and support speeds up to 300 Mbps on 2.4GHz and 867 Mbps on 5GHz bands. It can support up to 20 devices and extend your range further up to 1292 sq ft.
Design & Connectivity
A striped design in a compact chassis allows the extender to seamlessly blend into simple backgrounds. The lightweight extender weighs 0.40 pounds and measures 3.14 x 2.2 x 1.88 inches in dimensions. Signal strength indicators on the front make the placement easier. The Ethernet port comes in handy if you prefer wired connectivity.
Setup & Other Features
Don't let the absence of mobile application support, downplay the easy setup of this Tenda extender. With features like WPA2 encryption standards, hiding SSID's offers your protection from the imminent threat of unauthorized access.
Conclusion
Looking to fortify your home with additional security? Working with budget constraints? Tenda A18 brings you sufficient features and flexibility to extend the range of your router to outdoor security cameras and devices at the farther end of your home.
Budget-friendly

Compact

Lightweight

Ethernet Port
Frequently Asked Questions
Will a Wi-Fi extender help with security cameras?
A Wi-Fi extender increases the range of your Wi-Fi signal. If you are placing security cameras far from the reach of your router, installing an extender midway will extend the range. That will help your security cameras receive stronger Wi-Fi signals.
How do I extend my Wi-Fi range for my security camera?
The location of your router and extender plays a vital role in extending your range. Place your router above the ground level, away from any physical interference like a closet, refrigerators, TVs or walls, etc. Install an extender within the line of sight of the router where it receives a stronger signal, adequate for security cameras.
What is the range of Wi-Fi security cameras?
The wireless security cameras operate at the most efficient levels when there is a line of sight between the camera and the router/extender. Outdoor security cameras with a clear line of sight have better coverage that extends over 250 feet. The indoor security cameras function optimally at a range of 100 feet, contingent on interference.
What is the best Wi-Fi range extender for security cameras?
TP-Link RE650 is one of the best Wi-Fi range extenders offering the latest features and a wide range of applications. Features like MU-MIMO, Beamforming, wired connectivity, easy remote management make it a valuables purchase despite its premium price tag.
Verdict
Fortifying your home facility with security cameras has become imperative in most urban and rural homes. The clarity in your requirements lets you choose the right type of extender that brings excellent value for money without compromising on internet performance.
At the helm of the latest features,

TP-Link RE650

,

Netgear EX7300

are the ideal choice of extenders to set up the wireless camera for offices, lodging facilities, etc.
Linksys RE7000 offers the best value for money with a useful selection of features, making it ideal for large homes.
Tenda A18 is a great buy for small-medium-sized facilities, homes with smart devices, at a competitive price range.
Other Wi-Fi Extender Articles on BCCA: