What kind of Ring camera do you own? While that seems like a subjective question, any Ring camera, regardless of its utility, needs a stable internet connection to stay up. This is exactly why we should discuss the Ring camera Wi-Fi extenders, which might be able to relay the internet signal across rooms, without compromising on strength and throughput.
If you have been using Ring cameras, including the likes of Spotlight cams, stick-up cams, indoor cams, or even all-in-one security cams, you would know the importance of a steady internet connection. And while you might have a powerful router at your disposal, a good extender with dual-band throughput, adequate range, and app access is often required.
However, not every Wi-Fi extender is up to the snuff when it comes to improving the camera performance. While some extenders are way too heavy for your comfort, some end up offering subpar connectivity. Plus, there aren't many weatherproof devices in the market, which is a trait you must focus on for accommodating stick-up cams within the household.
And while these pain points are often restrictive enough, I have put together a list of the highly recommended Ring Wi-Fi extenders that can scale beyond these issues. Each of the extenders mentioned on the list can be immediately picked up and used with any Ring camera in existence, without second thoughts.
8 Best Wi-Fi Extenders for Ring Cameras in 2023
Before I delve deeper into the nitty-gritty of wireless extenders, it is important to note that not every camera works well with a particular type of extender. To address the disparity, I took time to connect with office owners, vigilant homeowners, and other experts who have had prior experience of using Ring cameras.
And upon testing close to 40 extenders, I finally zeroed in on 8 ring camera range extenders. Plus, the list comprises some premium variants followed by typical daily use devices and finally the budget variants with zero efficiency compromises.
So let's dig right into the choices without wasting any more time:
1. Best Overall:

TP-Link RE650
The TP-Link RE650 is one of the more reliable wireless extenders in the retail space, best known for top-level router compatibility. And if you have been using the RE450, the RE650 seems like a better upgrade, courtesy of the improved coverage and better dual-band speeds.
Why is it suitable for a Ring Camera?
The RE650 boasts Wi-Fi 5 standard, boasting 2.4GHz and 5GHz coverage. Coming to the speeds, the router assumes near band throughput of 800Mbps and far-band speeds of up to 1733 Mbps. As far as overall coverage is concerned, this wireless extender can amass an area of over 2500 sq ft, courtesy of Beamforming technology.
And the 4×4 wireless MU-MIMO functionality ensures that you can connect close to 30 devices, including multiple ring cameras with ease.
Design & Connectivity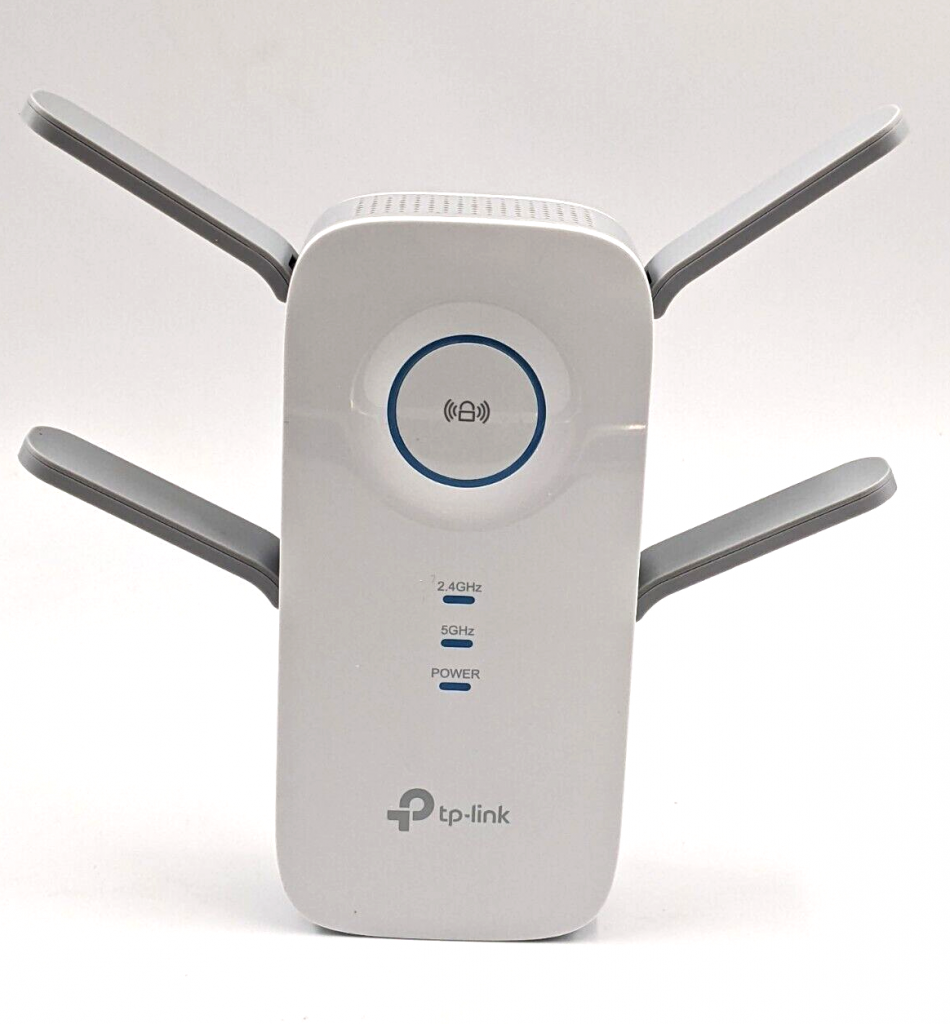 As for the design, this white-colored extender features 4 external antennas and measures 6.4 x 3.4 x 1.6 inches. The 1-pound device exhibits a horizontal layout and makes room for three front-facing indicative lights. TP-Link also throws in a dedicated Gig ethernet port for faster-wired throughput, provided you want to establish a wired connection with this device.
However, if you are seeking weatherproofing support, the RE650 isn't actually immune to water splashes but can hold its own in scorching sunlight.
Setup & other Features
Setting up the RE650 cannot get any easier as it works seamlessly with the Tether app from TP-Link, thereby facilitating remote management. Plus, you can initiate both wired and wireless connections with this extender, depending on the positioning of the camera.
Conclusion
Overall, the TP-Link RE650 is an extremely powerful Wi-Fi extender that might be overkill for Ring cameras. However, you can still consider it if you want to set up a network of cameras in your home or office but without having to place the extender at a place where it comes in direct contact with rain. And when it comes to the USP, it is the range that sets it apart from the rest.
MU-MIMO support

Beamforming technology

Excellent range

Aesthetic and light
Pricey

Overkill for a basic ring camera setup
2. Best for Multiple Cameras:

Asus RP-AC1900
Well, if you have multiple ring cameras at home, the Asus RP-AC1900 seems like the perfect option to pick, courtesy of the excellent range and physical presence. And it surprisingly works better than the RT-AC68U, which is an actual router, especially when it comes to setting up the device via the app.
Why is it suitable for a Ring Camera?
First of all, the Wi-Fi 5, 802.11AC standard makes quite an impression, allowing you to get the best possible near and far band speeds. Coming to the actual speeds, the 2.4GHz band lets you experience 600Mbps in theory and close to 100Mbps in real-time. For the 5GHz band, it's 1300Mbps in theory and close to 700Mbps with an actual Gig connection.
However, your ring cameras might need the 2.4GHz access more. Coming to the coverage, the connectivity spans across 3000 sq ft, which is good enough for multiple camera setups. And the MIMO technology ensures that you can pair up to 30 devices at once, without experiencing connection drops.
Design & Connectivity
This rugged extender weighs close to 1.8 pounds and measures a manageable 12.01 x 9.06 x 3.78 inches. Plus, you get access to multiple LEDs, which complement the monochrome layout with perfection. And, not to mention the 3-antenna external setup followed by the availability of 4 Ethernet ports with Gig backhaul support.
On top of that, you have a dedicated WAN port to help you use the device as a standalone repeater. And while Asus doesn't declare weatherproofing right out of the box, the device itself is heat and splash-resistant.
Setup & other Features
The RP-AC1900 lets you establish standard wireless and wired connections with the camera. Plus, you also get AiMesh access for covering a wider area, if needed. Not to mention the availability of the Router App that lets you manage the network usage, access point, range extender, and other modes with ease.
Conclusion
Overall, if you ever plan on setting up a mesh-like camera setup at home, duplex, or office, it is the Asus RP-AC1900 that should be considered over others, courtesy of the excellent coverage that spans wider than most.
Allows you to connect multiple devices with ease

4 high-speed LAN ports

Excellent range

Consistent throughput
Not immune to heavy rain

Bulky
3. Best for Ease of Use:

Linksys RE7000
If you seek an effective plug-and-play wireless extender to invest in, I would recommend the Linksys RE7000 for its immaculate design and ever-reliable beamforming technology. Also, in comparison to the high-gain RE6500HG, the RE7000 comes across as a much better pick, courtesy of the excellent far-band speeds.
Why is it suitable for a Ring Camera?
The most important reason to consider it for your Ring Doorbell or Stick-up cameras is the 802.11ac wireless standard. Plus, it exhibits close to 300Mbps over the 2.4GHz band. Next, this extender does all right when it comes to the range, thanks to the 2500 sqft coverage. Finally, the MU-MIMO technology ensures that you can easily connect close to 20 devices at once.
Design & Connectivity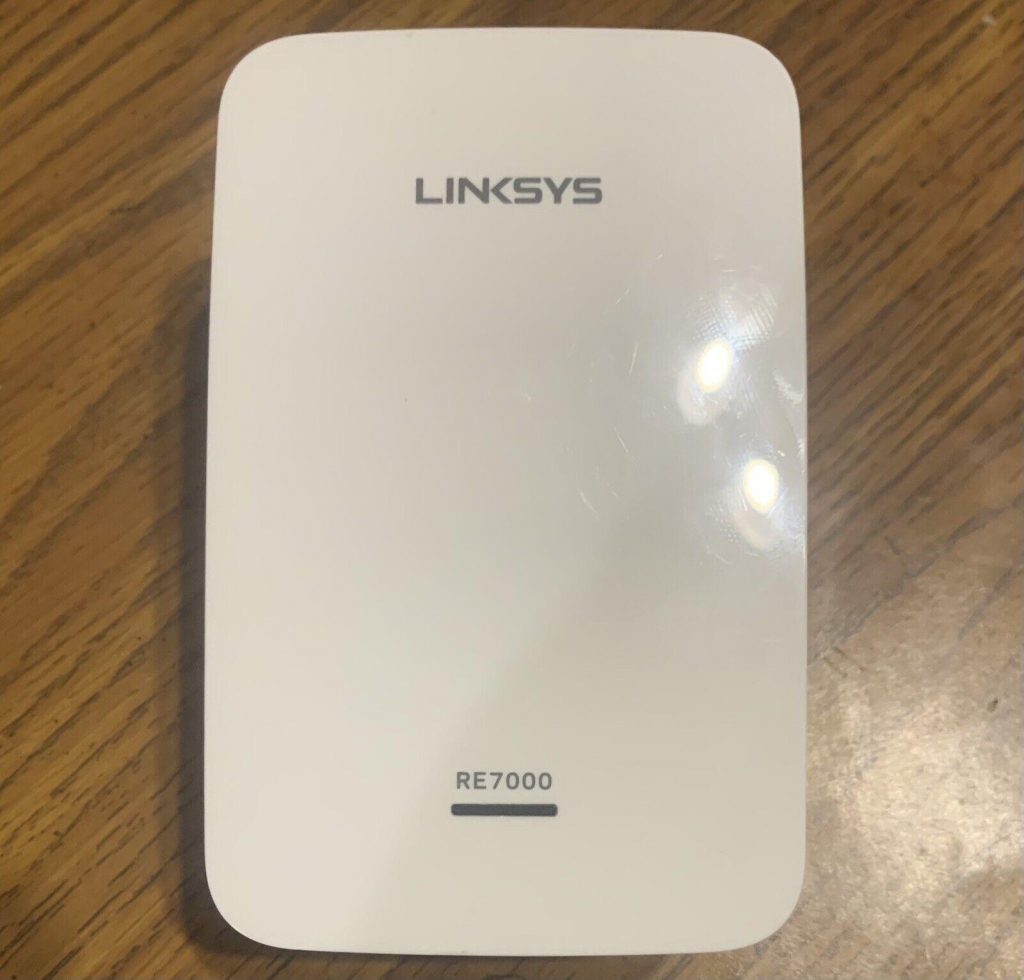 From an aesthetic perspective, this is one of the better-looking extenders on the list with dimensions reading 1.81 x 3.18 x 4.96 inches. And it weighs close to 0.40 pounds, thereby making it one of the lighter products around. Also, this extender is partially weatherproof and comes equipped with a standalone Gig ethernet port.
Connectivity doesn't take a backseat either as this is one of the few networking devices around to offer Crossband technology to keep transmissions constant. Plus, Beamforming helps minimize connection drops and improves signal strength.
Setup & other Features
Setting the RE7000 is as easy as it gets with the Spot Finder app. And just to cover the specifics, this product works well with almost every ring camera, via wired and wireless connections.
Conclusion
What separates the Linksys RE7000 from the rest is its small and portable form factor, which allows you to carry the extender almost anywhere, along with the cameras.
Excellent range

Light and portable

Quick and easy setup

Crossband technology
Not the most stable far band connections
4. Best Value for Money:

TP-Link RE550
Well, the TP-Link RE550 might not be as powerful as the RE650 in terms of range and speeds, but it manages to outperform the likes of RE2200 courtesy of better device connectivity. And if you are into specifics, this extender even features innovative smart roaming functionality.
Why is it suitable for a Ring Camera?
If you have a Ring doorbell or even a network or indoor camera, the Wi-Fi 5 standard pertaining to this extender makes sense. As far as speeds are concerned, the RE550 promises 600Mbps of throughput for the 2.4GHz and the more camera-relevant band. Plus, you get to connect close to 35 devices at once across 2800 sq ft of coverage area.
Design & Connectivity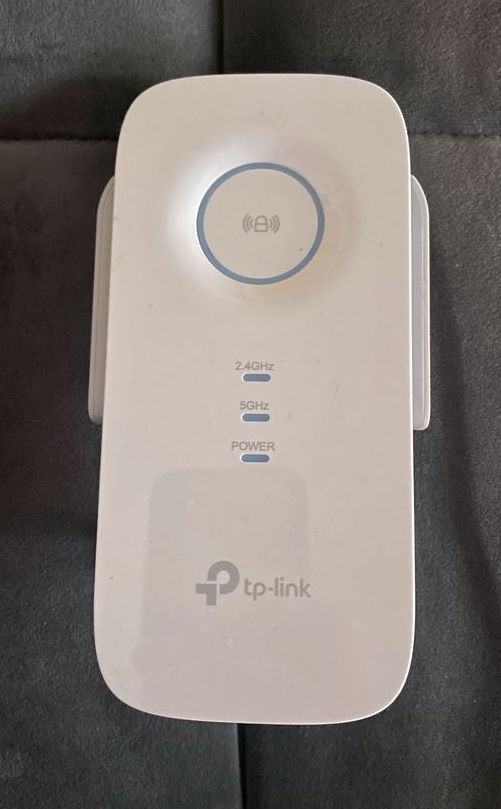 This device measures 6.4 x 3 x 2.6 inches and weighs only half a pound. And while I could go about applauding the portability of this device, I am equally mesmerized by the three-LED setup, brilliant aesthetics, and the 3 external antenna setup. Also, this device supports the OneMesh tech to let you manage camera setup across rooms.
Plus, there is a dedicated signal indicator followed by the bespoke AP mode for making the most of the 3 x 3 spatial streams. And to add to all that, there is a dedicated Gigabit Ethernet port to make life easier, in case you and your ring camera are more into wired connections.
Setup & other Features
You can easily set the extender up using the Tether application. And most importantly, with this router, you need not switch between the network names, via the unified SSID.
Conclusion
The TP-Link RE550 offers the best value when camera-specific wireless extenders are concerned. However, it is the smart roaming functionality that stands apart, as it allows you to manage connections regardless of the home area you are in.
Smart roaming support

Interactive app

Excellent range

Consistent dual-band throughput
Connections drop at times
5. Best with FastLane Support:

Netgear EX6120
The Netgear EX6120 is the perfect wireless extender to pick if you want something for setting up Ring Indoor cameras. And while the EX6250 might seem like a better choice in terms of speed and range, the EX6120 is an easier device to carry and set up.
Why is it suitable for a Ring Camera?
Supporting the Wi-Fi 5 standards, the EX6120 comes forth as one of the more promising extenders for setting up indoor ring cameras. And what adds to the credibility is the excellent, cumulative speed limit of up to 1200Mbps. But that's not it as this is arguably the only device on the list to feature the FastLane support, which lets you access both the bands simultaneously.
Design & Connectivity
Here is a plug-and-play device that measures 2.64 x 1.54 x 2.17 inches and keeps the heft restricted to under 0.5 pounds. And what's even more interesting is the availability of multiple LEDs and a standalone Ethernet port with auto-sensing functionality.
And when it comes to connectivity, this extender has the ability to cover close to 1500 sqft of area, without compromising signal strength.
Setup & other Features
The EX6120 is an easy extender to set up, provided you know your way around the Analytics app. And once you have the application handy, you can use it to measure and manage channel interference and network status for furthering management capabilities.
Conclusion
To sum it up, the Netgear EX6120 might not be the most powerful extender but it manages to be the most effective one if you want something affordable for your indoor ring cameras. And as compared to other products on the list, I feel that the app associated with the EX6120 is a bit more resourceful.
Pocket friendly

Fast Ethernet port

Can connect over 20 devices with ease

FastLane technology
Not meant for all-in-one security cameras

2.4GHz speeds aren't consistent
6. Best with Signal Boosting:

Tenda A18
The Tenda A18 is the perfect Wi-Fi extender to have if you have a sketchy internet plan in place but the Ring cameras play an important part in your life. And as compared to other similarly priced devices, the A18 promises a more aesthetic and portable layout.
Why is it suitable for a Ring Camera?
The Tenda A18 is a Wireless AC internet booster to be precise, which ensures that your ring doorbell, indoor, or any camera remains connected to the internet at all times. And when it comes to overall speeds, the 300Mbps of 2.4GHz band speeds and 867Mbps of 5GHz band speeds add to the credibility of this device.
Design & Connectivity
The A18 looks great and sports a rectangular form factor, led by two external antennas. The device measures 2.36 x 1.97 x 2.02 inches, which is good enough to keep it slim and duly portable. Also, this extender weighs 0.5 pounds, comes with a standard Ethernet port, exhibits partial weatherproofing, and also features three LEDs for disparate tasks.
Setup & other Features
And while Tenda skips the customary app, the web interface is self-explanatory. And to top it all off, there is the repeater and AP mode to make connections easier and true to the ring cameras in play.
Conclusion
The Tenda A18 seems like a budget extender but manages to stand apart, courtesy of the 2 insanely powerful antennas and a smart LED to let you in on signal quality.
Good Looking wireless extender

Multiple LEDs

Plug-and-Play device

Excellent coverage
Not the most consistent speeds
7. Best LED Setup:

Netgear EX2800
In case you fancy an extender that fills you in the network status better than any other product around, the Netgear EX2800 is the perfect variant to pick.
Why is it suitable for a Ring Camera?
First of all, the Wireless AC standard ensures high-speed dual-band connectivity, with max cumulative speeds of 750Mbps. You can deploy it to cover close to 1200 sq ft with relative ease. But that's not the end of the road for the Netgear EX2800 as it even manages to throw in 20 devices within the same network without experiencing connection drops.
Design & Connectivity
The EX2800 from Netgear weighs 2.85 x 2.85 x 2.55 inches and weighs a mere 0.34 pounds. And while it is easily one of the lightest extenders around, it even packs in 4 front-facing LEDs followed by a plug-and-play setup.
Setup & other Features
You can set this device up within minutes, via the Analyzer application. And once set up, you can even use the WPS button to establish instant connections with the router.
Conclusion
Overall, the Netgear EX2800 is one of the more affordable and promising wireless extenders around. However, it makes quite a compelling case as it features the Fastlane technology to let you access dual-band connections simultaneously, in case the throughput is a bit iffy.
Excellent design

Fastlane band sharing technology

Interactive app

Excellent coverage
Not the best 2.4GHz speeds
8. Best Budget Variant:

TP-Link TL-WA855RE N300
The TP-Link TL-WA855RE N300 is the last wireless extender on the list that can be procured for less than 20 dollars. However, despite being one of the most affordable networking devices around, it manages to assume exceptional connection speeds.
Why is it suitable for a Ring Camera?
The 802.11n wireless standard ensures that the TL-WA855RE only works in the 2.4GHz mode. The far band wireless speeds are restricted to 300Mbps, which seem more than adequate for most ring cameras. Plus, it exhibits a wireless coverage range of almost 800sqft and lets you connect over 10 devices at once, including a reliable camera setup as well.
Design & Connectivity
The device measures 3.15 x 3.06 x 3.04 inches, which makes it a tad thicker than usual. Coming to the weight, the TL-WA855RE manages to keep the heft less than 0.5 pounds. Plus, there are multiple LEDs, partial weatherproofing, and a fast ethernet port to work with.
Setup & other Features
If you plan on investing in this networking ally, you can get it up and running within minutes, courtesy of the Tether app. Plus, this device is also capable of working in the access point networking mode, which adds to the overall functionality of the same.
Conclusion
The plug-and-play TP-Link TL-WA855RE scales beyond any other product on the list, in terms of affordability and the aesthetics in play.
Brilliant design

Two external antennas for better coverage

Quick response app

MIMO technology
No Gig ethernet port

No 5GHz band to work with
Frequently Asked Questions
Will any Wi-Fi extender work with Ring Camera?
Most wireless extenders are compatible with ring cameras. However, before purchasing one you must check the package and even see the band that the extender works on, before verifying the same with the camera itself.
What Wi-Fi speed do I need for the Ring doorbell?
You need wireless speeds of almost 300Mbps for a Ring doorbell camera, and more so if you have a network of shooters in place. Coming to the internet connection for the live feed, you must ensure that the router offers 25Mbps of throughput, as the bare minimum.
How can I boost my ring camera Wi-Fi signal?
If you want to boost the wireless signal for ring cameras you must try and invest in extenders with Beamforming and signal boosting technologies.
Does the Ring system slow down Wi-Fi?
No, a ring camera system will not slow down the wireless connection provided the extender or the router supports dual or triple bands and only one band is dedicated to the camera setup.
Verdict
You can consider getting any of the 8 Wi-Fi extenders, depending on the type of Ring camera setup that you choose to work with. However, if you are new to the concept of home or office cameras, here is a more curated list to help you choose better.
If you have a multi-camera setup to take care of, the

TP-Link RE650

is the perfect networking device to consider.
The

Tenda A18

is a great pick if you want an extender solely to help you boost weaker wireless signals better.
Nothing beats the

Linksys RE7000

when it comes to the brilliance of aesthetics.
And finally, if you want an extender just to maximize the wireless coverage, there isn't a better bet than the

Asus RP-AC1900

.
Despite these picks being around, you can take a closer look at the offerings by reading through each review. And once you have taken every aspect into consideration, you can pick a Wi-Fi extender that aligns with your speed, coverage, and price-specific requirements.
Other Wi-Fi Extender Articles:
For Morton, reviewing a router is just like spending another day at the office. As BCCA's senior copywriter, Morton believes is explaining every concept concerning routers, networking technologies, and additional routing specs. Also, Morton is our go-to man if we are looking to get the ISP-dependent internet plans tested across devices.