The list of Wi-Fi 6 compatible devices has been increasing with the latest laptops, gaming consoles, and mobile devices. It's high time you take advantage of the new technology with the latest Wi-Fi 6 supported routers. If you are planning to future-proof your home with Wi-Fi 6 standard, then you're at the right place.
Getting the best out of Wi-Fi 6 standard isn't complete without the support for 160MHz/DFS channels. Top it up with some gaming features, ample wired connectivity, and a robust internet security system. You have got your network requirements covered for the next foreseeable future.
The 802.11ax standard routers listed and reviewed here are selected based on criteria set by a wide spectrum of requirements from consumers. The models feature high internet throughput, QoS Engine, parental controls, easy mesh compatibility, and the additional band for supporting the increasing list of devices in a household.
Best Wi-Fi 6 Routers in 2023
From a handpicked list of over the most recent 45 routers in the market, I have narrowed it down to the best 8 routers offering a plethora of features, and while emphasizing the balance in utility and price.
The list covers some of the top-end AX Wi-Fi routers, comprising routers with support for gaming activities. You can find some best mid-range value for money choices, Wi-Fi 6 mesh systems, and cheaper alternatives as traverse down the list.
1. Best Overall:

TP-Link Archer AX90
AX90 gets an upgrade in form of RAM, speed throughput, multi-gig WAN port, and an effective signal delivery through more powerful antennas over its previous model. TP-Link Archer AX90 router brings in the advantage of the latest Wi-Fi 6 features backed by an adequate processing unit, making it a robust networking device despite its premium price tag.
Speeds & Coverage
The multi-gigabit WAN port opens up access to ultrafast internet speeds while making the device capable of achieving top speeds of 574 Mbps on 2.4GHz, 1201 & 4804 Mbps on dual 5GHz band. Features like MU-MIMO, OFDMA ensure the router delivers stable signal across 2000 sq ft and handles up to 25 devices.
Hardware & Design
Archer AX90 houses a robust quad-core processing unit on a Broadcom Chipset, complemented by 512MB RAM and 128MB storage, making it capable of handling data-laden online gaming, 4K streaming without any hassles.
The router comes with a 2.5Gbps WAN port, 1 Gig WAN/LAN port, 3 LAN ports, and two USB ports.
Weighing around 2 pounds, the router sports a unique striped design in a shiny black square chassis with 8 external amplified antennas geared with beamforming, to act as a stable carrier of signals. The router measures 12.2 x 8.1 x 6.8 inches in dimensions.
App & Security Features
Tether application is familiar with its modern yet simple design and user-friendliness when it is about easy, quick installations and network management. HomeshieldPro subscription-based internet protection is robust if you are looking to protect the IoT devices. The WPA 3 encryption standards, firewalls, and inbuilt VPN support are top tier.
Other Features
A plethora of parental controls from HomeShield, QoS by devices, support to 160Mhz, and DFS Channels to outmaneuver network congestion come as a part of this routing device.
Who should consider this router and why?
If you are looking for a router to accommodate multiple devices at your home, the tri-band Archer AX90 offers great utility for your money that keeps it above its Asus counterpart despite the higher price.
Tri-Band support

160Mhz Channels

DFS Support

IoT Protection

2.5G WAN Port

TP-Link Homeshield
Slow secondary 5GHz

Subscription-based advanced security
2. Best for Gaming:

ASUS RT-AX82U
In RT-AX82U, Asus keeps the hardware unit of its forerunner while adding additional gaming features to it. A dedicated gaming port and an optimized mobile gaming mode remain the highlighting features of this routing unit.
Speeds & Coverage
The advantage of the technologies like MU-MIMO, and OFDMA adds more value to its high-speed capabilities in achieving 574 Mbps on 2.4GHz and 4804 Mbps on 5GHz. The router can easily support up to 25 devices and covers 2500 sqft.
Hardware & Design
The Asus Wi-Fi 6 router brings the best out of the triple-core processing unit clocking at 1.5GHz, by linking up with 512MB RAM and 256MB storage to handle loads of data-intense gaming. A trendy design, in line with its gaming spirit, weighs close to 1.6 pounds. The unit measures 10.96 x 7.26 x 6.5 inches with the 4 external antennas, unfolded.
Asus accommodates 4 Ethernet ports that include a dedicated gaming port with priority. With an ultra-fast USB 3.0 port, the router supports fast data sharing within the network.
App & Security Features
The Asus router app and the web interface don't show any compromise on its customizability or its user-friendliness. It offers an easy way to optimize the gaming traffic by switching to mobile gaming mode in a single touch with your mobile app.
ASUS ecosystem gives its lifetime security with AiProtection pro. The comprehensive parental controls, QoS bandwidth allocation, and detailed traffic monitoring system empowers you to have more control over your home network.
Other Features
Support for 160MHz Channels, mesh compatibility for future upgrades and adaptive QoS adds more value to your money.
Who should consider this router and why?
Don't let the absence of link aggregation downplay the utility value the RT-AX82U brings to a gaming household. Its latest wireless standards, high data rate modulation, make this a favored router for gamers and Twitch streamers alike.
Mobile gaming mode

AiProtection Pro internet security

OFDMA

160MHz Channels

MU-MIMO
Absence of Link aggregation
3. Best for Streaming:

Netgear Nighthawk RAX45
In Nighthawk RAX45, Netgear bumps up the processing unit and memory duo to support top speeds. The overall utility value of the latest wireless technology with additional features makes a steal for this price.
Speeds & Coverage
The aggregate speeds of 4.3Gbps translate to top speeds of 480 Mbps on 2.4GHz and 3840 Mbps on 5GHz. Advanced features like OFDMA and MU-MIMO minimize latency in communication to multiple devices while supporting 20 devices. Not just that, it is also one of the best router choices for 2500 sq ft houses.
Hardware & Design
A sleek black body with sharp angles gives a modern look to the router. The unit weighs 1.25 pounds and measures 11.6 x 8.11 x 2.25-inches and boasts 4 external beamforming antennas.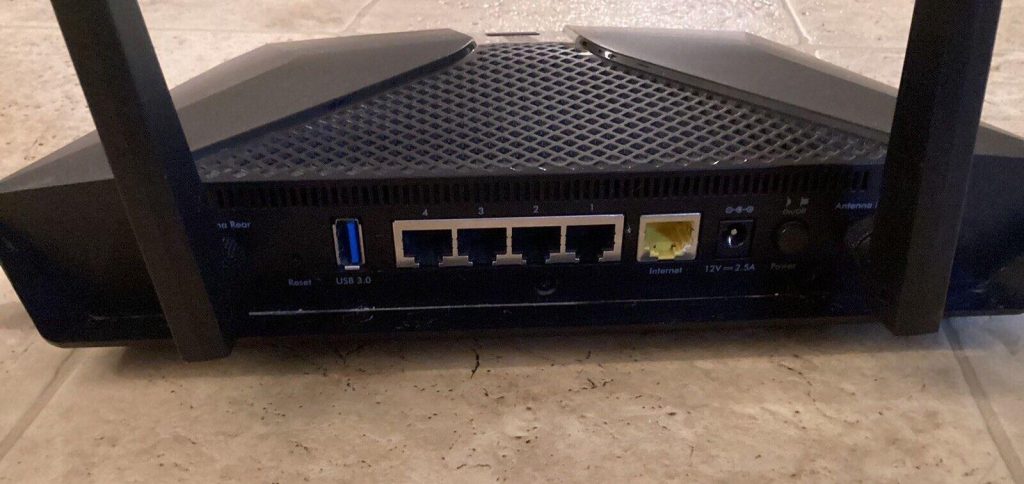 It offers adequate wired connectivity for a small household with 4 LAN ports, 1 WAN port, and fast USB 3.0 connectivity.
Three powerful core clocking 1.5GHz, combined with an operating memory of 512MB RAM and 256MB storage, see through the demands of high quality 4K streaming, hardcore gaming, and demands of high-quality Twitch streaming.
App & Security Features
The Nighthawk mobile application combined with armor gives comprehensive control over the internet with parental controls and network monitoring ability at the comfort of your mobile.
If you are looking for superior internet security, Netgear Armor offers solid, robust real-time protection with households having additional concerns over security. Put that together with an inbuilt VPN support, double firewalls, the latest WPA 3 encryption standards, you get solid protection for your home network.
Other Features
The addition of DFS Channels, 160MHz channels are value additions for those looking for a router to use in tightly packed network congested apartments. The compatibility with voice-based commands makes it easier to control.
Who should consider this router and why?
Netgear RAX45 gets an edge over Archer AX50, owing to its superior hardware unit. If you can afford to spend a few extra bucks, Netgear RAX45 will be your go-to router if you are looking for a robust hardware unit and real-time internet security to future-proof your large home.
1.5GHz Tri-core processing unit

Support to 160MHz, DFS Channels

OFDMA

Netgear Armor
4. Best Under $150:

TP-Link Archer AX50
The TP-Link Archer AX50 is a downgraded version of its much-powerful AX6000 to cater to a completely different target audience. The overall utility with the latest wireless standards and selection of additional features like DFS makes this a great buy at this price range.
Speeds & Coverage
Archer AX50 can reach top speeds of 574 Mbps on 2.4GHz and super fast speeds of 2402 Mbps on its 5GHz. Throw in the optimization of MU-MIMO and OFDMA, the router can handle up to 40 devices (including smart home gadgets) and leave no dead zones in a large area of 2000 sq ft.
Hardware & Design
A dual-core processor clocking at 800MHz, supplemented by 256MB RAM and 128MB storage can handle the balanced load of online gaming, and high-quality media streaming and downloads.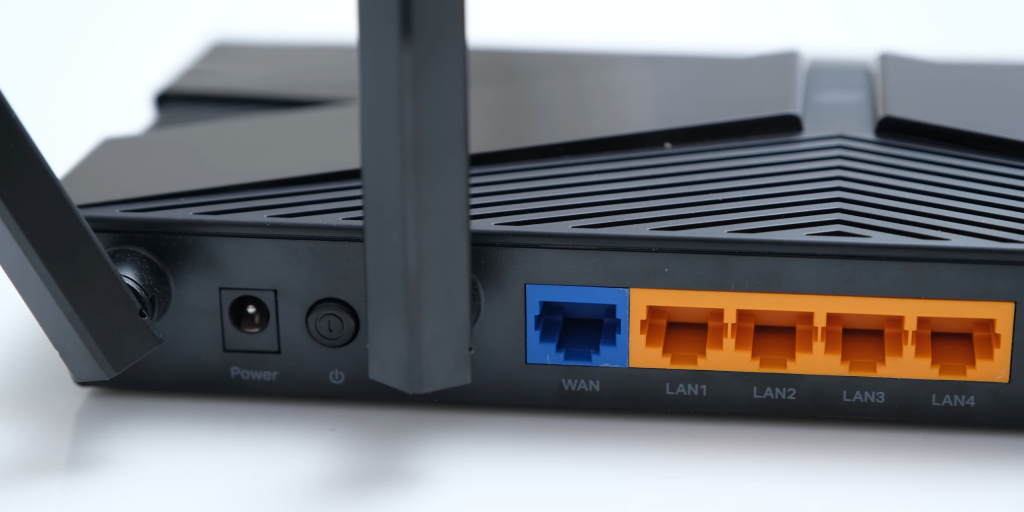 TP-Link accommodates 4 LAN ports and link aggregation makes it an even powerful combination in delivering ultra-fast internet.
The shiny finish on the sleek, black chassis gives a premium feel to the Archer AX50. The presence of 4 external antennas and beamforming makes the best use of available bandwidth. The router comes with a USB 3.0 port to keep sharing intranet data transfers fast and simple. The router weighs 1.2 pounds, & measures 10.2 x 5.3 x 1.5 inches.
App & Security Features
The tether application stands as a testament to modern simple interfaces keeping local and remote monitoring user-intuitive. If you are looking for Lifetime internet security without any additional cost, TP-Link's Homecare takes care of your requirement. You get inbuilt VPN support, robust parental controls with the Archer AX50.
Other Features
TP-Link throws in features like Smart Connect, airtime fairness to ensure optimal performance and load balancing among the client devices. The support of 160MHz and DFS Channels adds further value to every dollar spent on this router.
Who should consider this router and why?
Looking for a value for money router under $150 that covers important aspects of security, and features additional support to navigate network congested environments? Archer AX50 would be a perfect fit for you. It holds its place at the top of the place, despite featuring a dual-core processing unit, credit to its overall utility for smaller households.
HomeCare Lifetime internet security

Support to DFS

160MHz channels

Link aggregation
5. Best Wi-Fi 6 Mesh Router:

Amazon Eero 6
Eero 6 Mesh system gets an upgrade in its processing capacity, compared to its predecessor, to make it capable of handling all the data-laden activities a large home throws. The Amazon Eero 6 brings all the advantages of the latest wireless standards for a smart home with advanced security features based on additional subscriptions.
Speeds & Coverage
Operating on simultaneous dual bands, equipped with MU-MIMO and OFDMA, the mesh system brings the best out of 500 Mbps connection by delivering speeds of 600 Mbps on 2.4GHz frequency and 1200 Mbps on its 5GHz bands. Combined with two satellite units the device can support up to 75 devices. The high-speed throughput and long wireless coverage make it an ideal router for large homes.
Hardware & Design
Eero puts together a quad-core processing unit clocking at 1.2GHz. The memory combination of 512MB RAM and 4GB storage fits right into the requirements of an automated home with plenty of gadgets. The router and satellite units are equipped with internal beamforming antennas to deliver quality signals across a large area.
The simplistic-looking white rectangular tower goes well with the aesthetics of any household with its compact measurements of 3.9 x 3.8 x 2.4 inches in dimensions, while each unit weighs less than a pound separately. The router has 1 WAN and 1 LAN port, while the satellite units have none.
App & Security Features
Eero has a mobile app that simplifies the process of installation and management. The secure subscription gives your automated home, real-time protection against ads, malicious content through a selection of security applications and the latest encryption standards.
Looking for a Wi-Fi 6 mesh system that takes a complicated setup out of your way and offers seamless connectivity without the technicalities, Eero 6 mesh system is tailor-made for you with real-time security updates at an affordable price.
Other Features
Devices get the privilege of seamless Wi-Fi roaming, without the necessity to switch between frequencies and SSID's. Inbuilt VPN support, cloud-based connectivity, profile-based access, and parental controls let you keep a tab on internet consumption.
Who should consider this router and why?
If you have a smart home and plenty of devices in a large home, Eero 6 three-pack systems combine the right hardware capacity with the rich latest features to give your home network a safe and secure environment. Its uncomplicated setup, management, and excellent range keep it a top choice and higher up in the list.
Alexa, Zigbee compatible

Seamless wi-fi

Excellent coverage

Beamforming

Ideal for automated smart homes
Limited wired connectivity
6. Best for Small Homes:

Netgear R6700AX
A complete hardware and feature overhaul of its predecessor gives the advantage to the Netgear R6700AX. Wi-Fi-6 wireless standards make your internet access seamless to compatible clients, be it playstations or the latest mobile phones or tablets in your household.
Speeds & Coverage
The high data rate of 1024 QAM makes it easier to achieve 600 & 1200 Mbps on 2.4 and 5 GHz frequencies, respectively. Technologies like MU-MIMO OFDMA reduce latency in signal delivery in communicating to over 20 devices spread across 1500 sq ft.
Hardware & Design
Netgear finds a way to accommodate a quad-core processor clocking at 1.5GHz at this price range. It complements the unit with a 512MB operating memory and 128MB storage to make it a robust router for handling 4K streaming, high graphic gaming, and remote work solutions.
Netgear R6700AX is a lightweight router weighing around 1.10 pounds and has a slim chassis measuring up to 9.27 x 7.26 x 2.25 inches. The hexagonal body accommodates 3 external antennas reinforced with beamforming for lossless bandwidth utilization. The router comes with four Ethernet ports and a WAN port.
App & Security Features
The Nighthawk mobile application lets you set up, remotely monitor, set up guest networks, and control internet exposure from the comfort of your mobile.
Netgear Armor, despite its subscription costs, offers a unique advantage of real-time security with comprehensive parental controls. The R6700AX comes with the latest WPA3 encryption standards and firewalls.
Other Features
Don't worry about connecting to the least congested frequency. The Smart Connect feature does that work for you. The router works in tandem with voice assistants making it easy to control your smart gadgets.
Who should consider this router and why?
Living in a smaller household with limited devices? Need a robust security setup for your confidential data? The Netgear R6700AX finds the combination right which makes it sit just above its Linksys counterpart with matching specs and huge price advantage.
1.5 GHz Quad-core processor

Affordable

Netgear Armor internet security

OFDMA, MU-MIMO

Alexa compatible
7. Best for Work from Home:

Linksys MR7350
Linksys gives a huge bump in the processing power with an upgrade to its processing unit while downgrading the storage memory. The Linksys MR7350 is one of the best mesh-compatible high power routing units punching above its weight.
Speeds & Coverage
OFDMA brings the efficiency of optimized signal transmission for Wi-Fi-6 devices at home, efficiently getting the best out of the individual band speeds of 574 & 1201 Mbps on 2.4GHz and 5GHz respectively. Linksys can handle more than 25+ devices and blanket areas with internet up to 1700 sq ft.
Hardware & Design
A matte black groovy design in a compact rectangular chassis that weighs 1.25 pounds and measures 8.4 x 6.10 x 2.22 inches. The 2 external/adjustable beamforming antennas on the rear are crucial for covering smaller to medium-sized homes.
Connect your priority devices at home and share data within the network with 4 LAN ports and a USB 3.0 port.
Linksys router houses a quad-core processor clocking at 1.2GHz in a Qualcomm chipset, complemented by 256MB RAM and 128MB storage. The hardware unit can stand through multiple instances of 4K streaming, high-quality gaming while supporting a plethora of mobile devices.
App & Security Features
Linksys App ensures you have an easy setup, easy remote management, and a seamless Wi-Fi experience with this routing device. WPA 3 encryption standards, parental controls, firewalls, guest access keeps your home secure from imminent cyber threats and external network infections.
Other Features
Intelligent mesh compatibility turns this into an efficient scalable mesh system. The BSS coloring technology helps you identify nearby networks and avoid any interference, improving your signal quality.
Who should consider this router and why?
Looking for a value for money router, that future proofs your home with the latest technology and primes up as a mesh system for easy future upgrades? Linksys MR7350 stands out from its counterpart for its hardware capacity and scalability making it a valuable addition.
Remote management

OFDMA

Prioritize devices

BSS Coloring

Beamforming
Limited security customization

No 160Mhz support
8. Best Budget Wi-Fi 6 Router:

D-Link DIR-X1870-US
An upgrade to the processing unit of its previous model brings us a robust, well-equipped affordable router in DIR-X1870-US. D-Link offers great value with a bunch of the latest features like WPA3, OFDMA without causing a huge dent in your wallet.
Speeds & Coverage
At the helm of the latest wireless standards, MU-MIMO and OFDMA, the router can reach up to 600 Mbps in 2.4GHz & 1200 Mbps on 5GHz, while transmitting data to multiple gadgets simultaneously. The router can easily handle 20 devices, support automated homes and cover up to 1500 sq ft.
Hardware & Design
An angled design on matte black ventilated chassis brings the advantage of 4 external antennas reinforced with beamforming technology and spaced across its rear half. The lightweight router weighs 0.9 pounds and measures 9.90 x 6.55 x 7.64 inches with its antennas extended.
D-Link manages to push a quad-core processor in this unit, pairing it up with 256MB operating memory and 128MB storage to manage the activities any small household throws at it. While it lacks USB connectivity, it gets the standard selection of 4 LAN ports and a WAN port, guaranteeing stable internet connectivity for priority gadgets.
App & Security Features
D-Link Wi-Fi App comes with an on-screen installation instruction making your setup a breeze. The web interface opens up to customization of your network leaving you with more control of your network. The latest encryption standards, firewalls, guest zone ensure your home network is secure.
Other Features
Basic parental controls ensure you have more control over the kid's content and exposure to the internet. Target Wake time ensures your smart home gadgets are operating with energy efficiency. Allocate your bandwidth with QoS by devices.
Who should consider this router and why?
Looking to future proof your small home with a sub $100 budget router? Don't let your budget constraints stop you from getting the best out of the latest technology. Makes it to our list below the Linksys counterpart (that has superior mesh compatibility) for the features on offer at a lower price tag.
MU-MIMO

Beamforming

OFDMA

Target Wake Time

BSS coloring technology
Frequently Asked Questions
Is Wi-Fi 6 actually better?
Not just the huge upgrade to the theoretical speed limits, the advantage of the latest technologies has a more nuanced influence on your internet performance. Improved signal delivery, intelligent energy consumption at smart homes, upgraded security encryption makes Wi-Fi 6 a lot better than Wi-Fi-5.
Do Wi-Fi 6 routers have a better range?
Wi-Fi-6 brings the efficiency of the latest technology in OFDMA, which improves signal delivery. While it doesn't improve the range, the latest technology and additional channels at disposal minimizes congestion and deliver an improved performance within its coverage area.
What is the best Wi-Fi 6 enabled mesh system?
The best Wi-Fi 6 mesh systems are contingent on your requirement and preferences. Netgear offers the best sophisticated commercial-grade mesh systems for business, Asus offers overall value for money mesh systems, while Amazon Eero 6 is known for its user-friendly, uncomplicated solution that offers a stable performance for larger smart homes.
Does Wi-Fi 6 benefit older devices?
Yes, the benefit is more indirect. The older devices will not be a direct beneficiary of the latest OFDMA, TWT features. As the transition happens towards more Wi-Fi 6 clients and Wi-Fi 6 routers, the transition to newer communication channels frees the airtime for legacy devices using older channels for communication.
Verdict
Having a Wi-Fi-6 router doesn't guarantee an improvement in your internet performance. It is critical to understand the role of hardware compatibility in the client devices in exploiting the latest features at disposal and thereby eliciting a superior performance.
If your household is filled with the latest Wi-Fi-6 supporting devices, here are a few suggestions for different scenarios.