Has the presence of so many top-end routers in the market left you bewildered about your $200 budget consideration? If your entry-level wireless router drops connections with multiple devices at your new home, it's time for an upgrade. Be it gaming, streaming, business work, or just casual internet surfing, the routers I've listed shall provide a seamless experience in all the scenarios.
When purchasing a sub-$200 router, one thing most of us wish for is NO dead spots and balanced performance. Whether you've live in a 2000 sq ft house or want a router that can provide coverage in a 2-story house, the devices in this list won't let you down.
Lay all your doubts to rest here. This article covers the important aspects of the router featuring higher internet speeds, hardware configuration, and features like MU-MIMO, OFDMA, DFS, and 160 MHz Channels. It balances the value addition of network security, gaming optimization well within the allocated budget of $200.
Best Routers Under $200 in 2023
I have come up with a list of the best wireless routers under the budget of $200, following a comparative analysis of 33 routers from multiple OEMs like TP-Link, Netgear, Linksys, ASUS, D-Link, etc.
Placing value for money as the focus, the list has devices that offer higher speeds, better coverage, and the latest features on offer. The selection comprises standalone routers capable of easy mesh scalability, ranging from gaming routers to budget alternatives and robust Wi-Fi 6 mesh systems.
1. Best Overall:

TP-Link Archer AX73
The TP-Link Archer AX-73, a step up from its front runner AX-50, gets an upgraded processor, operating memory, and two additional antennas while making a minor compromise on its flash storage. Excellent range and improved capacity, topped with the DFS and 160MHz channels, make it the perfect device to navigate tightly packed apartments.
Speeds & Coverage
Operating on a simultaneous dual-band, the router can support up to 574 Mbps on 2.4GHz and 4804 Mbps on the 5GHz band. TP-Link claims the AX-73 can connect to 128 devices on the 5GHz and 96 devices on 2.4GHz. Restricting simultaneous connections to 30 devices within a 2500 Sq Ft house is vital to the router's optimal performance.
Design & Hardware
Archer sports a scaled design with a rectangular beveled top on its shiny black chassis. At 1.46 pounds, the router has a sleek demeanor measuring 10.7 x 5.8 x 1.9 inches, with 6 high-power antennas towering from it. The AX73 finds room for 4 Ethernet ports, 1 WAN, and a USB 3.0 port, covering the avenues of wired connectivity.
A triple-core processor clocking at 1.5GHz brings the scope to handle data-intensive activities like 4K streaming, HD gaming; customary at most households. The 512MB RAM and 16MB flash storage are crucial to the unit's seamless performance.
Setup & App Support
TP-Link uses the Tether mobile application's user-friendly design to keep the initial setup simple through a set of pre-designed steps. Tether application brings both local and remote management within the comfort of your palm.
Security & Other Features
The home shield security gives Real-time IoT protection and acts as an effective malicious site blocker. A robust intrusion protection system, DDoS attack prevention, and real-time network scanner come with the subscription, for users who take internet security a tad more seriously.
Comprehensive parental controls, firewalls, filter/IP-based access controls, WPA 3 encryption standards, improves the control over your network. With QoS, gain a handle over the allocation of internet capacity to devices.
Conclusion
Archer AX-73 stands apart for the value it brings with the efficiency of OFDMA in delivering high-speed internet and the set of requirements it ticks along the way unless there is a house full of gamers. In that case, go for TP-Link Archer C5400X which doubles the amount of wired connectivity and has a gaming optimized engine.
Wi-Fi 6 support

DFS (Dynamic Frequency Selection)

Supports 160MHz Channels

MU-MIMO, OFDMA, and QoS

Link Aggregation support

TP-Link OneMesh compatible
Subscription-based Internet security
2. Best Runner Up:

Netgear Nighthawk RAX45
In Nighthawk RAX45, Netgear upgrades the processor, storage of its previous model to improve its throughput capacity. The plethora of features at the price tag, mixed with periodic updates of the Netgear's ecosystem gives Archer AX73 a hard tussle for the top spot.
Speeds & Coverage
At the behest of gigabit internet connections and a total capacity of 4.3 Gbps, the RAX45 can accommodate top speeds of 480 Mbps, 3840 Mbps on 2.4GHz and 5GHz, respectively. The router can accommodate over 20 devices, extending its coverage to a large area measuring 2500 sq ft.
Design & Hardware
A sleek black body featuring sharp wedge-like angles gives a modern, futuristic feel to the router. Weighing close to 1.25 pounds, the router measures 11.6 x 8.11 x 2.25-inches, excluding the 4 external antennas towering from it. Lay aside the doubts of stable connectivity, credit to 4 Ethernet and 1 WAN ports.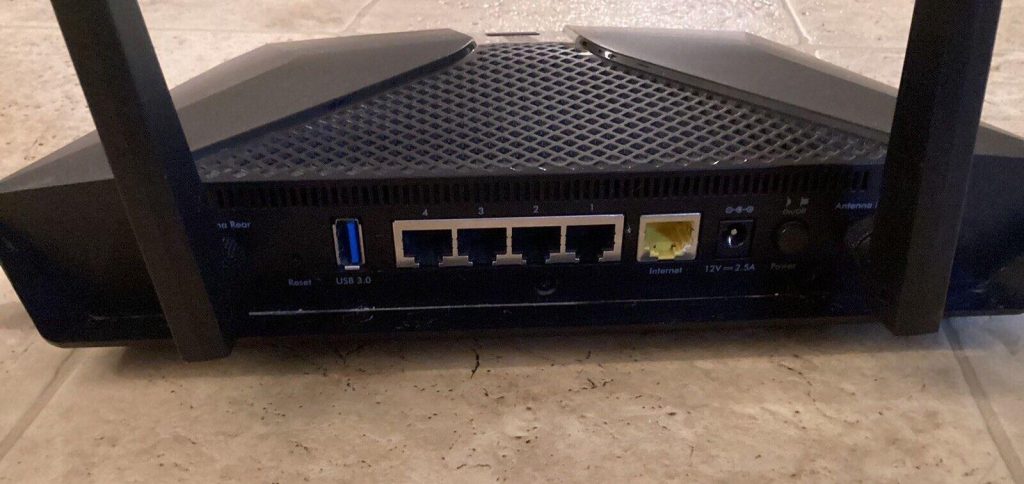 Netgear puts together a potent unit with three cores clocking 1.5GHz complemented by a 512MB operating memory and 256MB storage. From streaming smart TV to online gaming, everything falls within the purview of this device.
Setup & App Support
Nighthawk mobile application is crucial to the RAX45's utility. From the initial configuration to customizations, the application exudes comfort with efficient local and remote monitoring.
Security & Other Features
Netgear Armor comes at an additional price, offering a worthy package of real-time protection from intrusions, viruses, and infected devices. Combining it with double firewalls, VPN support, WPA 3 encryption the router, keeps cyber threats at bay.
Conclusion
With the optimized data transfer of OFDMA, complemented by the support of additional 160 Mhz and DFS channels, the Netgear RAX45 becomes a splendid weapon added to your networking arsenal. If not for the higher aggregated speeds of Archer AX73, the RAX 45 would be a top choice on the list of the best Wi-Fi routers under $200.
Wi-Fi 6 support

160MHz channels

DFS to reduce interference

Triple core processor

OFDMA technology

High-speed USB port
Pricey subscription of Armor
3. Best for Streaming:

D-Link DIR-X4860-US
The D-Link DIR-X4860-US comes next in the line of AX hardware, with an improvement in RAM and storage, making it capable of handling smart devices in an automated home. If you prefer the comfort of voice commands and the additional USB port for a network shared printer, you'd have found your match in the D-Link router.
Speeds & Coverage
D-Link brings the latest wireless standards (Wi-Fi 6) to offer a wealth of internet throughput, that delivers 600Mbps on 2.4GHz and 4200Mbps on the 5GHz band. It offers ample room for supporting up to 35 devices spread across a 2000 sq ft house.
Design & Hardware
Reminiscent of futuristic-looking designs, the matte-black body comes with a ventilated rear. Weighing approximately 1.6 pounds, the router has 6 external antennas towering from the sides extending its measurement to 9.5 x 13.3 x 8.32 inches in dimensions. Two USB ports, 4 Ethernet ports, and 1 WAN port offer the requisite wired connectivity.
The tri-core processor clocking at 1.5GHz works in tandem with an efficient duo of 512MB RAM and 128MB flash storage. Data-intensive online gaming, Twitch streaming, OTT streaming via Firestick falls within its purview.
Setup & App Support
Use the D-Link Wi-Fi app or the web-based setup to configure the router. The pre-designed steps make it easier for the starters. Restrict access, manage your bandwidth QoS, through the comfort of your mobile application.
Security & Other Features
With the latest encryption standards, firewall protection, dedicated guest zone, the network remains secure from the apparent threats for unauthorized usage and external infections.
D-Link router brings the efficiency of OFDMA for optimized transmissions to multiple devices for a seamless experience. Intelligent QoS engines manage your traffic flow, while its compatibility with Alexa and Google gives hands-free control over smart devices.
Conclusion
BSS coloring technology adds more efficiency to the D-Link router. The addition of support to 160MHz channels and Link aggregation makes it a standout among the other routers in the list for its capacity to use multi-gigabit connections.
OFDMA, Intelligent QoS

Target Wake Time

BSS Coloring technology

Link Aggregation
160MHz channels
Two USB ports
4. Best Tri-Band Router:

Linksys MR9000
The reinforced operating memory of its predecessor makes the Linksys MR9000 capable of handling plenty of devices. Three simultaneous bands operating concurrently, easy mesh scalability keeps the router closer to the top of the list, making it an ideal first router for new & expanding open-air lounges and premium cafes.
Speed & Coverage
A total speed of 3 Gbps, bifurcates into tri-band individual top speeds of 400 Mbps on 2.4GHz, 867 & 1733 Mbps on secondary and primary 5GHz bands. The router can easily handle over 25+ devices and leave no dead zones in a 3000 sq ft house.
Design & Hardware
Boasting a compact yet highly ventilated design, the router weighs 1.30 pounds and measures 8.38 x 6.33 x 2.15 inches in dimensions. The Linksys router has 4 external antennas, spread across its rear half, with two of them flanking the selection of ports including 4 LAN, 1 USB 3.0 port for wired connectivity to priority devices.
At the helm of a quad-core processor unit clocking at 716 MHz, the operating memory of 512MB RAM, and 256MB flash memory, the router breezes through multiple instances of data-intensive gaming on Xbox One, PlayStation 4, 5, media downloads, and HD streaming.
Setup & App Support
Be it the Linksys mobile application or the web GUI, the core of the design is its simplicity. A guided setup process makes the installation a straightforward decision for the newbies.
After shedding their initial apprehensions, users can explore the comprehensive customization options with managing guest networks, prioritizing bandwidths, and parental controls.
Security & Other Features
With WPA2 encryption standards, firewalls, access filters, Linksys covers the basic tenets of network security. With MU-MIMO, Beamforming+ optimizing simultaneous transmissions, Linksys extends its ability to integrate with personal voice assistants like Alexa.
Conclusion
MR9000 makes it closer to the top of the list, credit to its simultaneous tri-band capability and extended coverage. Linksys offers a better value for money with its capacity to handle plenty of devices, despite its limited attention to internet security.
Tri-Band operation

Easy Mesh compatibility

MU-MIMO &

Beamforming+

Long coverage
QoS for device prioritization

Alexa compatible
Limited network security options
5. Best for Large Homes:

ASUS RT-AX3000
In ASUS RT-AX3000, Asus mellows the heavy-duty processor of its frontrunner and puts together a value package to accommodate the sub $200 price. Asus puts together Wi-Fi 6 and a brilliant ecosystem with lifetime commercial-grade security for people looking for a standalone router for a single-floor large house.
Speeds & Coverage
The consolidated speed of 3Gbps translates to individual top speeds of 574 Mbps and 2402 Mbps on 2.4GHz and 5GHz, respectively. A capacity adequate for over 30 devices distributed across an area of 3000 sq ft.
Design & Hardware
With a close semblance to the front hood of a sports car, the router hardly looks the part. A matte-black body doesn't weigh over 1.2 pounds while measuring 8.82 x 6.06 x 6.3 inches in dimensions. The 4 external antennas are interspersed amidst 4 Ethernet, 1 WAN, and 1 USB port.

Three powerful cores clocking at 1.5GHz teams up with 512MB RAM, and flash storage of 256MB. With that comes the ability to handle the activities the household puts, be it a household of binge-watchers or hardcore gamers or working professionals or a diverse mix.
Setup & App Support
Asus router app, known for its user-friendliness, stands true to its reputation by putting together a guided setup process and the advantage of easy remote management. With the GUI, comes the privilege of extensive customization, including bandwidth allocation, firewalls, VPN, and access controls.
Security & Other Features
Wary of hidden costs of subscription-based security packages? AiProtection Pro alleviates your apprehensions with lifetime protection of commercial-grade security ranging from intrusion prevention to isolating infected devices. Asus firmware brings a robust real-time traffic monitoring system to your disposal.
Conclusion
Asus RT-AX3000 incorporates the luxury of 160MHz channels with a well-rounded security package, a robust traffic monitoring system that places it above an expensive peer in XR500.
160MHz channel support

MU-MIMO, OFDMA,

Beamforming

Parental controls
Covers 3000 sq ft house

Lifetime security by AiProtection Pro

AiMesh compatibility
No link aggregation/multi-gig port
6. Best Gaming Router:

Netgear Nighthawk Pro XR500
The Netgear Pro XR500, a low-cost version of its superior predecessor XR700, comes with less powerful hardware but packs a punch with a comprehensive gaming package. It puts together a comprehensive DumaOS, geo-filters, and gaming VPN to reduce latency and improve your gaming experience, a prized possession for hardcore gamers.
Speeds & Coverage
XR500 eases through high-end graphics games like Assasin's Creed, The Witcher owing to a speed capacity of 800 Mbps on its 2.4GHz and 1733 Mbps on 5 GHz. It can support up to 20 devices and cover a surface area of up to 2500 sq ft.
Design & Hardware
The shiny black chassis boasts of sharp wedge-like design. Weighing close to 1.8 pounds, and measuring 12.7 x 9.6 x 2.2 inches, the router leaves an impression of a futuristic device. With 4 LAN ports, 1 WAN port, and 2 USB 3.0, assures a lag-free gaming environment. The router has 4 external antennas attached to its rear.
A dual-core processor in a Qualcomm chipset clocking at 1.7 GHz gets its operating capacity from 512MB RAM and the ability to handle multiple devices from the storage of 256MB.
Setup & App Support
The duo of nighthawk mobile application and DumaOS interface brings the best ecosystem for its gaming audience. A simple setup process ensures the device is up and running within a few minutes.
Security & Other Features
The Double firewall protection, DoS protection, VPN, WPA-2 encryption offers the requisite network security. XR500 features a comprehensive gaming dashboard that helps reduce latency by effective bandwidth utilization and geo-filters. Gaming VPN ensures a secure network identity.
Conclusion
The selection of gaming features makes it the best gaming router for under 200 dollars. Beamforming, MU-MIMO, support to 160MHz channels are further value additions.
Geo-Filters

Gamer Virtual Private Network

Excellent security

160MHz Channels

Good port selection

Gamer-friendly DumaOS
7. Best Wi-Fi Mesh Router:

TP-Link Deco X20
TP-Link finds room to accommodate an upgraded memory duo, a step up from its previous model. The improvement reinforces the device's capacity to handle plenty of devices, including automated home gadgets. If you are looking for a mesh system for your 2 story house, there is hardly a reason to look beyond the TP-Link Deco X20.
Speeds & Coverage
At the behest of the latest wireless standards, the routing units can handle up to 574 Mbps on 2.4GHz and 1201 Mbps on 5GHz. With the correct router placement and the optimized transmission efficiency of OFDMA, the two-pack system can handle up to 100 devices in a large household spanning as large as 4000 sq ft.
Design & Hardware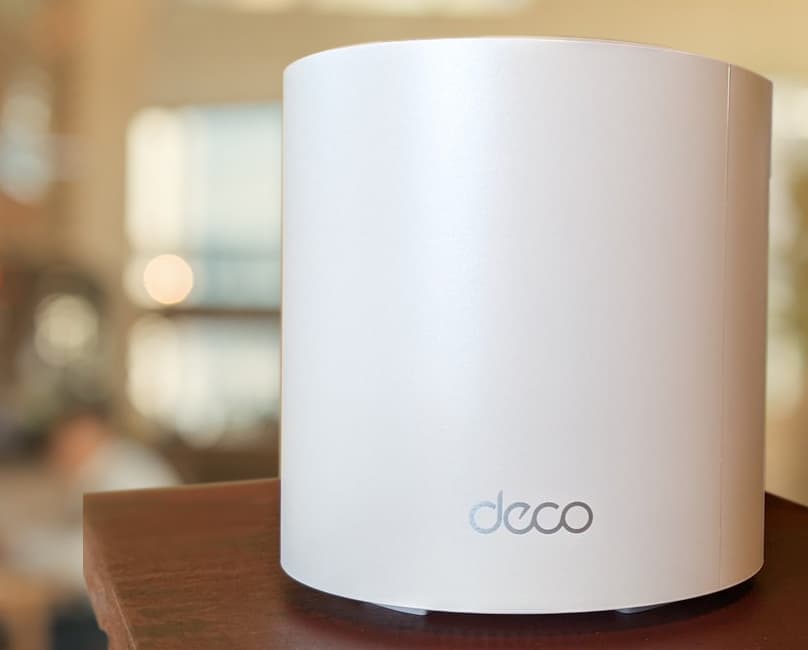 The white cylindrical units sport a minimalist design that blends easily into any household without sticking out. Each unit measures 4.49-inches tall and a width of 4.3-inches while weighing 2 pounds. Each unit comes with 4 internal antennas delivering stable wireless signals and two Ethernet ports offering wired connectivity.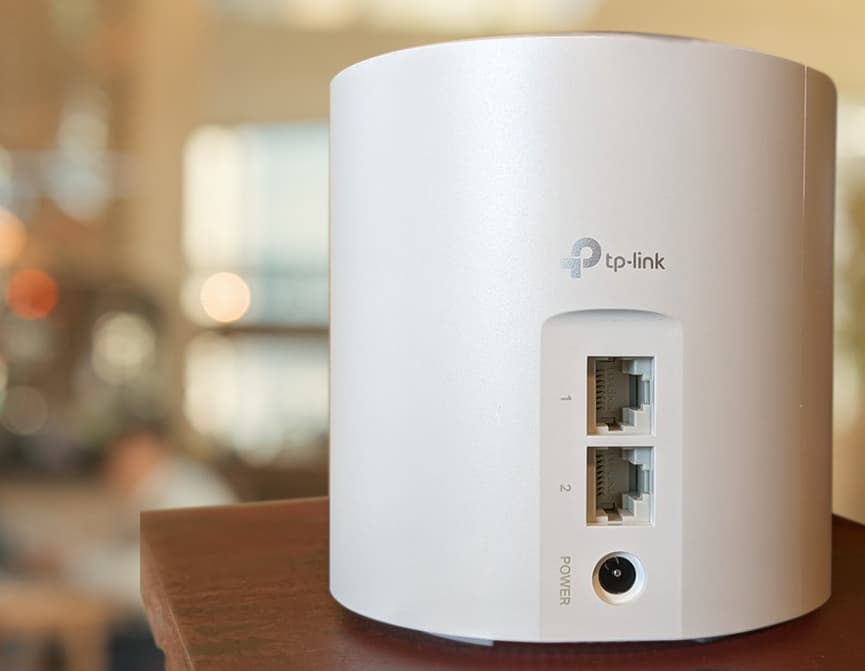 A quad-core processor clocking at 1GHz works in tandem with 512MB operating memory and 128MB flash storage, which becomes crucial for managing multiple instances of 4K quality streaming and high-quality online gaming / Twitch streaming.
Setup & App Support
The Deco mobile app has an auto-connection test that lets you detect the right placement to get the best coverage from your mesh system, leaving no dead spots in your home. The guided installation process will find your router running in a matter of few minutes and users get the luxury of remote management at the comfort of your mobile phone.
Security & Other Features
Are you looking for robust network security? TP-Link's Homecare brings a comprehensive lifetime internet security package that keeps your network safe from intrusions and malicious contents. A dedicated guest network access and the WPA 3 encryption standards offer an additional layer of requisite security and control.
Limit and allocate bandwidth intelligently with an inbuilt QoS system. Limit screen times and internet exposure for your kids with age-appropriate filters and customized profiles for every individual.
Conclusion
Its ability to support ethernet backhaul to reduce latency, seamless roaming and an auto-connection test to optimized placements give a unique advantage over other routers in the list. The long wireless coverage makes this an ideal match for automated homes in a large multi-story setting.
Wi-Fi 6 enabled

Wider coverage of 4000 sq ft
Handles up to 100 devices

WPA 3 encryption standards

Homecare Internet security

Ethernet Backhauling
8. Cheapest Option:

Linksys E8450
An upgraded processor and operating memory make the Linksys E8450 well suited to support the speeds of Wi-Fi-6 standards. The combination of optimized transmission of OFDMA and its extended range makes it a great budget alternative to future-proof your internet for a household with limited devices.
Speed & Coverage
With a high-speed internet connection from Verizon Fios, WOW!, Spectrum, or ATT Uverse, the device delivers top speeds of up to 800 Mbps on 2.4GHz and up to 2400 Mbps on 5GHz can accommodate up to 25 devices while covering an area as large as 2500 sq ft.
Design & Hardware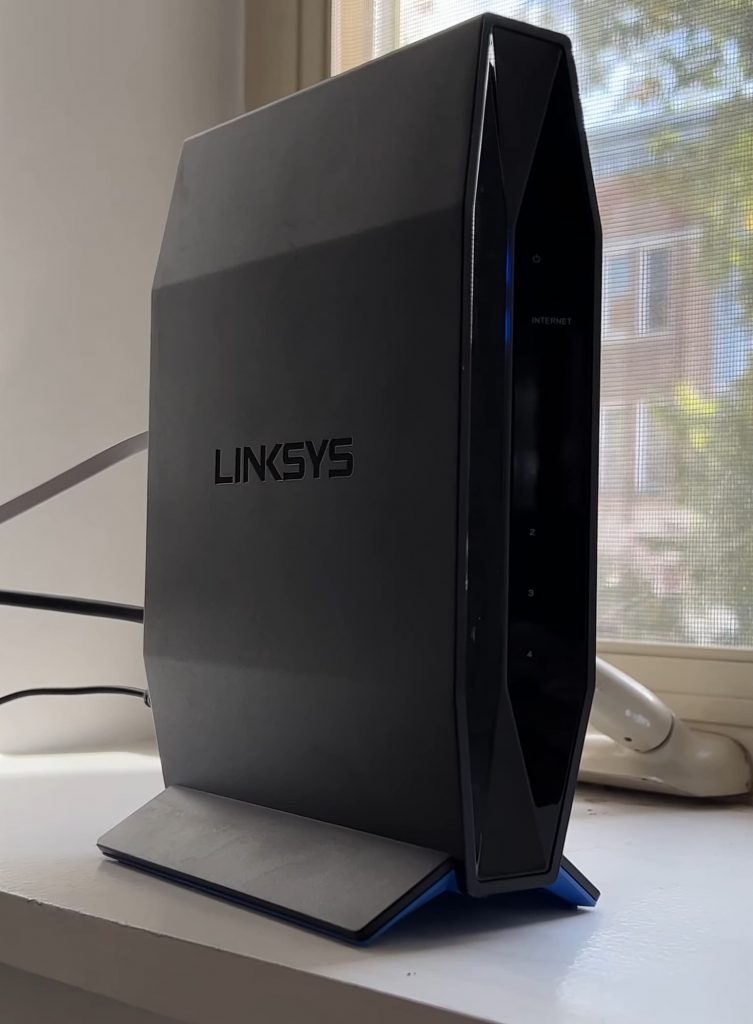 Standing upright, the router takes up limited space with its thin appearance measuring 6.14 x 3.03 x 8.66 inches at a lightweight of 1.41 pounds. The shiny black glass front gives a premium look to the entire unit. Linksys has 4 internal antennas dispersing signals and 4 LAN ports, USB 2.0 port offering wired connectivity to your household.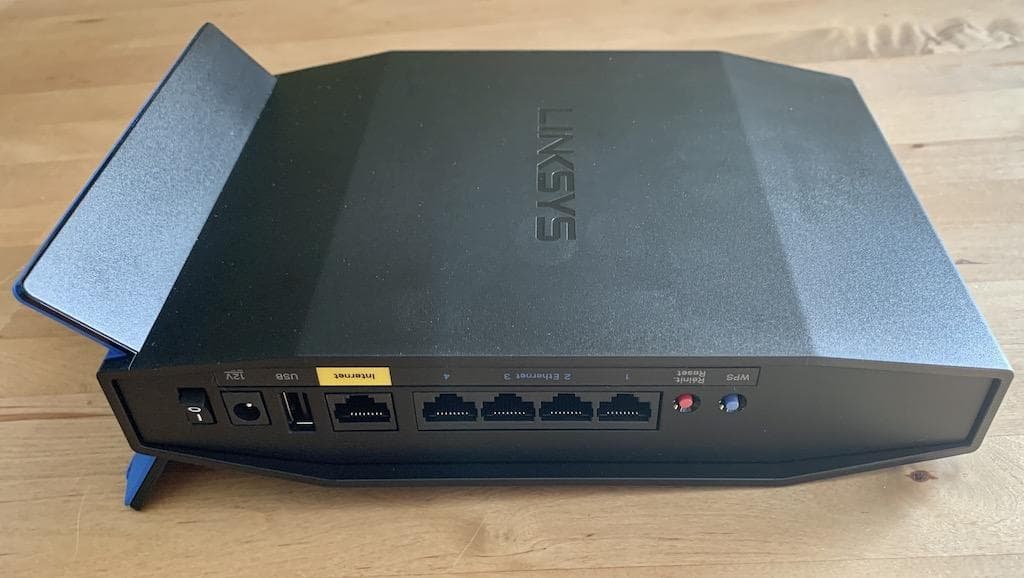 Linksys has two cores clocking at 1.4GHz in a Mediatek Chipset as the core of the routing device. The 512MB RAM and 128MB flash storage bring the data-intensive streaming, Wi-Fi calling, online gaming within its purview.
Setup & App Support
The E8450's lack of mobile application is a characteristic reminiscent of the older generation router which will find a few supporters and a few adversaries along the way. Linksys keeps the web-based initial set up uncomplicated.
Security & Other Features
The sub $150 wireless router comes with the latest WPA 3 encryption, separate guest network access, firewall, covering a few aspects of network security. With Parental Controls, the users get to choose limits of internet exposure.
Conclusion
Linksys E8450 brings the positives of contemporary wireless standards with a retro-style approach. A combination that finds its takers in old-school users looking to avoid spending anything north of $150. Nonetheless, I would like to appreciate the convenience of faster internet.
Wi-Fi 6 support

Dual-Core Processor

WPA3 Encryption

Guest Wi-Fi

Firewalls, Parental controls
Absence of USB 3.0 Port

Lack of mobile application
Frequently Asked Questions
What is the best router under 200 dollars?
Archer AX73 is amongst the best routers on offer. At the helm of the latest Wi-Fi 6 standards, AX73 packs a triple-core processing unit. The selection of complementing features like OFDMA, MU-MIMO, WPA3 encryption with six high-power antennas extending its range makes it hard to look the other way.
What is the best mesh router under $200?
TP-Link's Two-pack Deco X20 is a compelling choice within the budget of $200. It brings the right balance of hardware capacity, coverage, an intuitive interface, and a wealth of advanced features complementing its' latest wireless standards.
Should I get a tri-band or dual-band router?
Choosing between a tri-band or dual-band is contingent on the size of the household and the number of devices sharing the network. A tri-band router becomes a value addition if you have over thirty devices. Otherwise, a dual-band router will be sufficient.
What features should I consider when getting a sub $200 router?
While speed limits and range are imperative for adequate performance, inadequate hardware capacity can turn into a limiting factor. Hardware complemented with features like MU-MIMO, OFDMA, Protection against Virus and Malicious contents, QoS Priority, Parental controls with adequate Ethernet Ports are crucial for determining your router's overall utility.
Verdict
The size of the house, number of gadgets, environmental factors, and user preferences are the major driving factors for the choice of router. The models in the list below are well-suited for the common scenarios and requirements one may come across.
The

TP-Link Archer AX73

and

Netgear RAX45

offer overall value for your money, with plenty of features to optimize the network to navigate congested areas.
The

Deco X20

is an ideal choice of mesh system to cover large homes with extended annexes, garages, or a multi-story setup.
The

Netgear XR500

is a go-to choice for gaming enthusiasts offering the ideal environment with a gaming-optimized engine.
Still haven't found the right router? Comment below and I'll help you find one.
For Morton, reviewing a router is just like spending another day at the office. As BCCA's senior copywriter, Morton believes is explaining every concept concerning routers, networking technologies, and additional routing specs. Also, Morton is our go-to man if we are looking to get the ISP-dependent internet plans tested across devices.