Whether your existing router isn't able to handle the Xbox One gaming console, or you might simply want to upgrade to the Wi-Fi 6, new features and improved security. Whatever the reason could be, this article shall help you find the best router for gaming on Xbox One. The models in this list will leave you impressed with their features and capabilities.
Since you're purchasing a new router, you'll tend to get the one with the latest wireless standards, however, the Xbox One console doesn't support that standard and would automatically switch to the older standard while connecting. So if you're getting a router solely for your Xbox One, then Wi-Fi 6 compatibility shouldn't bother you.
I tested a bunch of gaming routers to narrow down the list of features that spike up the experience on gaming consoles. I looked for features like gaming private networks, gamer-friendly OS, dedicated QoS engines for low latency, internet security features, and port forwarding in these routers while avoiding overkill products.
7 Best Routers for Xbox One in 2023
I tested around 23 wireless routers with my Xbox One and handpicked only 7 out of them to feature on this list. The list comprises gaming routers ranging from high-end to mid-range and even entry-level budget-friendly options. I have ensured each of the routers reviewed here offers overall utility and value for money. Now, without much fuss, let's begin!
1. Best Overall:

ASUS RT-AX82U
The RT-AX82U AX5400 is a dedicated gaming router from ASUS that ensures high internet speeds with ample connectivity. It has the potential to make uninterrupted gaming with Xbox One, HD streaming via Firestick, virtual business meetings, and a lot more possible without compromising on the internet quality.
Speeds & Coverage
With a high-speed internet connection, your Xbox One could access speeds of up to 574mbps on 2.4GHz frequency, while a whopping 4804mbps on the 5GHz frequency. An aggregated theoretical speed limit of 5.4Gbps allows the Asus gaming router to support multiple connections throughout the 2000 sq ft house.
SoC, RAM, Flash Memory
The gaming router from ASUS brings a powerful triple-core processor that clocks at a 1.5GHz base frequency. The router also finds room for 512MB RAM and 256MB flash memory that ensures a seamless gaming experience.
Design & Ports
At 1.63 pounds, the routing device has a large footprint and a discerning presence with its black body and AURA RGB lighting accent in the front. Equipped with MU-MIMO beamforming, the four external antennas will take the signal to every corner of your 2000 sq ft house.
Coming to the ports, one dedicated gaming port and three Gigabit Ethernet ports ensure your console, Smart TV, Work Desktop gets high-speed wired connectivity. Sharing a printer and storage drives has become easier with one USB 3.1 Gen 2 port.
Setup & App Support
Asus router app and the ASUS-WRT user interface come with a robust, intuitive design that takes through the initial setup within minutes. You can manage the router, monitor traffic efficiently even without a desktop/laptop.
Security Features
Setup Parental controls through AiProtection Pro. Block unwanted sites and applications using the Web & Apps filter, schedule internet access times for specific devices. Prioritize your Xbox One for higher bandwidth allocation using QoS, protect the home network from infected devices and malicious websites under the same roof.
Should you buy it?
With 160MHz channels, expose your Xbox One to high-speed internet and forget the latency while gaming. Protect your network from cyber threats and kids from undue exposure. If you are using the high-end plans from your ISP, this will be the right choice for you.
160MHz channel support
Dedicated Mobile Game mode
RGB lighs add to the aesthetics

Dedicated gaming port

Network security with AiProtection

AiMesh compatibility
Expensive

Overkill for Xbox One
2. Best Tri-Band Router:

TP-Link Archer C5400X
Equipped with a dynamic optimization engine, Archer C5400X gives an accelerated gaming performance in your Xbox One or Playstation and an advantage over your peers. The routing device offers acceleration for games like Call of Duty, Battlefield, Doom, Dota, AION, etc.
Speeds & Coverage
With an aggregated speed of 5400mbps, the Tri-band router can achieve internet speeds up to 1000mbps in 2.4GHz and 2167mbps in dual 5GHz frequencies. It can cover your large house measuring 3500 sq ft and a maximum of 55 simultaneous connections with online gaming and Twitch streaming.
SoC, RAM, Flash Memory
It houses a powerful quad-core processor, 1GB operating memory, and 16GB of storage. In case you run out of NAS space, the router has two USB 3.0 ports for connecting external drives.
Design & Ports
Weighing close to 3 pounds, the router is bulky. With a flat square base and perforated top, the device is a mix of black and red colors. There are eight huge removable antennas that bring the power of MU-MIMO and Beamforming to ease your concerns on dead zones.
As for the ports, there are eight ethernet ports to connect your Xbox One, TV, and other gaming consoles. You also get two USB 3.0 ports for high-speed wired connections. Link aggregation can increase your internet speed and improve the gaming experience.
Setup & App Support
Setup your Archer C5400X using the Tether application or the web interface, and it doesn't take more than a few minutes either way. TP-Link Homecare gives complete control over your internet. Prioritize your gaming traffic for your Xbox.
Security Features
Create a profile for your kid's devices and allow access based on age-appropriate filters. Allocate time limits and schedule bedtime and monitor internet usage with parental controls in Homecare. Whitelist/Blacklist devices and protect your network from malicious content and intrusions through built-in Trend Micro.
Should you buy it?
Despite the lack of a gamer private network, the Archer offers link aggregation, gaming traffic prioritization, and high-speed Tri-band internet to cover large homes filled with kids and game streamers. The Gigabit internet speed bundle plans from ISPs like Xfinity, Cox, Optimum, or Frontier Fios will match the requirements of large homes with gaming and smart devices.
Link Aggregation

1.8GHz Quad-Core CPU

Excellent Ethernet connectivity

Inbuilt antivirus, intrusion prevention

Traffic prioritization
Bulky

Limited gaming features
3. Best with DFS:

Netgear Nighthawk RAX45
Released as a step-down, budget version of RAX50, the Netgear Nighthawk RAX45 brings the same set of features with reduced aggregated and individual top speeds. The router is ideal for large households with Smart TV, Gaming consoles like XBOX, Sony PS 5, and Work stations requiring stable internet throughput.
SoC, RAM, Flash Memory
The combination of a tri-core processor clocking at 1.5GHz, 512MB RAM, and 256MB storage offers the capacity to handle the overload of high-end games like Call of Duty or Read-dead redemption, or Witcher.
Speeds & Coverage
The Nighthawk RAX45 can deliver a total speed of 4.3 Gbps. Individual top speed of 480 Mbps on 2.4GHz and 3840 Mbps on 5GHz remains within reach of this high-speed router. It can support multiple Xbox/gaming consoles concurrently spread across an area of 2500 sq ft and deliver a seamless experience.
Design & Ports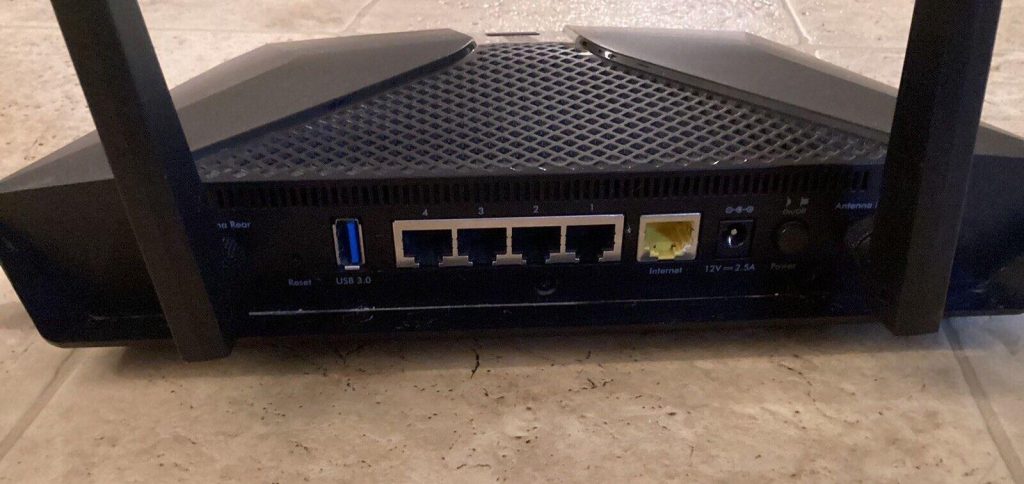 At 1.25 pounds, the lightweight comes with a sleek, wedged body the measures 11.6 x 8.11 x 2.25 inches. The 4 removable external antennas come with beamforming and OFDMA that covers multiple devices in large homes without loss of signal quality.
With four Ethernet ports, one WAN port, and a USB 3.0 port, get wired connectivity for your shared printer/network drive, Xbox One, Smart TV, and PC's in your home.
Setup & App Support
With the Nighthawk application, you can set up your router in few minutes. Manage your network at the comfort of your home or while you are on the move with the mobile application.
Security Features
A separate network for guests, advanced protection of Netgear Armor, Smart parental controls to manage your kid's internet exposure, and the latest WPA3 encryption standards make this a secure router for any household.
Should you buy it?
The Ultrafast Gigabit plans from ISP's like Google Fiber, or Xfinity brings the best out of the Nighthawk RAX45. The Wi-Fi 6 standards, OFDMA, support for 160MHz channels, and DFS, make the router ideal for delivering stable high-speed internet in a congested network environment at a very competitive price.
Wi-Fi 6 standards

Support for 160MHz Channels

DFS (Dynamic Frequency Selection)

Alexa & Google Assistant compatible

Triple-Core 1.5GHz processor
4. Best for Streaming:

Linksys E8450
Any household with multiple gaming consoles will exploit the capability of Linksys E8450. It is a Wi-Fi 6 router that prioritizes the internet traffic to your Xbox One. With Linksys open to prioritizing network traffic for your gaming consoles like PlayStation, Nintendo, and Gaming PCs, it makes E8450 more appealing.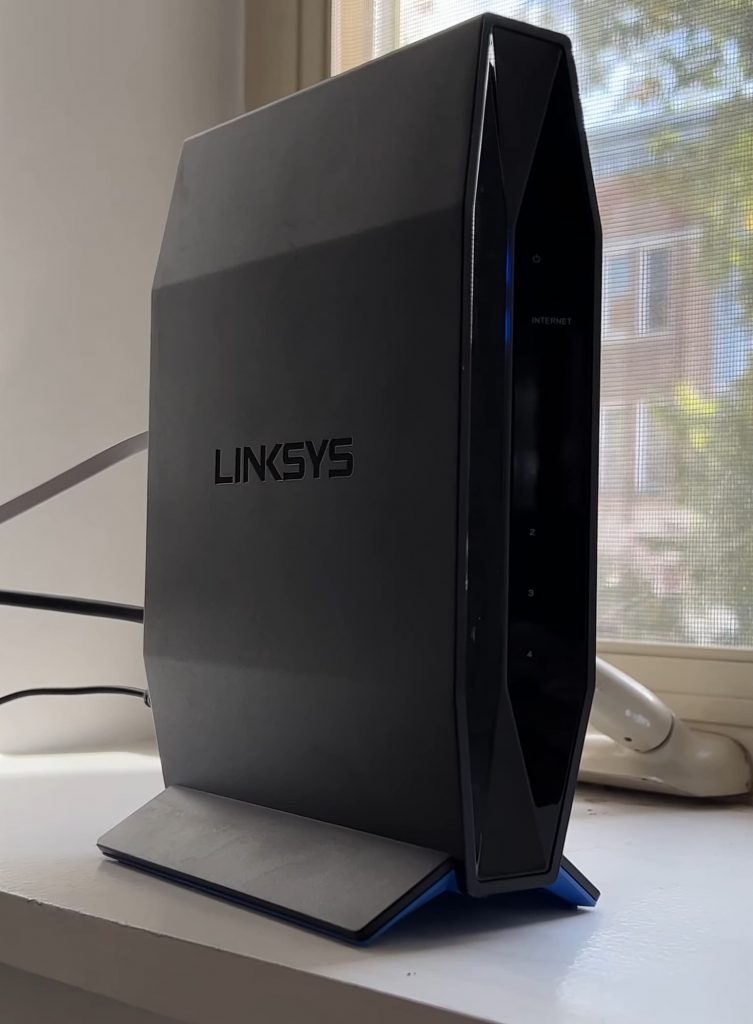 Speeds & Coverage
If you enjoy playing Red Dead Redemption, The Witcher, or Fortnite, the router can easily handle these games, thanks to the high-speed internet up to 800mbps in 2.4GHz and 2400mbps 5GHz frequency. Not only that, it can support multiple gaming rigs across 2500 sq ft and over 25 devices simultaneously.
SoC, RAM, Flash Memory
It gets the processing power to handle high-end games from a 1.4GHz Mediatek MT7622BV, a quad-core processor. The combination of operating memory of 512MB and flash storage of 128MB makes it an efficient router for handling multiple devices on the network.
Design & Ports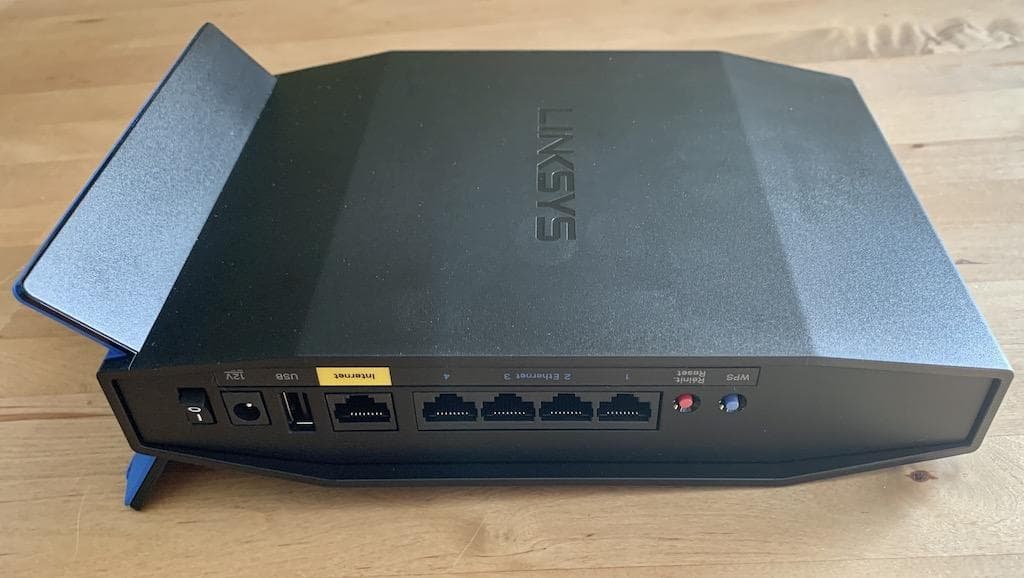 The router sports a sleek body in a black glossy design. MU-MIMO beamforming makes the four internal antennas into a carrier of stable signals. With one WAN port, four LAN ports, you find sufficient connectivity of multiple gaming consoles. The addition of a USB 2.0 port shares the network storage devices within the home network.
Setup & App Support
The Linksys E8450 has custom-built firmware and doesn't have a dedicated mobile application. Use the Web interface to complete the installations. The downside of an otherwise perfect gaming router is the lack of customization and advanced control over the settings.
Should you buy it?
If you host gaming parties over the weekend to bust the stress of busy weekdays, the Linksys E8450 is the perfect router to buy under the $150 budget. It brings the high-speed internet and exalting gaming experience on Xbox One. Use this router with a Verizon FiOS that bundles subscriptions with Playstation/Xbox live.
Wi-Fi 6 support
Excellent speeds on both bands
User-friendly web-interface
Strong coverage over 2500 sq. ft.
Supports up to 25 devices
5. Best Value for Money:

ASUS RT-AC86U
A powerful processor, an intuitive high customizable interface, and access to a Private gamers' network make this ASUS AC2900 the best value-for-money choice to keep your household connected to the internet. Find the nearest and optimal network route with WTFast PGN and elevate your gaming experience with Xbox One.
SoC, RAM, Flash Memory
Within this slim device is a powerful 1.8GHz dual-core processor, operating memory of 512MB, and flash storage of 256MB that keeps your devices powered with high-speed internet.
Speeds & Coverage
An aggregate speed of 2900mbps split into a top speed of 1200mbps in 2.5GHz and 2167mbps on 5GHz makes this a powerful router. It can support up to 50 devices concurrently, spread across a medium-sized household measuring 1800 sq ft.
Design & Ports
Weighing close to 1.9 pounds, the router is midway between light and heavy. It has a sleek black body with two red streaks angled across the front side. The router stands upright and looks tall with 3 external antennas on top of it.
There are four Gig ethernet ports, one Gig WAN port to keep your gaming consoles, and essential gadgets connected to wired internet. Two USB ports (3.0 & 2.0) allow sharing of network storage devices and printers within the home network.
Setup & App Support
The Asus mobile app and WRT interface make things easier right from the setup to advanced settings with customizable menus. The Adaptive QoS prioritizes your gaming traffic and gives an advantage when your gamer hat is on during competitive gaming in your Xbox One.
Security Features
If you have kids/teens in your home, you can control their internet consumption with AiProtection. Web & Apps filters and time scheduling decides what and when the kids watch. AiProtection protects your network from malware, viruses, and infected devices.
Should you buy it?
If you are looking for an all-around router that gives an edge to your gaming experience and gives control over your home network with parental/ access controls and internet security, ASUS RT-AC86U delivers on all the fronts. Complement your RT-AC86U with low latency ISPs like Verizon FiOS, Frontier FiOS, and AT&T Uverse.
Adaptive QoS

WTFast Private Gamers Network

Mesh Compatibility

AiProtection Pro

Dual WAN
The mobile app doesn't work remotely

No wall mount
6. Best Under Budget:

TP-Link Archer AX21
If you are low on money and looking for a reliable router for under $100 to explore the world of gaming, then TP-Link Archer AX21 is your go-to solution. Without causing a dent in your wallet, AX21 offers Multi User-MIMO, VPN Support, and parental controls.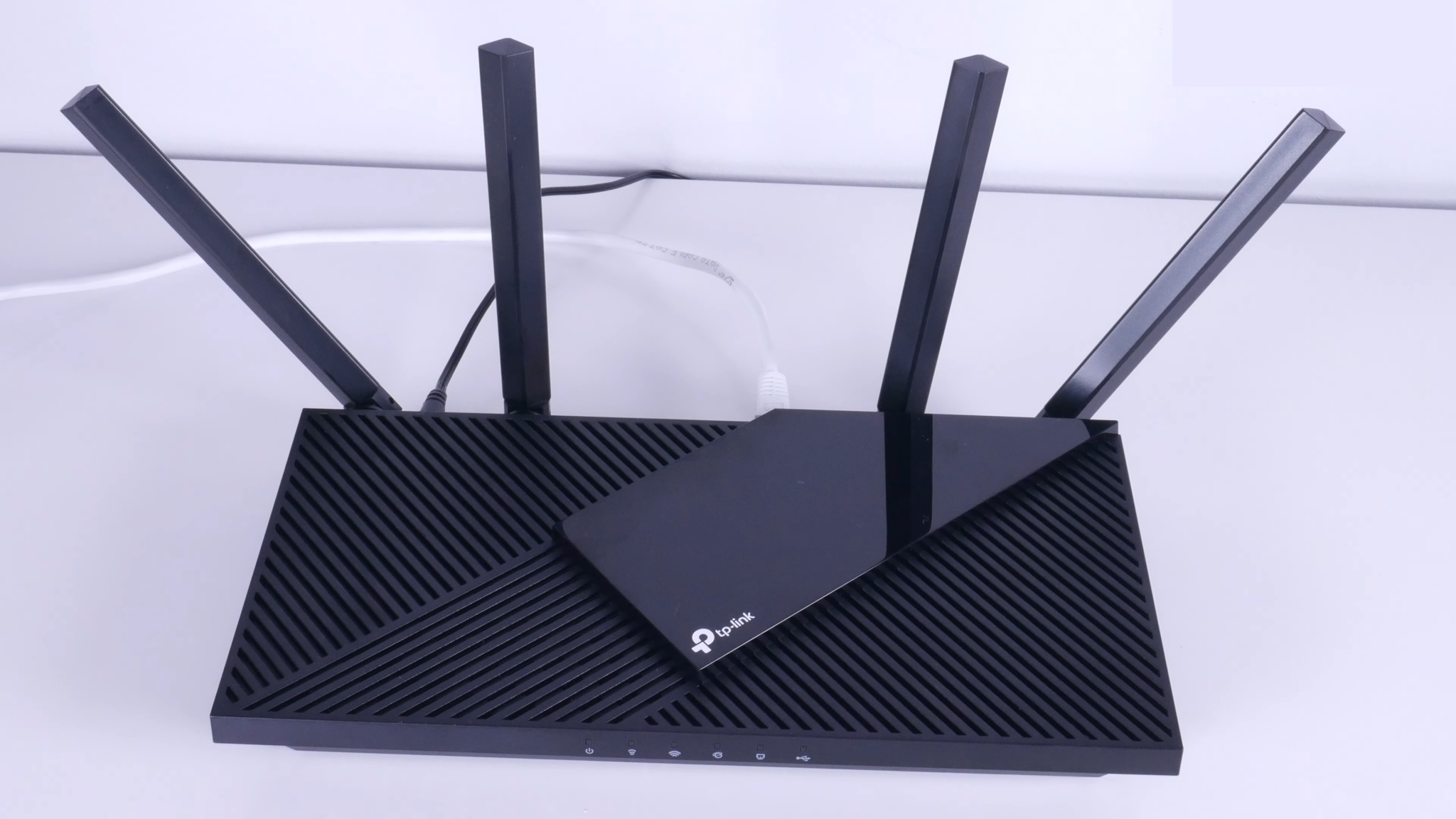 Speeds & Coverage
With Archer AX21 capable of reaching speeds of 574mbps in 2.4GHz and 1200mbps in 5GHz, and a consolidated speed of 1800mbps, you will have sufficient bandwidth for an Xbox One gaming console. Even when you are gaming, this router can support up to 40 devices (optimized usage) across an area of 2200 sq ft.
SoC, RAM, Storage
Multiple data-intensive activities won't be restricted as the router feature Broadcom BCM6755, a quad-core chipset with a 1.5GHz clock speed. Operating memory of 256MB and flash memory of 128MB is sufficient for handling multiple devices, including Xbox One.
Design & Ports
The lightweight router weighs close to 1.10 pounds and comes in a chequered casing tinted with a glossy mix of black and grey. Attached to the rear half of the router are 4 external antennas delivering signals.
TP-link finds space for one WAN port and four Gigabit Ethernet ports to give you sufficient room for your Xbox, Smart TV, and Desktop. Plus, there is a USB 2.0 port that handles the installation of additional storage devices.
Setup & App Support
TP-link offers an intuitive design in its mobile app. Setup your router within a few minutes and take control of other settings through the mobile app and the web interface. Assign top priority to your gaming console when you are gaming and get the best out of an internet connection.
Security Features
TP-Link allows you to limit your kid's gaming and take control of their internet access using parental controls. Create user profiles and limit access using keywords and time limits. Protect your home network from unauthorized access via WPA3 encryption.
Should you buy it?
If you are looking for a more affordable router with sufficient ethernet ports to keep your Xbox, TV connected to high-speed internet, Archer AX21 is a steal at this price. Even with the low to mid-end plans of Xfinity and Verizon, you can get the best out of your ISP.
Pocket friendly
Wi-Fi 6 (802.11ax) support

User-friendly mobile app

QoS Priority by devices

Supports up to 40 devices
WPA 3 security standards
USB 3.0 port could be better
7. Cheapest Option:

D-Link DIR-1260
The D-Link DIR-1260 offers the best combination of 802.11ac features in an affordable router that keeps control over the kid's internet access, prioritizes your Xbox One with QoS, and secures your internet with WPA3 and guest zones.
Speeds & Coverage
The router can reach high speeds of 300mbps over 2.4GHz and 867mbps in 5GHz frequency and a total speed of 1200mbps. Upgrade your home with D-Link DIR-1260 and get coverage of 1500 sq ft, supporting up to 30 devices.
SoC, RAM, Flash Memory
An operating and storage memory of 128MB each and a dual-core processor clocking at 880MHz gives enough power to handle your Xbox One gaming console and other smart devices at your home.
Design & Ports
At 0.72 pounds, the D-Link router is pretty lightweight. It sports an all-black attractive design on a flat base. There is a D-Link logo on the left side, while on the right, you can witness the LED indicators. It's one of the very few budget routers that sport a simple yet attractive design.
Equipped with MU-MIMO, four external antennas carry signals across your home. While the lack of USB ports denies sharing network drives and printers in the network, the D-Link has 4 Gig Ethernet ports and 1 WAN port to give stable wired connectivity to your devices.
Setup & App Support
The D-Link mobile app makes the installation easier. The intuitive web interface allows you to customize advanced settings. You can also prioritize the traffic to Xbox with an adaptive QoS.
Security Features
You can enable preset parental controls, create a blacklist/whitelist to filter inappropriate exposure, and schedule access times for devices. The port forwarding allows you to improve the connection to the Xbox live servers. Users can configure VPN, enable guest zones, and protect their network with WPA3 encryption.
Should you buy it?
If you are hoping to upgrade your home network with an extremely affordable router, D-Link AC1200 finds the balance of features and utility to provide enough bandwidth for your Xbox, Smart TV, and workstation. Complement your router for a 200 Mbps internet plan from cable/fiber ISPs like COX.
Extremely affordable

Intuitive web interface + App support
WPA3 encryption standard
MU-MIMO technology
Supports up to 30 devices

Intelligent QoS
No USB port

Range could have been better
Frequently Asked Questions
Do Xbox gaming consoles support Wi-Fi 6?
Even the latest generation gaming consoles from Xbox like Xbox One X and Xbox One S don't support Wi-Fi 6. PlayStation 5 from Sony is the only gaming console supporting the latest Wi-Fi standards. But the Wi-Fi 6 routers are backward-compatible and support your Xbox One.
Wired or Wireless, which works better for Xbox One?
While most gamers prefer wired connections over Wi-Fi, to avoid loss of speed, lags, and packet loss, it confines you within the vicinity of the router. But the latest fiber technologies have bridged the gap with high-speed, quality Wireless connectivity, with more freedom.
What is the advantage of Gamers' Private Network?
The GPN is a software solution powered by artificial intelligence to improve the network conditions for online gaming for games operating on centralized servers. It establishes the best possible connection between the client and the server to reduce latency and jitters in the network.
What is port forwarding, and how does it help with gaming?
Port forwarding is directing a communication request from the server and port to a specific device. Enabling port forwarding in your router improves the connection between your Xbox live servers and Xbox One at your home, resulting in better gameplay.
Verdict
The right router plays a vital role in improving your gaming experience. Understanding your preferences and requirement is the first step in choosing the best router for your gaming console.
If you are looking for a gaming router that has a dedicated game mode, powerful security, and QoS engine to prioritize your Xbox One, the

ASUS RT-AX82U

fits the bill perfectly.
Looking for an affordable router with future-proof wireless standards and decent internet speeds, the sub $150

Linksys E8450

will offer value-addition.
Looking to connect multiple gaming rigs concurrently,

Archer C5400X

offers ample LAN connectivity and Tri-band internet.
Do you want to accommodate a budget-friendly router for your Xbox One gaming console? The

TP-Link Archer AX21

is an all-around performer that finds the optimal balance of price, utility, and features.
If you're still unconvinced, I recommend you explore the market space to find a gaming router that fits your preferences. You can also read my router buying guide to learn more about how these devices work and important to consider.
For Morton, reviewing a router is just like spending another day at the office. As BCCA's senior copywriter, Morton believes is explaining every concept concerning routers, networking technologies, and additional routing specs. Also, Morton is our go-to man if we are looking to get the ISP-dependent internet plans tested across devices.