Wi-Fi calling allows you to use your broadband connection to make/receive calls. So, if you're living in an area where cellular network drops frequently, you need a reliable router with Wi-Fi calling support to overcome the same. However, since most modern routers offer Wi-Fi calling, choosing one that works fine becomes tricky. So, fret not, by the end of this article, you'll be very clear about which one to get.
Be it a household or an office, a load of multiple requests on a router can cramp the bandwidth, with the call quality going for a toss. On the other hand, an efficient router can offer optimal performance based on priority and usage. Thanks to the adaptive QoS feature that helps in prioritizing traffic as needed.
Not only does it solve the calling problems, but it also plays a role in keeping a tab on your mobile bills (on account of roaming charges) or providing cover for a dodgy cellular network. In addition, certain features ensure the router can handle the demands while offering a high-quality Wi-Fi calling experience:
A router with at least an 802.11ac adapter can handle higher data transfer speeds, enhancing your call quality. (You can consider the latest Wi-Fi 6 802.11ax, but they could be costly and overpowered for call purposes alone.)
Routers with inbuilt QoS features can prioritize the bandwidth for voice over multi-media usage.
Beamforming improves the signal quality by focusing the wireless signal towards the paired devices rather than spreading it around.
With MU-MIMO allowing multiple inputs and multiple outputs, routers can optimize the data transfer speeds for various connections simultaneously.
Applications like WhatsApp, Viber, Skype, Zoom, Google Meet support voice calling over Wi-Fi/internet. It has been around for years. However, their usage is conditional to both the caller and receiver using the same application. On the contrary, Wi-Fi calling is an inbuilt feature among the recent Android/iOS powered smartphones.
8 Best Routers for Wi-Fi Calling in 2023
Let me now get straight to the business. Here, I'll be reviewing the 8 best wireless routers that provide a smooth Wi-Fi calling experience while ensuring other clients don't face connectivity issues. But how am I so confident about it? Well, I did extensive research and tested more than 30 devices over weeks to prepare this list. Hence the reviews are based on detailed research, and you are sure to get your purpose fulfilled.
1. Best Overall:

Netgear Nighthawk RAX45
The Netgear Nighthawk RAX45 is a dual-band router that can offer ultra-high speeds with 802.11ax compatible devices. Let's learn about it in detail to know whether it suits your needs while ensuring strong connectivity for Wi-Fi calls.
Speeds & Performance
Subject to ISP and compatibility, the router can support up to 480Mbps in 2.4GHz and 3840Mbps in the 5GHz band. While the speed limits are more than enough for high-quality video conferencing, there are a lot of other things this equipment is capable of, such as high-speed media streaming on Firestick, playing games on PS4, and much more.
Hardware & Configuration
The RAX45 runs on the efficiency of a tri-core processor capable of clocking at a speed of 1.5GHz. The processing power in tandem with 512MB RAM and 256MB flash storage can handle the requirements of 4K streaming (MU-MIMO), the Dynamic QoS bandwidth allocation, Address resolution, etc.
The router can cover up to 2500 sq ft with beamforming, boosting the range of connections at 2.4 & 5GHz bands. The four antennas help to enhance signals and handle up to 20 clients.
Ports & Installation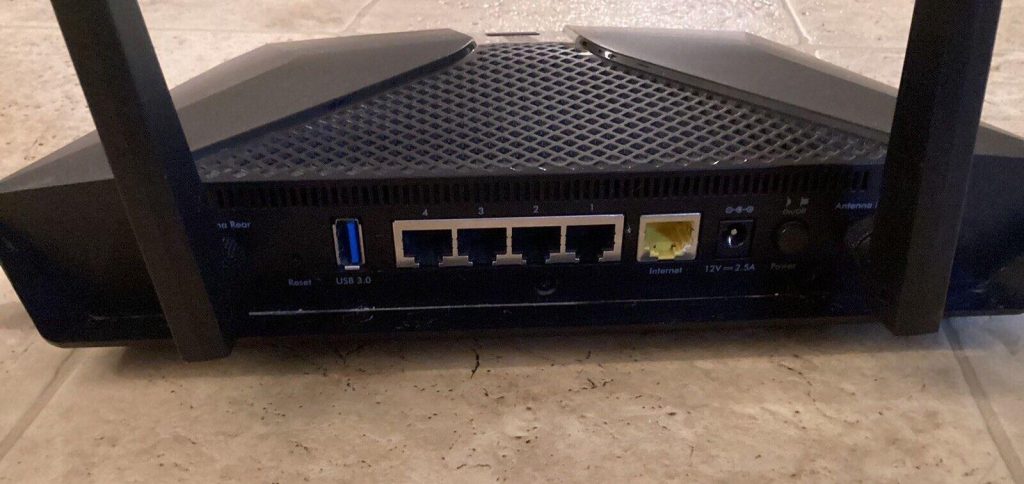 With 4 Gigabit LAN ports, 1 WAN port, and a USB 3.0 port are sufficient for handling faster file transfers, streaming, Wi-Fi calling simultaneously. This model is easy to install with its Nighthawk Application and the web interface but has limitations concerning customization.
Design & Build
At 1.25 pounds, RAX45 has a discernable presence with four antennas surrounding its rear. The front side has LEDs showing the status of power, data transfer in 2.4GHz, 5GHz, and ports.
Conclusion
The Netgear Nighthawk RAX45 with compatible devices puts you ahead of the curve with its high-end speed capacity to handle 4K streaming, HD Wi-Fi calling with ease.
Wi-Fi 6 support
Higher speed capabilities
160MHz channels support
Easy to setup
Great specs for the price
Supports only 20 devices
Range could be better
2. Best for HD Wi-Fi Calls:

ASUS RT-AX3000
The ASUS RT-AX3000 is a premium dual-band Wi-Fi 6 router that uses the state-of-art OFDMA and MU-MIMO technology to deliver high data transfer speeds to multiple devices. In addition, the 1024-QAM technology boosts the Wi-Fi signal strength throughout the apartment.
Speeds & Performance
While the actual transfer rates may vary depending on ISP and environmental factors, the router can achieve a throughput of up to 574Mbps in 2.4GHz and 2404Mbps in the 5GHz band, which is more than enough for simultaneous HD quality Voice/Wi-Fi calling.
Hardware & Configuration
A 1.5Ghz Tri-Core processor on a Broadcom Chipset powers the ASUS RT-AX3000 router. The firmware sits on a 256MB NAND (Flash Memory). The 512MB RAM accommodates the OS, IP Tables, and other processes to handle the multiple demands of Wi-Fi calling, gaming, 4K media streaming without lags.
The uber-customizable, traditional mode QoS allows you to prioritize bandwidth in tune with your preferences (voice/Wi-Fi calling over gaming/streaming or vice versa.)
The RT-AX3000 comes with 4 high-performance antennas that can deliver high speeds. While it boasts coverage of up to 3000 Sq Ft, the walls & doors can affect signal quality. But AiRadar beamforming ensures a stable, high-speed data transfer to devices for your Wi-Fi calls.
Ports & Connectivity

With 4 Ethernet LAN Ports, 1 WAN port, and a USB 3.1 port, you will rarely run out of ports for high-speed wired connections. In addition, the USB 3.1 port can connect any compatible device (printer, hard disk, or an additional internet dongle).
The manufacturer has come up with an easy-to-setup interface with a plethora of control (via devices/time limits) over content and access. All this without the necessity to log in to a PC. All you need to do is install the ASUS Router app available for Android and iOS and configure your router with relative ease.
Design & Other Features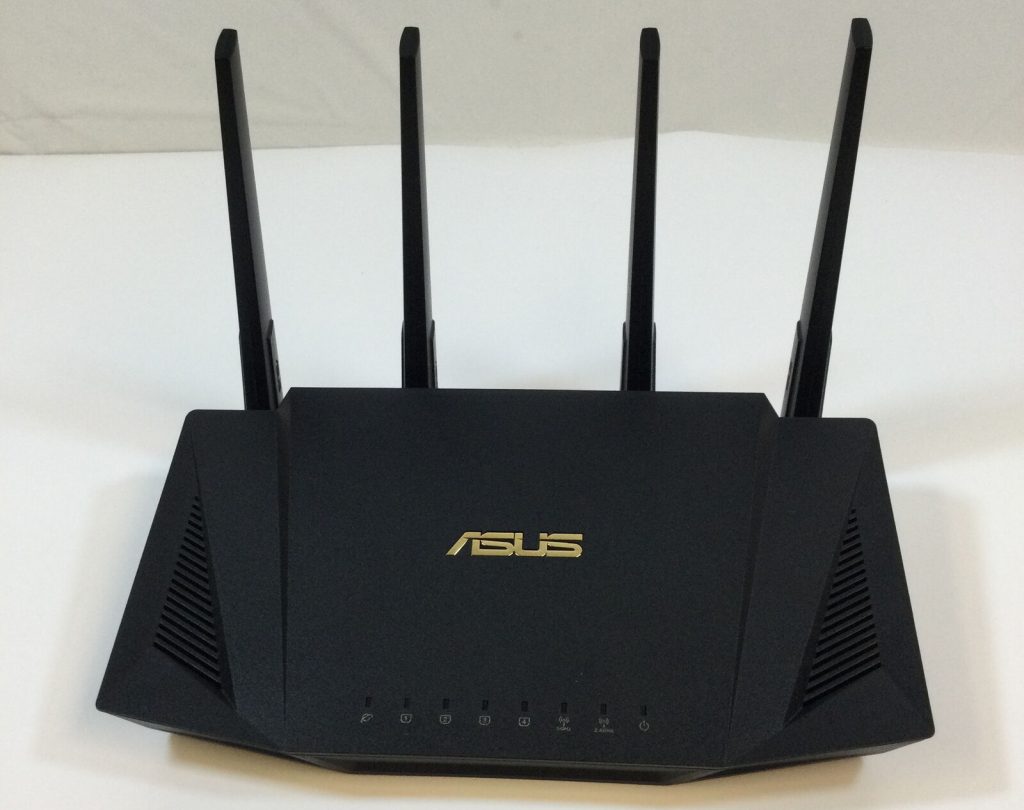 A bulky matte-finish router with an ASUS logo placed on the front followed by LED indicators below looks stylish. In addition, the user-friendly and easy ASUSWRT/Router UI setup is loaded with content filter features for parental controls, AiProtection, and QoS settings.
Conclusion
The Wi-FI 6 standard, MU-MIMO coupled with 1024-QAM, QoS, AiRadar beamforming, and many features, including AiMesh compatibility, makes a strong case for me to recommend the Asus RT-AX3000, only if you can afford it.
Note: It is a standalone router that requires a modem recognized/installed by ISP.
MU-MIMO and OFDMA
Beamforming and QoS
Excellent speeds and range
AiProtection security
Ai-Mesh compatible
Includes USB 3.1 port
Dual USB port could be better
3. Best for Home Use:

D-Link DIR-2640-US
Speeds & Performance
With MU-MIMO, intelligent QoS optimization, and DLNA support at its helm, the D-Link DIR-2640 can deliver high speeds up to 800 Mbps, 1733 Mbps at 2.4GHz and 5GHz to keep you entertained and connected.
Hardware & Configuration
The power of a dual-core processor and 256MB RAM allows the router to cope with the demands thrown at it by gaming sessions on Xbox One, multimedia streaming, voice calls, etc. Moreover, the 128MB flash memory provides room for the firmware and its future updates.
The synergy of four big antennas, MU-MIMO and AC SmartBeam beamforming, can make this dual-band router deliver high-speed internet to multiple devices and unlock the dead spots at your small to medium-sized home (1500 sq ft). A Wi-Fi calling solution to shaky cellular networks and a lot more.
Ports & Connectivity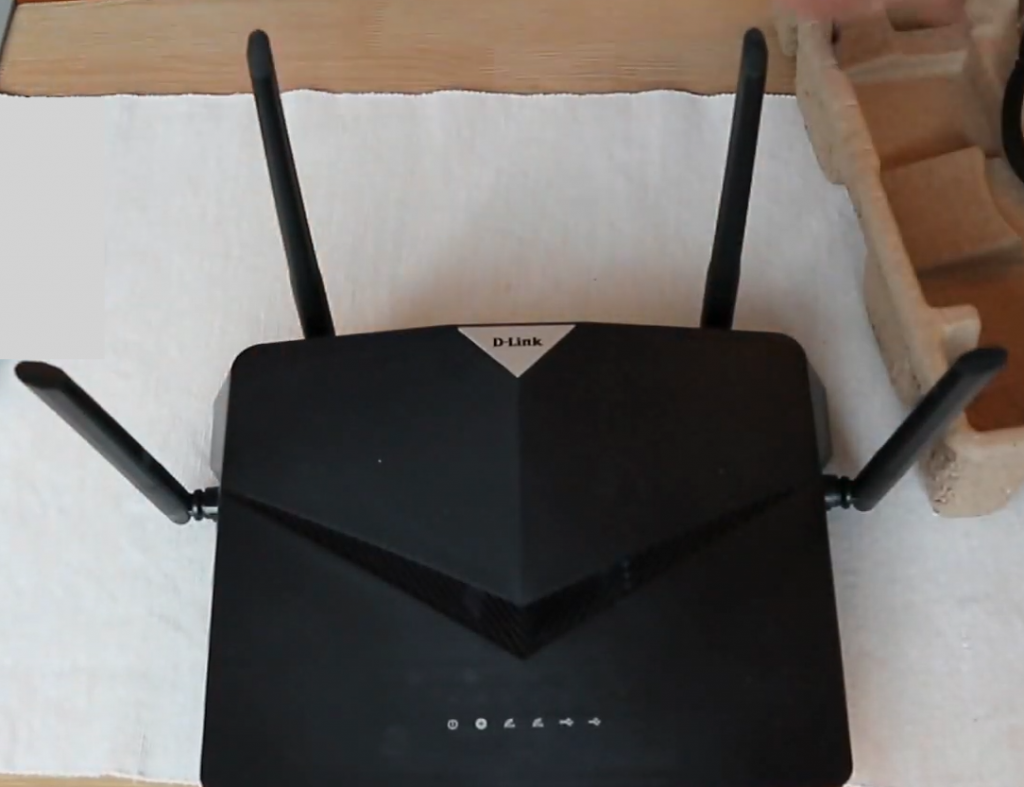 The 4 Gigabit Ethernet LAN, 1 Gigabit WAN, can take care of wired connections, and two USB (one 3.0 and one 2.0) ports will tackle the media/printer sharing requirements. Using either the D-LINK Wi-Fi mobile app or Web UI is easier, but any changes to the settings may test your patience.
Conclusion
At 1.28 lbs, the router has a compact plastic body with 4 big antennas, barely noticeable LED lights, and an awkwardly placed USB 3.0 port. At a moderate price, the DIR-2640-US makes up for the design with a performance that can give tough competition for other routers at a $100 price range.
Affordable price
MU-MIMO & AC SmartBeam
Intelligent QoS
4×4 Spatial Streams
Wave 2 – Increased throughput
No Parental Controls
Limited customisation options
4. Best Tri-Band Router:

Linksys EA8300
Speeds & Performance
A quad-core processor aided by beamforming, MU-MIMO, link aggregation can pack powerful performance and achieve high internet speeds of 400 Mbps in 2.4GHz and 867 Mbps in dual 5GHz bands on Linksys EA8300.
The airtime fairness and smart connect ensure there is enough bandwidth across the devices to handle Wi-Fi calling, media streaming/downloading, and online gaming.
Hardware & Configuration
A 716MHz quad-core processor on a Qualcomm IPQ 4019 chipset, supported by three offload processors with sufficient operating and storage memory of 256MB each, can handle the overload of a household with a high number of Apple devices.
The 4 adjustable antennas boosted by amplifiers coupled with Beamforming and SmartConnect band steering optimizes the internet usage for over 15 devices in a surface area of around 1500 sq ft.
While the coverage area seems to be less than its competition, the tri-band router compensates by providing stable high-speed internet.
Ports & Connectivity
With 1 Gig WAN, 4 x 1 Gig LAN ports, and one USB 3.0 port can handle the wired high speed and data sharing requirements in a medium-sized household. The Linksys mobile application and the web interface offer in-depth control over the settings.
Even a non-tech-savvy person can breeze through the initial installation and put the router to test in a matter of a few minutes.
Conclusion
The bulky antennas surround the router in a generic Linksys design with a small yet bright display screen on top of the body that weighs 1.35 lbs in total. If you want a sub $100 router that offers stable high-speed internet distributed to a few devices with plenty of customization and control, this Linksys EA8300 will be a keeper.
Double 5GHz Band
Link Aggregation for increasing speeds
3 Offload Processors
MU-MIMO and Beamforming technology
Alexa enabled
Limited range
Lower max speed support
5. Best for Office Use:

Netgear Nighthawk R7350
Speeds & Performance
The Netgear Nighthawk R7350 comes with an impressive array of features with NETGEAR security to bring the best out of your internet connection and achieve maximum speeds of 600Mbps and 1733Mbps in 2.4GHz & 5GHz, respectively.
Hardware & Configuration
The dual-core 1GHz processor on a Broadcom BCM4709A0 chipset, along with a 256MB RAM, can find enough power to handle the load a midsize household would throw. The operating system finds its space in a 128MB Flash memory.
The Nighthawk R7350 is a sub $100 Wi-Fi router that requires an external modem or internet subscription. With 3 geared antennas broadcasting Wi-Fi signals at 2.4GHz and 5GHz bands, the router can power up to 30 devices across a surface area of 2500 sqft.
The beamforming and MU-MIMO technology ensure the speed remains consistent and stable for media streaming and voice calling over Wi-Fi.
Ports & Connectivity
The 4 Gigabit Ethernet ports and 1 WAN port allow you to have high-speed wired connections. It also features one USB 3.0 port which can be used to add additional devices like hard drives, printers, etc. In addition, one can use the user-friendly, intuitive nighthawk application to finish the initial setup in less than five minutes.
Conclusion
Weighing 1.65 pounds, the sub $100 router successfully provides stable throughput in 2.4 and 5GHz bands. With Beamforming+, QoS, and MU-MIMO support, this router becomes a strong contender to keep your home powered with stable internet.
Beamforming technology
Supports up to 30 devices
Inlcludes one USB port
MU-MIMO technology
Dynamic QoS for better traffic management
6. Best for Work from Home:

TP-Link Archer A7
Be it voice/wi-fi calling or online surfing or media streaming, this TP-Link Archer A7 AC1750 can handle the requirements with ease in a home setup.
Speeds & Performance
It doesn't boast of MU-MIMO or Beamforming technologies, but it can deliver maximum speeds of up to 450 Mbps in 2.4GHz & 1300 Mbps in 5GHz. It has an easy interface to maintain control over parental/access settings and QoS priority.
Hardware & Configuration
A single-core 750MHz processor on a Qualcomm chipset with 128MB RAM and 16 MB flash memory can take care of the basic demands of a small household. The three antennas towering from its rear end can disperse Wi-Fi signals at 2.4GHz and 5GHz up to a maximum of 50 devices with optimal load across a surface area of 2500 sq ft.
Ports & Connectivity
The Archer A7 has a standard 4 Gig Ethernet LAN and 1 Gig WAN to handle wired connections. The USB 2.0 port can facilitate a shared network printer or a hard drive within your home network. The TP-LINK Tether application has a breezy interface to help a novice set up the router in less than a few minutes.
Conclusion
A traditional black TP-link design weighing approximately 0.90 lbs has got its basics right with extensive parental and access controls, QoS, VPN, and easy to manage Tether mobile application at a wallet-friendly budget.
Parental & Access Controls
Easy setup
QoS by device priority settings
Upgradable to a Mesh Network
VPN Support
Limited customizability
No USB 3.0
7. Best for Business:

ASUS RT-ACRH12
The ASUS RT-ACRH12 is a dual-band entry-level router that offers a budget solution for your home networking requirements.
Speeds & Performance
Asus claims a maximum combined speed of 1200Mbps. Coming to the individual speeds, the 2.4GHz band can provide up to 300Mbps and 867Mbps in 5GHz, but the LAN capacity can limit it. But it compensates with an easy setup, a user-friendly interface with adequate controls, and stable performance in 2.4GHz/5GHz to smoothen your Wi-Fi calling experience.
Hardware & Configuration
The 775MHz MIPS processor, along with 128MB RAM and 16MB flash memory, can take care of your basic internet requirements.
This dual-band ASUS router comes with four antennas, operating at 2.4GHz and 5GHz. While it has a large coverage area of 3000 Sq Ft and can handle an ample number of devices, the limited speed ethernet port can restrict its performance.
Ports & Connectivity
The 4 LAN ports and 1 WAN port at the rear can handle Wi-Fi/voice calling, surfing, and downloads with ease. It also offers 1 USB 2.0 port that lets you connect devices like printers, hard drives, etc. The ASUS Router App and the web interface make the initial setup very simple. In addition, it offers a good deal of customization options to manage your internet settings.
Design & Build
The Asus RT-ACRH12 is a compact, lightweight router weighing just 0.80 lbs with all the ports placed at the rear. Fortunately, there are also LED lights in the front that indicate signals, power, etc.
Conclusion
It comes with an easy-to-use mobile app with customizable QoS, MU-MIMO, parental controls, and the ability to easily handle minimal requirements like voice/wi-fi calling and media streaming. All this comes at a very affordable price.
Excellent coverage
MU-MIMO technology
Parental Controls
User-Friendly Interface
Has LED indicators
Affordable price
Limited LAN/WAN Bandwidth
8. Cheapest Option:

D-Link DIR-1260
The D-Link DIR-1260 features a dual-core processor, WPA 3 security standards, basic parental controls, and good aesthetics. All this for $50, which is great value, isn't it? Now, let's learn more about this budget-friendly routing device to know if it's worth investing in for regular internet usage Wi-Fi calling.
Speeds & Performance
Either as a standalone or as a part of a mesh Wi-Fi system, this router, with the support of MU-MIMO, can deliver high transfer rates to multiple devices at a maximum speed of 300Mbps in 2.4GHz and 867Mbps in the 5GHz band. So, if you have a low bandwidth internet plan like 200 Mbps, this budget router would be an excellent choice.
Hardware & Configuration
The 880MHz dual-core processor with 128MB RAM offers a sufficient performance boost to achieve consistent throughput speeds for all the devices. In addition, the firmware and its subsequent updates can fit into a 128MB flash memory.
This configuration can easily handle voice/Wi-Fi calling, media streaming, and internet browsing on multiple clients. The four antennas help deliver and focus the wi-fi signal at dual bands to multiple devices over a surface area of 1500 Sq Ft (approximately).
Ports & Connectivity
The 4 Gig LAN and 1 Gig WAN port bring enough wired connection capacity and unrestricted wi-fi/voice calling experience. However, the lack of a USB port may restrict media sharing within the network. On the other hand, the D-Link Wi-Fi app and intuitive web interface get the router running in a few minutes.
Conclusion
At 0.71 lbs, the D-Link router is lightweight with power, WPS, reset buttons, ethernet ports at the rear, and four LED lights at the front. For below $50, the router supports MU-MIMO, WPA 3 encryption, and parental controls. So, if you are okay with the absence of a USB port, this is a great pick in this price range.
Supports MU-MIMO
Great design
Gig Ethernet ports
Parental controls
Mesh compatible
Alexa/Google Assistant voice control
Range not specified
Lacks USB port
Frequently Asked Questions
What is the best budget router for wi-fi calling?
The TP-Link AC1200 operating at dual-band with beamforming technology, customisable parental /access controls, QoS settings to prioritise device and bandwidth is amongst the best budget routers. Archer A7 from TP-LINK and ASUS RT – AC1200 V2 end up being close competitors.
Can I use Wi-Fi Calling without carrier service?
No, Wi-Fi calling as a feature depends on two factors. One is the hardware support, and the other, the network carrier. Even with a Wi-Fi calling enabled device and an active cellular network, it will not work if the cellular network provider doesn't support it.
How to know if my phone allows wi-fi calling?
Wi-Fi calling is available on most of the latest android/iOS devices. The network service provider lists the set of compatible devices. You can activate it under the Settings – connection settings tab in Android devices and Settings- mobile data in iOS devices.
Are VoIP and Wi-Fi calling the same?
No, while the underlying technology remains the same, Wi-Fi calling is a feature inbuilt in the phone. It is not dependent on any external application or a service provider. The device can toggle between cellular and Wi-Fi calling seamlessly, depending on the availability of the network. The VoIP works only on a Wi-Fi connection.
Is 2.4 or 5GHz better for Wi-Fi calling?
While internet speed is essential for Wi-Fi calling, both frequencies work better in different situations.

The 2.4 GHz is better at covering larger surface areas and penetrating opaque obstacles. The 5 GHz uses short radio waves to provide faster speeds with minimal interference. The walls and solid objects can affect their performance.
Verdict
Most of the routers mentioned in the list can handle the demands of Wi-Fi calling. It is the personal preferences that decide if a router is a perfect fit or not. Here are some of my recommendations:
The

Netgear Nighthawk RAX45

and

ASUS RT-AX3000

are two future-proof devices that come with a comprehensive set of features that can support modern smart homes.
The

Linksys EA8300

is a budget tri-band router with sufficient features to back its price tag.
One cannot expect the support of MU-MIMO, parental controls, mesh compatibility, aesthetically pleasing design, and a powerful processor altogether in a sub $50 router. However, the

D-Link DIR-1260

breaks that stereotype and provides the perfect balance between features and price.
Still haven't found the perfect router for your needs? Comment below!
For Morton, reviewing a router is just like spending another day at the office. As BCCA's senior copywriter, Morton believes is explaining every concept concerning routers, networking technologies, and additional routing specs. Also, Morton is our go-to man if we are looking to get the ISP-dependent internet plans tested across devices.