Purchasing your own router for Verizon Fios not only removes the absurd monthly equipment rental but also gives you more control. For instance, you can easily change the advanced settings for better bandwidth prioritization, QoS, security, etc.
Already rented equipment from Verizon Fios? You must've noticed internet throttling, coverage, connectivity, and other network-related issues. The good thing is you can get rid of all the problems by purchasing a Verizon FiOS compatible router (which also provides a better ROI, as you can own the device in 12 months of equipment rental fee.)
It doesn't matter whether you're subscribed to Verizon's fastest gigabit connection or are on the mid-speed 400 Mbps plan or even the slowest 200 Mbps internet connection. The Verizon FiOS compatible routers featured here cater to the needs of everyone. Choose the device that can handle the internet speeds of the plan you've subscribed to.
6 Best Routers for Verizon FiOS in 2023
My top 6 recommendations featuring the best options come from a comprehensive analysis of over 40 wireless routers that work with Verizon FiOS. Couple one of these models with a MoCA Ethernet adapter, and you can ‌replace the Verizon router that comes with your internet and TV bundle. This saves you a great deal on the monthly rentals.
And just to give you a basic overview, the list features premium offerings at the top, followed by a couple of mid-range options and budget-centric models at the end.
1. Best Overall:

TP-Link Archer AX90
A better processor and upgraded memory backing up its improved capacity give a substantial improvement over its predecessor. The extra capacity comes in handy when you have plenty of devices weighing on your network. A complete package with the latest wireless standards makes TP-Link Archer AX90 the best Wi-Fi 6 router for Verizon FiOS.
Why is it suited for Verizon FiOS?
Operating at tri-bands, the FiOS compatible router can achieve upto 574Mbps on the 2.4GHz, while it can scale up to 4804Mbps on the primary 5GHz band and 1201Mbps on the secondary 5GHz. With a gigabit connection, the results were impressive, with devices clocking download speeds over 900Mbps & upload speeds of 500Mbps on the primary 5GHz band.
At the helm of Wi-Fi 6 standard and the latest technologies like OFDMA, MU-MIMO, and the aid of additional 160MHz channels makes this an ideal match for the FiOS Gigabit.
Coverage & Performance
The routing device brings the capacity to handle up to 30 devices spread across a 2K sqft home with ease. Even with multiple heavy streaming devices sharing the internet, it's hard to notice any drops in performance.
Design & Port
The 2-pound routing device comes in a glossy stripped chassis. You'll notice 8 external beamforming antennas encircling the router on three sides.
TP-Link packs a 2.5G WAN port, 1 WAN port, 3 Ethernet ports, and 2 USB ports on the rear side of the unit, measuring 12.2 x 8.1 x 6.8 inches.
Hardware Specs
It was hard not to be impressed with the processing capacity of the 1.5GHz quad-core processor. If you require a routing device with a stronger memory duo of storage and RAM for heavy multitasking?
The combination of 512MB RAM and 128MB storage will give the capacity to ease through ‌high graphic games like Red dead redemption, Far Cry, and data-intense 4K/8K streaming along with a multitude of mobile gadgets.
Setup & Security
Complete the setup with either the Tether application or the web interface. If you are looking for remote management, the Tether app comes in handy. The security of Homeshield Pro coupled with the latest WPA3 encryption, parental controls, inbuilt firewalls, and VPN support forms comprehensive security and privacy package.
Conclusion
Are you on the lookout for a powerful tri-band FiOS Wi-Fi 6 router for your automated home with advanced protection? It's hard to ignore the capacity and security of Archer AX90. Excellent wired connectivity and multi-gigabit port keep it above the strong competitor in Asus.
Wi-Fi 6 Standards

Seamless Tri-band operation

Multi-gigabit WAN port

MU-MIMO &

Beamforming

HomeShield Pro security
2. Best Runner Up:

Asus RT-AX82U
Asus ramps up the support for gaming over its previous version to deliver an improved gaming experience. The gaming support backed by a robust processing unit keeps the ASUS RT-AX82U close to the top of my list of FiOS compatible routers.
Why is it suited for Verizon FiOS?
Individual speeds of 574Mbps on the 2.4GHz band and 4804Mbps on the 5GHz band offer plenty of bandwidth for your devices at home. At the helm of a 1Gbps internet plan, the devices pulled off download speeds over 900Mbps on 5GHz and consistent 300Mbps download speeds on the 2.4GHz band.
Tag it with a gigabit connection of Verizon FiOS. Bring the most out of your internet connection by selecting the latest features like MU-MIMO and OFDMA. The adaptive QoS prioritizes traffic to optimize your performance.
Coverage & Performance
The RT-AX82U can manage up to 25 devices. The seamless coverage of 2500 Sq Ft makes it one of the best-suited routers for 2 story houses. The routing device pulls off an impressive performance even with multiple ‌heavy data-intense activities and keeps dead zones at bay.
Design & Ports
At 1.6 pounds, this glossy black chassis sports a multi-angled design with colored lights on the front sign.
The 4 beamforming antennas find themselves on the back amongst a 1Gig WAN port, 4LAN ports, and a fast USB 3.2 port. The device measures 10.8 x 7.3 x 6.5 inches, with all its antennas extended.
Hardware Specs
A Broadcom-based chipset with a 1.5GHz triple-core processor works in tandem with a 512MB RAM and 256MB flash storage to ease through even the heavy loads of 4K streaming, audio/video calls, mumulti-player gaming, and remote work solutions.
If you are looking for a routing unit with gaming capabilities, you'll enjoy the gaming support the AX82U offers.
Setup & Security
The guided setup of the web-based interface makes the process quick and easy. The Asus router app allows you to switch between gaming modes with a touch. Customize your device blacklist, access filters, and advanced port setting via the web portal.
Are you looking to avoid additional subscription costs? The AiProtection Pro offers lifetime internet protection with extensive parental controls and an extensive real-time traffic tracking system.
Conclusion
If you have a household filled with a bunch of mobile gaming enthusiasts, it's hard to miss out on multiple gaming modes of RT-AX82U and the dedicated gaming port. Bandwidth capacity, mesh scalability, and gaming features put this gaming beast above its Netgear counterpart.
Wi-Fi 6 standard

MU-MIMO,

OFDMA,

Beamforming

Dedicated mobile gaming mode

160MHz channels support

Lifetime internet protection
3. Best Router for FiOS Gigabit:

Netgear RAX45
The improvements to the processor make Netgear Nighthawk RAX45 a better choice than its predecessor RAX40. The selection of advanced features and the security of the Netgear ecosystem at a very competitive price make it a top pick as a FiOS gigabit router.
Why is it suited for Verizon FiOS?
The top device speeds of 480Mbps & 3840Mbps on 2.4GH and 5GHz, respectively, offer plenty of bandwidth. Consistent download speeds of 800Mbps on 5GHz with a 940Mbps plan and an impressive 250Mbps on 2.4GHz make this suitable to pair up with the Gigabit connection of Verizon FiOS.
With MU-MIMO, and OFDMA optimizing the communication between the devices and router, it ensures the bandwidth is used to its full extent. Assign top priority to the essential gadgets with the manual QoS.
Coverage & Performance
A range of 2500 sq ft would be the right fit for covering medium-sized homes. The capacity of 20+ devices will allow room for smart TVs, gaming consoles, tablets, and mobile devices to share the high-speed internet.
Design & Ports
The matte-black finish on a heat-regulated design gives the Verizon compatible router a premium feel. Netgear aligns all 4 beamforming antennas on its rear half. At 1.25 pounds with a sleek aesthetics measuring 11.6 x 8.11 x 2.25 inches.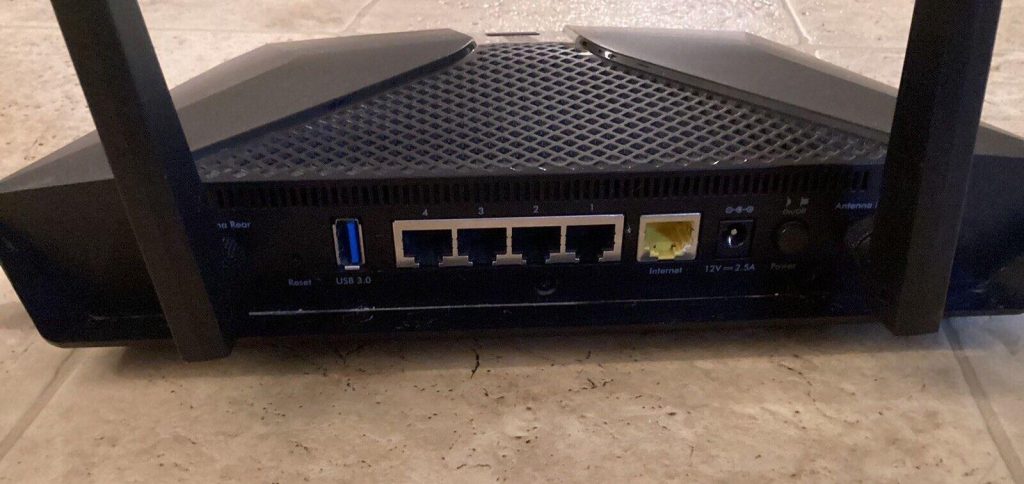 You'll have 4 Ethernet ports, 1 WAN port, and the 3rd gen USB port to wire your gadgets, printers, and storage devices.
Hardware Specs
With the three efficient cores clocking at 1.5GHz, Netgear brings the capacity to handle multiple TV units, gaming consoles, and desktops. Supplemented by 512MB operating memory and 256MB flash storage, the multitasking beast can maintain its performance levels with many activities, including video calling, gaming, and 4K streaming.
Setup & Security
Use the Nighthawk mobile app or the web portal to perform the initial setup. Is remote management an essential requirement? Nighthawk mobile app brings you the facility with its advanced internet protection. The inbuilt VPN and firewalls offer a layer of protection over and above the WPA3 encryption standards.
Conclusion
Do you need a solid Wi-Fi router for congested apartments? The RAX45 comes with support for additional DFS and 160 Mhz channels that make a strong case in its favor, pushing Archer AX-55 further down the list.
Wi-Fi 6 support

MU-MIMO & OFDMA

DFS channels support

Armor advanced protection

Beamforming
4. Best Value for Money:

TP-Link Archer AX55
A stronger processor and improved memory make TP-Link Archer AX55 a preferred router to work with Verizon FiOS over its predecessor AX50. Combining the latest features, competitive pricing, and ease of usage warrants its inclusion in the list of best Verizon routers.
Why is it suited for Verizon FiOS?
High speeds of 574Mbps at the 2.4GHz band and 2402Mbps on 5GHz allow the device to deliver a download speed of 450Mbps over a 600Mbps internet connection on the 5GHz frequency. The legacy devices achieved download speeds close to 200Mbps.
The aggregate speeds make it a better fit for the 500Mbps plan of Verizon FiOS. You'll not have to worry about sharing the bandwidth with multiple devices; credit to the advanced technology and features like OFDMA, MU-MIMO making a light work of simultaneous connections.
Coverage & Performance
Archer AX-55 allows ease of operation at a limit of 25 devices. The coverage of 2500 sq ft offers stronger signals across medium-sized homes. While you might have to manage heavy loads, you will still be able to use your TV, desktop, tablets, and mobile gadgets without hassles.
Design & Ports
The beveled top on a shiny black chassis is as standard as other TP-Link devices. The 4 external beamforming antennas are interspersed amongst 1 WAN port, 4 Ethernet ports, and a sole USB port.
Attach printer or USB dongles or hard drives and get fast transfer speeds. The lightweight unit fits within 10.2 x 5.3 x 1.5-inches and weighs 2.1 pounds.
Hardware Specs
The 1GHz dual-core processor, in synergy with a 512MB RAM and 128MB storage, can pull through binge-watching in OTTs, simultaneous gaming and twitch streaming and voice/video calling, and surfing on smartphones.
Setup & Security
User intuitive design of the Tether mobile app and the web interface makes a breeze out of installations. Tether App allows you the comfort of creating guest networks, monitoring internet activities, and controlling consumption while you're on the move. The Homeshield Pro offers protection from intrusions & cyber attacks.
Conclusion
TP-Link AX3000 finds a perfect balance between features and price. A suitable choice for users wanting to future proof their internet with the option to scale into mesh networks. The overall bandwidth capacity and coverage keep it above the R6700AX from Netgear.
Wi-Fi 6 standard

Beamforming antennas

MU-MIMO support

160MHz & DFS Channels

Excellent value for money
5. Best for Small Homes:

Netgear R6700AX
A hardware overhaul adds a plethora of features and capabilities to the Netgear router, making it a far better version than the previous model, R6700. The solid hardware unit with the Wi-Fi 6 standards makes Netgear R6700AX a top choice as one of the best wireless routers for Verizon FiOS.
Why is it suited for Verizon FiOS?
Individual speeds of 600Mbps and 1200Mbps at 2.4GHz & 5GHz allow the router to achieve download speeds of 350Mbps on 5GHz with a 500Mbps plan. Devices clocked upload speeds of 150Mbps.
With smart QoS and MU-MIMO, the Fios Wi-Fi 6 router will find its ideal match in the 500Mbps of Verizon FiOS.
Coverage & Performance
A model capable of 20 devices and coverage of 1500 sq ft puts it in place to handle the demands of a small household with a limited set of devices, including a TV, desktop, smartphones, and tablets.
Design & Ports
The matte finish in a sleek chassis and compact design allows the device to blend into any household. It weighs 1.1 pounds and measures 9.27 x 7.26 x 2.25 inches.
The 3 external beamforming antennas are placed amid 4Gig LAN ports and 1WAN port.
Hardware Specs
A robust 1.5GHz quad-core processing unit finds itself in the company of 512MB RAM and 256MB storage, making this a solid multitasking unit. It makes it easier to support high-quality Twitch streaming and gaming activities.
Setup & Security
The Nighthawk mobile application and web setup keep the initial setup simple. With protection from intrusions and DDOS attacks, the Netgear Armor offers the best ecosystem to keep the cyber threats at bay at the cost of a subscription. The latest WPA3 encryption, parental controls, and built-in firewalls provide your home network with standard security.
Conclusion
Are you looking for a good router for Verizon FiOS on a budget? It's hard to ignore the value offered by Netgear's R6700AX. Suppose you can live without a USB port, in that case, there is hardly a reason to look beyond this routing unit which is backed up by solid hardware and a secure Netgear ecosystem.
Wi-Fi 6 support

Quad-core processor

MU-MIMO & Beamforming

Works with Alexa

Netgear Armor security
6. Best Budget Router for Verizon:

Asus RT-AC67P
Upgrades to the processing unit make Asus RT-AC67P a better choice than its preceding version. Priced aggressively, ASUS doesn't less you miss the essential features. This is a powerful statement that warrants its inclusion in the list of Verizon FiOS compatible routers.
Why is it suited for Verizon FiOS?
The individual band speeds of 600Mbps 2.4GHz & 1300Mbps on the 5GHz band are substantial for smaller households. The devices achieved download speeds of 220Mbps with a 300Mbps service package, making this ideal to pair with a 300Mbps plan from Verizon FiOS.
MU-MIMO ensures the devices don't miss out on the bandwidth capacity. Optimized communication between the wireless router and devices establishes simultaneous data streams.
Coverage & Performance
Despite being a low-budget option, the Asus RT-AC67P can be the perfect router choice for large homes. Adding to that is the ability to accommodate up to 30 devices within the network. The device includes laptops, desktops, tablets, smartphones, and TVs.
Design & Ports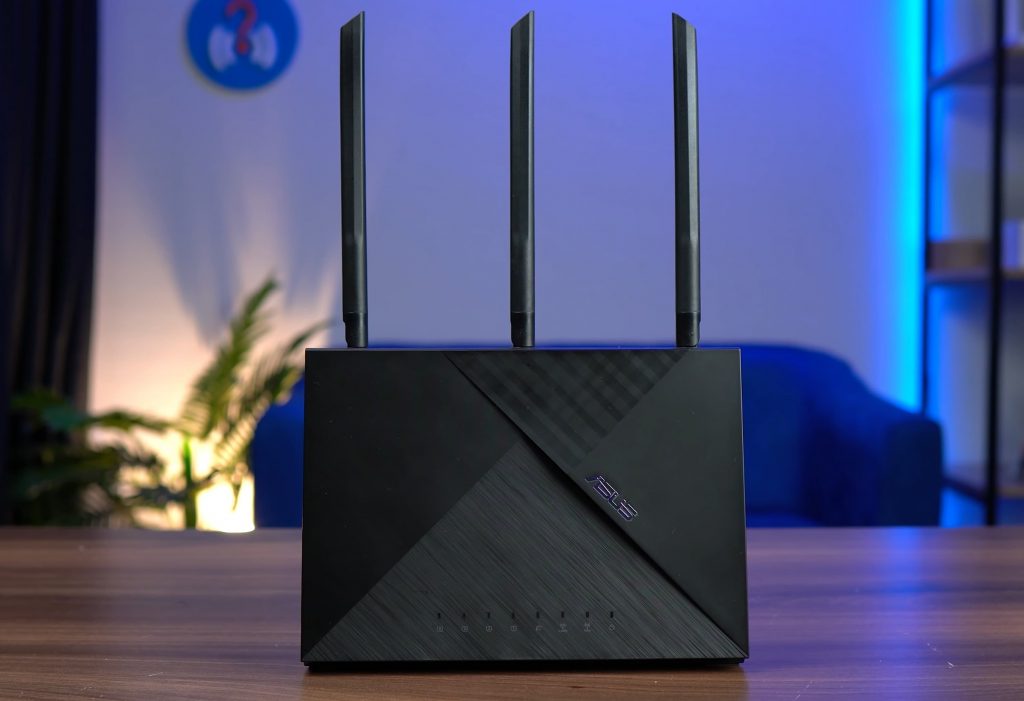 The lightweight design and multiple shades of gray give an aesthetic look to the device. Three beamforming antennas tower above the routing unit. The wall-mountable unit hardly weighs over a pound while measuring 8.66 x 6.3 x 3.43 inches.
The 4 Gig Ethernet ports, 1 WAN port & a USB 3.0 port, keeps your devices connected.
Hardware Specs
The 1.2GHz dual-core processor and 128MB RAM & storage memory duo are crucial to its processing ability. While it can handle data-laden media streaming & gaming activities, the hardware capacity will be tested in multiple instances.
Setup & Security
The web-based setup keeps the initial setup quick and simple. Asus Router App comes in handy with easy management options. Security features like WPA2 encryption (learn how to configure a router for WPA2 security) & firewalls prevent any unauthorized usage. Use parental controls to control the kid's internet exposure.
Conclusion
If you're looking for a 100-dollar budget router for your large home, Asus RT-AC67P is a perfect fit. The balance of features at an affordable price makes this one of the best budget wireless routers for Verizon FiOS.
MU-MIMO & Beamforming

Extended coverage of 3000 Sq Ft
Supports up to 30 devices

Let's you create a guest network

Has parental controls
Pocket-friendly
Buying Guide to Choose the Best Router for Verizon FiOS
Still indecisive about the FiOS router replacement? Go through our buying guide to get more clarity on the decision-making process.
Decide Your Needs
Figuring out the requirements is the most critical step in finding the best Verizon router. Factors like size of household, device list, and activity play a crucial role.
Noting down the requirements and personal preferences gives you the clarity to prioritize them. Once that's done, you can map them with a narrowed list of routers compatible with Verizon FiOS before picking the suitable device.
Check Compatibility with your FiOS Plan
While most recent devices are compatible with FiOS internet, spending on the non-compatible plan isn't a sensible investment. A high-speed plan without the backing of solid hardware is as pointless as choosing a pricey device for a basic internet package.
Choose the device from your ISP's suggested list of routers, compare the features with other devices in the market, and pick a device that complements your internet connection and matching specifications.
Wi-Fi Standard & New Features
If you are looking for the best router to use with Verizon FiOS, the Wi-Fi standard plays a crucial role in the speeds. While a Wi-Fi 5-powered routing device would be more useful in households with more legacy devices, Wi-Fi 6 is the best bet if you have the latest Apple devices.
If you seek a reliable Wi-Fi router for plenty of devices to get the most out of the internet, look for the latest features like MU-MIMO, QoS, and OFDMA. These features employ the newest technology to optimize the communication between the router and devices by making the best use of available data streams.
Coverage & Devices Support
It'd be frustrating to be left with weaker Wi-Fi signals within your home. Look at the claimed range. Coverage of 1500 sq ft will be a suitable fit for smaller homes. As the home size increases, look for wireless routers with a range of up to 3000 sq ft. Having adjustable external antennas works to your advantage.
The device capacity and performance are determined by the CPU and Memory unit. Look for a more robust multi-core processor and adequate operating and storage memory.
Ports & Connectivity
Do you want to share a printer or storage device within your household? An easier way to connect it to your home network is to use a USB port. The data transfer speeds improve with the latest USB port version. USB 3 ports are ideal for sharing a printer and work well even with a USB 2.0 port.
Are you interested in multiplayer gaming? Look for a router with multiple ethernet ports that allow stable wired connectivity access.
Installation, Management, Security
In most cases, you'll get web-based and app-based installation and management. Look for a remote facility in mobile applications if you want control over the internet while away from home. If you're paranoid about internet security, look for advanced protection of the Netgear Armor and TP-Link's Homeshield Pro.
Frequently Asked Questions
How can I replace my Verizon FIOS router? 
Follow the below-listed steps to replace your Verizon FIOS router:
1. Buy your router to replace the rental one.
2. Connect your existing Verizon router to your ONT via Ethernet.
3. Call Verizon technical support to switch your ONT from coax to Ethernet.
4. Release the IP address on your Verizon router.
5. Lastly, factory reset your Verizon router.
How to know if a router is compatible with Verizon?
According to Verizon, any modern-day routing unit can work with the Verizon FIOS ONT device. You need to plug your router into the ONT using the Ethernet cable and check whether the settings are switched from coaxial to Ethernet. If it's not, you may have to call Verizon customer service to enable this setting.
What are Verizon FIOS internet plans?
Following are the Verizon FIOS internet plans:
1. Internet 200/200 at $39.99 per month.
2. Internet 400/400 at $59.99 per month.
3. Fios Gigabit 880 Mbps at $79.99 per month.
Verdict
You might be tempted to opt for rental equipment provided by Verizon FIOS, but it won't fulfill all your requirements even though it delivers a reliable speed. That's why it's best to purchase your routing device to take care of all your needs that require a stable network connection.
I hope that this article answers all your questions and helps you find the best Wi-Fi router for Verizon FiOS. If you're still confused, here are my quicks suggestions:
If you want a high-end premium Wi-Fi 6 router to pair with the Verizon Fios gigabit plan, go for

TP-Link Archer AX90

.
If you're looking to complement your Work From Home or a small to medium-size office, the

TP-Link Archer AX55

is your best bet. At just below $130, it offers the latest wireless standards, excellent speed, coverage, and support for 25 devices.
If you have gaming and streaming enthusiasts in a large household, nothing can beat the

Asus RT-AX82U

.
If you're on a low budget,

Asus RT-AC67P

won't disappoint you. It can be paired with a 200 Mbps plan from the ISP.
Hopefully, with such a wide variety of router options available in the market, you'll find one that fulfills your network needs.
For Morton, reviewing a router is just like spending another day at the office. As BCCA's senior copywriter, Morton believes is explaining every concept concerning routers, networking technologies, and additional routing specs. Also, Morton is our go-to man if we are looking to get the ISP-dependent internet plans tested across devices.