Do you like streaming movies and web series on your HDTV, to unwind after an exhausting week? Or are you planning to expand your B&B's revenue model with private rooms and smart TVs? It doesn't matter what your requirements are if you are on a hunt for a router capable of handling multiple devices, including TV and gaming consoles, for a large household? Do read on.
Drop in the streaming quality can be frustrating when you plan to binge-watch the latest shows on OTT platforms like Netflix, Amazon Prime, etc. on the weekends. Yes, of course, you don't want to miss out on the content limited by geo-restrictions. But, you may also want a router with security features and parental controls.
The shortlisted routers will cover your prerequisites besides offering the latest wireless standards (Wi-Fi 6), simultaneous Tri-band operation, and the ability to handle congested networks. Wired connectivity, bandwidth prioritization, and VPN support are, amongst other features, emphasized in the routers chosen here.
Best Routers for Streaming TV in 2023
Factoring the support streaming devices as a prerequisite, the routers nitpicked here are an end product of a comprehensive analysis of a shortlist of over 40 routing equipments in the market.
Starting with a top-end router, the list comprises a wealth of value-for-money choices covering a diverse list of standalone routers and mesh systems. The article ends with some wallet-friendly choices of routers for streaming TV.
1. Best Overall:

Netgear Nighthawk RAX78
The Netgear RAX78 is a changed low-cost Tri-band version of the RAX80, it tones down its processing unit and the memory duo. The high-speed capability and support to 160MHz and DFS Channels keep this router at the top of the list, making it the best wireless router for streaming.
Why is it best suited?
The aggregated speed of 6.2Gbps translates into top band speeds of 460 Mbps on 2.4GHz, 960 Mbps on secondary 5GHz, and 4800 Mbps on its primary 5GHz band that can support multiple instances of high-graphic online games, 4K media streaming in a large 2500 sq ft house.
The RAX 78 brings 4 Ethernet ports and 1 WAN port to guarantee wired connections for streaming gadgets. Speeds of USB 3.0 ports can be crucial for fast data transfer within the network. The simultaneous Tri-band operation offers the capacity to accommodate 40 devices, making the router an integral part of your automated home.
Design & Hardware
The wing-like structure extends from the black chassis, finds room for 6 powerful internal antennas. The routing device holds the semblance of a device from the future with a discernible presence. Weighing approximately 2.6 pounds, the heavyweight router measures 11.85 x 8.19 x 3.23 inches, without the wings.
Netgear combines the strength of four cores clocking at 1.5GHz, with 512MB RAM and 256MB flash storage to ease through games like Red dead redemption, Far cry, The Witcher, etc.
Setup & App Support
Nighthawk mobile application is a boon for the novice crowd. The guided setup cruises the user through the initial setup in less than a few minutes. With easy remote monitoring, the application gives you the ability to track data and limit access to the internet.
Security & Other Features
The sophistication of robust internet security and parental controls comes with a subscription to Netgear Armor. A secure guest network access, smart QoS that optimizes capacity, and smart connect band steering, bring the best out of your internet connection.
Conclusion
Netgear RAX78 ranks at the top of its peers, owing to a mix of the features it brings along with the latest wireless standards and the efficiency of simultaneous Tri-band operation.
Wi-Fi 6

MU-MIMO

Quad-core processor

Support for DFS

Supports 160MHz channels

Beamforming
2. Best Runner Up:

TP-Link Archer A20
In Archer A20, TP-Link overhauled its hardware with a better processing unit and memory duo. The privilege of link aggregation delivers high speeds to streaming devices, leaving a seamless visual experience. Large households with multiple TVs will find their match in this router.
Why is it best suited?
The link aggregation in Archer A20 brings the possibility of utilizing a multi-gigabit speed internet connection and reach top band speeds of 750 Mbps on 2.4GHz and 1625 Mbps on dual 5GHz bands. It can cover large homes ranging from 2500 to 3000 sq ft.
Archer A20 delivers fast data transfers within the home network with its USB 3.0 port and enables sharing printer within the network through its USB 2.0 port. The presence of 4 LAN ports should leave you adequate room for wired high-speed connections to your TV or other streaming devices.
Design & Hardware
The perforated square black chassis measures 7.9-inches on every side and is 1.5-inches thick. Weighing close to 1.8 pounds, the router has 6 external antennas delivering signals to devices.
A dual-core processor clocking at 1.8GHz gets the support of three co-processors, in handling data-intensive 4K streaming and HD gaming on gaming consoles like Xbox One, PlayStation 4 or PlayStation 5. The combination of 512MB Operating memory and 256MB flash storage is crucial for its ability to support simultaneous connections.
Setup & App Support
Tether application from TP-Link brings forward a user-intuitive design to keep things easier for the non-tech savvy personnel. From installations to remote monitoring, navigations within the app remain easy.
Security & Other Features
Archer A20 brings free lifetime internet security through TP-Link Homecare to keep your network safe from viruses and other malicious contents. Robust parental controls, efficient QoS, WMM are part of the application that brings more value to the router.
Conclusion
The simultaneous Tri-band operation, and dual-link aggregation, backed up by a potent hardware combination at a competitive price, keeps the Archer A20 above its much faster Linksys E8450.
T

hree Co-Processors

TP-Link Homecare

Airtime Fairness

Link Aggregation

2 USB ports
3. Best for Streaming Netflix:

Linksys E8450
With an upgraded processor and an improved RAM capacity, Linksys brings the E8450 router the ability to handle the latest wireless standards. The high-speed limits and optimization of OFDMA remain the outstanding feature of this router. A suitable choice for small business units like executive lounges and sports centers.
Why is it best suited?
A high-speed fiber-optic connection of 1 Gbps will complement the high-speed capability of the Linksys router. Its ability to achieve speeds of 800 Mbps on 2.4GHz and 2400 Mbps on 5GHz band can cover multiple streaming devices spread across 2500 sq ft.
Linksys offers 4 LAN ports, and 1 WAN port, if there is a necessity to deliver wired connectivity to multiple TV. The addition of a USB port falls right into place for small businesses to share printers within the network, although the choice of USB 2.0 remains a mystery.
Design & Hardware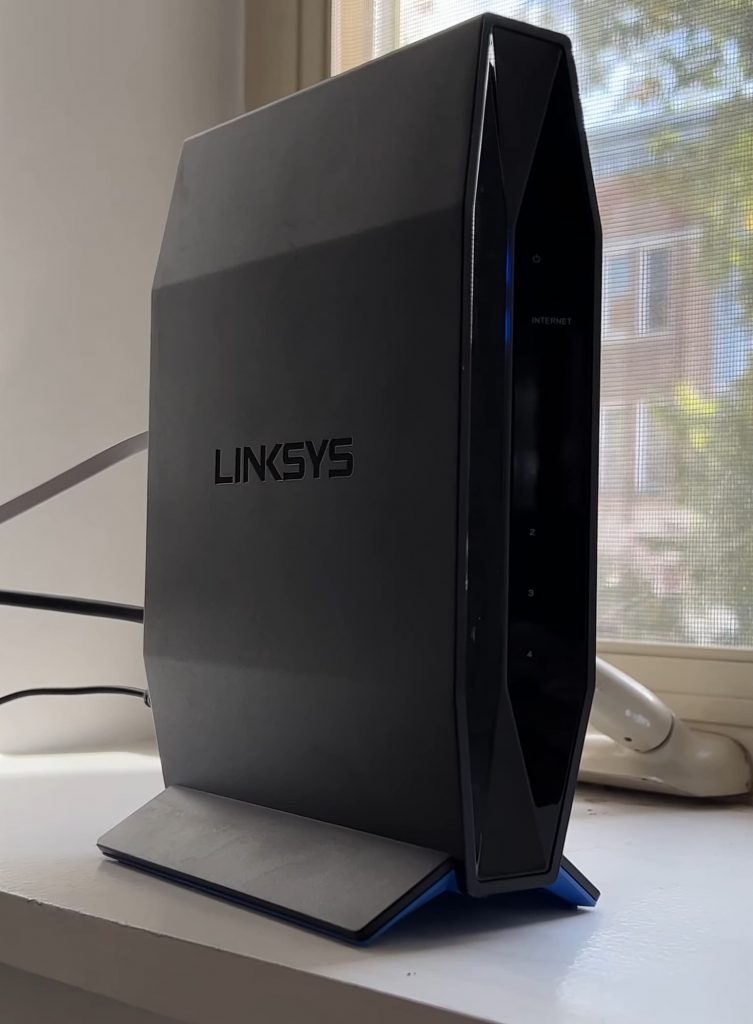 The vertical standing router comes with a shorter base and a hardly noticeable demeanor measuring 6.14 x 3.03 x 8.66 inches and weighing 1.41 pounds. The shining black octagonal frame gives a premium feel to the chassis that holds 4 internal antennas.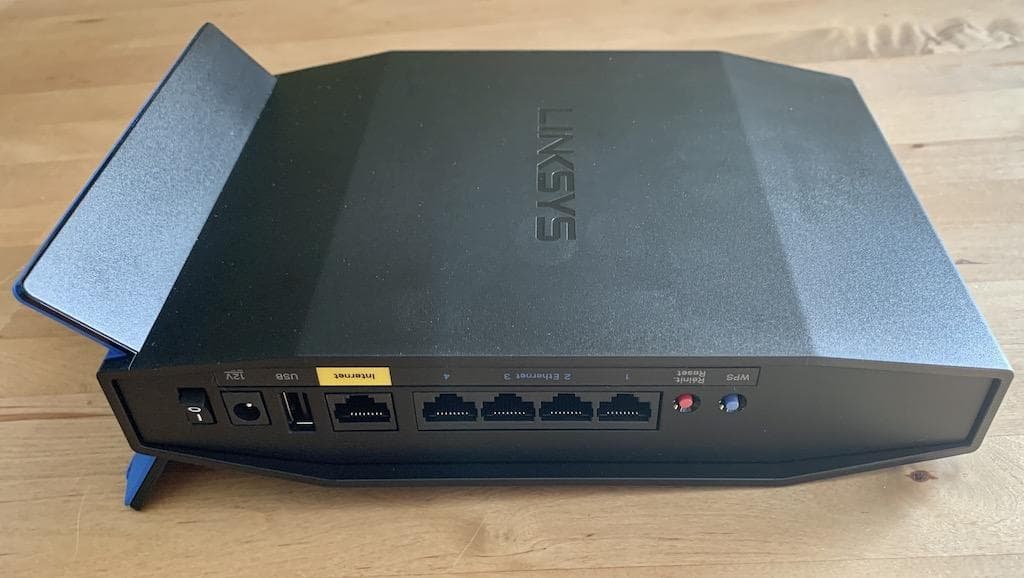 Linksys has a dual-core processor operating at 1.4GHz, in tandem with 512MB operating and 128MB storage memory, making it capable of delivering a seamless performance.
Setup & App Support
Linksys E8450 doesn't feature a mobile application. The initial configuration is performed through the web-based setup. It is rather simple enough, one might overlook the lack of a mobile app.
Security & Other Features
With features like WPA 3 encryption, dedicated guest Wi-Fi, SPI firewall, DoS security, the router keeps the major threats at bay. The Parental Controls can be handy for blocking websites and limiting exposure.
Conclusion
Linksys E8450 is a reliable wireless router under $150 that takes you back to a retro-style approach to managing routers. The unique mix of the latest Wi-Fi 6 standards and old-school interface delivers a solid internet performance, making it a value buy at a sub $150 price.
Wi-Fi 6

MU-MIMO

Guest Wi-Fi

WPA3 Encryption

SPI firewall
Only USB 2.0 port

No mobile application
4. Best Wi-Fi Mesh Router:

TP-Link Deco X20
In Deco X20, TP-Link enhances both the operating and storage memory, which gives the mesh system its capacity to handle smart devices in automated homes. The two-pack routing unit comes with the strength of a strong processing unit, making it a perfect long-range router for a modern home.
Why is it best suited?
With a high-speed fiber optic internet connection, the device can rake up to 574 Mbps on 2.4GHz and 1201 Mbps on 5GHz. The two-pack system brings the freedom of placing the satellite units to cover areas as large as 3000-4000 sq ft.
Each unit comes with two ports, limiting the number of wired connections to a minimum. Nonetheless, the mesh system brings the ability to handle up to 100 devices, including smart home gadgets.
Design & Hardware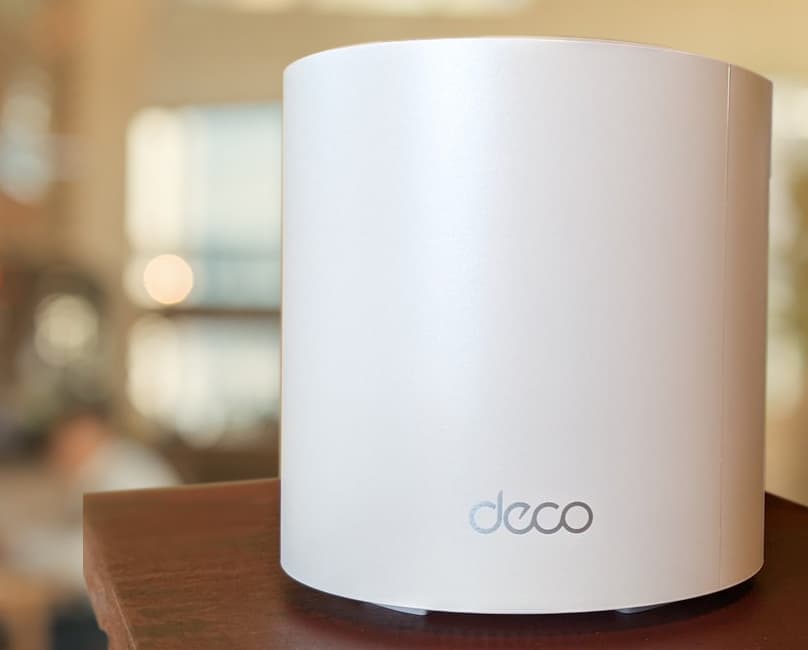 The short cylindrical tower sports a minimalist white design that will fit into any household. Each unit stands 4.49-inches tall and measures 4.3-inches in diameter, weighing approximately 2 pounds.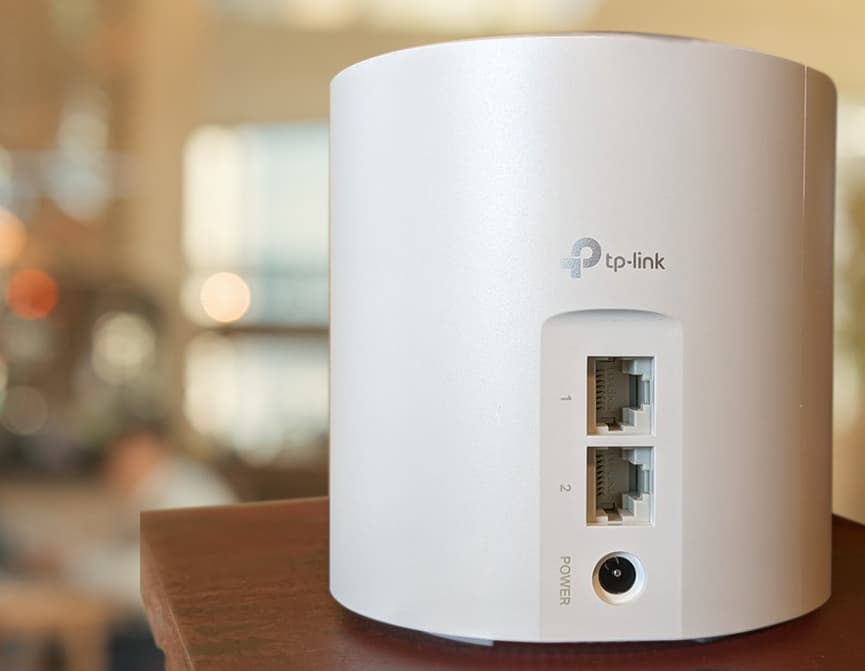 TP-Link puts together a quad-core processing unit that clocks at 1GHz. The synergy of 512MB RAM and 128MB storage is crucial to its ability to handle plenty of devices, including multiple instances of 4K streaming and online gaming. Each unit houses 4 amplified internal antennas.
Setup & App Support
Deco application comes with the privilege of an auto-connection test that assists you in finding the optimal placement for your routing units. A fairly simple installation process and the comfort of remote monitoring and control make this deco app a value addition.
Security & Other Features
If internet security takes precedence, the Deco brings robust protection from intrusions through Homecare. With malicious content filters, infected device isolation, and the latest WPA 3 encryption the home network remains secure from major security threats.
Prioritize your online activity with QoS, set time limits for internet access, set age-appropriate filters and parental controls with customized profiles for every family member.
Conclusion
Its ability to support ethernet backhaul to reduce latency, seamless roaming and an auto-connection test to optimized placements give a unique advantage over other routers in the list. The coverage makes this an ideal match for automated homes in a large multi-story setting.
Wi-Fi 6 support

OFDMA & MU-MIMO

Robust internet security

Ethernet Backhaul support

WPA3 encryption
5. Best Under $100:

Netgear Nighthawk R7350
The Netgear R7350 is a modified version of its predecessor with a compromise in the hardware to accommodate its aggressive pricing. The advanced QoS feature optimizes the network for streaming Netflix to TV, making this an ideal router for medium households with streaming enthusiasts.
Why is it best suited?
A Gigabit speed connection can bring the best out of this router in raking up speeds of 600 Mbps on 2.4GHz and 1733 Mbps on the 5GHz band. It gives the capacity to deliver an unhindered streaming experience in TVs, laptops, and other devices spread across an area of 2500 sq ft.
With 4 LAN ports, you can keep the priority devices wired to the router and optimize the bandwidth to accommodate over 25 devices. The speeds of USB 3.0 are imperative for NAS performance.
Design & Hardware
Netgear keeps the design simple with a matte black chassis and ventilated sides. With 3 external antennas interspersed on its rear, the router weighs 1.65 pounds and measures 11.22 x 7.26 x 1.97 inches in dimensions.
The R7350 runs on the power of a dual-core processor complemented by 256MB RAM and 128MB storage memory, equipping it to handle more data-intensive tasks.
Setup & App Support
The nighthawk application is crucial to the Netgear ecosystem, extending the user-friendliness to its novice customers. Guided setups take you through the initial configuration to keep the router up within few minutes. The application makes it a light work of remote internet monitoring and control.
Security & Other Features
The guest network access, WPA2 encryption, VPN support keeps the network secure. If an advanced QoS is a part of your requirement to streamline applications and optimize the network for streaming devices, R7350 becomes more valuable.
Conclusion
Netgear R7350 keeps its place above the Motorola MR2600, credit to its combination of storage and operating memory, which keeps the simultaneous transmission to multiple devices lag-free.
MU-MIMO

Beamforming

Advanced QoS

Dual-core processor

Airtime Fairness
6. Best for Home Office:

Motorola MR2600
The Motorola MR2600 adds a stronger processor, a USB 3.0 port and brings features like Beamforming to the current version. The high-speed performance of the Motorola device, with MU-MIMO and Beamforming, makes it a worthy choice of stand-alone router for single-floor guesthouses and hostels.
Why is it best suited?
Combined with a gigabit-speed internet connection, the router can deliver high speeds for a seamless streaming experience. The speed limits of 800 Mbps and 1733 Mbps on 2.4GHz and 5GHz can accommodate online gaming, high-quality Twitch streaming and cover an area of 2000 sq ft.
If you require wired connectivity options for avoiding bandwidth loss, the four LAN ports should come in handy. The transfer speed of the USB 3.0 port allows quick data sharing within the home network. While the router can accommodate up to 253 devices, it's prudential to limit the connections to 20-30 devices for balanced performance.
Design & Hardware
Motorola MR2600 comes in a lighter shade of a black-colored chassis with 4 removable, external antennas towering from its rear half. Weighing 1.1 pounds and measuring 7.06 x 12.0 x 7.12 inches in dimensions with antennas, the router is fairly lightweight.
The black router houses two processing cores in a Mediatek chipset, clocking at 880MHz. An operating memory of 128MB and a storage of 16MB is rather the limiting factor for simultaneous data-intense activities.
Setup & App Support
Motorola MR2600 doesn't feature a mobile application. The web-based initial setup is rather easy with a choice of wired or wireless modalities. The lack of a mobile app can be a limiting factor for people expecting remote management.
Security & Other Features
The router comes with protection from DoS attacks, double firewall security, dedicated guest access, and WPA2 encryption to add levels of security to your home network. The QoS features prioritize your bandwidth based on your usage history.
Conclusion
Don't let the lack of a mobile app, keep you away from a value for money choice of MR2600. Advanced features like 4×4 MU-MIMO, WMM, Beamforming keeps the router above the Linksys counterpart in the list.
MU-MIMO

Smart QoS

Dual-core processor

WMM

Beamforming
7. Best for Small Homes:

Linksys EA7500-4B
The Linksys EA7500-4B, a modified version of its previous version, sans the additional USB port, stands out with its balance of hardware ability, features, and affordable price tag. An ideal choice of standalone router for smaller to medium households with limited devices.
Why is it best suited?
The router can deliver speeds up to 600 Mbps and 1300 Mbps on 2.4GHz and 5GHz respectively. It is adequate for handling streaming high-quality content and gaming in a small-medium household measuring 1500 sq ft.
Linksys router doesn't disappoint in terms of wired connectivity with its four LAN ports. A USB 3.0 port that supports fast data transfer, delivers an impressive NAS performance, a requisite for households sharing media within the home network. The router can support up to 15 devices.
Design & Hardware
Linksys goes with its classic matte black ventilated body with 3 external antennas attached to its rear. The lightweight router weighs approximately 1.1 pounds and measuring 6.02 x 8.07 x 5.71 inches with the antennas extended.
With dual-cores clocking at 880MHz in a Mediatek chipset, the processor gets the help of 256MB RAM and storage of 128MB to transmit data simultaneously to multiple devices.
Setup & App Support
Linksys App keeps the initial setup easy and quick. The application and the web interface let the user customize the settings to change priority, set time controls, and control internet exposure.
Security & Other Features
The Linksys router brings features like guest Wi-Fi and parental controls, which keep your network protected from external infections and undue exposure. Prioritize your devices with QoS and allocate bandwidth for better performance.
Conclusion
The combination of hardware and features like MU-MIMO and Beamforming, keep the Linksys EA7500 above Archer A7 and Asus-ACRH12. Notwithstanding its shortcomings in coverage.
MU-MIMO

Parental controls

Dual-core processor

Beamforming

Guest Wi-Fi
8. Best Value for Money:

TP-Link Archer A7
The TP-Link Archer A7 brings voice command compatibility that was missing in its previous model. Its compatibility with Alexa and easy mesh compatibility is the highlighting feature of the budget router, making this a wallet-friendly option for large homes with multiple streaming devices.
Why is it best suited?
With a high-speed connection of 300 Mbps, Archer A7 delivers an aggregated speed of 1.7Gbps that translates into a speed cap of 450 Mbps, 1300 Mbps on 2.4GHz and 5GHz, respectively. The router can cover a single-floor large home measuring 2500 sq ft.
Archer has 4 LAN ports and 1 WAN port that ensures stable connectivity for data-intensive streaming devices like TV and gaming consoles. Put the USB 2.0 port to use by sharing the printer within the home network. The router can handle over 50 devices, including smart home gadgets.
Design & Hardware
Archer A7 restricts itself to a single-core processor in a Qualcomm chipset that clocks at 750MHz, 128MB RAM, and meager 16MB flash storage, accomodating it within the budget. While it can handle data-intensive activities like streaming and online gaming, it's prudential to limit concurrent intense activity.
TP-Link router has 3 external antennas attached to the rear side of its glossy black chassis, which weighs 0.90 pounds and measures 9.6 x 6.4 x 1.3 inches in dimensions.
Setup & App Support
TP-Link's simple yet modern design makes the setup easier for novice users. With a choice of wired or wireless setup, the process is guided and simple. The web interface offers intuitive yet comprehensive options to customize the settings of your router.
Security & Other Features
With access control filters, SPI firewall, IP & MAC binding, the router offers the standard network security. The parental controls and QoS by devices give you control over internet consumption and the ability to manage bandwidth for priority devices.
Conclusion
The Archer A7, despite missing a few advanced features, pips ACRH12 owing to its high-speed performance in the 5GHz band and its capacity to handle smart home devices through voice commands.
QoS by device

SPI firewall

Alexa compatible

Parental and Access controls

Easy Mesh compatibility
9. Cheapest Option:

Asus RT-ACRH12
In RT-ACRH12, Asus downgraded its processing & storage capacity and switched to a USB 2.0 port to fit the router into the budget category. However, features like MU-MIMO makes this a steal and an ideal choice for large households with streaming devices.
Why is it best suited?
With an aggregate speed of 1.2Gbps, the router is capable of reaching individual tops speeds of 300 Mbps on the 2.4GHz and 867 Mbps on 5GHz. The router has coverage of 3000 sq ft.
The WAN port and 4 LAN ports are crucial for providing stable, wired high-speed connectivity smart TVs, workstations, etc. The USB 2.0 port can accommodate shared printers at your home. On balanced usage, the router can support up to 20 devices.
Design & Hardware
The glossy combination of black and grey colors in its design is no reason to downplay its utility as a streaming router. The lightweight chassis weighs close to 0.76 pounds has a single-core processor clocking at 775MHz, that works in tandem with 128MB RAM and 16MB flash storage.
The whole unit measures 4.92 x 7.56 x 1.18 inches, excluding the 4 external antennas towering from it. Beamforming antennas are crucial to delivering stable signals to devices.
Setup & App Support
The initial setup is amongst the simplest with the luxury of the ASUS interface. ASUS router application brings the comfort of a sophisticated design for local and remote management. The web interface opens up to comprehensive customization. If you are looking for a robust traffic monitoring ability, Asus UI would be your perfect fit.
Security & Other Features
Asus brings the protection of WPA2 encryption, firewalls with parental and access controls. The QoS is crucial for bandwidth prioritization. A dedicated guest Wi-Fi keeps the external devices isolated from the home network. Planning to stream foreign OTT content, the support to multiple VPN protocols can come in handy.
Conclusion
Don't let the limited hardware capacity rob ASUS RT-ACRH12 of its due attention. Credit to advanced features like MU-MIMO, and Beamforming, a rarity in the price range, making it one of the best under $100 routers.
MU-MIMO

Explicit & Implicit Beamforming

Traffic Monitoring

Support to multiple VPN protocols
Lack of USB 3.0 connectivity
Frequently Asked Questions
What is the best streaming router?
Netgear RAX78 brings a plethora of features like 160MHz Channels, DFS with the latest wireless standards, and simultaneous tri-band operation complemented by a powerful processing unit, making it the best router for streaming TV and other devices simultaneously.
What size router do I need for streaming TV?
The number of streaming devices is crucial in deciding the size of the router. High-speed connections ranging from 100-300 Mbps would be sufficient for a smaller household to accommodate a smart TV and few more streaming devices. Households with multiple TVs, gaming consoles, and smart appliances will require a connection faster than 500 Mbps.
How do I optimize my router for streaming TV?
Users can assign a high-priority bandwidth allocation in QoS to the streaming devices. Enabling WMM on your router can improve media streaming. Use multiple SSID and connect the TV to the least congested band. Users can use the wired connectivity to reduce the loss of bandwidth and thereby improving the streaming quality.
Will a better router help with streaming?
Yes, routers can be instrumental in improving your streaming quality. Routers with higher speed limits and features to prioritize/allocate bandwidth to specific devices/applications can make a substantial difference to the internet throughput.
Verdict
With smart TV and streaming devices becoming an integral part of our households, personal preferences play a crucial role in finding the best router. Factoring the balance between features, utility, and price, I have listed the best router for different scenarios.
The

Netgear Nighthawk RAX78

brings the best combination of overall value with the latest features and the ability to handle congested networks.
The two-pack

Deco X20

is an ideal choice for large, ranch-style automated homes.
The

Asus RT-ACRH12

is a brilliant choice for users on the lookout for a budget alternative, without compromising on some advanced features.
For Morton, reviewing a router is just like spending another day at the office. As BCCA's senior copywriter, Morton believes is explaining every concept concerning routers, networking technologies, and additional routing specs. Also, Morton is our go-to man if we are looking to get the ISP-dependent internet plans tested across devices.