Virtual reality, especially with the Oculus Quest 2, involves multiple activities. These include social interactions, virtual globetrotting, and gaming. However, the experience wouldn't be optimal if you didn't have a reliable Wi-Fi router for Oculus Quest 2 by your side.
Would you like the buffers when you're on the front seat at a live concert or are interacting with friends near the 'Leaning Tower of Pisa'? Of course, not! In the era of virtual reality, lag and latency are the prime antagonists. And to overcome them, you need high-speed internet. I'd even recommend getting a dedicated router for Oculus Quest 2 VR setup.
A capable Wi-Fi router will help eliminate lags, latency, and ensure instant connectivity. For the unversed, all you need from a Quest 2 wireless router is QoS support, a powerful hardware, multiple vents to avoid throttling, and advanced security specs. But not every device is up to the snuff, and that's why I've come up with a list of top-rated options to choose from.
The lack of proper research while locating the best router for Oculus Quest 2 will lead to a sluggish device. You may end up getting underwhelming coverage and a subpar hardware setup. However, it doesn't need to be like that. At least, not when you've arrived here!
7 Best Routers for Oculus Quest 2 in 2023
As mentioned, you need to focus on the entire connectivity suite, look for improved aesthetics, emphasize hardware and RAM count over anything else, and ensure that security threats aren't the causes for concern. Keeping all these factors in mind, I have reviewed 7 of the best-rated routers for Quest 2 and other premium VR sets.
I have tested each option across capacities to enlist them in an order that makes the most sense to your requirements and preferences. Also, the premium options feature right at the beginning, and I slowly make my way to mid-range and budget options at the end. So let's get the discussions started!
1. Best Wi-Fi 6 Router for Quest 2:

Netgear RAX45
Interested in purchasing one of the most advanced routing devices? Well, you can opt for the Netgear Nighthawk RAX45 that boasts a 6-stream connectivity suite for improved coverage and exceptional throughput. The perfect choice for multi-Gig internet plans, RAX45 works better than the older R6700AXS in terms of processing power and overall wireless speeds.
Why is it suited for Oculus Quest 2?
The RAX45 is a dual-band Wi-Fi 6 based wireless router with cumulative speeds of over 4Gbps. However, what works in favor of this device is the 3800+ Mbps near band speeds for high-res gaming and interaction. And close to 500Mbps of far or 2.4GHz band speeds help minimize connection drops even when you move around the house.
Adding to the connectivity suite are four Gig ethernet ports, availability of a thick 160MHz to speed up transmissions, additional DFS channels to minimize interference, and built-in Quality of Service functionality to help manage networks as per priorities.
Thanks to the availability of four High-gain antennas that add to the throughput, RAX45 readily becomes one of my top router choices for 2500 Sq Ft homes. Plus, you get Beamforming support to improve the coverage significantly.
Hardware & Design
The RAX45 comes equipped with a triple-core chipset to keep interference at a distance. Adding to this is 512MB of RAM and 256MB of flash memory to store device configuration perfectly. Not to mention the minimal lags and gaming latency that the featured processing setup ensures for your Oculus VR headset.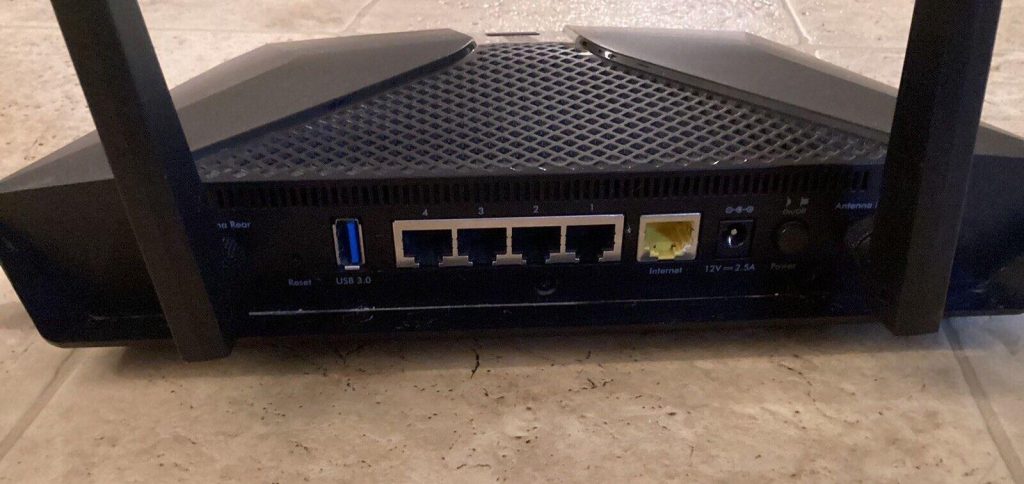 As for the design, the black-colored RAX45 assumes a horizontal form factor and a strategic placement of vents. Plus, this product weighs close to 1.25 pounds and measures 11.65 x 8.11 x 2.25 inches, making it sleeker than expected. There are 5 ethernet ports (one WAN included) followed by a USB 3.0 slot and the traditional power port.
App & Security Features
This Wi-Fi router comes equipped with a complete security suite, including anomaly detection, threat blocking, DDoS protection, VPN-Firewall integration, and more as part of the Netgear Armor setup. Plus, the parental controls are the coolest, with Netgear offering customized kid filters and support for app-based remote network management.
Conclusion
Overall, if you are a heavy VR user and deep into games and social interactions in the metaverse, Nighthawk RAX45 is the best Oculus Quest 2 Wi-Fi 6 router that money can buy. Plus, its advanced processing consortium makes it stand apart from the rest.
Excellent coverage

Top-notch near band speeds

High-gain antennas

Excellent processing setup

Sleek and portable
2. Best Runner Up:

TP-Link Archer AX55
Your Oculus Quest 2 VR headset will thank you for the moment you pair it with the AX55. Best known for the excellent wireless speeds and the ability to connect over 30 devices with ease, the TP-Link Archer AX55 performs even better than the dated AX21, from the same OEM.
Why is it suited for Oculus Quest 2?
Riding on the improved throughput of Wi-Fi 6, the AX55 promises copybook wireless speeds. For the near band, you can get over 2400Mbps, whereas the 2.4GHz band lets you experience close to 600Mbps, right out of the box.
This is one of the few devices to support Airtime fairness for improving the quality of connections, MU-MIMO functionality for letting you connect multiple devices at once, and QoS functionality.
Coverage-wise, you can use the AX55 for homes and offices that span across 2500 Sq Ft. Adding to the efficiency are 4 integrated antennas, powerful FEM to improve wireless strength and Beamforming support.
Hardware & Design
The multi-core chipset with 512MB RAM is a sizable inclusion. The processing setup makes it easier for the Oculus VR to connect and work without experiencing any kind of interference. Not to mention, you get access to a rectangular form factor that measures 10.2 x 5.3 x 1.5 inches.
You also get access to those open-air vents, a hardened plastic form factor, and an overall heft of almost 1.50 pounds. Adding to the build quality are five Gigabit ports, one power port, and a standard USB 3.0 port for moving data across networks.
App & Security Features
The AX55 lets you manage the network remotely via the TP-Link application. Plus, you get access to the HomeShield set up with a dedicated scanner, QoS support, and parental controls for improving usage and overall security. Also, this is one of the few routing devices to offer OneMesh access, allowing you to pair the same with extenders along the way.
Conclusion
The TP-Link Archer AX55 is is arguably one of the best routers to buy under $150. However, it is the complete suite, including MU-MIMO support, QoS, Airtime Fairness, Beamforming, and more, that separates it from other devices on the list.
Top-notch processor

Built-in airtime fairness

Beamforming support

5 High-speed ports

Advanced security specs
Heavy

Setup isn't as easy as preferred
3. Best Gaming Router:

Asus ROG GT-AC2900
Are you interested in PC VR games? Well, if you are, ROG GT-AC2900 turns out to be the best router for Oculus Air Link. With Air Link, you can wirelessly connect your Quest 2 with a Windows 10 PC and enjoy the relentless gaming.
If you plan to immerse yourself in VR games, your Quest 2 would require a lot more than just a traditional high-end routing device. At this point, the ASUS ROG GT-AC2900 makes the most sense as it comes equipped with game accelerators to push the speeds and performances beyond ordinary.
Plus, it manages to offer better cumulative speeds as compared to the RT-AX55, which is also a reliable gamer-friendly wireless router.
Why is it suited for Oculus Quest 2?
The GT-AC2900 boasts 2.4GHz speeds of up to 750Mbps and 5GHz or far band speeds of up to 2167Mbps. What makes this product stand out is the built-in game acceleration support followed by port forwarding functionality and integrated Quality of Service enhancement for better traffic prioritization.
As far as the coverage is concerned, you can take your Oculus VR headset as far as 2000 Sq Ft and still stay connected to the internet. Adding to this are the three high-gain antennas and beamforming support to increase overall network consistency.
Hardware & Design
Powering this gaming beast is a dual-core chipset and 512MB of high-speed RAM. The existing hardware module helps reduce congestion and ensures improved and lag-free gaming experiences. Plus, there is a 256MB flash storage module to store network details efficiently.
The device weighs close to 1.72 pounds and measures 13.9 x 9.65 x 4.33 inches. Plus, it comes equipped with 4 Gig ethernet ports, one gaming port, and two high-speed USB ports.
App & Security Features
The Asus Router mobile application lets you secure the network against online threats. The AiProtection Pro suite works like harm, and this device also supports AiMesh compatibility, which makes things easier if you plan on adding an extender to it.
Conclusion
To sum it up, the Asus Rog GT-AC2900 is the best gaming router for Oculus Quest 2, which trumps other products on the list courtesy of built-in game handling hardware.
Zero-latency while gaming

Powerful hardware setup

Interactive app

Port Forwarding is supported

Easy to set up
Lacks Wi-Fi 6 standard

Chunkier than usual
4. Best from Linksys:

Linksys EA8100
If you are interested in purchasing an affordable routing unit for your VR headset, then Linksys EA8100 is worth considering. And while it packs a lot of innovative features, it scales beyond the older EA6550 in terms of coverage and near band performances.
Why is it suited for Oculus Quest 2?
Despite being a Wi-Fi 5 router, EA8100 manages to assume peak near and far band speeds of up to 1733Mbps and 800Mbps, respectively. Adding to this is the DFS functionality for improved throughput followed by MU-MIMO for handling multiple devices at once.
As far as the coverage is concerned, you can cover 1800 Sq Ft of area at once. Powering the capabilities further are the four integrated antennas working alongside beamforming functionality.
Hardware & Design
At the core, Linksys fits in a standard dual-core SoC. Plus, you get hold of a 512MB RAM module to cut out interference and latency significantly. As far as the aesthetics are concerned, the device measures 10.06 x 7.33 x 1.99 inches and stays within the 2-pound mark.
Plus, you get access to four Gigabit LAN Ethernet ports, one WAN port, and two USB ports to offer a fulfilling user experience.
App & Security Features
The Linksys app is more than capable of keeping online threats at bay. Plus, it lets you activate parental controls and even prioritize devices depending on the bandwidth-intensive nature of the tasks at hand.
Conclusion
Overall, the Linksys EA8100 is one of the more balanced Wi-Fi routers to use with Oculus Quest 2. Also, it is the responsive app that sets it apart from other products on the list. However, if you are willing to pay close to 100 dollars and looking for other options apart from Linksys, the Motorola MR2600 is also worth considering.
This one also boasts MU-MIMO, beamforming, smart QoS functionality, and even comes with four built-in antennas to explore the coverage-specific brilliance.
MU-MIMO support

Beamforming functionality

Four High-speed Ethernet ports

Powerful processor
5. Best Budget Wi-Fi 6 Router:

TP-Link Archer AX20
Planning to invest in an AX router but within a budget? Well, you can always consider the suitable option such as TP-Link Archer AX20, courtesy of the balanced specs sheet and improved overall speeds and throughput when compared with the likes of TP-Link A7.
Why is it suited for Oculus Quest 2?
This budget Wi-Fi 6 router has a lot going for it, including the 2.4GHz band speeds of up to 574Mbps. However, if you plan on keeping the VR headset near, the 5GHz or near band speeds of up to 1200Mbps come in handy. The device also offers access to MU-MIMO functionality, OFDMA support for fast transmissions, and built-in traffic prioritization.
When it comes to the network coverage, TP-Link is more than capable of spanning close to 1500 Sq Ft, led by the FEM setup, four antennas, and Beamforming functionality.
Hardware & Design
Powering the setup is a standard 4-core chipset, capable of reaching max clock speeds of up to 1.5GHz. Adding to the processing capability is the 512MB RAM module that can cut VR gaming latency and lag significantly.
Coming to the physicality, this plastic-clad device weighs 1.83 pounds and measures 10.2 x 5.3 x 1.5 inches, to be exact. On top of that, you get access to one USB port and 5 Gig ethernet ports, including the standalone WAN port.
App & Security Features
What's heartening is that you can control the home network to the letter via the Tether application. Plus, the device comes equipped with multiple security specs and is exceedingly easy to manage, regardless of the mobile platform the app is on.
Conclusion
The TP-Link Archer AX20 offers excellent value for money if you plan on purchasing the cheapest Wi-Fi 6 router for VR. Also, its power efficiency readily sets it apart from the rest of the other products on the list.
Powerful processor

Wi-Fi 6 standard

Beamforming support

OFDMA support for minimal lag
Thick

Heats up more than usual
6. Best for Large Homes:

Asus RT-AC67P
If you prefer using the Oculus Quest 2 VR headset for entertainment, movies, workout sessions, and games, without using the home internet for any other major activity, the Asus RT-AC67P seems like a good choice. And despite the budget pricing, its cumulative throughput readily outwits the likes of RT-AC65.
Why is it suited for Oculus Quest 2?
First, RT-AC67P promises excellent and consistent throughput of 600Mbps over the 2.4GHz band and 1300Mbps over the 5GHz band. Plus, it is one of the few budget Wi-Fi routers in play to offer MU-MIMO functionality for connecting close to 30 devices at once.
The coverage at 3000 Sq Ft seems too good to believe. However, it is true courtesy of the three high-gain antennas and support for beamforming technology, which is also bolstered by AiRadar functionality for a more targeted transmission.
Hardware & Design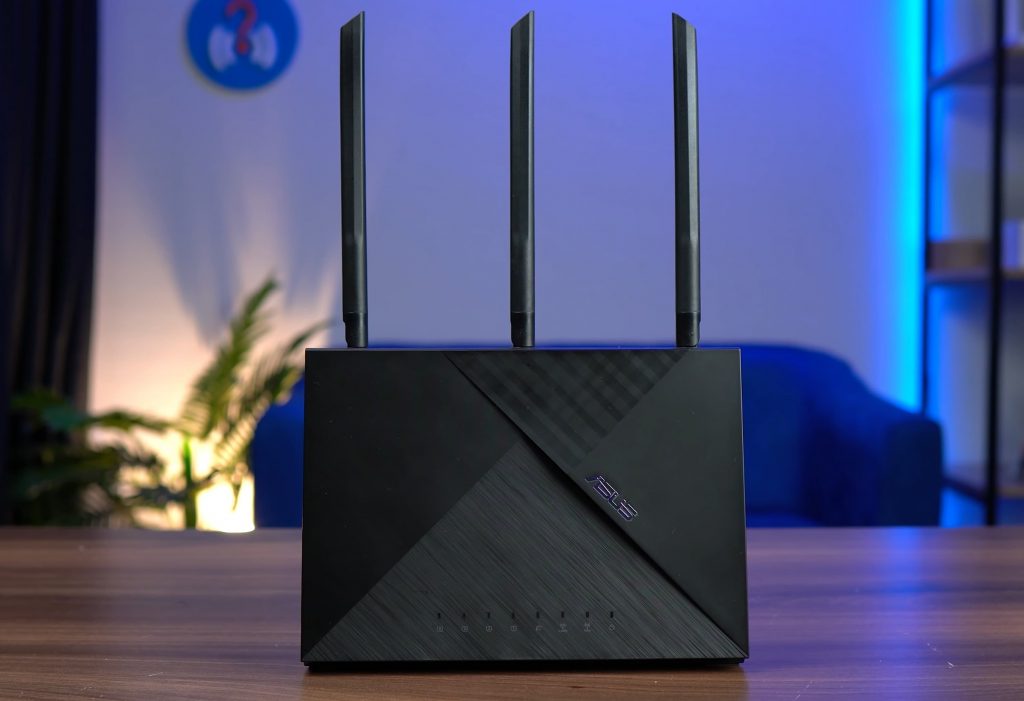 There is a dual-core processor handling the processing requirements. Adding to this is 128MB RAM and 128MB of flash memory. As far as dimensions are concerned, the RT-AC67P weighs a touch above the 1-pound market and measures 8.66 x 6.3 x 3.43 inches.
You even get access to four ethernet ports and one USB port to further the functionality of this powerful unit.
App & Security Features
The Asus router application doesn't require an introduction. It lets you handle the network remotely whilst setting up parental controls to perfection. Plus, you can even add a VPN to the scheme of things for keeping online threats at bay.
Conclusion
The RT-AC67P from Asus is a pretty standard wireless ac routing device boasting a quick setup and all the important traits for ensuring that your VR headset performs like a pro. Also, the coverage limit sets it apart from some of the other products on the list.
Excellent coverage

Beamforming support

MU-MIMO works like a charm

Top-notch parental controls

Portable
Far band consistency isn't the best
7. Cheap Router for Quest 2:

D-Link DIR-1260
If you are on the hunt for an affordable router that is good enough for Oculus Quest 2, the D-Link DIR-1260 is the one to pick. Also, if you compare it with the likes of DIR-825, which more or less offers similar speeds, the former comes out on top, courtesy of the better and more consistent throughputs.
Why is it suited for Oculus Quest 2?
The DIR-1260 assumes the 802.11ac wireless standard, translating into 2.4GHz band speeds of up to 300Mbps. For the near band or the 5GHz channel, this device can reach theoretical wireless speeds of up to 867Mbps. Not to mention the MU-MIMO functionality that lets you connect multiple devices on the go.
Plus, high-power radio amplifiers are in play to help the routing device with the coverage. If you are into specifics, DIR-1260 lets you cover over 1500 Sq Ft of area. The Smart Roaming functionality further strengthens the wireless signals. Also, D-Link houses four powerful antennas to help increase the efficiency of the transmissions.
Hardware & Design
The 2-core chipset cuts through interference like a charm. Plus, there is 256MB RAM to increase the quality of transmissions and keep the latency to a minimum. Plus, this device weighs close to 0.70 pounds, has several heat dissipating vents, features hardened plastic as the underlying material, and measures 5.39 x 8.07 x 1.81 inches, to be exact.
Not just that, you even get access to 5 high-speed ethernet ports for connecting to the modem, VR headset, and other bandwidth-intensive smart devices.
App & Security Features
The D-Link app lets you explore an entire gamut of parental controls. Plus, you can use the application to monitor network activities and filter the access, depending on your needs.
Conclusion
If you are concerned about the pricing of the device but unwilling to cut down on the features and speeds, the D-Link DIR-1260 is the best cheap router for quest 2 to pick. Plus, it is the affordability that helps it beat other products on the list.
Affordable

Excellent processor

Light and sleek

5 High-speed Ethernet ports

Parental Controls
Not meant for 4K streaming

Lacks Wi-Fi 6 standard
Frequently Asked Questions
Do you need a router for air link?
Yes, if you want to use air link to remotely play PC games on your VR headset, you would want to rely on a router with excellent 5GHz throughput. Both the PC and Oculus Quest 2 need to be on the same network for the air link to work.
How do I set up a dedicated VR router?
Simply open the VR settings and select the network to connect it to. However, if you want to experience the best possible speeds, connect an extender to the router or cable it via the Ethernet to an access point. Once you have a 5GHz network at your disposal, connect the VR headset to it.
Should I invest in Wi-Fi 6, or Wi-Fi 5 is just fine for Quest 2?
If you want the best possible speeds while future-proofing the networking setup, I recommend opting for Wi-Fi 6 based routers. However, it is not imperative to have one as even some with dual-band networking support can offer multi-Gig near and far band wireless speeds. So if you are looking at the budget, a reliable Wi-Fi 5 router is also a good choice.
How do I get better Wi-Fi on my Oculus Quest 2?
If you want to get the best wireless internet connection on the Oculus Quest 2, consider connecting it to the 5GHz band for maximum throughput. Also, turn on the QoS if available and put every other device on a separate band.
Is there any information on Oculus Quest 2 Wi-Fi requirements?
Well, not specifically, but it's recommended to use a dedicated routing device with an excellent hardware setup. It's also better to invest in a Wi-Fi 6 setup to experience lag-free VR gaming. Gaming routers may add to the better experience courtesy of gaming-specific features and optimization.
Verdict
Each of the 7 Oculus Quest 2 compatible routers make great networking tools, provided you choose the relevant one as per requirements and budget. Still, if selecting the best router for Quest 2 seems tricky, here are some of the more handpicked options to settle with:
If you have a big house and a slew of smart devices to stay connected with at all times, the

Nighthawk RAX45

is the one to consider.
In case you seek an all-round router with elusive traits like Airtime fairness and MU-MIM clubbed into one, the

TP-Link AX55

seems like the best bet.
For gamers who want to use Airlink for taking the games to the virtual space, the

Asus ROG GT-AC2900

is the perfect option to pick.
And while these are only a handful of options, you can always head back to the individual reviews, keep researching, and settle for a router that's fast, efficient, feature-packed, and even a thrifty buy.
For Morton, reviewing a router is just like spending another day at the office. As BCCA's senior copywriter, Morton believes is explaining every concept concerning routers, networking technologies, and additional routing specs. Also, Morton is our go-to man if we are looking to get the ISP-dependent internet plans tested across devices.