If you are one of the privileged few to have access to ultra-fast internet from Google, you need to ensure that your router can handle and optimally use the high gigabit speeds. Don't let the complexity of technical terms stop you from getting the best router for Google Fiber.
Are you concerned about the compatibility with Google Fiber or apprehensive about setting up the home network? Or you might be unaware of the advantages of Wi-Fi mesh systems. No worries, the article clarifies all of your doubts and guides you throughout the selection.
Maximum speed, features like MU-MIMO, OFDMA, and Beamforming ensure minimal loss of bandwidth and reduced latency in communication between the routing device and clients. But that's not it. You need to consider several other aspects, which I've done for you.
7 Best Routers for Google Fiber in 2023
After a comparative analysis of over 25 Google Fiber compatible routers that fit into our criteria, the shortlist comprises 7 choices. I chose them for their value addition in terms of features, pricing, and utility for different scenarios over and above the basic requirement.
The Google Fiber routers featured here to cater to the higher-end requirements that translate to gaming and data-intensive streaming. The list features high-end, mid-range, and budget options with a balance in features and pricing.
1. Best Overall: TP-Link Archer AX6000
TP-Link Archer AX6000 brings the power of a strong quad-core processor, a copious amount of ethernet ports, and operating memory. It gives a run for the money amongst its competitors like Netgear AX6000 by offering more value-added features.
Support for the latest Wi-Fi, higher individual top speeds, a multi-gigabit WAN port, and better coverage make it a significant upgrade over the Archer C5400X.
Why is it a suitable choice?
Credit to the Wi-Fi 6 and improved throughput, Archer AX6000 surprised me with its impressive speeds. In my proximity test, the device clocked consistently above 840 Mbps download speeds in the 5GHz band. The upload rate reached close to 300 Mbps with the latest iPhone.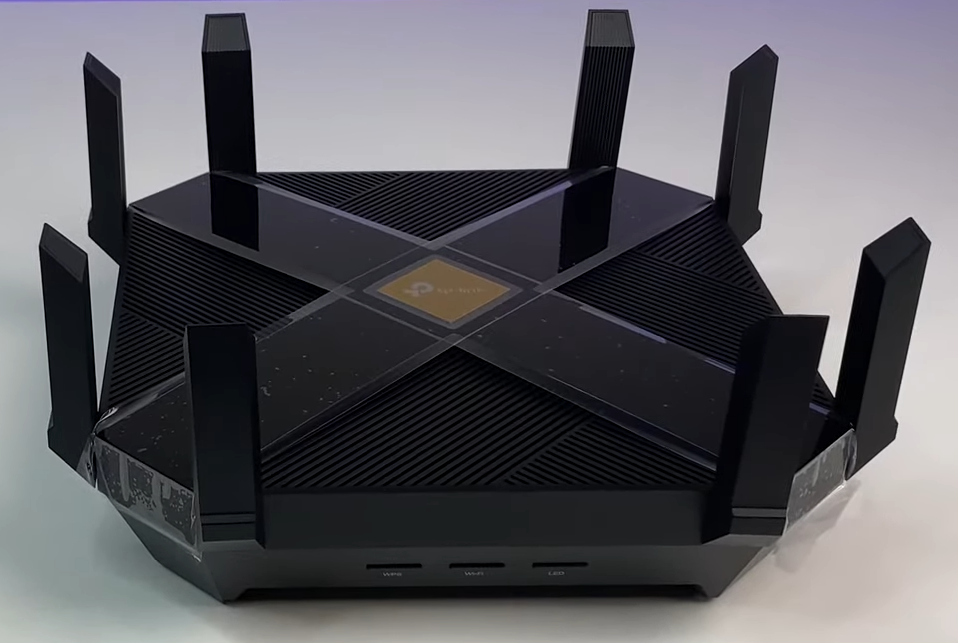 The mentioned speeds support VR activities, gaming, and 4K streaming. Technologies like OFDMA and Beamforming improve performance. Plus, 8 external partially flexible antennas make it one of the best routers to cover a 3000 sq ft house.
Ports & Connectivity
Archer AX6000 ships with a 2.5 Gbps WAN port and eight LAN ports with the comfort of link aggregation. With support to two types of USB 3.0 ports, you get high-speed data transfers within the home network.
App & Security Features
Tether mobile app and the web interface are highly intuitive & user-friendly to setup and manage the home network. Seasoned users can customize and tweak settings as per their comfort. QoS lets you set the device priority, and SmartConnect optimizes the bandwidth distribution.
If you want to limit your kid's exposure internet, parental control allows you multiple avenues with age-appropriate and keywords/URLs-based filters. The lifetime protection of HomeCare keeps your network safe from cyber threats.
Conclusion
TP-Link AX6000 is a powerful wireless router compatible with Google Fiber 1000 Mbps plan. It provides your large home the comfort of seamless high-speed internet connectivity for quicker downloads and online gaming/streaming. It edges over every other option on the list but comes at a premium price.
For more details, check out the TP-Link Archer AX6000 review.
Future-proof

8 Gigabit LAN ports
1 Multi-Gig WAN port

Link Aggregation support

Support for 160MHz channel

TP-Link HomeCare security
No WPA3

Larger footprint

Premium price
2. Best for Gaming: ASUS RT-AX92U
ASUS RT-AX92U brings the comfort of a Tri-band operation and support to WTFast gamer's private network over the other model AX82U, priced similarly. The addition of extra frequency avoids congestion when more devices are operating simultaneously.
Why is it a suitable choice?
I tested this device with a 1 Gbps Google Fiber plan. It delivered consistent speeds with minimal loss of throughput within 50 feet of the router. The device clocked up to 880 Mbps within 10ft of the router and the speeds remained above 800 Mbps at a 40 ft distance. The upload speeds varied from 300Mbps to 180Mbps, a couple of walls away.
There are 4 flat, trapezoidal foldable antennas tower from every corner of the device. The tri-band operation offers more bandwidth for multiple devices operating within 1800 sq ft.
Ports & Connectivity
This Asus model has sufficient room for 4 Gigabit Ethernet ports, one Gigabit WAN port, and 2 USB ports to accommodate wired connectivity to your priority devices, shared printers, and network storage devices within the home network.
App & Security Features
Asus router app is familiar for its simple interface and the guided installation process, which keeps the installation in less than a few minutes. The comfort of AsusWRT firmware and the interface to control it is a playground for tech-savvy users.
The device offers a customized schedule for devices through parental controls. The AiProtection blocks infected devices and malicious sites and protects against intrusions. Adaptive QoS optimizes your bandwidth. Multiple reports with real-time traffic monitoring give you more insight into internet consumption.
Conclusion
Support for WTFast gamer network & its optimization makes it an ideal Google Fiber internet router for gaming aficionados. If not for the multi-gigabit WAN port and number of ports in AX6000, Asus RTAX 92U was a stronger contender owing to its balance of utility and price.
Wi-Fi 6 support

Tri-band speeds

AiMesh compatibility

Adaptive QoS,

OFDMA, MU-MIMO

AiProtection Pro security

Supports 160MHz Channels
Limited coverage
Expensive
3. Best for Streaming: Netgear Nighthawk RAX50
Netgear Nighthawk RAX50 gets the strength of the Tri-Core processor and 160MHz channel support. The RAX50 was chosen over the latest model, i.e., RAX70, despite its advantage over a more powerful processor, owing to its support for great internet speeds at a little less price.
Why is it a suitable choice?
Credit to the latest technology like OFDMA, the Wi-Fi 6 clients delivered stunning results in my speed test with a gigabit connection. The download speeds at 5GHz remained above 800 Mbps within 15 feet of the router's vicinity. It dropped to 400Mbps when the device was 40 ft apart. The client devices rake upload speeds above 250Mbps consistently.
Netgear RAX50 gets its extensive coverage owning to the MU-MIMO and Beamforming. This gives it sufficient bandwidth for over 25 devices operating across a large surface area of 2500 sq ft, making it suitable for medium-sized homes.
Ports & Connectivity
With four Gigabit Ethernet ports, one Gigabit WAN port, and 1 USB 3.0 port, the Nighthawk RAX50 comes with ample connectivity to give your gaming consoles and remote work stations the assurance of wired connectivity.
App & Security Features
The user can install the routers through the Nighthawk application or the standard web-based setup. The mobile app offers good enough control over the network.
You can also set parental controls that allow you to manage the kid's internet exposure with age-appropriate filters and time controls. However, it is an additional purchase as Netgear doesn't offer it for free. The Netgear Armor internet security has subscription-based real-time protection from malicious content and security threats.
Conclusion
This powerful router can be crucial in households and offices with multiple devices used for data-intensive activities. The strength of Wi-Fi 6, the 160MHz channels, and the comfort of easy installation and management make it a solid wireless router for Google Fiber.
Wi-Fi 6 support

MU-MIMO, OFDMA, QoS

Powerful hardware
Decent coverage of 2500 sq ft
WPA3 security standards

Alexa and Google Assistant compatible
Parental controls at an additional cost

Still expensive
4. Best Value for Money: TP-Link Archer AX55
In search of the support for the latest wireless standards on value-for-money offerings, bring me to TP-Link Archer AX55. The router sports a sleek body and a futuristic design while also packing excellent features to handle fiber optic internet from Google.
Why is it a suitable choice?
While not as powerful as other routers suitable for Google Fiber, Archer AX55's speeds showed a good value for its money. Within 5ft, my device clocked download speeds over 730 Mbps and upload speeds above 200 Mbps on 5GHz. The legacy devices clocked download speeds above 100Mbps, even at the furthest end of the large living room.
There are 4 external antennas with support for MU-MIMO and OFDMA, delivering stable signals to multiple devices simultaneously. Stream movies at high definition, play & stream games at high quality and attend business meetings at the same time in a 2500 sq ft house.
Ports & Connectivity
As for the ports, TP-Link has provided one WAN port, four Gigabit LAN ports, and a USB 3.0 port on the rear. It ensures wired connectivity for the high-priority devices at your home.
App & Security Features
TP-Link Tether application comes with a guided set of instructions to take through the installation process. The web interface opens up access to a plethora of customizations to tweak your router.
Create user profiles, time limits, and allow/block internet access. Blacklist websites based on keywords and URLs. Plus, built-in QoS feature allows you to set bndwidth priority.
Features like port forwarding and VPN help improve internet performance by streamlining communication to OTT/gaming servers. You also get TP-Link HomeCare's built-in anti-virus to protect you from cyber threats.
Conclusion
Looking for an affordable yet powerful Google fiber router to future-proof your internet connection? Archer AX55 brings a plethora of features at a great value for money. You may also check my full review of the TP-Link Archer AX55.
Wi-Fi 6 support

160MHz channel support

MU-MIMO, OFDMA, QoS

Lets you set parental controls
TP-Link HomeCare anti-virus

Alexa compatible
5. Best Tri-Band Router: Linksys MR9000
With the improved internet speeds and better coverage compared to its predecessor MR8300, Linksys MR9000 takes place in this list of routers good for Google Fiber. Let's learn more about this tri-band routing device to figure out whether or not you should consider investing in it.
Why is it a suitable choice?
While staying connected to its primary 5GHz channel, the client devices clocked close to 780 Mbps of download speeds and 200 Mbps upload speeds. Its mid-range performances were notably high. The client device consistently clocked speeds above 500 Mbps while being separated from the router by a wall.
The tri-band operation can be crucial to its overall speed and performance. There are 4 high-power external antennas that act as stable signal carriers to multiple devices in a medium to large household measuring 3000 sq ft.
Ports & Connectivity
MR9000 features four Gig Ethernet LAN and one Gig WAN to keep your priority devices like Smart TVs, gaming consoles like Xbox One, PS4, etc, and PCs wired to the router. The presence of a USB 3.0 port comes in handy for sharing a printer/hard drive.
App & Security Features
Linksys application keeps the initial setup simple and quick. Users can manually set up priority for devices, enable basic parental controls, block the internet for listed devices, and blacklist websites using the interface. Users can protect their home network by isolating guest access and prioritizing devices.
Conclusion
If you plan to subscribe to a 1000mbps Google Fiber connection, Linksys MR9000 gives a decent performance, mesh compatibility to extend the network, and the ability to manage your network at the comfort of a simple interface even if you are on the move.
Tri-Band technology
Extended coverage
Handles up to 25 devices

MU-MIMO, Beamforming, QoS

Mesh compatibility
Easy to set up and manage
Limited parental controls
6. Best Mesh Wi-Fi for Google Fiber: TP-Link Deco X55
TP-Link Deco X55 offers one Ethernet port more than its predecessor, X20. The wired backhaul support leaves you more bandwidth for the devices connecting to the satellite units, which makes it one of the best Wi-Fi 6 mesh routers to use with Google Fiber. Not to mention the price advantage, ease of installation/management, and extended coverage.
Why is it a suitable choice?
In my test with Fiber Optic internet, it clocked consistently above 650 Mbps of download speeds. The upload speeds reached north of 150Mbps. A couple of rooms away, connecting to a satellite unit, the device clocked over 200 Mbps. The flexibility of the 3-pack gives a huge advantage to multi-level homes.
Each unit carries 4 internal antennas that are enabled with MU-MIMO and OFDMA technologies to handle multiple devices with ease. The 3-pack mesh covers as long as 6500 sq ft. It can handle over 100 devices. Crank up the online gaming on one end while the rest of your family is binge-watching the latest series, and the system will cruise through it.
Ports & Connectivity
One can feel limited by the lack of a USB port and two Gigabit Ethernet ports, making this ideal for large congested apartments that rely on multiple gadgets with wireless connectivity.
App & Security Features
The Deco app makes it easy for users to set up and manage the network. Get the latest WPA 3 encryption to keep unwanted users away. The HomeShield Pro not only comes with advanced security measures to keep your network from intrusions and attacks, but it also offers comprehensive parental controls and a multitude of reports.
Suggested Read: Configuring Router to Use WPA3 Encryption
You'll not only be able to prioritize the devices, but you'll also be able to control the exposure even while you are away from home. This makes it one of the best routers for google fiber with a bunch of kids at home.
Conclusion
If you are living in a very large multi-tier automated home, Deco X55 is one of the best mesh systems to lay your hands on. Its wired connectivity, backhaul support, advanced protection, and competitive price make it a straightforward choice and one of the better routers that work with Google Fiber over its competitors on this list.
Wi-Fi 6 standard

Extensive coverage
Latest security features
Handles over 100 devices

Remote monitoring and control
7. Best Budget Option: Asus RT-AC67P
The much stronger processing unit in AC67P justifies the improved throughput capacity over its previous version AC65P. The extended coverage and the selection of features at wallet-friendly prices put this on the list as one of the best budget routers compatible with Google Fiber.
Why is it a suitable choice?
Working with a 1Gigabit connection, my iPad clocked the downloads at an excess of 600 Mbps on the 5GHz. At the farthest end of my house, the Netflix speed tests showed results close to 40Mbps. The upload speeds averaged around 180Mbps in the router's vicinity.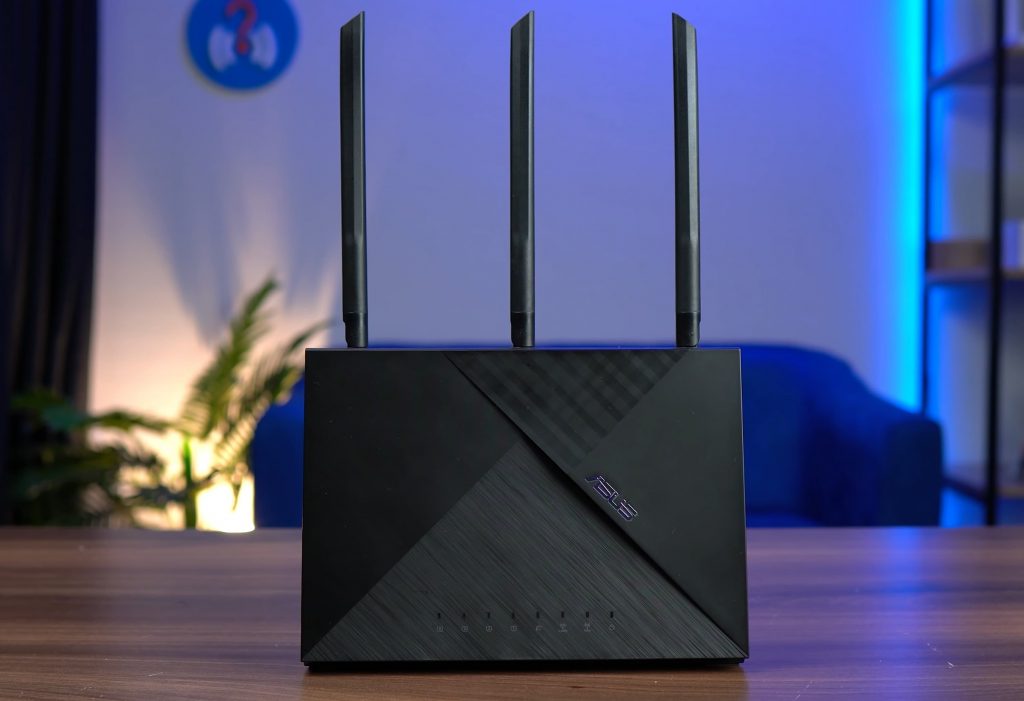 Backed by a solid processing unit, RT-AC67P can handle over 30 devices. With three capable beamforming antennas and proper router placement, you'll get the most out of its range of 3000 Sq Ft. Balance your gaming & heavy streaming sessions; you'll have sufficient capacity to support all surfing, productivity, and relevant activities.
Ports & Connectivity
AC67P leaves you with 4 Ethernet ports to connect primary gadgets in your household. You'll get fast data transfers and storage speeds with the USB 3 port.
App & Security Features
While the initial setup is done with the web portal, the Asus router app gives an advantage with even easier management. The WPA2 encryption standards, firewalls, and guest networks offer standard protection to your network. The parental controls are handy for keeping a tab on the kid's internet consumption.
Conclusion
If you are looking for a worthy budget router for under $100 to complement your large home, there is hardly a chance to go wrong with RT-AC67P. The selection of features makes it a sure-shot inclusion to the list of routers that work with Google Fiber.
MU-MIMO &

Beamforming

Parental controls

Compact design

Great coverage
Excellent port setup
Limited customization and security
Frequently Asked Questions
Do external routers work better with Google Fiber?
Yes, the external routers would have trouble working with Google Fiber connection as long as the user to sticks to specifications recommended by Google. Google recommends routers with Wi-Fi-5 or later with gigabit ethernet ports and a minimum of WPA 2 security.
How to set up an external router with Google Fiber?
Upon subscription, a Fiber Jack gets installed by the technician. Power your router and connect one end of the Ethernet cable to the fiber jack and the other to the WAN port in your router. Once the router indicates the established connection, users can follow the guided steps to finish the initial setup.
Should I buy a traditional router or Wi-Fi mesh system?
Choosing between a traditional router or mesh system depends on the landscape and the size of your house. If you are living in a single-floor small-medium household, most of the mid-range routers will fit your requirements. Wi-Fi 6 mesh systems are ideal for multi-storeyed/automated homes.
Does Google Fiber support Wi-Fi 6?
Yes, Google Fiber supports the latest Wi-Fi 6 standard. The 2 Gigabit plan from Google Fiber is designed to cater to the high-speed requirements and works perfectly with Wi-Fi 6 routers that come with a multi-gigabit WAN port.
Verdict
The right choice of Google Fiber router depends on the landscape of your house, nature, and volume of usage. The clarity in requirements is imperative for finding the ideal device. Please feel free to look beyond the aforementioned list if the requirements are not in tune with the scenarios mentioned:
If you are on a 2 Gigabit Google Fiber connection and want to get the best out of your service package, TP-Link Archer AX6000 is your best bet.
For gaming enthusiasts looking for a gaming-friendly, VPN-supported device, ASUS RT-AX92U would fit right into your requirements with 1Gig Google Fiber Plan.
If you own a multi-level modern home with a lot of smart gadgets in it, you can't go wrong with the TP-Link Deco X55 Wi-Fi 6 mesh system.
Lastly, if you're looking for an affordable router that works with Google Fiber, I'd recommend opting for Asus RT-AC67P.
For Morton, reviewing a router is just like spending another day at the office. As BCCA's senior copywriter, Morton believes is explaining every concept concerning routers, networking technologies, and additional routing specs. Also, Morton is our go-to man if we are looking to get the ISP-dependent internet plans tested across devices.