Did you recently move to a new neighborhood with access to fiber internet? Looking for a reliable fiber optic router that brings the best out of your connection? Or are you replacing your broadband internet with a high-speed fiber service package to set up a robust ecosystem for multiple devices at your home or office?
Don't know about your ISP? Find Who is your ISP here.
You might be worried about the Wi-Fi router's compatibility with the higher speeds an optical fiber connection delivers. You live in a household that requires multiple wired connections to prioritize your network. The articles deliver the solutions for the diverse requirements from a household/office switching to fiber-optic internet.
And to your surprise, not only do I suggest the best fiber optic routers, but I also put together a detailed buying guide to help you make an informed decision. Be it Wi-Fi 6, wired connectivity, low-ping gaming, traffic monitoring, or security features, the fiber-ready wireless routers listed here shall offer the best value for your money.
7 Best Routers For Fiber Internet in 2023
From single floor to multi-storeyed houses, congested apartments, to ranch-style homes, the fiber routers featured here shall cover different requirements. From a comprehensive list of over 27 routing devices, I have narrowed it down to the top 7 fiber internet routers that are relevant as per today's standards.
Just so you're aware, the article starts with the high-end offerings with future-proof specs and speeds. It extends to a mix of mid-range options fulfilling multiple requisites and throws some budget-friendly contenders at the end. Let's get to the reviews!
1. Best Overall:

Asus RT-AX88U
Considerable upgrades to the processor and operating memory with the latest wireless standards make it a brilliant choice over its predecessor RT-AC88U. The selection of ports and its extended coverage puts Asus RT-AX88U at the top of my list of the best fiber optic routers.
Why is it suited for Fiber Optic Internet?
The top speeds of 1148 Mbps on 2.4GHz and 4804 Mbps on 5GHz offer a wealth of bandwidth for devices. It's no wonder that the tests revealed a consistent output of downloads over 900Mbps on my 1Gbps internet plan.
Its aggregate speeds and throughput make it one of the best router choices for Google Fiber, Xfinity, and Verizon FiOS. The latest set of features, MU-MIMO, OFDMA, and an adaptive QoS, make it easy for your devices to clock incredible speeds at the same time.
Coverage & Performance
The additional DFS and 160MHz channels ensure an uncompromising performance with over 30 devices sharing the internet. The coverage of 5000 sq ft makes it suitable for covering corners of large houses, offices, and warehouses, which are susceptible to dead zones.
Design & Ports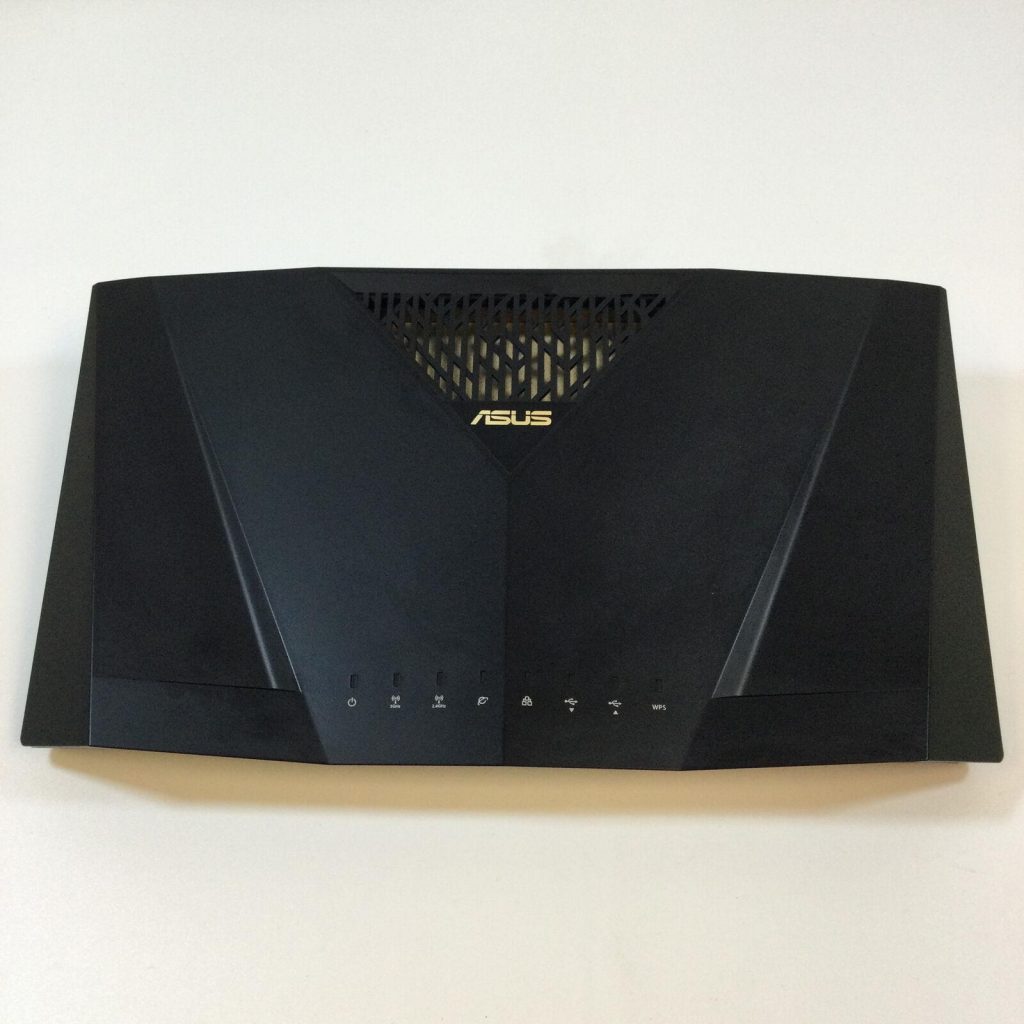 Weighing 2.2 pounds, the routing unit comes in black chassis with accents of gold in an angled design. You'll find 4 huge beamforming antennas encircling the rear half of the device, measuring 11.8 x 7.4 x 2.4 inches.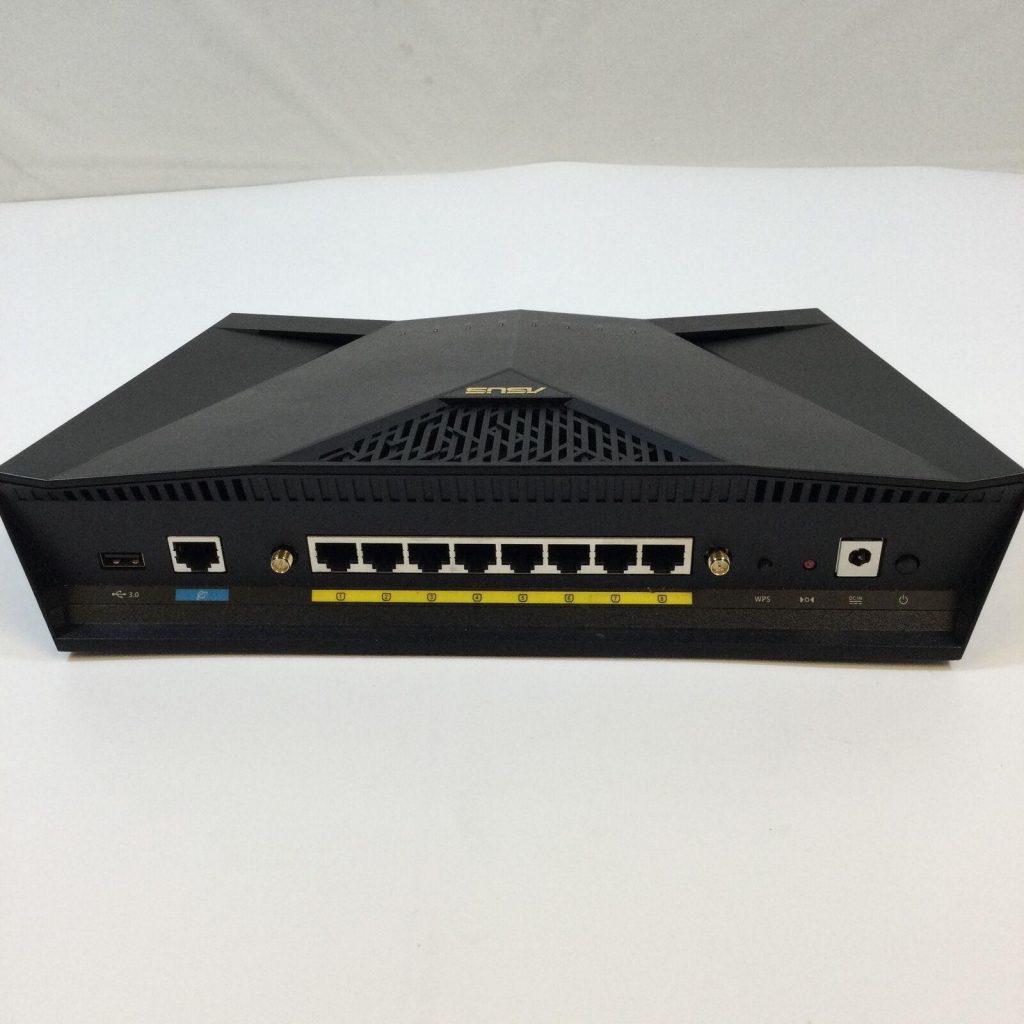 The 1Gig WAN port and 8 LAN ports, along with link aggregation, bring multi-gigabit speeds within its purview. The 2 USB 3.1 ports ensure you'll have sufficient room for connecting USB dongles, hard drives, and printers to the network.
Hardware Specs
Broadcom chipset with a quad-core processor clocking 1.8GHz makes it a powerful wireless router to handle multiple devices. It is further supplemented by a 1GB RAM and 256MB storage that delivers exceptional gaming performance with high-graphics games like Assassin's Creed, Far Cry-5, etc.
Setup & Security
The installation is guided and simple with the ASUS router app and the web interface. The web interface offers extensive control over your home network and detailed reports on usage with real-time monitoring, VPN configurations, access & parental controls. Lifetime support for internet protection makes this a great buy.
Conclusion
If you are searching for the best router for fiber internet, the Asus RT-AX88U is a brainer. It's ideal for gaming and entertainment. You'll enjoy the advantage of wired connectivity, easy mesh compatibility, and adaptive QoS. Despite the lack of a multi-gigabit WAN port, the improved storage and coverage put it above the TP-Link counterpart.
Wi-Fi 6 standard

MU-MIMO &

OFDMA

160MHz & DFS channels

WTFast accelerator

Adaptive QoS
No multi-gig port

Expensive
2. Best Runner Up:

TP-Link Archer AX6000
The Archer finds a balance with features, utility, and price with a toned-down version of its tri-band predecessor, Archer AX11000. An excellent selection of Ethernet ports combined with the latest features puts the TP-Link Archer AX6000 closer to the top of the list of best fiber routers in the market.
Why is it suited for Fiber Optic Internet?
Support for an additional 160MHz channels improves the top speeds to 1148 Mbps on 2.4GHz and 4804 Mbps on 5GHz. The device raked over download speeds of 900-910Mbps on a Gig internet plan, making this an ideal Wi-Fi router for 1000 Mbps and even multi-gig plans of Google, Xfinity, and Verizon Fios.
Add the advanced features like MU-MIMO and OFDMA to the mix, and you'll get the best performance even with the multiple devices hogging the internet.
Coverage & Performance
Features like QoS, DFS, and Airtime Fairness allow you to get the best out of the internet service even with over 50 devices connected to this model. The excellent range of 3000 sq ft makes it one of the most prominent Wi-Fi routers for large homes with demands of heavy internet activities.
Design & Ports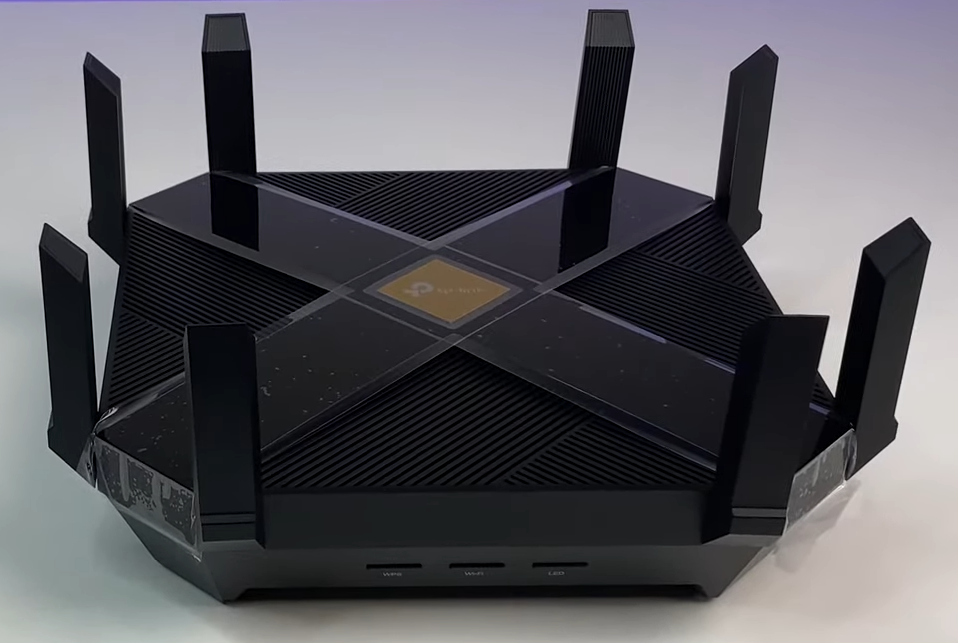 Weighing 3.6 pounds, the routing device comes in a heat-regulated black chassis with a beveled cross on its top. The 8 beamforming external antennas surround the device measuring the 10.3 x 10.3 x 2.4 inches.
The 2.5Gbps WAN port, 8 LAN ports, along with link aggregation allow you to combine multiple internet lines into the network. You'll not have to choose between a printer or a hard drive with 2 USB 3.0 ports available on the device.
Hardware Specs
A quad-core processor clocking at high speed of 1.8GHz forms the engine of the powerful routing device. The memory combo of 1GB RAM and 128MB storage further improves the multitasking ability without affecting its performance during data-intensive 4K media streaming and multiplayer gaming.
Setup & Security
The Tether mobile application and a comprehensive web interface make the installation and management a cakewalk. You can access comprehensive parental controls and dual QoS through the web interface. The inclusion of lifetime protection of Homecare security makes this a game-changer.
Conclusion
The state-of-the-art features backed by a strong hardware unit and excellent wired connectivity are an excellent fit for large homes with content creators and streamers. Throughput capacity and better hardware keep RAX45 below the ASUS beast.
To learn more about a specific part, check out TP-Link Archer AX6000 Review.
Wi-Fi 6 standard

Link Aggregation support

DFS & Airtime Fairness

Multi-Gig WAN port

Excellent wired connectivity

Excellent coverage
Large footprint

Still pricey
3. Best from Netgear:

Netgear Nighthawk RAX45
Upgrades to the hardware make it a better choice for high-speed fiber internet plans than its preceding model, RAX40. The latest wireless standards and a secure Netgear environment make Netgear Nighthawk RAX45 a strong case for its inclusion on the list of top fiber internet routers.
Why is it suited for Fiber Optic Internet?
Capable of delivering individual speeds of 480Mbps on 2.4GHz and 3840Mbps on 5GHz, the unit clocked download speeds of over 800Mbps on 5GHz with a 940Mbps plan. The legacy devices clocked a little more than 250Mbps download speeds.
This model can work well with high speeds up to 1Gbps. With various services providers like Verizon, AT&T, and Spectrum offering plans close to 1Gbps, RAX45 will allow you to bring the best out of your internet plan. Features like MIMO, OFDMA, and manual QoS help further its performance levels.
Coverage & Performance
The extended range of 2500 sq ft leaves you no dead zones and offers connectivity across your medium-sized homes. Its capacity ensures you'll be able to connect and operate over 20+ devices simultaneously without affecting the overall performance.
Design & Ports
The matte-black chassis gives a premium feel to the intelligent heat-regulating design. Netgear puts 4 beamforming antennas surrounding its rear half. The lightweight unit hardly weighs 1.25 pounds, and its dimensions of 11.6 x 8.11 x 2.25-inches leave a sleek appearance.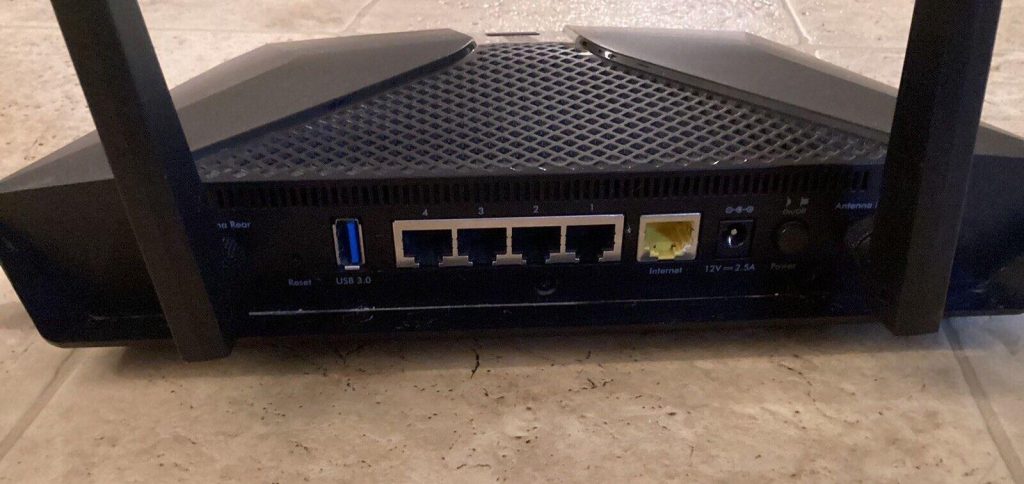 Plug-in your TV, gaming consoles, printer, and shared hard drivers through the 4 LAN ports, 1 WAN port, and USB 3.0 port.
Hardware Specs
With the three-cores clocking at 1.5GHz, the router supports multiple TV units, PCs, and plenty of mobile gadgets. The 512MB RAM and 256MB flash storage memory duo keep the performance levels high during intense gaming and streaming activities.
Setup & Security
It is hard to complain about the Nighthawk mobile app or the web portal for their role in installations. You can use the mobile app to control your network remotely. Netgear offers advanced real-time internet security with frequent updates for a subscription fee. You get an inbuilt VPN, firewalls, and WPA3 encryption.
Suggested Read: How to configure WPA2 or WPA3 on a Wireless Router?
Conclusion
Are you looking to get rid of a network congested neighborhood? The RAX45 makes a strong statement with the ideal selection of features backed by a robust hardware unit, outperforming the Archer RAX55 below the list.
Wi-Fi 6 standard

MU-MIMO&

OFDMA

Triple-Core processor

DFS Channels support

Great coverage
4. Best Value for Money:

TP-Link Archer AX55
Improvements to the hardware unit make AX55 a better choice for fiber internet than AX50. The aggressive pricing coupled with a modern, intuitive interface makes TP-Link Archer AX55 a strong case for its inclusion in the top half of the best wireless routers for fiber internet.
Why is it suited for Fiber Optic Internet?
Speeds of 574Mbps on 2.4GHz and 2402Mbps on 5GHz make a strong case for improved bandwidth. It delivered a consistent download speed of 800Mbps with a 940Mbps internet connection while staying within the vicinity of the Wi-Fi router.
Higher aggregate speeds of this model make it compatible with plans above 500Mbps of fiber internet providers like Xfinity, Verizon, and AT&T. Features like MU-MIMO, OFDMA, and DFS allow you to make the best out of your internet connection in offering seamless congestion-free communication.
Coverage & Performance
Archer AX55 comes with the capacity to handle 25 devices with no significant drop in performance. Medium-sized homes with multiple works from home setups will ‌get the best out of the device's extended range of 2500 sq ft. Connect your TV, laptops, and desktops and stream high-quality videos.
Design & Ports
The shiny black unit has a beveled top and a highly ventilated chassis reminiscent of its standard design. You'll find 4 external beamforming antennas on its rear side.
With 4 LAN ports, 1 WAN port, and a USB 3.0 port, you'll find adequate room to keep the priority devices on a wired connection. The intelligent design keeps the appearance sleek within 10.2 x 5.3 x 1.5-inches and a weight of 2.1 pounds.
Hardware Specs
The 1GHz dual-core processor is an improvement over its predecessor. The combination of 512MB RAM and 128MB storage makes this a capable multitasking unit. Heavy 4K streaming in OTTs like Netflix, Twitch content streaming, online gaming, and faster downloads fall within the realms of this powerful fiber internet router.
Setup & Security
Both Tether mobile app and the web interface offer a user-friendly installation process. Tether App allows you to take control of your home network both locally and on the go. If you prefer advanced internet protection, the Homeshield keeps the intrusions & DDoS attacks at bay for a subscription fee.
Conclusion
TP-Link AX3000 (AX55) allows you to future-proof your home in a network congested environment with the latest wireless standards. Its easy mesh compatibility and sophisticated network management at a very competitive price put it above the ASUS gaming router.
Wi-Fi-6 standard

MU-MIMO

Additional 160MHz Channels

Beamforming Support

DFS Support
Subscription costs

Hardware unit
5. Best for Gaming:

ASUS GT-AC2900
A downgraded version of the powerful AC5300, the routing unit comes with a different hardware unit to accommodate its competitive pricing. The gaming dedicated features make ASUS GT-AC2900 one of the best wireless routers for fiber optic internet.
Why is it suited for Fiber Optic Internet?
Higher individual top speeds of 750Mbps and 2167Mbps on 2.4GHz and 5GHz bands, respectively, offer a tremendous advantage to this model. The test results were impressive, with the devices clocking over 500Mbps download and 350Mbps upload speeds in 5GHz with a 600Mbps service pack.
Aided by a smart QoS and advanced features like MU-MIMO, the routing unit can bring the best out of the high-speed plans over 500Mbps of significant service providers like Spectrum, Verizon, and AT&T.
Coverage & Performance
The fiber-ready router can support up to 30 devices, credit to its multiple data streams and high throughput capacity. The Wi-Fi coverage of 2500 sq ft makes it a great value addition to larger homes and congested apartments.
Design & Ports
The mix of multiple shades of black and red lines up with its gaming capacity. At 1.72 pounds, the unit measures 8.75 x 6.65 x 4.37 inches and comes with a wall-mountable vertical setup. You'll also find 3 beamforming antennas above its top.
Asus stands out with wired connectivity with 2 USB ports, 3 LAN ports, and a dedicated gaming port. The link aggregation comes in handy for improving your available bandwidth and a stable network.
Hardware Specs
The 1.8GHz dual-core processor on a Broadcom chipset is no run-of-the-mill component. With the synergy of a 256MB flash storage and 512MB RAM, the router delivered an impressive gaming performance with high-end games like Far Cry and Red Dead Redemption with its priority acceleration.
Setup & Security
You can set up the device in a few minutes with the guided installation in the web interface. The ASUS router app and web interface offer comprehensive customization with access to advanced port settings, VPN configuration, detailed parental controls, and access filters.
If you are looking to avoid subscription costs, the AiProtection Pro offers you commercial-grade internet protection for a lifetime at no additional cost.
Conclusion
Households with gaming enthusiasts cherish the value offered by the Asus gaming router. The GT-AC2900 finds itself above the mesh unit for its price advantage, selection of features, and advanced security options.
Dedicated Gaming port

Link Aggregation support

MU-MIMO &

Beamforming

Ai Protection Pro

Gaming Setup-friendly design
6. Best Mesh Wi-Fi for Fiber Internet:

Linksys WHW0302B
Part of Linksys's early ventures into the mesh market space, the two-pack unit packs an additional 5GHz band, substantially improving device capacity. Seamless connectivity backed by a robust hardware unit makes Linksys WHW0302B one of the best Wi-Fi mesh routers for fiber internet.
Why is it suited for Fiber Optic Internet?
The two-pack system operates on a tri-band with the capacity to achieve speeds of 400Mbps on 2.4GHz and 876Mbps on its dual 5GHz frequency. On testing with a faster 600Mbps internet, the devices delivered consistent download speeds of over 430Mbps on 5GHz, reaching over 180Mbps on 2.4GHz.
Features like MU-MIMO & a self-healing network make the connectivity seamless and forms the best platform for households with plenty of devices. The unit brings the capacity to work with high-speed plans over 500Mbps of significant service providers, like Xfinity, AT&T, and Verizon.
Coverage & Performance
The device can support up to 40 devices spread across 4000 sq ft, making it ideal for larger homes, multi-story houses, complexes, etc. If you are in an automated home setup, you can connect streaming devices, home automation gadgets, and security camera units without affecting the performance.
Design & Ports
The minimalist black tower sports a heat-regulated top. Each unit measures 3.1 x 3.1 x 7.3 -inches and weighs around 3 pounds, built with 6 amplified internal antennas powered with beamforming.
With two auto-sensing LAN/WAN ports placed beneath the device, you'll have limited wired connectivity options for your TV and gaming devices with two auto-sensing LAN/WAN ports placed beneath the device.
Hardware Specs
The device runs on the strength of a quad-core CPU clocking at 716MHz on a Qualcomm chipset. Linksys supplements the CPU with an adequate memory duo of 512MB RAM and 4GB storage, bringing the capacity to support heavy 4K/8K streaming, high graphics gaming like Far Cry, Call of Duty, and a plethora of mobile gadgets.
Setup & Security
The Linksys Wi-Fi app-based installation offers you an easy setup. Manage your device priority, create access filters, and guest the network efficiently. The WPA2 encryption and Linksys Shield protect the home network from online security risks.
Conclusion
If you're looking for a solid mesh system for your automated multiplex home, business, or office, Linksys WHW0302B offers the right balance of features, utility, and price, keeping it above the Netgear device.
MU-MIMO

Simultaneous Tri-band

Beamforming Antennas

Self-healing network

Extensive coverage

Great value for the money
No USB Port

Wi-Fi 5 standard
7. Best Router for Ziply Fiber:

Netgear R6900P
Higher internet throughput capacity and improved coverage make the Netgear R6900P a preferred choice over its predecessor. Netgear's security ecosystem is a major influence on its inclusion on the list of best wireless routers for fiber internet.
Why is it suited for Fiber Optic Internet?
The device support individual speeds of 600Mbps on the 2.4GHz and 1300Mbps on the 5GHz. With a 300Mbps internet, the R6900P reached download speeds of 250Mbps on its 5GHz, while consistently hitting speeds of 130-1400Mbps on 2.4GHz.
This is perfect for working with service providers like AT&T, Verizon, and Xfinity for packages ranging from 300-500Mbps. Features like MU-MIMO help you bring the best out of the internet when you have multiple devices sharing your internet.
Coverage & Performance
The Netgear R6900P can handle up to 30 devices spread across 1800 Sqft, making it suitable for smaller homes. Making audio/video calls, fast file transfers, and media streaming fall under the purview of this fiber-ready router.
Design & Ports
A glossy black body comes with ventilation on both sides. Weighing 1.65 pounds, the R6900P measures 11.22 x 7.26 x 1.97-inches, leaving a larger footprint. You'll find 3 external beamforming antennas that are essential to its improved coverage performance.
The R6900P comes with adequate wired connectivity for a small household with 4 LAN Ports and 1 WAN port on its backside. The fast USB 3.0 port on the front supports faster file transfers while sharing hard drives within the network.
Hardware Specs
Backed by a 1GHz dual-core processor and a 256MB RAM and 128MB storage duo, the device can hold its ground when faced with data-intense activities. You might have to balance and optimize your usage with data-intense streaming/gaming with a lighter internet load.
Setup & Security
Netgear Nighthawk app and portal-based setup make the process easier. It has never been easier to set up parental controls and create a guest network in the comfort of your mobile, even when you are away from home.
Netgear Armor offers advanced protection against internet threats for a subscription. The R6900P comes with features like inbuilt firewalls, VPN support, and WPA2 encryption to offer security and privacy to your home network.
Conclusion
The selection of features at an affordable price makes this a valuable buy for smaller houses looking for a sub $100 Wi-Fi router. The improved coverage and flexibility of the Linksys keep the Netgear device at the end of the list.
Netgear Armor security

MU-MIMO &

Beamforming

Works with Alexa

Parental controls
Buying Guide to Choose the Best Fiber Router
The guide below will help you narrow down and select the correct fiber optic Wi-Fi router for your home or office.
Decide Your Needs
Choosing the best-suited router for fiber internet isn't easy when you haven't figured out your requirements. Essential factors like the surface area of your house, types of devices, and usage load should ideally influence the decision.
Create a list of preferences and requirements. Prioritize them accordingly and map them with the shortlisted devices. Choosing a routing device with more Ethernet ports for multiple TVs will be better than paying higher for a gaming-friendly device.
Check Compatibility
Most modern wireless routers are compatible with fiber internet. Spending your money on a tri-band device will be overkill if the number of devices is limited.
Look for the list of recommended equipment by your ISP, compare similar products, and choose a device that complements your internet package. Without the necessary specs, you'll miss out on making the best of your internet.
Wi-Fi Standard & Speeds
If you are looking for the best fiber optic router, the Wi-Fi standards play a huge role in determining the quality of the output. For most households, Wi-Fi 5 routers would be sufficient. For a household with Apple fans and Sony gaming enthusiasts, Wi-Fi 6 routers will allow you to make the best out of the speeds available to you.
The aggregate & individual top speeds decide the bandwidth available to be split between devices. As the devices increase, look for higher aggregate speeds. If your fiber router has advanced features like MU-MIMO and OFDMA, that will substantially improve the performance.
Coverage & Devices Support
It doesn't feel good to be stuck in a dead zone and slow speeds despite having a high-speed internet connection. That's where the coverage plays a critical role. The router's coverage of 1500 sq ft will be sufficient for smaller homes but would leave glaring dead zones in medium/large homes.
Look for 3000 sq ft coverage and more antennas if you want to ensure signal quality. A multi-core CPU and adequate storage are paramount if you have plenty of devices like TVs and gaming consoles.
Ports & Connectivity Options
Do you want to share a printer throughout the household? Look for routers with USB ports. Choose the version with USB 3.0 ports that will deliver better performance if you switch to sharing hard drives within the home network.
Connecting devices like TV, gaming consoles, and desktop to the router via Ethernet will allow you to get the best out of the wireless bandwidth.
Installation & Management
Most fiber optic routers support mobile apps or a web-based installation. If you're looking for App-based local and remote management, TP-Link, Netgear and Asus offer great options. You'll be able to choose between subscription-based and free internet security options that come along with your routing device.
Frequently Asked Questions
What type of Wi-Fi router do I need for fiber-optic internet?
The fiber optic connections offer high transfer speeds. Routers supporting Wi-Fi 5 or Wi-Fi 6 are ideal for using the fast speeds on offer. They get the best out of an internet connection.
Do I need a special router for fiber optic?
Yes. The wireless routers capable of utilizing a fiber optic connection differ from the previous ADSL routers. They are different in terms of the underlying technology and speeds they support.
How can I connect fiber optic to a wireless router?
Fiber optic cables cannot directly connect to the wireless router. We can connect them to the router via a fiber optic modem. Most fiber optic connections come with an optic network terminal that connects to your Wi-Fi router.
Does fiber optic use Ethernet?
Yes, the Ethernet cables are used in the last-mile delivery of the fiber optic internet connection to end-users. The high-speed capability and the inherent cost advantage of the Cat6 Ethernet cables make them viable for usage.
Verdict
Contingent the size, type of household, and the group of people accessing the internet remains the most crucial factor in selecting the best router for fiber optic internet. The list below highlights the most common scenarios faced while looking for a fiber router.
The

Asus RT-AX88U

tops the list as the most premium choice for fiber internet, owing to features that make it ideal for medium-large households that require excellent speeds & connectivity.
The

TP-Link Archer AX55

offers a great value with fast internet speeds, backed by efficient hardware at an affordable price.
The two-pack

Linksys WHW0302B

is designed to take the gigabit fiber internet connection to automated homes in multi-story/multiplex homes.
For Morton, reviewing a router is just like spending another day at the office. As BCCA's senior copywriter, Morton believes is explaining every concept concerning routers, networking technologies, and additional routing specs. Also, Morton is our go-to man if we are looking to get the ISP-dependent internet plans tested across devices.