Are you tired of the yearly contract agreements and the early termination every time you switch your Internet service provider? Does the idea of no data caps and overage charges of CenturyLink seem like a better proposition to you? In that case, you should invest in your own modem or Wi-Fi router.
The article brings you the routers that have the essential features to bring the best out of the CenturyLink service. The gadgets cater to diverse requirements, including adequate coverage, optimize Wi-Fi signal transmission to multiple devices, internet security, and the ability to prioritize and allocate bandwidth.
The speed limits are contingent on availability in your locality, with uniform pricing for different speeds. There is a catch, users get to choose only the type of service; i.e., DSL or Fiber-Optic Internet. However, with high speeds being available, CenturyLink offers one of the most economical internet packages, and buying your own router for CenturyLink can further sweeten the deal by cutting down on the monthly rentals.
Does living in a large house leave you concerned about the dead zones? Do you want your router to limit the internet exposure of your kids and protect the entire network from any external threats? Are you tight on budget and would prefer a cheaper alternative? We've got all your requirements covered here.
6 Best Routers for CenturyLink in 2023
Factoring the modem cost that comes with CenturyLink's DSL internet, I have handpicked the routers that don't make a huge dent in your wallet. Find the top 6 routers compatible with CenturyLink to cover your essential requirements without compromising on the standard features.
The list starts with the wireless routers offering high speeds through the latest wireless standards and features like MU-MIMO, Beamforming that improve signal delivery to accommodate more devices. You can find some value for money options and budget choices as you move towards the end of the list.
1. Best Overall:

TP-Link Archer A20
In Archer A20, TP-Link completely overhauls the hardware unit of the previous model with improvements to the processor and the memory units. If you have plenty of devices at your home with multiple streaming devices, the additional 5GHz band in the router will make a stark difference to your internet experience.
Why is it suitable for CenturyLink?
The Fiber internet with potential speeds up to 940 Mbps will be ideal to pair with the simultaneous tri-band router. It can deliver up to 750 Mbps on 2.4GHz and 1625 Mbps on dual 5GHz bands, credit to its 1024QAM powered high data rates.
With advanced technology like MU-MIMO, Beamforming at its disposal, the router can transmit signals to multiple devices simultaneously and cover extensive areas scaling up to 3000 sq ft.
Hardware & Performance
With two powerful processing cores clocking at 1.8GHz, supplemented by three co-processors, the router brings in the capacity to handle data-heavy 4K streaming and online gaming. The 512MB RAM and 256MB storage are imperative for their ability to handle up to 50 devices.
Design & Ports
Highly ventilated design on a shiny square-shaped black body measures 7.9 x 7.9 x 1.5-inches in dimensions. At 1.8 pounds, the router has 6 external antennas to deliver signals.
Hardwire your priority devices, printer, and storage devices to the router with the 4 Ethernet ports, 1 WAN port, and 2 USB ports. With Link Aggregation, you can ensure backup for contingencies or additional bandwidth for more devices.
Setup & App Support
Tether, TP-link's mobile application, is a testament to simple, yet modern user-intuitive design. Initial setups to network management are straightforward even for non-tech savvy people. The web interface opens up to comprehensive customization, which includes assigning priority and allocating bandwidth to devices.
Security & Other Features
Archer A20 comes with the lifelong protection of TP-Link Homecare, which extends its expertise in handling Port intrusions, infected device isolation, and handling malicious contents. With the custom profiles and comprehensive parental controls, you have a simplified route to manage internet access to devices.
Conclusion
The advantage of an additional 5GHz band, with link aggregation, makes this router stand out from the other routers that work with CenturyLink. A powerful hardware unit extends its ability to handle more devices, an advantage over much faster speeds of the Linksys E8450.
MU-MIMO &

Beamforming

Tri-band operation

Supports Link Aggregation

TP-Link HomeCare security

Excellent coverage
Has two USB ports
Larger footprint

No Wi-Fi 6
2. Best Runner Up:

Linksys E8450
Upgrades in the processor and operating memory make the Linksys E8450 capable of handling the speeds of the latest Wi-Fi 6 standards. The latest encryption standards of WPA3, the high throughput, and easy mesh scalability make this an ideal choice for medium households with fewer devices with a potential upgrade to large/multi-story homes.
Why is it suitable for CenturyLink?
With the fiber optic connection delivering up to 940 Mbps, the Linksys brings the advantage of the amplified 1024 QAM speeds in achieving 800 Mbps on 2.4GHz and 2400 Mbps on the 5GHz band. Features like MU-MIMO, Beamforming are imperative for the router's ability to deliver signals across 2500 sq ft house.
Hardware & Performance
E8450 comes with a dual-core processor clocking at 1.4GHz. The processing unit in tandem with 512MB RAM and 128MB flash storage, can support data-heavy streaming activities, online gaming, and other daily activities in up to 25 devices.
Design & Ports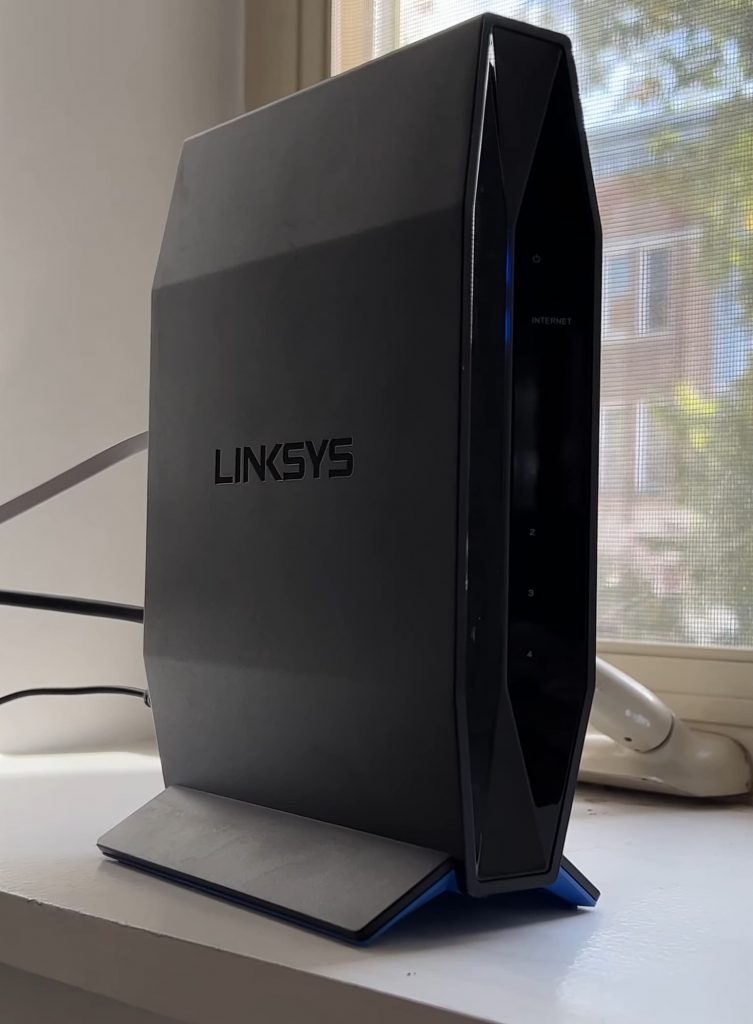 The amicable presence and slim demeanor of this vertical standing router measure up to 6.14 x 3.03 x 8.66 inches in dimensions while weighing approximately 1.41 pounds. The shiny octagonal frame adds a classy feel to the router, which houses 4 internal antennas responsible for stable wireless signal transmission.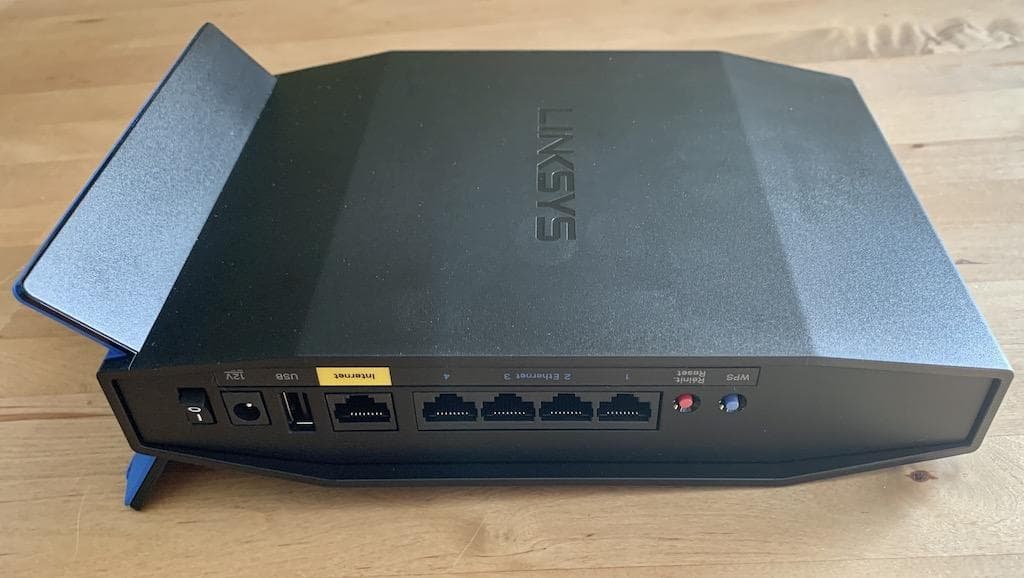 Linksys doesn't disappoint in wired connectivity by accommodating 4 LAN ports and 1 WAN port on its rear side. While one can add a network shared printer through a USB 2.0 port, its inclusion remains a mystery at this price range.
Setup & App Support
Linksys E8450 doesn't feature mobile application support. The web interface, a throwback to yesteryear style, is the only choice to install and manage the router. The interface offers features to add parental controls, configure Ports, etc.
Security & Other Features
In E8450, Linksys sticks to the basic tenets of network security. The WPA 3 encryption standards, SPI firewalls, Denial of Service protection offer a layer of protection to your network. With a separate guest network access, you can keep external infections at bay.
Conclusion
Linksys E8450 combines the latest wireless standard with an old-school interface setup. The high internet throughput at the $150 price tag tilts the balance in favor of this router.
Wi-Fi 6 standard

Support for DFS

MU-MIMO &

Beamforming

WPA3 Encryption

Parental controls
No USB 3.0 connectivity

Lack of mobile app support
3. Best for Home Use:

Motorola MR2600
In MR2600, Motorola upgrades the processing unit, adds a USB 3.0 port, and brings features like beamforming as an improvement over its previous model. Putting together all the essential features at a sub $100 price makes this router a valuable choice for people looking for all-around performance.
Why is it suitable for CenturyLink?
MR2600 will utilize the high speeds of the fiber Internet with its top speeds of 800 Mbps on the 2.4GHz and 1733 Mbps on the 5GHz band. Features like 4X4 MU-MIMO, and Beamforming ensures stable transmission of signals to the devices, covering a 2000 sq ft home.
Hardware & Performance
A dual-core processor on a MediaTek chipset, clocking at 880MHz, can handle a few instances of data-laden activities. The memory duo of 128MB RAM and 16MB storage will be the limiting factor, keeping multiple instances of online gaming, Twitch streaming to a minimum while supporting up to 20 devices.
Design & Ports
The simplistic design with a chequered black body comes with 4 external antennas. The entire unit weighs a little over 1 pound, while measuring 7.06 x 12.0 x 7.12 inches in dimensions with antennas extended.
Do you need wired connectivity to keep your TV, Desktop, gaming console connected to the router? MR2600 offers 4 Gigabit Ethernet ports and 1 WAN port keeps that lets you connect your devices to the router to assure them of stable internet supply. The transfer speeds of the USB 3.0 can come in handy for fast media sharing.
Setup & App Support
The absence of mobile applications can be a limiting factor for people who prefer remote monitoring. A web-based setup keeps the installations simple with minimal user intervention and gets the router up and running within a few minutes.
Security & Other Features
With features like double firewalls, DoS protection, WPA2 encryption, guest wi-fi access, the Motorola keeps the network safe from unauthorized usage and any external infections. Smart QoS observes your usage patterns to tweak the bandwidth allocation for effective utilization with multiple devices.
Conclusion
If the absence of the comfort of a mobile application doesn't dissuade you from choosing Motorola MR2600, this is one of the best sub $100 wireless routers in the market, rightfully earning its place above the Netgear router.
Value for money
Excellent dual-band speeds

MU-MIMO &

Beamforming

Dual-Core processor

Smart QoS

URL-Based Filters
No mobile app support

Awkward USB placement
4. Best for Fiber Internet:

Netgear R6700AX
With R6700AX, Netgear brings you the Wi-Fi 6 version of its front-runner through improvements in the features and hardware components. If you want to future-proof your internet with the latest standards with the robust real-time antivirus protection of the Netgear Armor, Netgear R6700AX fits right into your slot.
Why is it suitable for CenturyLink?
With the fastest Fiber optic plan of Century Link at your disposal and an aggregate speed of 1.8 Gbps, devices can reach up to 600 Mbps on 2.4 GHz and 1200 Mbps on 5 GHz with the efficiency of 1024-QAM. Beamforming & OFDMA adds the requisite efficiency to enable the router to cover 1500 sq ft with ease.
Hardware & Performance
The hardware unit comprises a quad-core processor clocking at 1.5GHz, 512MB operating memory, and 256 MB flash storage. The routing device can cruise through OTT streaming via Firestick, TV streaming, gaming activity, credits to the hardware upgrade, and internet throughput of the latest Wi-Fi standards.
Design & Ports
Netgear R6700AX is a lightweight router that punches above its weight at 1.10 pounds and measures 9.27 x 7.26 x 2.25 inches in dimensions.
The hexagonal black chassis accommodates 3 external antennas along with four Gigabit Ethernet ports and a WAN port, ensuring stable wireless and wired connectivity.
Setup & App Support
With Nighthawk mobile application, Netgear makes the installations and remote monitoring a tad bit easier for novice users. Track internet usage, set up guest networks, pause the internet with the comfort of your mobile.
Security & Other Features
Through Bitdefender, Netgear Armor brings a robust set of security protocols, albeit at a subscription cost. If you are concerned about the security of your home network, the package of Armor, the comprehensive parental controls, latest WPA 3 encryption standard, with adequate Firewalls keeps your network safe for adults and children alike.
Conclusion
If you ignore the lack of a USB port, Netgear R6700AX is a force to reckon with. Despite its limited range in comparison to its peers in the list, it is an excellent choice of router to future-proof your internet for smaller homes.
Wi-Fi 6 standard

Quad-core processor

1024-QAM & OFDMA

WPA3 encryption

Netgear Armor security

Works with Alexa
No USB connectivity

Middling range
5. Best Budget-Friendly:

TP-Link Archer A7
The TP-Link Archer A7 includes its ability to work with voice assistants, a feature missing in its predecessor. The speed throughput in the 5GHz band and its competitive pricing make this an excellent budget choice for large homes with limited devices.
Why is it suitable for CenturyLink?
While the 940 Mbps Fiber optic will be an overkill for Archer A7, the 100 Mbps speeds on availability will be the ideal plan to complement the capacity of the router. An aggregate speed of 1.7Gbps translating into top speeds of 450 Mbps on 2.4GHz and 1300 Mbps on 5GHz can cover up to 2500 sq ft.
Hardware & Performance
A single-core processor clocking at 750MHz on the Qualcomm Chipset fuels the routing device in synergy with 128MB RAM, and 16MB flash memory. Although the router has accommodating throughput to support 50 smart devices, and data-laden activities, the limitations of hardware capacity warrants optimal usage within your home.
Design & Ports
TP-Link comes in a glossy black chassis that turns into a dust magnet weighing 0.90 pounds and measuring 9.6 x 6.4 x 1.3 inches.
Archer A7 has 3 external antennas attached to its rear, amongst a selection of 4 Gigabit LAN ports, 1 WAN port for high-speed wired connectivity, and a USB 2.0 port to share printers within the network.
Setup & App Support
Tether application from TP-Link's, assures easy installations. The intuitive interface keeps the network monitoring and management simple, be it local or remote. The web interface opens up to extensive customization of the network by setting up parental controls and managing access.
Security & Other Features
Keep your home network safe with a dedicated guest network, VPN support, access filters, and firewalls. Archer brings profile-based parental controls and advanced QoS to control the internet exposure and allocate bandwidth to the devices.
Conclusion
Despite the lack of features like MU-MIMO, Beamforming, Archer A7 keeps its position as one of the best budget routers for CenturyLink over its ease of use, high-speed capacity, easy TP-Link mesh compatibility.
Advanced QoS

Easy installation

Works with Alexa

Parental controls

Excellent coverage

Wi-Fi Mesh compatibility
6. Best for 100 Mbps Plan:

ASUS RT-ACRH12
The ASUS RT-ACRH12 brings a low-cost version of its predecessor by cutting a few corners in hardware and memory. If you have fewer devices within your home, features like MU-MIMO brings the best out of its limited throughput capacity.
Why is it suitable for CenturyLink?
Limited by its hardware unit, the Asus router will be ideal for a neighborhood with access to the 100 Mbps DSL plan. It can reach up to 300 Mbps on the 2.4GHz and 867 Mbps on 5GHz with multiple devices sharing the network in a 3000 sq ft home, credit to MU-MIMO and Beamforming.
Hardware & Performance
The router has a single-core processor clocking at 775MHz, works in tandem with 128MB operating memory and 16MB flash to support activities like media streaming, Wi-Fi calling, surfing on up to 20 devices. Multiple instances of heavy activities like online gaming can stress its performance.
Design & Ports
The entire unit weighs close to 0.76 pounds while measuring 4.92 x 7.56 x 1.18 inches. Asus router has 4 external antennas towering from its glossy striped black and grey chassis.
The selection of 1 WAN port, 4 LAN ports, and a USB 2.0 port can come in handy to connect priority devices and share printing devices within the network.
Setup & App Support
With the ASUS router app, the installation and network monitoring get easier. Asus brings a robust network monitoring ability for both its wired and wireless connectivity. With access to parental controls and scheduled access, the router lets you manage the internet consumption of your kids' devices.
Security & Other Features
RT-ACRH12 comes with WPA2 encryption standards, firewalls, and dedicated guest network access. A traditional QoS to limit and allocate bandwidth will be crucial to optimize your utility. Features like Airtime fairness improves the Wi-Fi efficiency, giving you a seamless experience.
Conclusion
Don't let the limited throughput of ACRH-12 overshadow the features like MU-MIMO, and Beamforming on offer, an exception in this price range. It makes this one of the best budget routers in the market.
MU-MIMO

Beamforming

Traditional QoS

Guest Wi-Fi Access

Airtime Fairness
Frequently Asked Questions
Can I use my own router with CenturyLink?
Yes, you can use your router with CenturyLink internet. CenturyLink fiber optic internet service comes with its modem/router combination. Once you have set up your router and established a working connection, once can choose to return the device to CenturyLink, and save on the monthly rentals.
What is the best router for CenturyLink?
TP-Link Archer A20 will bring the best out of your CenturyLink Internet. It offers high internet speeds, additional bandwidth with its simultaneous tri-band, extended coverage, and robust internet security package backed by a strong hardware unit.
Do Netgear routers work with CenturyLink?
Yes. Most of the Netgear routers supporting the Wi-Fi 5 or Wi-Fi 6 standards will be compatible with the Centurylink Internet service, be it the DSL-based service or Fiber Optic Internet.
Is CenturyLink ADSL or VDSL?
Century Link groups ADSL and VDSL based services under a common Unlimited Internet DSL Plan. Your locality, the distance between the nearest exchange and your home, decides the type of (ADSL/VDSL) service and the internet speeds available to you.
Verdict
Although Centurylink offers economical internet packages and bundles, their modems cum routers may not cater to your specific requirements. Getting your router lets you keep more control over your home network. Here are my top picks for the most common scenarios.
The

TP-Link Archer A20

offers a plethora of features with excellent wired connectivity. With link aggregation and simultaneous tri-band operation, it can afford adequate bandwidth for large homes with plenty of devices.
The

Netgear R6700AX

is the best CenturyLink ruter to future proof your home for the latest wireless standards, if you are in a small household with a few devices.
The

ASUS RT-ACRH12

offers features like MU-MIMO, Beamforming making it the best budget choice.
For Morton, reviewing a router is just like spending another day at the office. As BCCA's senior copywriter, Morton believes is explaining every concept concerning routers, networking technologies, and additional routing specs. Also, Morton is our go-to man if we are looking to get the ISP-dependent internet plans tested across devices.