Have you recently moved to a new place that's covered by AT&T Fiber? Or, has the AT&T Fiber finally reached your locality? Or you might be an existing user looking for ways to use your own router with AT&T Fiber. It doesn't matter what your purpose is, this article shall help you find the best-suited router for ATT Fiber.
Fiber Optic Internet requires you to choose a device that brings the best possible speeds, the latest wireless standards, and excellent wired connectivity. It would help if you also had good internet security to keep your home network protected all the time. Plus, the ability to set up device priority will help you get the best out of your Fiber plan.
I have factored in all the specific requirements and features before finalizing my top picks for Fiber Optic Internet. The AT&T Fiber routers featured here offer top-notch speeds and coverage across the household. I ensured they support the latest technologies like MU-MIMO, beamforming, & OFDMA for seamless connectivity.
7 Best Routers for AT&T Fiber in 2023
From a list of over 30 AT&T Fiber compatible routers, I have picked my top recommendations as an outcome of a comprehensive analysis & testing.
FYI, the article starts with top-rated routers that work with ATT fiber and supports the latest wireless standard, i.e., Wi-Fi 6 (802.11ax). You will also find competitively priced, economical choices offering plenty of features and some of my best budget recommendations.
1. Best Overall: Netgear Nighthawk RAX70
Netgear RAX70 is a changed version of its dual-band predecessor, RAX80, that brings the capacity to handle multiple devices with its Tri-band operation. The latest wireless standards backed by a strong processing unit make it the best router for ATT Fiber 1000 service plan.
Why is it a suitable choice?
While it can handle speeds of up to 6.6Gbps, the 5Gig plan from AT&T Fiber can use its full potential. Upon testing the same, the gadgets clocked downloads at close to 4.8Gbps and uploads at 4Gbps in the 5GHz mode. This gives you ample bandwidth to accommodate streaming on multiple TVs, online gaming, and a multitude of smart-home gadgets.
The RAX70 comes with 6 internal antennas and can cover every corner of a 2500 sq ft household or office when it's ideally placed.
App, Security & Other Features
Easy installations and remote management are trademarks of the Nighthawk mobile app. The subscription-based Netgear Armor can keep the devices at your home from malicious content.
The dedicated guest networks, smart parental controls, voice commands compatibility band steering of the smart connect, a QoS for bandwidth management, and the 4×4 MU-MIMO makes this a great value addition.
Hardware Setup
The quad-core processor clocking at 1.5GHz might be a step down from its predecessor but combined with a 512MB operating memory and 256MB flash memory gives the capacity to handle up to 40 devices with zero connection drop and considerable ease.
Design & Build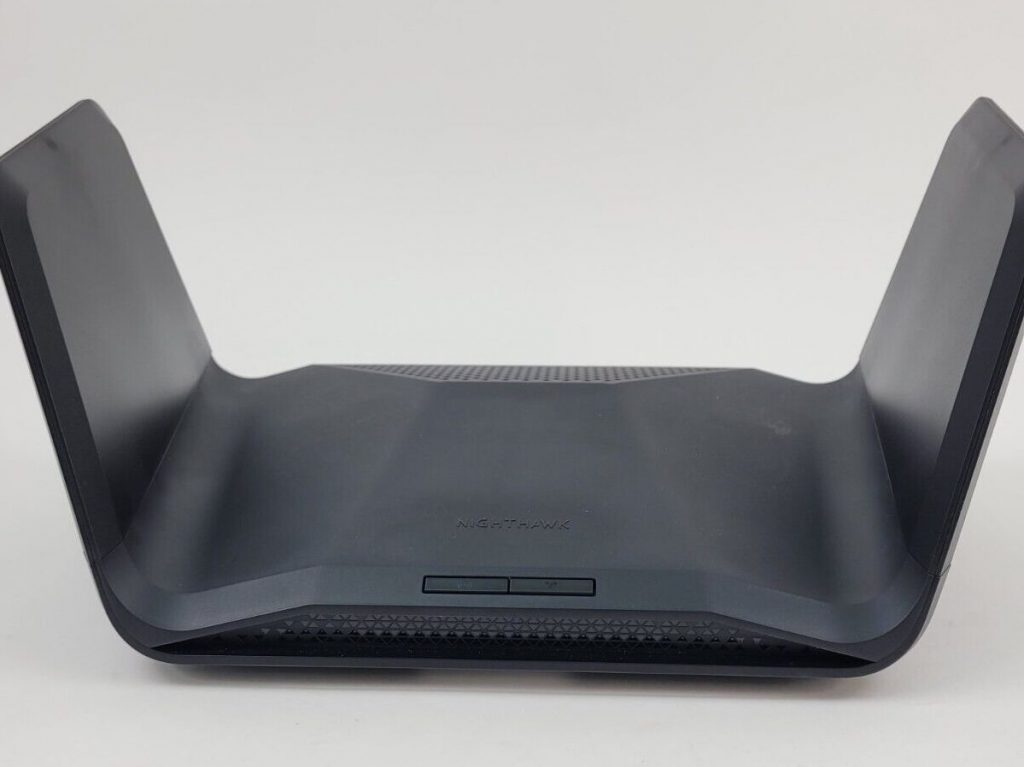 The futuristic-looking black chassis extends on its side, resembling a wing-like setup housing the powerful antennas. Weighing 2.58 pounds and measuring 13.66 x 8.19 x 6.5-inches, the product leaves a huge footprint. It's a device one wouldn't want to hide.
Conclusion
The advantage of having DFS and 160MHz channels will make a huge difference in delivering stable internet in congested areas. The Tri-Band operation combined with a well-equipped processing unit and the wealth of ports makes RAX70 a stand-out Wi-Fi router for AT&T Fiber.
Wi-Fi 6 standard

Tri-Band operation

Covers a 2500 Sq Ft house
Robust security measures
Handles over 40 devices
2. Best Runner Up: TP-Link Archer AX6000
The Archer AX6000, a step-down, dual-band version of its more powerful AX11000, is amongst the best AT&T fiber optic routers. Its comprehensive collection of Ethernet ports on the back of a powerful processing unit and fast internet speeds brings you the best ecosystem to future-proof your internet for large households.
Why is it a suitable choice?
With its multi-gigabit WAN port, Archer can future-proof your home for top-notch Fiber plans from AT&T. I tested the same with their 5Gig service package, and the devices consistently clocked download speeds close to 4.6Gbps, while the uploads hit a maximum of 4Gbps in the 5GHz.
The wealth of a 2.5Gbps WAN port, eight LAN ports, and two USB ports is unmatched amongst its peers in its price range. Sharing media within the household becomes easier with the ultra-fast transfer speed of the USB ports.
You'll be able to stream 4K videos while simultaneously running high-graphic gaming and Twitch streaming channels. The Archer AX6000 offers an extended range of 3000 sq ft.
App, Security & Other Features
Tether application stands apart in terms of design and user intuitiveness. An equally well-designed interface opens up to extensive customization for the tech-savvy. Homecare's lifetime internet protection, Real-time antivirus protection, and a dedicated guest network offer the requisite network security.
The combination of content filters, parental controls, and QoS gives you control over the internet consumption of the entire household.
Hardware Setup
The AX6000 puts together a quad-core processor with a highly capable 1GB RAM and 128MB storage.
Design & Build
A heavyweight product weighs 3.5 pounds. The square-shaped chassis fits a pair of antennas on each corner, totaling up to 8 external antennas encircling the device. It measures 10.3 x 10.3 x 2.4 inches in dimensions sporting a highly ventilated chassis with a beveled cross on its top.
Conclusion
The high-speed capability and bandwidth of the AX6000 make it an ideal routing device for congested apartments or larges homes with automated gadgets. The TWT, DFS Channels, BSS coloring technology, and Airtime fairness for network optimization give an edge over its peers in the market.
If you want to learn more about it, check full review of the TP-Link AX6000.
Wi-Fi 6 support

Eight Ethernet ports
Two USB ports
Excellent coverage
Supports QoS for prioritization
Large footprint

No tri-band support
Still pricey
3. Best for 2Gig Fiber Plan: Netgear RAX45
In the RAX45, Netgear upgrades the processor, storage of its predecessor to offer a substantial performance boost. The Nighthawk RAX45 gets the advantage of a vast selection of features at its disposal with periodic updates to its security ecosystem.
Why is it a suitable choice?
The 2Gig fiber connection I tested with gave me consistent download speeds above 1800 Mbps on 5GHz while staying within 3-5ft feet of the router. The uploads ranged between 1400-1600 Mbps. Share your internet among your home-office setup, smart TV, gaming console, tablets, and smartphone without hassles.
The presence of MU-MIMO, OFDMA & 160MHz Channels only makes things easier to accommodate multiple devices. Moreover, it can cover areas up to 2500 sq ft.
App, Security, & Other Features
Nighthawk mobile application is a crucial element of RAX45's functionality, starting from the setup to remote monitoring & management. The protection of double firewalls, inbuilt VPN support, & WPA 3 encryption offers basic tenets of security, over which you can choose advanced protection of Netgear Armor for a fee.
Hardware Setup
You don't have to worry about processing data-heavy activities when the routing unit has three cores clocking 1.5GHz, aided by 512MB RAM & 256MB storage.
Design & Build
The RAX45 weighs 1.25 pounds and features a sleek demeanor of 11.6 x 8.11 x 2.25-inches.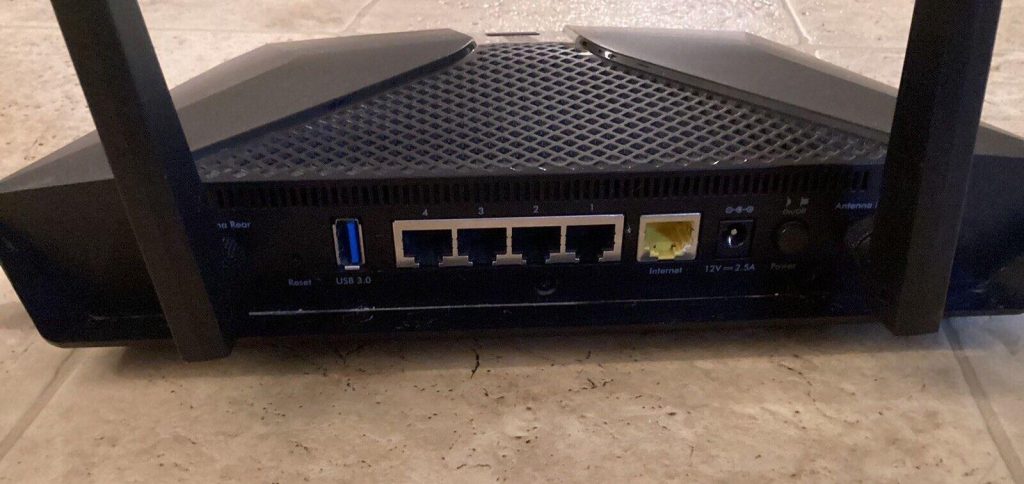 Conclusion
Netgear RAX45 brings an excellent set of features to replace the ATT router and satisfy the requirements of any household. The coverage & throughput of AX73 keeps RAX45 as our second best recommendation.
For more details, read my full review of the Netgear RAX45.
Wi-Fi 6 support

DFS & 160MHz Channels

MU-MIMO,

OFDMA,

Beamforming
Latest security standards
Pricey subscription of Armor
4. Best AT&T Router for Gaming: ASUS GT-AC2900
Do you need an AT&T Fiber Optic router for low-ping gaming? This model from Asus would be your best bet. It comes with a dedicated gaming port to accommodate your gaming console.
Do you have a bunch of gaming enthusiasts at home? You could hardly go wrong with the dedicated gaming features that Asus accommodates in this budget gaming router. One of the top-rated AT&T Fiber routers, the ASUS GT-AC2900 is a dual-band, toned-down version of its predecessor and a gaming powerhouse ROG AC5300.
Why is it a suitable choice?
Operating at simultaneous dual-band, it is geared with the latest features like MU-MIMO. You'll notice seamless communication within the network, while dual QoS allows you to prioritize your primary gadgets.
For gamers, ASUS stands out with wired connectivity and offers a dedicated gaming port for low-latency gaming.
When tested with a 2Gig plan, Asus GT-AC2900 delivered 1600 Mbps download and 1300 Mbps upload speeds on its 5GHz band. An optimal router placement will see the device handle data-laden activities such as gaming and streaming in a 2500 sq ft house.
App, Security & Other Features
The user-friendly UI of the ASUS router app and web portal offers comprehensive customization. Reliable security features include VPN support, extensive parental controls, and WPA2 encryption on top of a lifetime commercial-grade protection from internet threats.
Hardware Setup
The ASUS router backs the power of a dual-core processing unit on a Broadcom Chipset, clocking at 1.8GHz to deliver a top gaming performance. The presence of 256MB storage and 512MB operating memory strengthens its ability to handle 25 devices simultaneously.
Design & Build
Shades of black and red on the plastic chassis are a remnant of its gaming predecessor. A vertical, wall-mountable device comes with 3 beamforming antennas. It weighs 1.72 pounds at 8.75 x 6.65 x 4.37 in dimensions.
Conclusion
If you are looking for an AT&Fiber compliant router to support your gaming and Twitch streaming sessions, pair the GT-AC2900 won't disappoint. The mesh compatibility, security, and gaming features put it above the Linksys mesh system.
Dedicated Gaming port

Link Aggregation Support

AiProtection Pro security

AiMesh Compatibility

Value for money
Dual-core processing unit
5. Best Mesh Router for ATT Fiber: Linksys Velop
Do you think standalone routing unit wouldn't cut your duplex household with thick walls? The Linksys 2-pack mesh system brings superior coverage with placement flexibility and tri-band operation. Being one of the early releases of Linksys into the mesh arena, its robust hardware makes it the best mesh router to use with ATT Fiber.
Why is it suited for AT&T Fiber?
In our proximity tests, the mesh unit clocked over 945 Mbps downloads on 5GHz. Devices at the farther end of the household topped consistently over 850 Mbps. Do you have an annex or garage? This Linksys 2-pack mesh system will cover 4000 sq ft households with over 40 devices on a network.
The advantage of MU-MIMO is that it leaves minimal lag in the data transmission, even with multiple devices operating simultaneously. The unit comes with 6 beamforming internal antennas.
Security, App & Other Features
Are you a network novice? You'll find the app-based installation and control easy to handle. Access to parental controls, web filters, and time-controlled access will be handy for keeping a tab on your kid's internet exposure.
Linksys shield offers WPA2 encryption (learn how to configure a router to use WPA2) and guest networks to protect your network from unauthorized usage and infected devices.
Hardware Setup
Linksys puts a quad-core processor on a Qualcomm-based chipset. It clocks at a speed of 716 MHz which, in tandem with 512MB RAM and 4GB storage, makes it capable of handling a multitude of smart home gadgets and heavy streaming devices. Faster file downloads, quality video calling, and online gaming; fall within the purview of this device.
Design & Build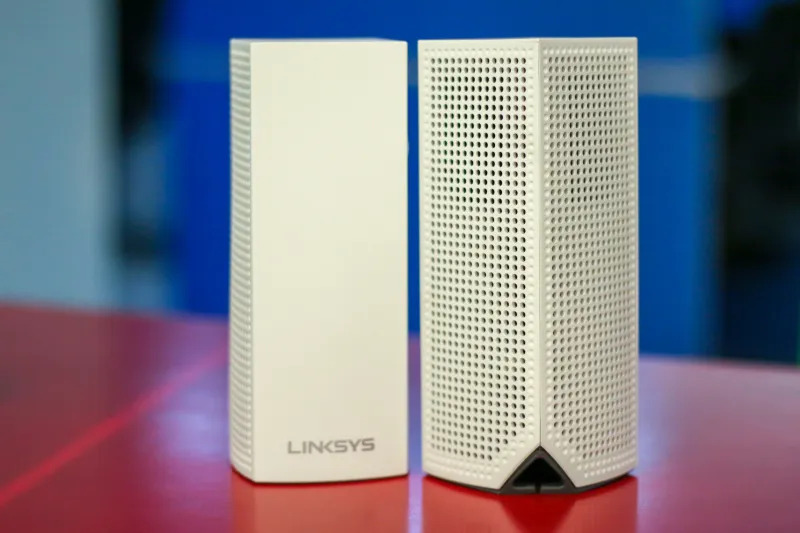 The heat vents at the top keep the chipset cool during data-laden activities. Sporting a minimalist matte-black design, the towers fit seamlessly into households while standing at 3.1 x 3.1 x 7.3-inches, weighing a little less than 3 pounds.
Conclusion
If you hate switching between networks or having to find the stronger signals every time you move around the house, you'll enjoy the seamless roaming and self-healing features of this Velop mesh system. Despite its limited throughput capacity, robust hardware and flexibility put the mesh system above the TP-Link device.
Simultaneous Tri-band

6 Beamforming Antennas

MU-MIMO support

Seamless connectivity

Extensive coverage
6. Best Value for Money: TP-Link Archer AX55
Reinforcements to the hardware unit make TP-Link Archer AX55 well equipped to handle more devices and deliver a legless performance for larger households. A vast jump in performance parameters over its predecessor AX50. Aggressive pricing and OneMesh compatibility with the latest wireless standards make it a top value-for-money router compatible with ATT Fiber.
Why is it a suitable choice?
The results were impressive when I tested AX55 with AT&T 1 Gig fiber connection. Download speeds were reaching up to 968 Mbps on the 5GHz band. As for the upload speed, the devices clocked over 740Mbps. That'll allow adequate throughput to blanket a large automated smart home apartment with over 25 devices.
Prioritize your devices using QoS, and let the advanced features like MU-MIMO and OFDMA optimize and handle data transmission for you.
App, Security & Other Features
Tether mobile app stands out with its intuitive interface and modern design. Complete the setup in a few touches. Monitor your network even when you are away, set up priority rules, and get access to reports with a single touch.
The SPI firewalls and WPA3 encryption keep the network safe from external threats. The Homeshield Pro offers real-time IoT protection, a robust intrusion prevention system, and DDoS attack protection. While they come at a monthly subscription price, you can test the features for free in the first month of your purchase.
Hardware Setup
TP-Link has a dual-core processor clocking at 1 GHz at the helm of the operations. The presence of a 512MB operating memory and 128MB storage gives it the power to cruise through streaming platforms, remote work solutions, high-quality audio/video calling, and online gaming.
Design & Build
The glossy black body comes with adequate ventilation on its top. TP-Link puts 4 external beamforming antennas on its rear side while accommodating everything within the sleek body of this lightweight unit, measuring 10.2 x 5.3 x 1.5-inches and weighing a little over 2 pounds.
Conclusion
Do you want to replace the ATT fiber gateway, future-proof your internet with the latest standards, and leave easy options for future scale-ability? It's hard to go wrong with the Archer AX55, making it one of our value buys and putting it right below the powerful mesh system from Linksys.
Want to know something specific about this model? Check out complete review of the TP-Link Archer AX55.
Wi-Fi-6

MU-MIMO

OFDMA

Works with Alexa

One Mesh compatibility
7. Best for 500 Mbps Plan: ASUS RT-AC65
The presence of a better processing unit & the advanced features makes ASUS RT-AC65 an advantage over its predecessor. Its overall processing ability, combined with its extensive coverage, followed by competitive price, makes it one of the best budget routers in the market.
Why is it a suitable choice?
The efficiency of MU-MIMO in data transmission lets the wireless router bring the best out of your 500 Mbps fiber package. It could deliver download speeds of over 400Mbps on 2.4GHz & 480Mbps on the 5GHz band. And for uploads, it could easily reach 380 Mbps in either band.
It can optimize the connection, handle up to 30 devices, and cover a large area of 3000 sq ft.
App, Security & Other Features
Asus Router app & web interface offers sufficient control over customization while keeping the installations quick and easy. With WPA2 encryption standards & inbuilt firewalls, you'll be able to avoid unauthorized usage. The presence of parental controls is of vital importance to any household with kids.
Hardware Setup
Asus houses a 1.2GHz dual-core processing unit with 128 MB RAM and 128MB storage memory. The combination can pull off an optimized usage of even the data-intensive activities like HD streaming & gaming.
Design & Build
Multiple tones combined with a matte grey finish add finesse to its looks. Lightweight device weighs 1.0 pounds & measures 8.66 x 6.3 x 3.43 inches. The device features three external beamforming antennas towering from it.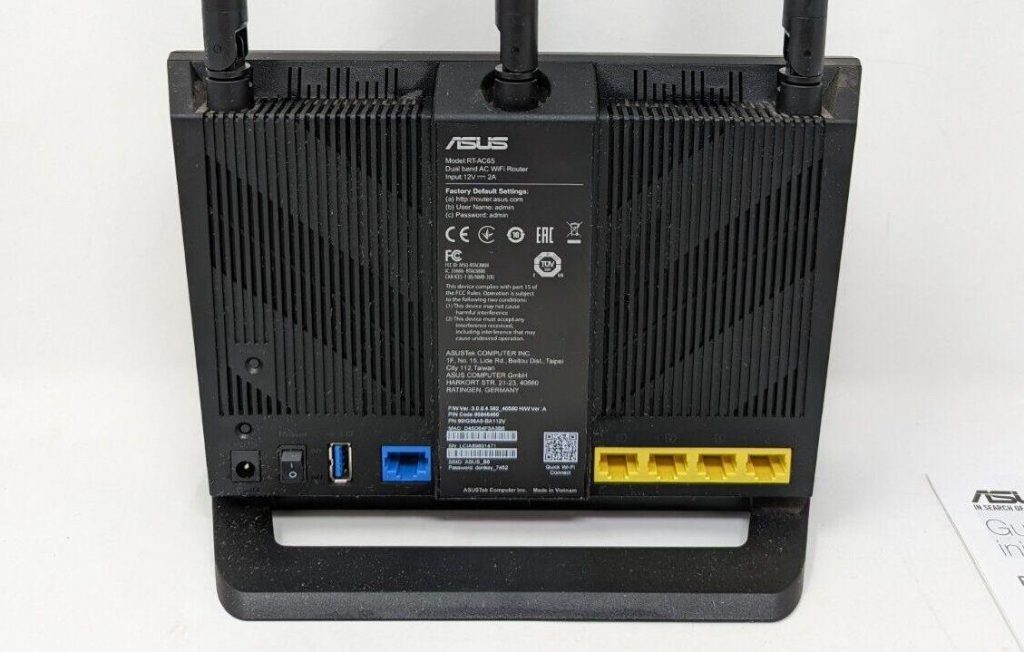 You will find 4 Ethernet ports,1 WAN port & USB 3.0 ports on its rear, easing your worries about wired connectivity.
Conclusion
Are you working with budget constraints? RT-AC65 offers you the alternative without having to compromise on the essential features. You will get sufficient coverage for your large home at an exceptionally budget-friendly rate.
MU-MIMO

Beamforming

Parental controls

1.2GHz Dual-core processor

WPA2 encryption standards
Factors to Consider when Buying a Router for AT&T Fiber
Are you having difficulty choosing the best AT&T Wi-Fi router? The guide will simplify decision-making and help you choose the right device.
Speeds & Coverage
When looking for ATT Fiber internet equipment, one of the critical factors is the throughput capacity, i.e., aggregate speeds. You'll waste money if the device specs don't match the ‌household requirements and the internet package.
For smaller households with around 20 devices, look for aggregated speeds between 2-3 Gbps, depending on the number of heavy streaming devices. If you are in an automated home with the latest set of devices, go for devices with a throughput capacity of over 4Gbps.
Higher the number of antennas, you'll have the advantage of getting stronger signals. Decide the router based on the number of rooms and size of the house. While standalone units would work well for large homes, bringing the placement right is paramount. Mesh systems are ideal if you live in multiplex buildings or got yards, annexes, and garages to cover.
Router-Specific features
Are you a tech-savvy person going after the latest gadgets as they keep coming? If you plan to use your router with AT&T Fiber, go for the Wi-Fi 6 based routers. Otherwise, Wi-Fi 5 standard would do just fine.
If you're wondering if you will use the features like MU-MIMO and OFDMA, the answer is yes. The features make a vast difference in how your Wi-Fi router manages the communication with several devices and the number of devices it can handle.
Support for DFS Channels becomes paramount if you are looking for the best router to use with ATT fiber while living in a network congested apartment. They come in handy to avoid network interference.
Ports & Wired Connectivity
Are you planning to get a reliable ATT fiber internet router for a home-office setup? The USB ports become essential when sharing a printer or a shared storage device within the network.
Most gamers prefer wired connectivity for a seamless gaming experience and to get the most out of their internet. That's where the number of Ethernet ports comes into play. If you have multiple TVs at home, look for at least 4 Ethernet ports.
Hardware & Security
Without a solid processing unit, you'll notice drops in performance when you increase the number of devices. A multi-core processor will maintain the performance levels, even when multiple data-laden devices are active at the same time.
As long as it's not an automated home, an 512MB operating memory and 256MB storage would suffice. Gaming activities increase the necessity of a large memory unit, especially during the multi-player gaming marathons on the weekends.
Do you have kids at home? Parental controls become critical to put a tab on their internet exposure. If you need the most advanced protection for your automated home, look for the subscription of Netgear Armor or TP-Link Pro plans. If you are trying to avoid the additional monthly expenses, stick to AiProtection Pro from Asus.
Frequently Asked Questions
Can you use your own router with AT&T Fiber?
Yes, you can. While it is impossible to avoid the rentals being charged for the equipment that comes with the service, AT&T doesn't stop its customers from using their own choice of router according to their requirements.
What kind of router do I need for Fiber Optic Internet?
The fiber offers high-speed internet. You would need a router that has a similar if not higher internet throughput capacity. Modern-day devices supporting Wi-Fi 5 or Wi-Fi 6 standards would be ideal for your fiber internet.
Does Fiber Internet need a modem?
The fiber internet doesn't necessarily require a modem. Every fiber connection comes with an Optical Network Terminal (ONT), a device that establishes the communication with your ISP.
Is ATT fiber any good?
AT&T has been one of the top internet service providers in the USA over the last few years. While it has a predominant ADSL-based service, its fiber footprint has improved lately. It offers services with plans up to 1000 Mbps.
Verdict
Personal preferences and needs decide the suitability of the routers mentioned in the article. While I have tried to cover the most common requirements, I look in the market for scenarios beyond the purview of this article.
Netgear RAX70 and TP-Link Archer AX6000 are great premium choices if you require good coverage and wired connectivity for high-priority gaming/streaming devices.
Linksys Velop works for larger duplex/multi-story households with plenty of smart home devices.
Asus RT-AC65 is amongst the best budget option in the market.
For Morton, reviewing a router is just like spending another day at the office. As BCCA's senior copywriter, Morton believes is explaining every concept concerning routers, networking technologies, and additional routing specs. Also, Morton is our go-to man if we are looking to get the ISP-dependent internet plans tested across devices.