Do you own Apple devices like MacBook, iPhone, and iPad? If that's the case, then it is paramount for you to choose the right router for your Apple devices to get the most out of their connectivity and smooth synchronization with the Apple Ecosystem.
If you're looking for an Apple-made router, then you must know that Apple discontinued their router production to focus on their core revenue-driving products such as Mac, iPhone, Apple Watch, etc.
Multiple Apple devices accessing the home network can affect the bandwidth for each device. MU-MIMO ensures the devices access the internet at a higher data transfer rate simultaneously. If you have to prioritize Apple devices for a higher bandwidth allocation, QoS settings become inevitable.
Most of the recent Apple devices support the latest wireless standards 802.11ax (Wi-Fi 6). If the router doesn't match the standards might lower the potential of your high-speed connection. A wireless router supporting the latest standards allows you to get the best out of the Internet from your ISP as well.
You can also read a beginner's guide to purchasing a router to learn more.
After a thorough analysis of multiple routers, the article ensures the aforementioned criteria are met. The features ensure you are getting the best Wi-Fi router for Apple devices in your home.
Best Routers For Apple Devices in 2023
The article is an end product of my comprehensive analysis of comparing over 40 routers in the market with the mentioned features. After checking their price, features, and appropriateness to handle Apple devices, the final list is narrowed down to fit multiple scenarios.
The list comprises mackintosh routers that will help you utilize the maximum potential of your internet speed while not compromising on its ability to bring the best out of your Apple devices.
1. Best Overall:

Netgear Nighthawk RAX78
Packed with powerful hardware, Netgear Nighthawk RAX78 makes you consistent with internet speed demands for the foreseeable future. With the latest wireless standards, DFS, and 160MHz channels support, the router can deliver speeds up to 460mbps in 2.4GHz while it delivers up to 960mbps and 1200mbps in 5GHz bands, respectively.
Hardware
A quad-core processor clocking at 1.5GHz on a Broadcom chipset forms the router's core, supplemented by 512MB RAM and 256MB flash memory. Given the speed of the internet, this setup can handle 4K media streaming with Firestick, online gaming, Wi-Fi calling, etc., or all at the same time without any compromises.
Access Controls
Despite the limited parental controls, the user interface allows you to curtail access to websites through keyword and domain name filtering. The option to block ports to limit access to certain services is available.
Antennas & Coverage
The 6 antennas are hidden inside the foldable wings disperse Wi-Fi signals at 2.4GHz and 5GHz. With 8 simultaneous Wi-Fi streams enabled by 4×4 MU-MIMO and OFDMA, the router easily handles up to 30 Apple gadgets spread across a 2500 Sq Ft house.
Ports
The Netgear router brings along 4 Gig Ethernet LAN and 1 Gig WAN port to manage your wired high-speed connections. The inclusion of a USB 3.0 port enables sharing printers and storage devices within your home network.
Conclusion
At 2.6 lbs, this is a routing device, which hardly looks like one. It sports a pair of non-adjustable but foldable wings attached to a black base. The LED lights and the ports align at its rear end. With the latest Apple devices supporting Wi-Fi 6, the router is a perfect companion to couple with iPhones, iPads, or the latest MacOS powered systems.
Seamless Tri-Band operation
4×4 Multi User MIMO
Netgear Armor security
DFS & 160MHz channels
Alexa, Google assistant compatible
Mobile app has limited functionality
Expensive
2. Best Runner Up:

TP-Link Archer AX6000
The TP-Link Archer AX6000 puts in a power-packed performance with its powerful hardware and the latest backward compatible 802.11 ax standards. The 160MHz channel has a higher speed potential reaching up to 1148mbps in 2.5GHz and 4804mbps in its 5GHz channel.
Hardware
A powerful quad-core processor clocking at 1.8GHz in a Broadcom chipset and a couple of co-processors handles any task thrown by a medium household. The 1GB RAM and 128MB Flash storage ensure the device performance is not affected by loads of gaming consoles like Xbox One, PS4, Nintendo Switch, or any other smart home applications, not excluding the Apple devices.
Access Controls
The AX6000 interface comes with multiple options of content filtering. Blocking access to one or multiple devices based on categories or age-appropriate content or as individual websites is possible. The user can also restrict the internet by setting time limits or by pausing the internet connection completely.
Antennas & Coverage
The 8 amplified external antennas encircling the router operate in dual-frequency. Reinforced by 4×4 MU-MIMO, OFDMA, beamforming, and a slick QoS, the router covers a 3000 Sq Ft house.
Ports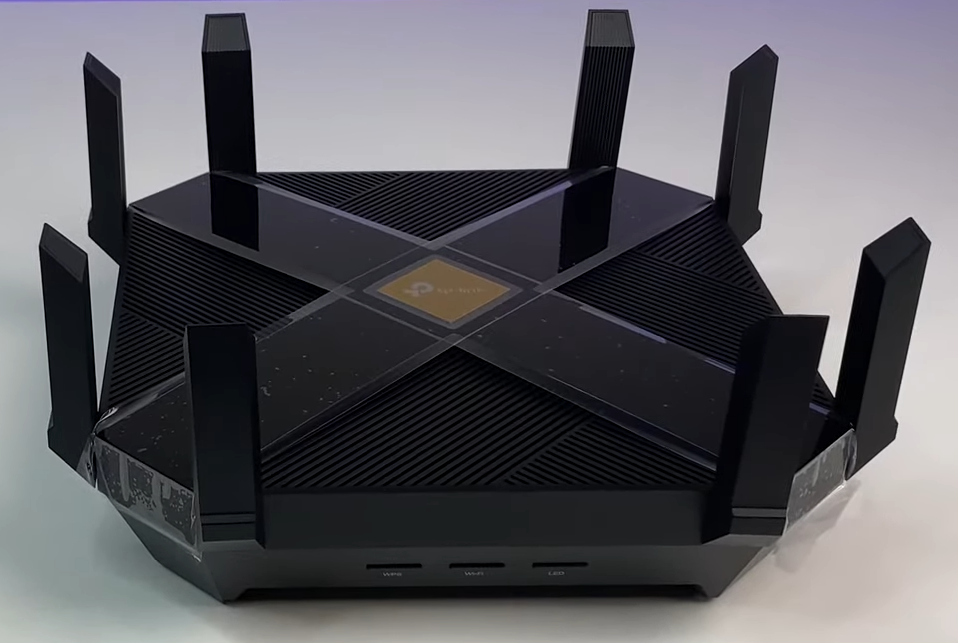 With One 2.5 Gbps WAN port and 8 LAN ports, you will never run out of slots for wired high-speed internet connections on your MacBook or iPad. But the lack of a gigabit LAN port does limit the usage potential of the internet speed. Two USB 3.0 ports ensure slots for printers and storage devices.
Design & Setup
Weighing 3.50 lbs, the router is justifiably heavyweight via powerful hardware loaded with features. A unique octagonal design surrounded by 8 fixed antennas and a single LED in the center is a breath of fresh air in the world of routers. The LAN and USB ports are distributed on two sides, with the power outlet and WPS button.
The Tether mobile app isn't as comprehensive as the web app; nonetheless is as user-friendly as they come. It takes you through the initial setup within a matter of a few minutes.
Conclusion
An excellent traffic monitor with WPA2 encryption and the myriad of features that comes along with TP-Link AX6000 makes it one of the best Apple routers that brings the best out of your Apple products and gaming.
Ecellent port selection
Link Aggregation
Supports DFS channels
MU-MIMO, OFDMA
Beamforming & Smart QoS
Secured by TP-Link HomeCare
Limited mobile app functionality
Expensive
3. Best Router for Mac:

Netgear Nighthawk RAX45
Packed with Beamforming+ and 160MHz channel support, the Netgear Nighthawk AX6 is a professional and students' delight. The device can fire up high speeds up to 480mbps in 2.4GHz and 3840mbps in 5GHz.
Hardware
The 1.5GHz triple-core processor in a Qualcomm chipset is powerful, with a system memory of 512MB and flash storage of 256MB acting along with it. It would suffice for multiple smart home devices (HomeKit), iPads, iPhones, and MacOS simultaneously.
Access Controls
The device comes with parental controls that allow you to block or limit internet access with keywords, domain names, devices, or services. The Nighthawk AX6 is a standalone router with future-proofed higher internet speeds owing to its 160MHz channels if your ISP supports it.
Antennas & Coverage
The 4 detachable antennas help the router cover large homes measuring up to 2500 Sq Ft on a dual-band. Explicit Beamforming and MU-MIMO keep the signal stable circumventing walls to up to 20 devices.
Ports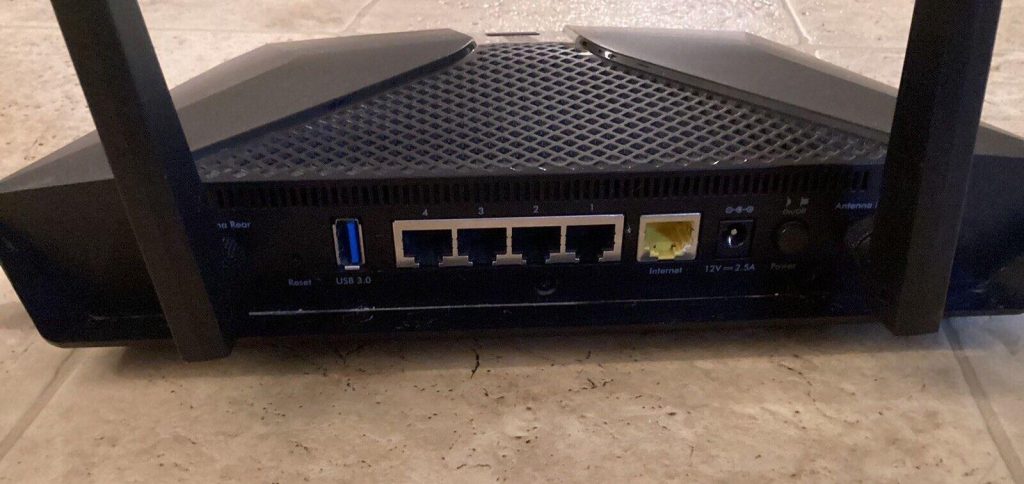 It has 1 WAN and 4 LAN ports that take care of your wired connections. The USB 3.0 port is in place to manage shared network printers and storage devices within a home network.
Design & Setup
at 1.25 lbs, this model sports a futuristic look with 4 antennas placed on its rear, while the indicator light and heat ventilators adorn the front. The Nighthawk mobile app doesn't offer comprehensive control like the web interface, but in both cases, the initial setup is as smooth as it comes.
Conclusion
The Nighthawk AX6 comes with the ability to offer a quality experience and with the support to handle Mac and other Apple devices as a part of your smart home.
Beamforming+
DFS & 160MHz channels
Set parental controls
Traffic management
Comprehensive gaming dashboard
4. Best for Office Use:

Asus RT-AX3000
The high-speed capabilities of the ASUS RT-AX3000 router is complemented by a plethora of advanced features like MU-MIMO, OFDMA, Beamforming to bring online gaming, HD streaming operating simultaneously. It can deliver up to 575mbps on 2.4GHz and a top speed of 2402mbps on 5GHz.
Hardware
The chassis houses a tri-core processor clocking at 1.5GHz, complemented by 512MB RAM and 256MB flash storage, paramount for high-quality streaming and online gaming.
Access Controls
The AiProtection gives control over their kids' internet consumption with scheduled internet access, filtering websites, and the ability to prioritize bandwidth for applications. The real-time security from malware, spyware powered by AiProtection keeps your network safe from cyber attacks.
Antennas & Coverage
Linksys intersperses 4 external antennas on its rear amongst the other ports and buttons. They can support up to 30 simultaneous connections across 3000 sq ft.
Ports

With four Gig ethernet ports, one Gig WAN port, and one USB 3.1 port on its rear side, you can connect your iMac, gaming console, or TV through the ethernet to be assured of a stable wired internet.
Conclusion
At just 1.2 lbs, the Asus sports a wedged-black body that regulates heat through the air vents on its sides and the rear. ASUS RT-AX3000 support for Wi-Fi 6, 160Mhz channels, and an intuitive interface brings stable internet performance for multiple apple devices at your home.
MU-MIMO &

OFDMA

1024-QAM

& Beamforming

Mesh compatibility

160MHz channels

Airtime fairness

Lifetime security by AiProtection
Lacks wall mount space

No link aggregation
5. Best for Work From Home:

Linksys E8450
The Linksys E8450 can achieve speeds up to 800mbps in 2.4GHz and 2400mbps in 5GHz. The routers perform really well owing to their powerful processor aided by Wi-Fi 6 and MU-MIMO.
Hardware
A dual-core processor clocking at 1.4GHz on a Qualcomm chipset works in tandem with 512MB RAM and 128MB flash memory. This setup can cater to most requirements, including Twitch streaming, gaming on Mac and iPhone, and a few data-intensive activities.
Access Controls
The Linksys application allows you to set up access controls for devices individually with provisions to limit access to different time slots. The application lets you block a device's access to specific URLs too.
Antennas & Coverage
The 4 internal antennas in the Linksys router operate in 2.4 GHz and 5 GHz frequencies. The MU-MIMO ensures the router can tackle the requirements of 25+ devices dispersed across a surface area of 2500 Sq Ft. It would suffice for a medium to a large household.
Ports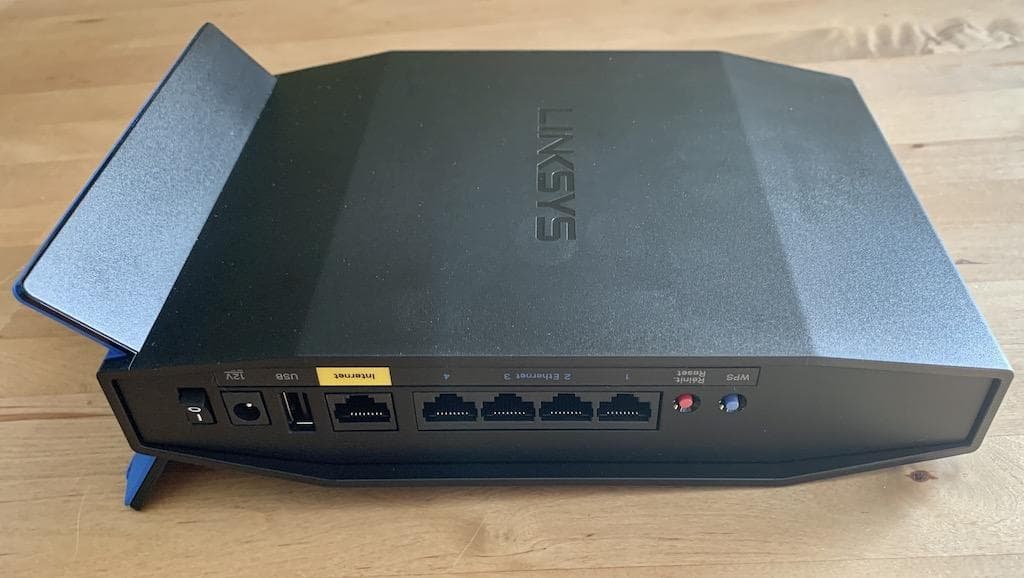 The router comes with 4 Gig Ethernet LAN and 1 Gig WAN that caters to the wired connections. The inclusion of one USB port allows printers and storage devices to be shared amongst the members accessing the home network. However, it's a USB 2.0 port and not a USB 3.0.
Design & Setup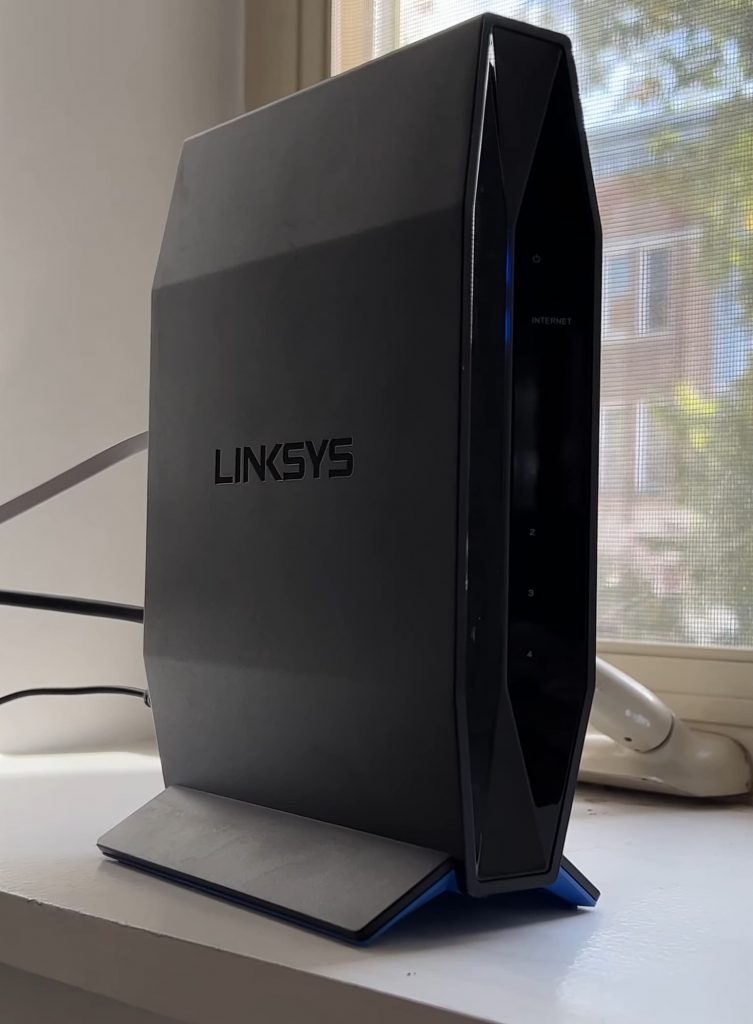 At just 1.4 lbs, the router is lightweight and features a pleasant design with a sturdy black body. The rear end has sufficient room for the ports, power outlet, and other buttons. Moreover, it doesn't come with external antennas but features 4 internal antennas. The Linksys app has a user-friendly interface that reduces the setting up and managing of the router into an easy task.
Conclusion
If you need a device that finds itself halfway between the available features and the price, this is one of the top-rated sub $150 routers that offers a solution to keep all your Apple devices connected to the internet.
MU-MIMO
Parental controls
WPA3 Encryption
Supports 25+ devices
Good coverage
No mobile app support
USB 2.0 port
6. Best Wi-Fi Mesh System:

TP-Link Deco X20
In TP-Link Deco X20, it brings high-speed internet to your home with support to the latest Wi-Fi 6 standards and extended coverage. Take complete control of the home network, even if you are away from home, at the comfort of your smartphone. The two-pack Deco X20 can reach individual top speeds up to 574mbps on 2.4GHz and 1201mbps on 5GHz.
Hardware
This Wi-Fi 6 mesh system has a processor with four cores clocking at a speed of 1GHz, with 512MB of operating memory and a storage of 128MB that ensures all seamless streaming in multiple Apple devices.
Access controls
The Deco application has preset content filters, antivirus software powered by TrendMicro, secure WPA 3 encryption standards, and firewall settings to keep your home network safe from cyber-attacks and unauthorized access.
Antennas & Coverage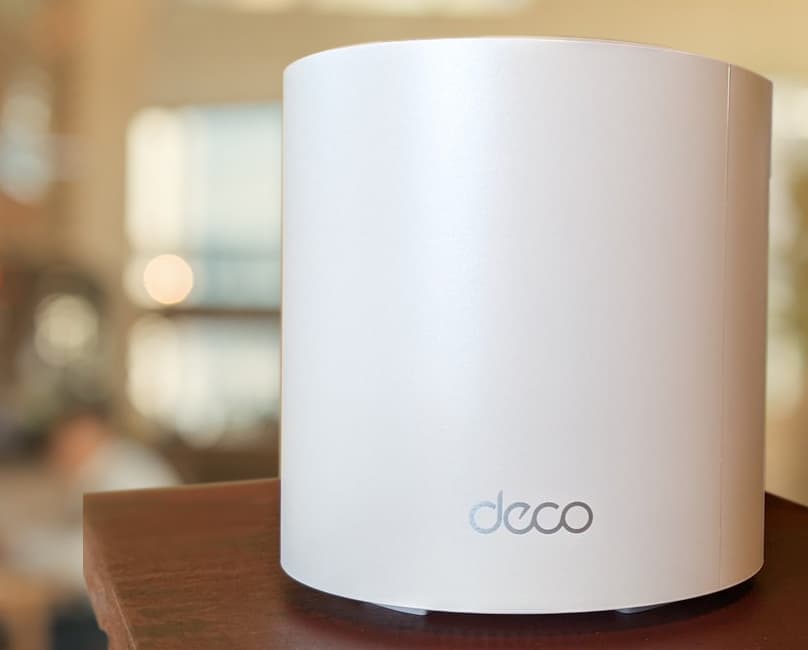 The two-pack units are equipped with 2 internal antennas powered by MU-MIMO, and beamforming eases the concerns of signal quality. The three-pack Wi-Fi system is ideal for offices, crowded apartments, and large houses with multiple floors that span up to 4,000 sq ft. 
Ports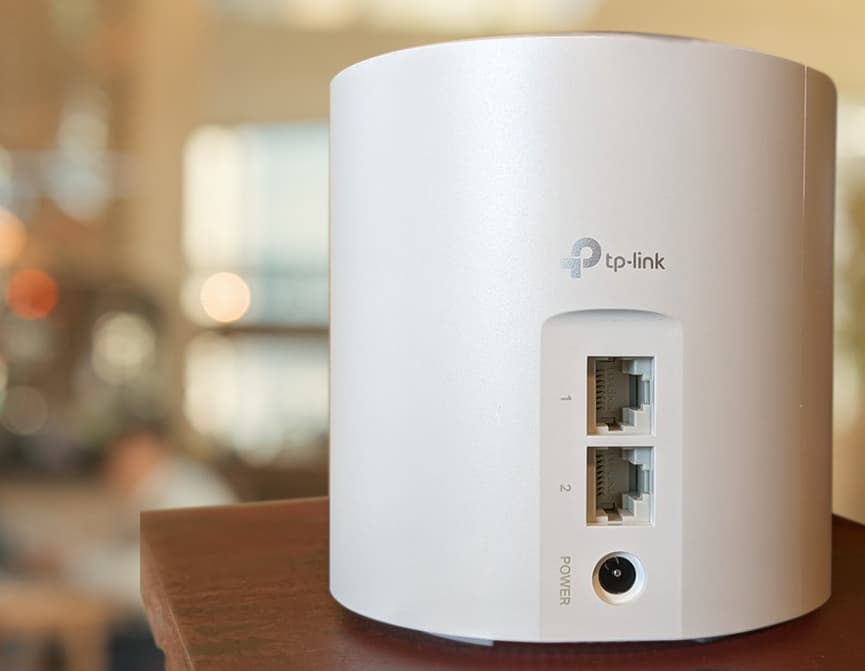 With two Gigabit Ethernet ports per unit, the priority devices can be wired for bandwidth priority. The intuitive, user-friendly interface saves you the trouble of locating the best position for your router and the nodes. Monitor and control your network with the mobile application, even while you are away from home.
Conclusion
The cylindrical snow-white tower units weigh approximately 1 lb each. TP-Link Deco brings the latest Wi-Fi standards and extended coverage, extensive parental and access controls, an uncomplicated user interface to give all your apple devices the comfort of stable, high-speed internet.
Supports over 100 devices

Robust parental controls

WPA 3 encryption standards

TrendMicro Antivirus protection

Works with Alexa
7. Best Under $100:

Netgear R6700AX
The Netgear R6700AX offers high-speed internet in dual-band that can keep your home networking demands fulfilled. The router is geared up to deliver speeds up to 600mbps in 2.4GHz and 1200mbps in 5GHz, ensuring a steady connection across multiple Apple devices at your home.
Hardware
The 1.5GHz quad-core processor is powering this sub $100 router. It is further supplemented by 512MB RAM and 128MB flash memory to support the operation load across multiple devices. The hardware makes sure the router has sufficient power to handle a medium-sized household.
Access Controls
The router doesn't come with inbuilt parental controls. Registration with a third-party OpemDNS is required to set up and customize parental control settings. It gives a choice to schedule internet downtimes and block access to websites using keywords and URLs. The user can also maintain a list of devices.
Antennas & Coverage
The 3 antennas deliver Wi-Fi signals at dual-band frequencies. The Netgear router has 4 Gig Ethernet LAN and one Gig WAN port. However, there are no USB ports to handle wired connections or share the printer/hard drives.
The router comes with beamforming and OFDMA. It gets the capacity to handle up to 20+ devices covering a surface area of 1500 Sq Ft.
Design & Setup
Weighing 2.25 lbs, the Netgear R6700AX has a total of 3 detachable antennas attached to its rear. The LED lights find themselves in the router's center, while the ports and buttons accommodate the rear end. With consistent throughput in both frequencies, the router can efficiently handle 4K streaming, gaming, and remote desktop connectivity on high-speed internet plans, including 200 Mbps.
The initial installation router is easy with the Netgear genie application, bringing a multitude of customization options to your home network.
Conclusion
Even with the latest iPhones, iPad pro, or latest Macintosh system and smart home gadgets sharing the internet, the router is not bound to disappoint with its performance.
Wi-Fi 6 support
WPA2/WPA3 security
Beamforming and OFDMA
Affordable price
Alexa & Google Assistant compatible
8. Cheapest Option:

TP-Link AC1750
The TP-Link Archer A7 can handle the requirements with ease in a home setup. Limited by the lack of MU-MIMO or Beamforming technologies, the router is geared to achieve maximum speeds of up to 450mps in 2.4GHz while up to 1300mbps in 5GHz.
Hardware
The Archer A7 has a single-core 750MHz processor over a Qualcomm chipset, accompanied by 128MB RAM and 16MB flash memory. This entry-level router will be able to handle multiple apple devices within a small household. Data-intensive online gaming or 4K streaming may strain the overall performance of the router.
Access Controls
This dual-band wireless router comes with a set of parental controls that allows the user to create a list of devices and control the access time for devices with a custom schedule.
Antennas & Coverage
The 3 towering antennas rise from its rear end to direct Wi-Fi signals up to a maximum of 50 devices over an area of 2500 Sq Ft. Minimizing concurrent connections and optimizing the load across multiple devices avoids strain on the performance of the router.
Ports
The TP-Link router comes with 4 Gig Ethernet LAN and 1 Gig WAN, which manages the wired connection requirements. The speed of the USB 2.0 port can limit the data transfer speeds for network storage devices. Nonetheless, it is suitable to handle a shared network printer within the network.
Design & Setup
Weighing 0.90 lbs, the router is as lightweight as it is light on your wallet. Sporting a traditional glossy black design, the ports aligned at the rear and indicators on the front. The tether app is as user-friendly as they come, be it Android or iOS. The initial setup is easy, with the router being up and running in less than a few minutes.
Conclusion
The device carries a bunch of features like parental and access controls, QoS. With an easy-on-the-eye Tether iOS mobile application, the A7 makes it a good cheaper router for Apple devices.
Budget-friendly
Long coverage
Parental controls
QoS priority by devices
Mesh scalability
Compatible with Alexa
No USB 3.0
Limited memory
Frequently Asked Questions
Which is the best router for multiple Apple devices?
The choice of a router for Apple devices depends on the preferences, requirements, and budget. The Netgear Nighthawk RAX70 and TP-Link AX6000 offer a powerhouse solution to routing needs which might include gaming.
Why did Apple stop making routers?
Apple took pride in being the innovator with its products. With a rapidly evolving router market space and the rise of multiple brands and products, they decided to focus on innovating its core revenue generators. So, Apple stopped production with the latest AirPort products supporting 802.11 ac standards.
What Apple devices support Wi-Fi 6?
The Apple phones starting from iPhone 11 and later offer support to the latest networking standards Wi-Fi 6. Tablets from Apple, namely iPad Air and iPad Pro, support the latest standards. The latest Mac computers with Apple Silicon are amongst the Macintosh-powered systems to come with the latest networking standards of Wi-Fi 6.
Verdict
Personal preferences and additional requirements play a vital role in deciding the best router to keep your Apple devices connected to the internet.
The

Netgear Nighthawk RAX78

is the best choice backed by powerful hardware to handle high data-intensive requirements.
If you have an array of smart home devices across a large surface area, the Wi-Fi 6 based mesh system,

TP-Link Deco X20

offers a solution to handle them along with the set of Apple devices.
Lastly, if you're low on budget and yet need a reliable Wi-Fi 6 router, the

Netgear R6700AX

offers the best value between price and utility.
In case of any special scenario that appears to be beyond the purview of this article, the market space is flush with multiple players catering to a niche customer base.
For Morton, reviewing a router is just like spending another day at the office. As BCCA's senior copywriter, Morton believes is explaining every concept concerning routers, networking technologies, and additional routing specs. Also, Morton is our go-to man if we are looking to get the ISP-dependent internet plans tested across devices.