Do you have a garage, annexes, or workshop beyond the reach of your existing wireless router? Are smart gadgets rendering your internet bandwidth adequately? Are you looking for an ideal Wi-Fi router for a 5000 sq ft house? Don't let the budget constraints work you up.
Robust network security takes higher precedence for protecting smart devices from inherent cyber threats. Don't worry about media consumption throttling your gaming traffic. If you think additional bandwidth will improve your overall performance, I've got you covered.
The article provides you with the clarity required to make the right decision while selecting the best routers for large homes. Factoring the features and requirements mentioned by the inhabitants of a large household, I have picked routers that feature extended coverage, high internet throughput, MU-MIMO, beamforming, OFDMA, and solid internet security.
6 Best Wi-Fi Routers for 5000 Sq Ft House in 2023
The top 6 Wi-Fi routers with the best range make it to our list as an output of a comparative analysis of over 17 long-range routers after factoring in the requisites based on personal preferences as communicated by various households.
The list begins with the best standalone Wi-Fi router with long range, followed by dual-band and tri-band mesh systems offering more value for your money. It also includes one affordable Wi-Fi 6 mesh system for households looking to future-proof their internet.
1. Best Standalone Router: ASUS RT-AC88U
In RT-AC88U, Asus ramps up the wired connectivity. It doubled the number of ethernet ports in its predecessor and makes it suitable for households with infrastructure to support Ethernet wiring. ASUS RT-AC88U with its inclusion of WTFast gamer VPN makes this a preferred router among gaming enthusiasts.
Speeds & Coverage
The consolidated speed of 3.2Gbps bifurcates into top individual speeds of 1000 Mbps on 2.4GHz and 2167 Mbps on the 5GHz band gets an immense boost with advanced features like MU-MIMO. The router can handle 25 devices and cover large surface areas up to 5000 sq ft.
Hardware & Design
A black angled chassis with red-colored accents on its antennas measures 11.8 x 7.4 x 2.3 inches in dimensions. The routing device weighs over 2 pounds with over 4 huge antennas equipped with Beamforming. The 8 Ethernet ports featuring link aggregation will let you enjoy the privilege of high-speed wired internet and support gaming.
Asus RT-AC88U comes with a dual-core clocking at 1.4GHz, complemented by a memory duo of 512MB RAM, and 128MB storage that leaves you the adequate capability to handle gaming and media streaming simultaneously. Including 2 USB ports makes data transfers and sharing printers within your home network easier.
App & Security Features
The Asus router app and ASuSWRT web interface give a wide range of customizability and control over your router. With AiProtection Pro, comes the support of inbuilt VPN protocols and lifetime support of robust security against cyber threats. Advanced access controls with remote monitoring turn out to be a boon for parents looking for reliable parental control routers.
Other Features
The RT-AC88U comes with an added priority to gaming traffic. With Dual QoS you get to control your bandwidth allocation and usage. The Asus web interface comes with a robust internet traffic monitoring system that makes network management easier. Do you want to upgrade your network? its AiMesh compatibility will turn out handy.
Who should consider this router and why?
Most single-floor large houses with a few devices will find their match in the Asus RT-AC88U. It brings requisite processing power, coverage, and matching performance. The gaming features, lifetime internet security takes it to the top of our list.
AiProtection Pro

Wired Connectivity

Gaming acceleration boost

AiMesh compatibility

Link aggregation
2. Best Long Range Mesh: Linksys WHW0203
The three-pack Linksys WHW0203 mesh setup improvises and combines its previous design to offer a combination of tri-band/dual-band combinations. The additional 5GHz band backed by a solid hardware unit allows you to establish a long-range mesh network.
Speeds & Coverage
Do you live in an automated home? The speeds and additional bandwidth of the Linksys Velop system with its capacity to support 400 Mbps on 2.4GHz and 876 Mbps on its dual 5GHz frequency, will come in handy. MU-MIMO ensures lag-free data communication to the gadgets, simultaneously. It can handle over 40 devices and cover over 5000 sq ft.
Hardware & Design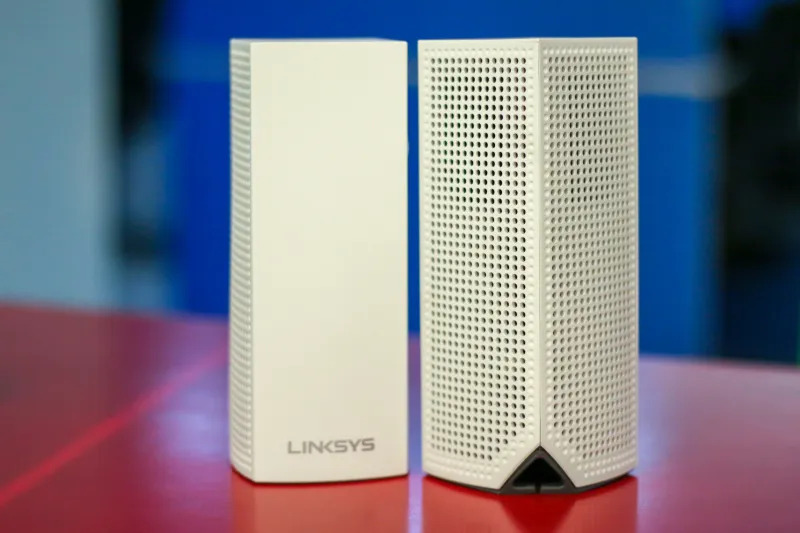 The square-shaped towers sport a perforated top and rounded edges. The units measure 3.1 x 3.1 x 7.4 -inches and weigh 1 pound each. The nodes carry 6 internal antennas, equipped with beamforming and high-power amplifiers, to deliver stable signals across large homes. A pair of auto-sensing LAN/WAN ports come with the unit.
The Velop unit backs up the strength of a quad-core processing unit clocking at 716MHz on a Qualcomm chipset, with 512MB RAM and 512MB flash storage. The combination breezes through data-intensive high-quality media streaming, gaming traffic, and work-from-home requirements.
App & Security Features
The three-pack mesh system comes with a dedicated Linksys application, that makes your installations easier. With access to Linkys shield, you get the comprehensive protection of your network with parental controls, custom access filters, and protection against security attacks.
Other Features
Velop Intelligent mesh technology brings seamless, self-healing connectivity to your household. Prioritize the devices in your household with the ease of the mobile app. A dedicated guest network and compatibility with voice commands make your smart home management less cumbersome.
Who should consider this router and why?
Linksys Velop WHW0203, three-pack systems find the balance between utility, speed, and price. This is one of the best tri-band routers for large homes that help navigate congestion. Despite similar hardware and range, the Linksys trumps the Netgear router for its flexibility and performance.
Tri-band

Beamforming

MU-MIMO

Seamless, self Healing network

Linksys Shield
No USB connectivity

Extra Subscription costs
3. Best Tri-Band Router: Netgear Orbi RBK50
Netgear brings the Orbi RBK50 with a major upgrade to its storage memory. The additional bandwidth compensates for its limited maximum speeds while bringing a plethora of top features and single-stop networking solutions for large homes and commercial facilities.
Speeds & Coverage
If you are on the lookout for additional bandwidth, the RBK50 equipped with MU-MIMO brings the best out of your internet with top speeds of 400 Mbps on 2.4GHz, 866 & 1733 Mbps on its dual 5GHz band. The router and satellite units can deliver signals to the nook and corner of a 5000 sq ft large house and handle over 25+ devices with ease.
Hardware & Design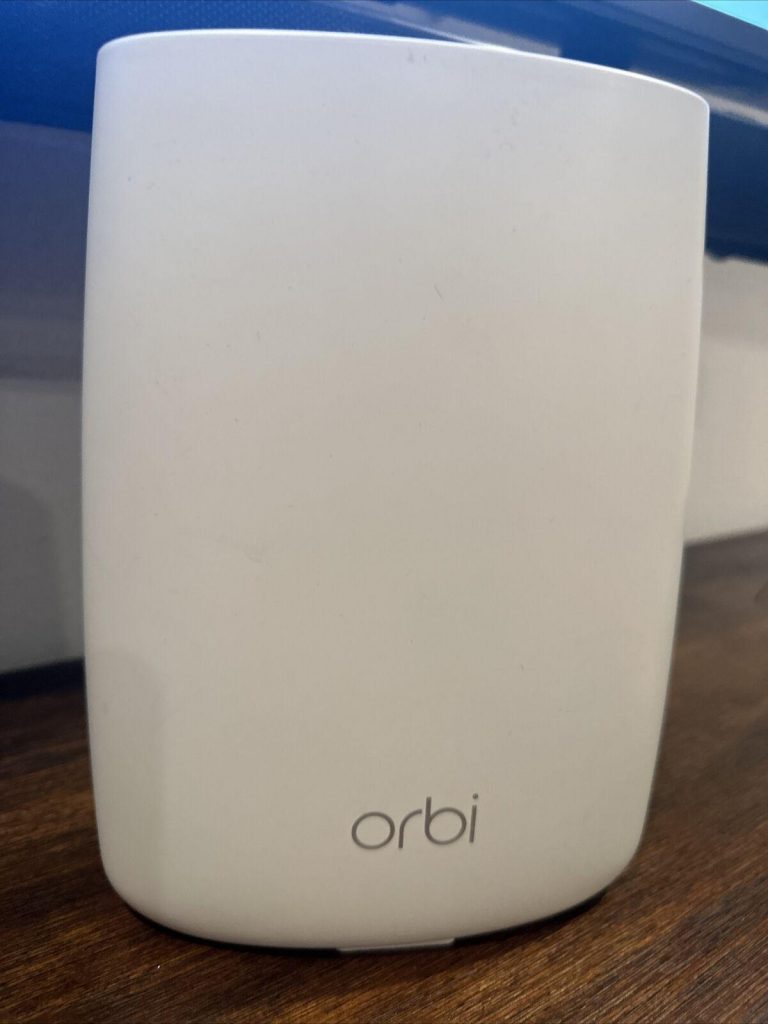 The white rectangular units carry a simplistic design in a chassis that measures 6.7 x 3.1 x 8.89 inches and weighs 1.96 pounds. 6 internal antennas geared with beamforming ensure the coverage required for large homes and multistory buildings. The 2 pack unit brings 4 Ethernet ports each and a dedicated backhaul for stable internet.
Netgear puts a quad-core processor clocking at 710MHz, together with 512MB RAM and 4GB Flash storage to ease through the simultaneous loads of 4K streaming and high-quality gaming.
App & Security Features
Orbi systems have the comfort of the dedicated mobile app, that keeps installations and management easy. The protection of Netgear Armor with robust internet security comes at a subscription cost. The circle smart parental controls give you more control over internet consumption, with easy ways to track and restrict usage.
Other Features
The compatibility with voice assistants makes the job easier for automated homes. Dedicated guest Wi-Fi, WPA2 encryption standards, Fastlane technology makes this a robust solution.
Who should consider this router and why?
Commercial buildings, large homes with attached swimming pools, garages, annexes will find their match in RBK50. The flexibility of the three-pack Linksys system pips it to the 3rd top choice in the list.
MU-MIMO

Beamforming

Quad-Core Processing unit

Netgear Armor

FastLane Technology
4. Best Whole Home Router:

ASUS RT-AC86U
RT-AC86U comes with an upgraded processor and an improved storage unit. ASUS RT-AC86U brings a plethora of features like gaming acceleration, internet security, and adequate wired connectivity at a competitive price.
Speeds & Coverage
The routing device can support individual speeds of 1000 Mbps on 2.4GHz and 2167 Mbps on the 5GHz band. MU-MIMO makes simultaneous signal transmission easier and brings the capacity to handle up to 20 devices with ease. It can cover large homes to the measure of 5000 sq ft.
Hardware & Design
A chiseled vertical chassis with red-colored accents leaving an impression of eyes measures 8.66 x 6.2 x 3.3 inches in dimensions and weighs 1.9 pounds. 3 antennas tower on top of the router pounds brings beamforming to the table to improve the signal quality to devices. The 4 Ethernet ports offer room for high-speed wired connectivity.
Asus RT-AC86U has a dual-core unit clocking at 1.8GHz, supplemented by operating memory of 512MB RAM, and 256MB flash storage, leaving adequate power for data-intense activities in multiple devices. With a pair of USB ports, sharing data and printers would get easier within the network.
App & Security Features
The Asus router app makes light work of installations and remote monitoring. AiProtection Pro brings a plethora of features including inbuilt VPN support, protection against intrusions and cyber attacks, and comprehensive parental controls.
Other Features
RT-AC86U offers a gaming acceleration boost that prioritizes gaming traffic over other web activities. Adaptive QoS manages your bandwidth according to your usage. The ASUSWRT interface has a robust internet monitoring system and easy AiMesh compatibility will make your upgrades easier.
Who should consider this router and why?
If you are looking to improve your connectivity of the single-floor building, and not compromise on internet security or gaming features, Asus RT-AC86U is a great 5000 sq ft router to consider. If not for the flexibility of the wired connectivity AC-88U brings into the table, AC86U would be much closer to the top of the list.
AiProtection Pro.

MU-MIMO

Beamforming

WTFast

Easy AiMesh compatibility
5. Best Wi-Fi 6 Mesh Router: TP-Link Deco X20
Do you have a modern home with a lot of smart gadgets? Are you in search of the best Wi-Fi 6 router for long range? Well, look no further as Deco X20 is here to fulfil your large home internet needs, that too at a reasonable price!
In Deco X20, TP-Link upgraded the memory unit of its predecessor to improve its capacity to handle more devices. TP-Link Deco X20 comes with the strength of a strong hardware unit, with the added advantage of easy management and control.
Speeds & Coverage
With Wi-Fi 6 standard, Deco X20 brings the advantage of OFDMA inefficient signal transmission. The units can support top speeds of 574 Mbps on 2.4GHz and 1201 Mbps on 5GHz and handle up to 150 devices, including a bunch of smart home gadgets. The three-unit gives the edge in freedom of placement and extended coverage of 5800 sq ft.
Hardware & Design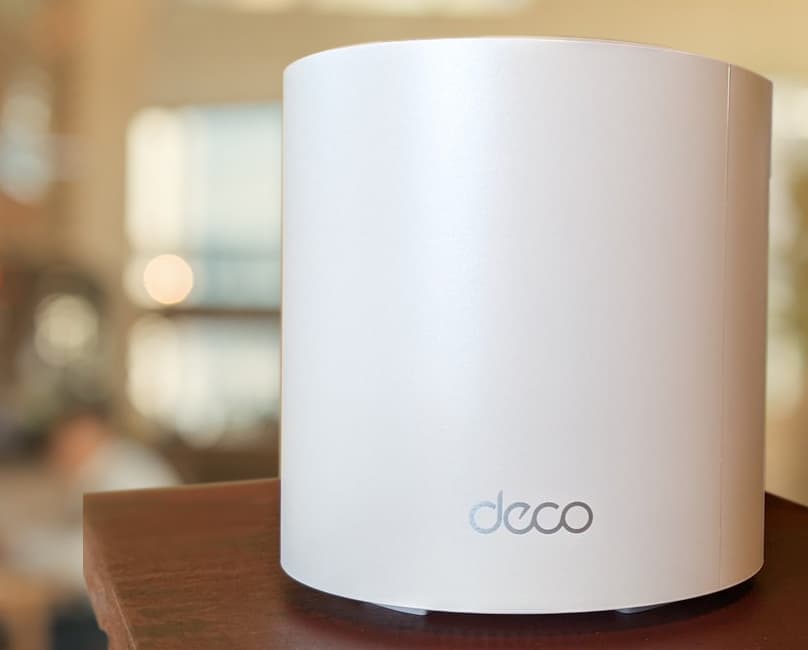 The short cylindrical tower sports a minimalist design and has the aesthetic to fit easily into any household. The units weigh 2 pounds each and measure 4.3 x 4.3 x 4.9 inches in dimensions. Equipped with beamforming, the 4 internal antennas take your signal farther into the corners of your household.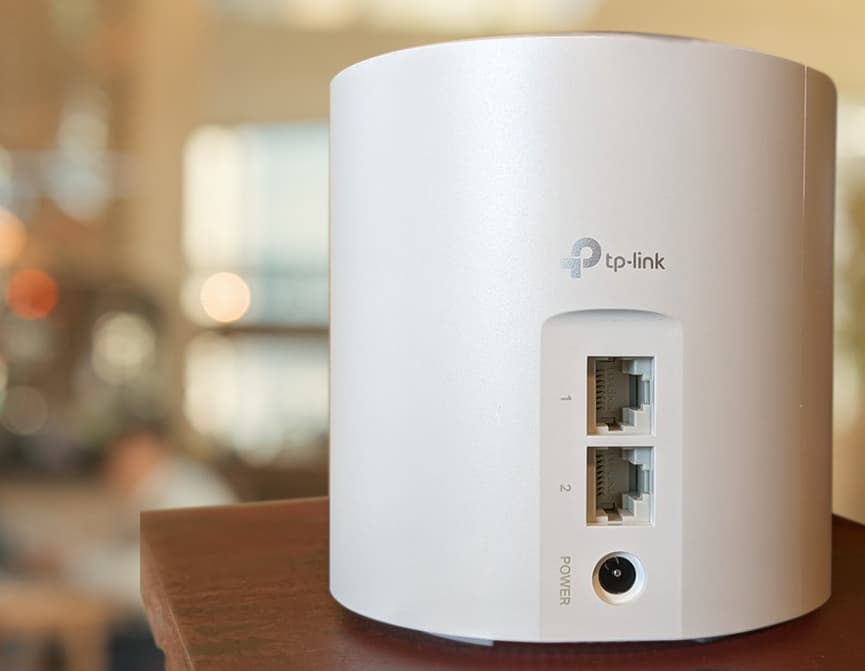 On the back of a quad-core processing unit clocking at 1GHz, and a memory combination of 512MB operating memory and 128MB storage, the hardware unit can ease through data-laden gaming, remote work solutions, and high-quality media consumption. Each unit comes with two LAN/WAN ports and the ability to establish wired backhaul.
App & Security Features
Deco applications prioritize easy installations, quick-fire control, and remote management. If you are looking for comprehensive control over bandwidth and devices accessing the internet, the comprehensive parental controls offer you the ability to create profiles and customize the internet for every device.
Other Features
If you are bothered about finding the right placement for your router, the auto-placement test ensures you get the placement right. Inbuilt QoS enhances the control you have over allocation for the bandwidth for devices and the type of traffic categorizing them as streaming, gaming, surfing, and chatting.
Who should consider this router and why?
Do you have an automated home? Are you looking to future-proof your internet? Deco X20, the longest range Wi-Fi 6 router brings the features to blanket your home with stable internet. If not for the price advantage of Asus RT-AC86U, the Deco X20 will find its place closer to the top.
Also check: TP-Link Deco X20 Detailed Review
Wi-Fi-6

Wired backhaul

MU-MIMO

Comprehensive Parental controls 

Beamforming
Limited by dual-Band operation
6. Best Router for 3 Story Home: Tenda Nova MW6
MW6 is Tenda Nova's venture into budget mesh systems offering networking solutions for multistoried facilities. Tenda Nova 3 Pack mesh system brings excellent coverage and seamless Wi-Fi at a little over $100 without compromising on the standard tenets of security.
Range & Speeds
The MW6 delivers an aggregate speed of 1.2Gbps, translating into top speeds of 300 Mbps &867 Mbps on 2.4GHz and 5GHz, respectively. MU-MIMO makes the system more efficient by transmitting data to devices and covering up to 6000 sq ft. Despite its higher capacity, limiting the number of devices to 30 is imperative for performance.
Design & Hardware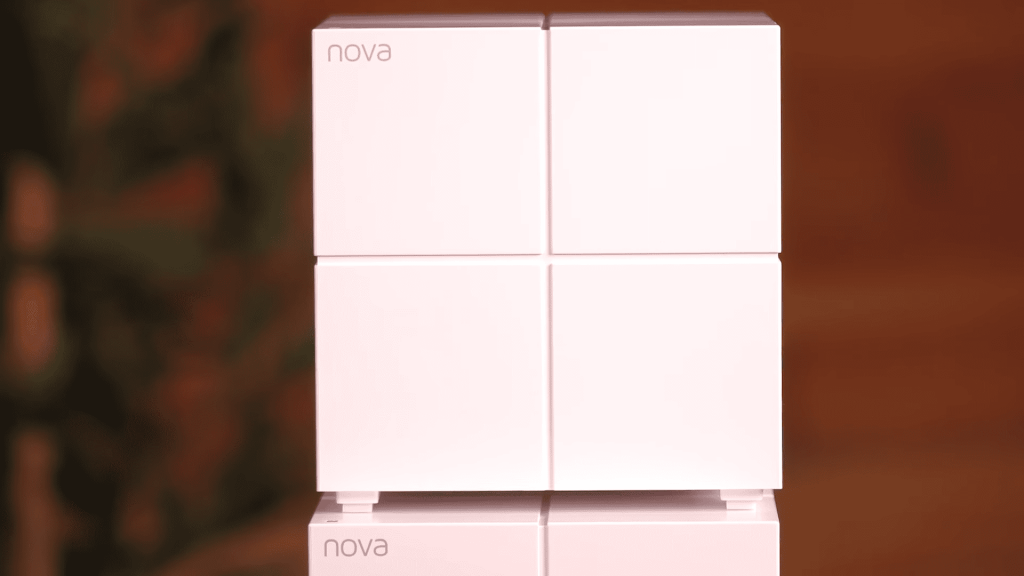 The cube-shaped white satellites come with 2 internal antennas reinforced with beamforming, to deliver quality signals across large areas. The lightweight compact router weighs less than a pound and measures 3.94 x 3.94 x 3.94 inches in dimension.
The mesh system sticks to a single-core unit clocking at 1GHz, 128MB RAM, and 16MB storage. The two Ethernet Ports per unit will offer you adequate avenues for wired connectivity for priority devices, be it entertainment or work.
App & Security Features
The mesh system gets set and running from the comfort of a mobile application, albeit with limited customization options. WPA2 encryption Inbuilt VPN support, firewalls, parental controls, and dedicated guest network access help keep your privacy and security intact.
Other Features
The smart QoS engine lets you manage your priority based on the type of activity: gaming, media, etc. Additional features like seamless roaming and band steering help you balance, distribute your bandwidth and the network load across the system.
Who should consider this router and why?
If you are looking for a wide range router on a budget, Tenda Nova MW6 is a good option for large households with a limited scope of scaling up on devices. It covers the basic requirements for large households without burning a hole in your wallet.
Budget-friendly

Band Steering

MU-MIMO

Seamless roaming

Parental Controls
Frequently Asked Questions
What is the best long distance router for a 5000 sq ft house?
Asus RT-AC88U brings the best selection of features, matched by excellent coverage at a competitive price, making it the best router for a 5000 sq ft house. Linksys WH0203 mesh system brings additional bandwidth and coverage complemented by remote monitoring ability which is targeted towards multi-story large 5000 sqft homes.
Are mesh systems reliable for 5000 sq ft big houses?
Mesh systems offer the best possible solution to cover 5000 sq ft of big houses if you are planning to accommodate plenty of devices. The type of household plays a crucial role in the utility and value achieved by a mesh system.
Do I need Wi-Fi 6 or any specific feature in a 5000 sq ft router?
High powered, amplified, adjustable antennas equipped with the latest technologies like beamforming and OFDMA let you get the best out of your internet and ensure the devices in your large homes are not starved of bandwidth.
How do I choose between a standalone router or a mesh system?
With proper placement, the stand-alone routers work well for single-floor homes. Mesh routers are ideal for automated multi-story homes or large houses with extensions, workshops, and garages.
Verdict
Choosing between mesh and stand-alone gets simpler if the requirements and preferences are accounted for, including the type of households, scope of expansion, scalability, and the preference of the member. Find out the top suggestions for a few specific scenarios.
ASUS RT-AC88U works for most large homes, except multi-tier buildings and the gaming features make it a great value for money.
If you have a bunch of Wi-Fi 6 supported devices and a bunch of smart home gadgets, TP-Link Deco X20 offers a Wi-Fi 6 Mesh system at an affordable price.
Tenda Nova MW6 fits right into your slot if you're trying to work with budget constraints.
For Morton, reviewing a router is just like spending another day at the office. As BCCA's senior copywriter, Morton believes is explaining every concept concerning routers, networking technologies, and additional routing specs. Also, Morton is our go-to man if we are looking to get the ISP-dependent internet plans tested across devices.