Have you recently subscribed (or planning to subscribe) to a 200 Mbps connection from Xfinity, Spectrum, or Verizon FiOS? Confused about which router to select? This article not only helps you find the best router for 200 Mbps but also enlightens you about critical features and how they'll make a difference to your internet usage.
While most households and offices' internet needs are fulfilled with 200 Mbps, it is crucial to ensure that the wireless router you're getting is much faster than your service package speeds. But again, it isn't always easy to find a reliable 200 Mbps Wi-Fi router, and that's when I step in.
Whether you're into online gaming, 4K streaming, connecting smart home gadgets, browsing on multiple devices, or attending video conferences, the 200 Mbps capable routers featured here will ensure that all your activities are prioritized, and bandwidth is effectively used.
7 Best Routers for 200 Mbps Internet in 2023
I handpick these 200 Mbps routers after testing each with processing loads of the activities as mentioned earlier. I start reviewing high-end devices on the top and walk through mid-range models and a few pocket-friendly options at the end.
Besides being compatible with your 200 Mbps service package, the top models offer additional security, bandwidth control, better range, etc. On the other hand, most budget routers come with basic features yet work well with most service providers.
1. Best Overall: TP-Link Archer A20
This is the best tri-band router to use with a 200 Mbps internet connection!
Upgrades to the processing unit on Archer A20 complement the inclusion of an extra band that allows you to connect multiple devices with minimal loss in bandwidth or performance. With two USB ports, it gets easier to share devices in your home. These improvements over its predecessor, A10, bring it to the top of my list of routers suitable for 200 Mbps.
Speeds & Coverage
The 4×4 MU-MIMO and Beamforming can handle simultaneous requests from multiple devices. It promises to deliver 750mbps in 2.4GHz and 1625mbps in dual 5GHz channels. Moreover, I was impressed with the implementation of 1024-QAM technology that boosts the overall internet speeds up to 25%.
Six external antennas are amplified for high-performance to cover large surface areas up to 3000 Sq Ft, leaving no dead spots in a 2 story house.
Ports & App Support
With 1 WAN port, 4 LAN ports, and 2 USB ports (1 x USB 2.0, 1 x USB 3.0), play a vital role in taking care of your wired high-speed connections and data transfers.
The Tether mobile app keeps the installation simple and offers control over a few basic settings. In contrast, the web interface gives you access to advanced settings and customizations.
Design & Hardware
Weighing 1.8 lbs, the Archer A20 sports an appealing design. All the antennas are aligned across the device while ports stay accommodated on the rear end of the device.
The router comes with a 1.8GHz dual-core processor with the support of three co-processors, 512MB RAM, and 256MB of flash storage. These specs are adequate for handling online gaming, large file transfers, Twitch streaming, OTT streaming via Firestick, etc.
Conclusion
With the tri-band operation, protection of TP-Link HomeCare, and link aggregation, Archer A20 is loaded with features that make it the best wireless router for 200 Mbps internet. At this price, it is an exceptional tri-band router from a highly reliable brand.
Tri-band operation

Inclusion of 2 USB ports
TP-Link HomeCare security
Super wide coverage
Reasonable price
Top Download/Upload speeds
2. Best Wi-Fi 6 Router: ASUS RT-AX3000
Do you have a lot of Wi-Fi 6 supported devices at your home or office? Get this 200 Mbps Wi-Fi router and make the most of them!
Complete hardware overhaul of its preceding version RT-AC58U equips the Asus RT-AX3000 to deliver higher speeds and cater to modern devices. Credit to the higher throughput capacity, latest features, and support for Wi-Fi 6, you'll be able to share 200 Mbps internet without missing out on the signal quality.
Speeds & Coverage
The MU-MIMO, OFDMA, and Beamforming give the power to optimize the bandwidth and deliver up to 575mbps in 2.4GHz and 2402mbps in 5GHz. The latest wireless standard, 1024-QAM, and 160MHz channel support ensure seamless internet in a large household.
ASUS router performs well as a standalone router and is also compatible with the AiMesh network. It has 4 amplified external antennas to cover a 3000 sq ft house at dual-frequency. It should take care of the requirements that any medium to large household throws at it.
Ports & App Support
With 1 WAN port and 4 LAN ports, Asus provides ample avenues to maintain wired connections. Plus, it can handle shared printer/network storage devices with the presence of a USB 3.0 port.
ASUS Router app guides you through the initial setup without posing any hurdles. The web interface is user-friendly and offers extensive access & parental controls.
Design & Hardware

Weighing 1.2 lbs, the product is lightweight and measures 8.82 x 6.06 x 6.3 inches. The router features a slim demeanor with LED indicator lights in front and the ports in the back. Moreover, the gold-colored ASUS logo on the router's top looks fabulous.
A 1.5GHz tri-core processor with 512MB of RAM and 256MB of flash memory is enough to store system data, firmware, and required files. This is one of the top-rated Wi-Fi 6 routers that easily handle online gaming, larger file transfers, 4K media streaming, and more.
Conclusion
With lifetime free AiProtection security and AiMesh scalability, you can efficiently utilize the Asus AX3000's ability to manage a 200Mbps internet connection. Plus, features like 1024-QAM and QoS to prioritize activities on a network.
Want to know something specific? Check out my full review of the Asus AX3000.
Wi-Fi 6 support
AiMesh compatibility
AiProtection lifetime security
QoS, MU-MIMO, and OFDMA
Has parental controls
Alexa compatible
3. Best Mesh Wi-Fi for 200 Mbps: TP-Link Deco X55
Are you planning to expand your network in the future? Get a single mesh unit now and connect more when you upgrade your setup with higher plans!
Credit to TP-Link, you can now get a Wi-Fi 6 mesh system at an affordable price. The deco unit packages all the latest features with a downgraded processing unit, which makes it accessible to a wider range of customers than its successor, X60. Uncomplicated management and the ability to support automated homes make this a steal.
Speeds & Coverage
With top speeds of 574 Mbps and 2402 Mbps on 2.4GHz and 5GHz, respectively, you can connect over 50 devices, including smart appliances, gaming consoles, TV, and video doorbells in your smart home. Support to OFDMA is paramount to its device capacity and seamless communication.
Features like MU-MIMO and QoS further optimize the connection and reduce any lag in data transmission. With two high-performing antennas equipped with beamforming, the routing unit can deliver signals across a 2500 sq ft home.
App Support & Security
Deco app is a boon to newbie users. The setup and management become uncomplicated. You'll get top-notch protection from Homeshield Pro, which offers security from intrusions and other cyber threats. The parental controls and the comprehensive report systems give you complete control over internet consumption.
TP-Link caps the security features with a built-in firewall, guest networks, VPN support, and WPA 3 encryption that keep your network from data theft and infected external devices.
Design & Hardware
The white cylindrical tower is short in stature, measuring 4.33 x 4.33 x 4.49 inches. It comes with a groovy black top that offers heat regulation. With easy-to-blend aesthetics, this single mesh Wi-Fi unit weighs a little over 2 pounds. On the rear end of the device, you'll find 3 auto-sensing LAN/WAN Ports.
You cannot underestimate the ability of the dual-core processor, clocking at 1GHz. Thanks to multi-tasking capacity reinforced by 512MB RAM and 128 MB storage, it can easily support automated smart homes.
Conclusion
Deco X55 packs all the latest features into the small white cylindrical unit at a competitive price. The flexibility of upgrade, wired ports, and ethernet backhaul make it a more appealing 200 Mbps Wi-Fi router than the MR2600.
Wi-Fi 6

OFDMA

Ethernet Backhaul

Beamforming

Works with Alexa device
4. Best for Work from Home: Motorola MR2600
Equipped with a better processor than MR1900 (its predecessor), the MR2600 also gets 4 external antennas that deliver stronger signals across your house. Improved throughput and additional stream minimize the latency in communication, making it a good 200 Mbps router for professionals working from home.
Speeds & Coverage
The sub $100 router is equipped with 4×4 MU-MIMO, QoS, and Beamforming that gives the capacity to achieve high speeds of 800mbps in 2.5GHz and 1733mbps in 5GHz frequency.
It has 4 adjustable external antennas that disperse signals over a surface area of 2000 sq ft. at dual-frequency. This, combined with MU-MIMO, ensures the internet connection is available for multiple devices.
Ports & App Support
With 1 WAN port, 4 LAN ports, and 1 USB 3.0, you have ample slots to maintain high-speed wired connections and shared network storage. It doesn't offer support to a mobile application.
The web interface provides access to manage the home network, set parental controls, customize QoS priority, and helps you breeze through the initial setup.
Design & Hardware
At 1.1 pounds, the router is lightweight. It has a simplistic design with a USB port placed awkwardly in the front. The device has a dual-core processor in a MediaTek chipset which can take care of the requirements of a small household handling activities like Wi-Fi calling, TV streaming, online gaming, etc.
Conclusion
Despite being available at a budget-friendly price, features like MU-MIMO, QoS, Beamforming, and DLNA support make this a perfect entry-level companion for your 200 Mbps connection, especially on Verizon Fios.
Implicit & Explicit Beamforming

4×4 MU-MIMO

160MHz channels

Smart QoS for prioritization

DLNA & NAS support
Basic menu functions

No mobile app support
5. Best Router for Xfinity 200 Mbps: Netgear R6700AX
In search of a Netgear router for your 200 Mbps plan from Xfinity? Regardless of the ISP, you can't go wrong with this Netgear beast!
You'll have access to the latest features, and be able to future-proof your home with the latest wireless standards, credit to a hardware upgrade that makes this Netgear router a more straightforward choice than its predecessor, R6700. Combine this with the Netgear ecosystem, and you have a reliable, secure home network for your 200 Mbps internet package.
Speeds & Coverage
At the helm of Wi-Fi 6 standard, the devices can reach up to 600 Mbps on 2.4GHz. The throughput capacity is doubled at 1200 Mbps on the 5GHz. This allows a lot of bandwidth for accessing high-speed internet with plenty of devices.
Throw the QoS, MU-MIMO, and OFDMA into the mix; you'll be able to run high-quality gaming and streaming activities simultaneously. Three beamforming antennas qualify it as one of the best-suited routers for 1500 sq ft small to medium households.
With your smart TV, PC, and gaming console, share your 200 Mbps internet with up to 20 devices.
Security & App Support
The Nighthawk mobile app makes things easier for setting up and managing the router, even when you are away from home. If you are paranoid about internet security, the subscription to Netgear Armor brings the latest updates and offers protection with comprehensive parental controls, firewalls, and WPA3 encryption.
Design & Hardware
The sleek-looking plastic chassis sticks to a minimalist design with heat vents on the sides and the back. Netgear collates everything into a 1.1-pound device which measures 9.27 x 7.26 x 2.25 inches. Along with the 3 antennas on the rear, you'll find 4 LAN ports and one 1WAN port.
The strength of the router lies in the 1.5GHz quad-core processing unit, which can ease through the high graphic console gaming, 4K streaming, cameras, voice assistants, and other mobile gadgets. The contribution of the memory duo of 512MB operating memory and 256MB flash storage is imperative to its performance.
Conclusion
If you can miss out on the USB connectivity, Netgear R6700AX packs all the latest features as a package suitable for smaller households. The strength of its hardware unit keeps it above the next closest competitor, Asus.
Quad-core processor

MU-MIMO

Alexa compatible

Beamforming Antennas

Netgear Armor
6. Best for Large Homes: Asus RT-AC67P
Equipped with a processor clocking at higher speeds, Asus RT-AC67P outperforms its previous model, RT-AC65P. The substantial increase in the throughput capacity makes accommodating more devices at your home easier.
Its extended range works for large homes, making it a great budget Wi-Fi router that can handle a 200 Mbps internet package.
Speeds & Coverage
Asus router supports Wi-Fi 5 standards. With QoS and MU-MIMO to prioritize and optimize the connections, you'll be able to share the individual top speeds of 600 Mbps on 2.4GHz and 1300 Mbps on 5GHz to more devices for streaming, gaming, voice calling activities.
With 3 beamforming antennas, the routing device can deliver strong signals across a 3000 sq ft house. The proper router placement plays a vital role in the signal strength, depending on your household type. It can handle an optimized load of over 30 devices.
App Support & Security
With the Asus router app, you don't have to be an expert to manage the network. The intuitive interface makes it easier for novice users. In a household with kids, parental control will come in handy. WPA 2 encryption & built-in firewalls are crucial for keeping unauthorized access and privacy threats at bay.
Design & Hardware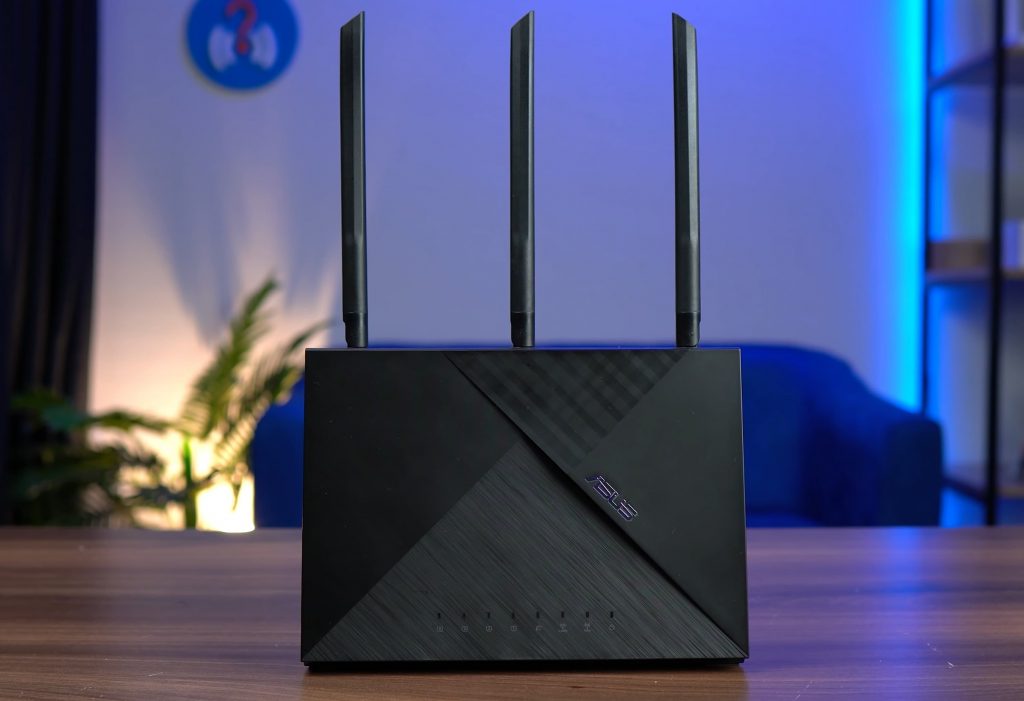 Multiple shades of gray and the matte finish blend this router effortlessly into any household. At 8.66 x 6.3 x 3.43 inches, the lightweight unit weighs slightly over 1 pound and has the flexibility of a wall mount. Asus places 4 Gig LAN ports, 1 WAN port, and a USB 3.0 port on its rear in case you require wired connections at your home.
The Mediatek-based dual-core processor clocks at 1.25GHz. It offers sufficient power to handle a household with multiple streaming devices, laptops, PCs, and many mobile gadgets. The 128MB operating memory and storage combination remains crucial to the tasks but demands a balancing load with heavy activities.
Conclusion
If you're looking for a good router for 200 Mbps on a budget, Asus RT-AC67P is well equipped to handle a 200 Mbps internet connection.
Asus Router App

Extended coverage

Compact design

MU-MIMO

Beamforming
Limited options for security
7. Cheapest Option: D-Link DIR-1260
D-Link tones down its memory and the USB port preceding DIR-1360 to accommodate the aggressive pricing. But it ensures you don't have to miss out latest features like MU-MIMO, which keeps up the performance. The flexibility to upgrade into a mesh system makes it the cheapest router for 200 Mbps connections.
Speeds & Coverage
With an aggregated speed of 1200 Mbps, D-Link distributes 300mbps on 2.4GHz and 867mbps on the 5GHz band. The 4 antennas are geared with MU-MIMO spatial streaming, which optimally shares and utilizes the internet from a 200 Mbps connection to over 30 smart gadgets spread across a 1500 sq ft area.
Ports & App Support
The router has 4 Ethernet ports and 1 WAN port to support wired high-speed connections. However, D-Link has excluded the USB connectivity for the cost-cutting.
Thankfully, D-Link doesn't skip on mobile app support to manage the home network at your fingertips. Additionally, the intuitive web interface also keeps the installation and management reasonably simple.
Design & Hardware
The router merely weighs 0.72 lbs and measures 9.37 x 6.14 x 1.22 inches. The router's sleek, lightweight design is offset by four large antennas. The hardly bright LED lights are on the front side while the ports line up at the rear.
An 880MHz dual-core processor provides a substantial processing core to the router. The 128MB of operating memory and 128MB of flash memory could limit the number of simultaneous connections. Nonetheless, it is capable of delivering on most fronts.
Conclusion
With D-Link DIR-1260, this list of routers for 200 Mbps is at the end. The DIR-1260 can fully utilize your 200 Mbps connection by optimizing usage across multiple devices. To sum it up, this one is quite reliable if you want a pocket-friendly device for managing various IoT devices or video conferences.
Extremely affordable

MU-MIMO technology
WPA 3 Encrption standards
D-Link mesh compatible
Has parental controls

QoS settings by devices
Frequently Asked Questions
Is a 200 Mbps connection fast enough?
As concluded in a blog post, 200 Mbps is fast enough to play online games, stream high-quality videos, access social media and emails, make VoIP/Wi-Fi calls, and take part in remote video conferencing, all at the same time. A good router will be an excellent companion to your high-speed internet connection.
Should I opt for a wired or wireless connection with 200 Mbps speed?
A combination of wired and wireless connections allows for effective utilization of the internet connection. Online gaming and streaming require the most out of a connection, achieved with a wired gigabit connection. Activities like Wi-Fi calling, video calling, and downloads work well even with a wireless setting.
What factors to consider while buying a router for 200 Mbps?
A powerful processor (dual-core or quad-core) is paramount for the router's performance. A higher system memory (RAM) and Storage memory (Flash) will ensure seamless operation across multiple devices. The ability to prioritize QoS settings coupled with beamforming and MU-MIMO technology contributes substantially to the performance of a router.
Does a router improve the internet speed?
No, the wireless router doesn't increase the internet speed. The speed depends on your Internet Service Provider. Nonetheless, a good router allows you to utilize the maximum potential of the internet connection.
Verdict
The router is an essential part of the equation in fully using a high-speed internet connection. A powerful processor and sufficient system memory become necessary if a single connection gets shared amongst multiple devices.
ASUS RT-AX3000 brings the latest Wi-Fi standards and features to utilize a 200 Mbps connection in a household with smart gadgets.
TP-Link Deco X55 is a great mesh system with the latest wireless standards if one is looking for an easy-to-use router.
Netgear R6700AX achieves an optimal balance between price and features and is a great companion for your high-speed internet connection.
Even if the routers mentioned above don't fit your preferences, ensure to choose a router with MU-MIMO, Beamforming, and QoS.
For Morton, reviewing a router is just like spending another day at the office. As BCCA's senior copywriter, Morton believes is explaining every concept concerning routers, networking technologies, and additional routing specs. Also, Morton is our go-to man if we are looking to get the ISP-dependent internet plans tested across devices.