Do you live in a 2 story house and often find yourself complaining that Wi-Fi signals do not penetrate through the floors? Well, never again, as this post is all about helping you find the best router for a two-story home.
When it comes to multi-story buildings, choosing the right wireless router can make a world of difference! Not only can it boost the signal strength, but it will also enable faster speeds across all floors, provided you find the best place to put a router in 2 story house.
But then, finding an ideal router for a double-story house is not a walk in the park. You need to consider several aspects, including extended range, excellent throughput, powerful hardware, and the capacity to handle multiple devices. And if you're into wired connectivity, you must choose a device with relevant ports.
That said, let's begin the search!
6 Best Routers For 2 Story House in 2023
To make the selection easier for you, I shortlisted around 17 long-range wireless routers. After testing them for 11 weeks, I prepared this list of Wi-Fi routers good for 2 story house that ensures seamless connectivity across both floors. Moreover, I've sorted the list based on critical features, coverage, overall performance, and price.
1. Best Overall: ASUS RT-AX88U
With RT-AX88U, experience the advantage of a superior processor and double the memory capacity to host multiple devices on a network with considerable ease. The hardware overhaul makes it more appealing than its predecessor RT-AC88U and brings it to the top of the list. Wire all your primary gadgets via the Ethernet port and make the most out of the bandwidth.
Why is it a suitable choice?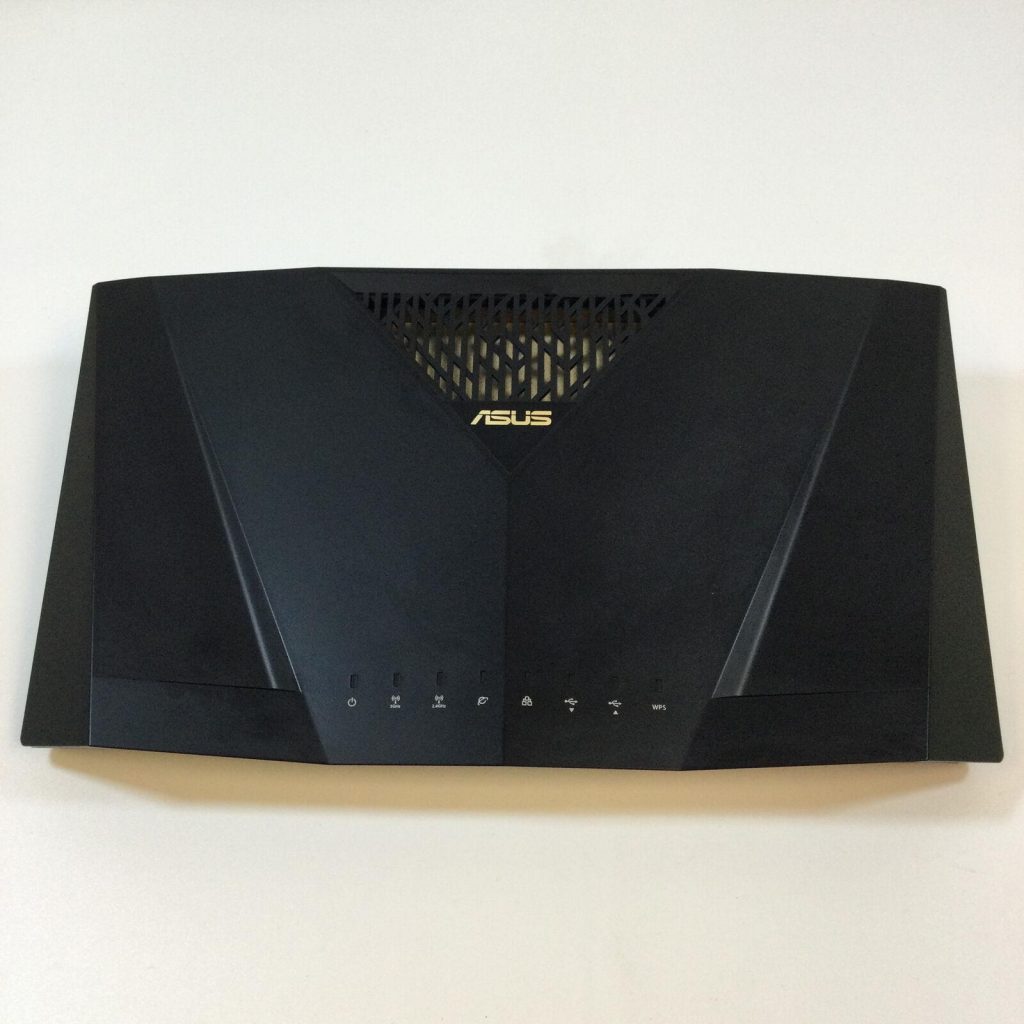 Asus RT-AX88U is one of the few wireless routers with a 5000 sq ft range. On the back of a solid hardware unit and MU-MIMO, it can handle over 30 devices. The 4 giant antennas are flexible. Find a central placement and play with the antenna positions. The devices in your two-story house will have stronger signal strength, credit to AiRadar Beamforming.
Plan Suitability & Performance
The aggregate speeds and solid hardware would see the Asus router handle Gigabit speed plans at ease. Go for the 1-Gig plans of Xfinity, AT&T, or Verizon Fios. If you're in one of the big cities, look for Google Fiber services, you'll be able to save a lot of bucks on monthly rentals.
With a quad-core processor clocking at high speeds, the routing device is geared to tackle data-heavy activities. It delivers a seamless gaming performance with top-tier games like Last of Us, God of war, and The Witcher. With hardcore gaming, you'd also see 4K streaming devices and mobile gadgets accessing the internet seamlessly.
Ports & Connectivity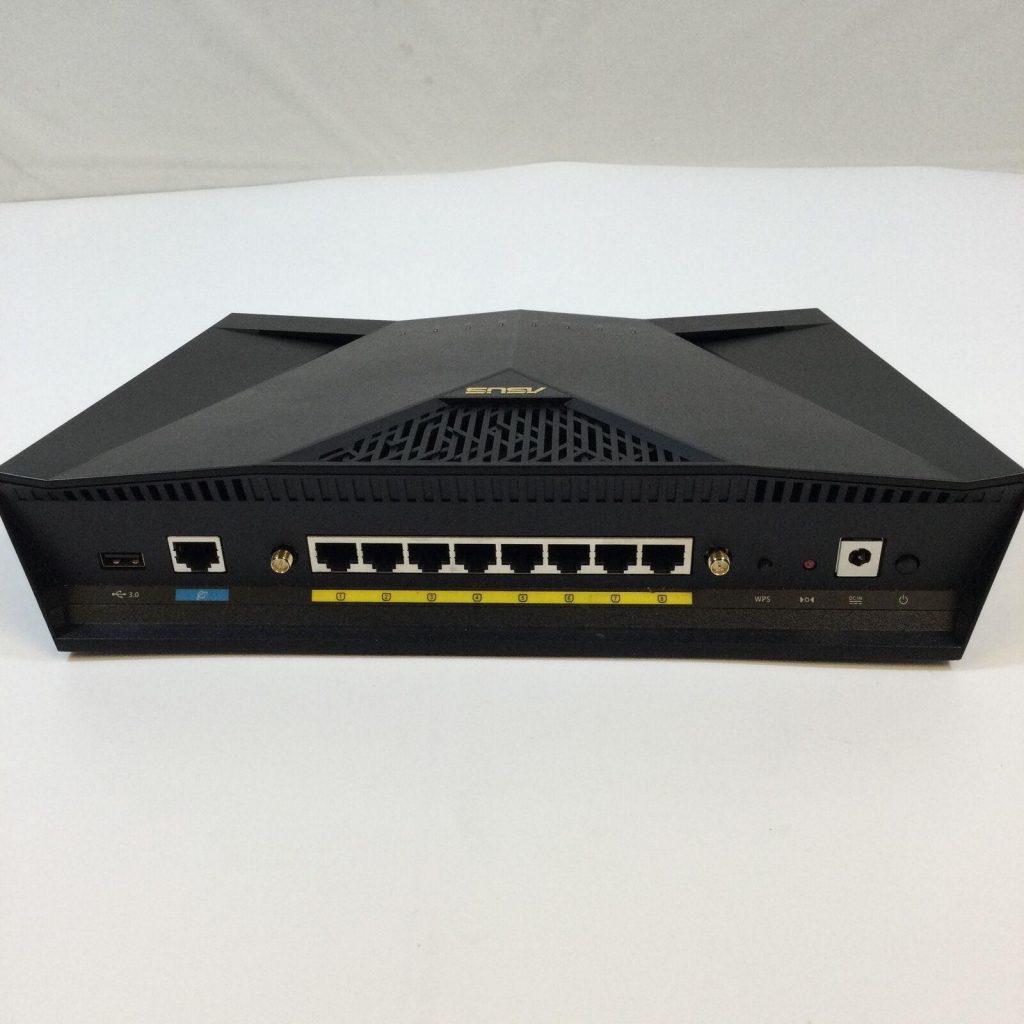 With a 1Gig WAN and 8 Ethernet ports, it's hard to run out of wired connectivity for your TV, PCs, and gaming consoles. The two faster USB 3 ports make sure the printer access and shared storage transfers are lightning quick. Even if you're new to installation and setup, there is hardly anything to worry about.
Security Features
ASUS has a QIS-guided setup that takes through the process in a few minutes. With the Asus router app and web portal, you get extensive customization. Comprehensive parental controls, WPA2 security, URL based access filters keep the network under your control. The lifetime security protection saves you a chunk of subscription costs.
Conclusion
Are you living in a two-tier house with gaming enthusiasts? Adaptive QoS and WTFast gaming acceleration take the gaming experience to the next level. Support for link aggregation and the latest standards keeps it on top as the best router for a double story house.
Extensive coverage

WTFast game accelerator

MU-MIMO & OFDMA

Lifetime Internet security

Link aggregation
2. Best Runner Up: Netgear R8000
In search of a tri-band router suitable for 2 story house? In that case, Netgear R8000 has got you covered!
At the helm of an upgraded high-speed processor and memory, the Netgear R8000 promises a stable performance, bettering its previous version. The tri-band operation and its extensive coverage bring it close to the top of my list, making it one of the best routers for big houses.
Why is it a suitable choice?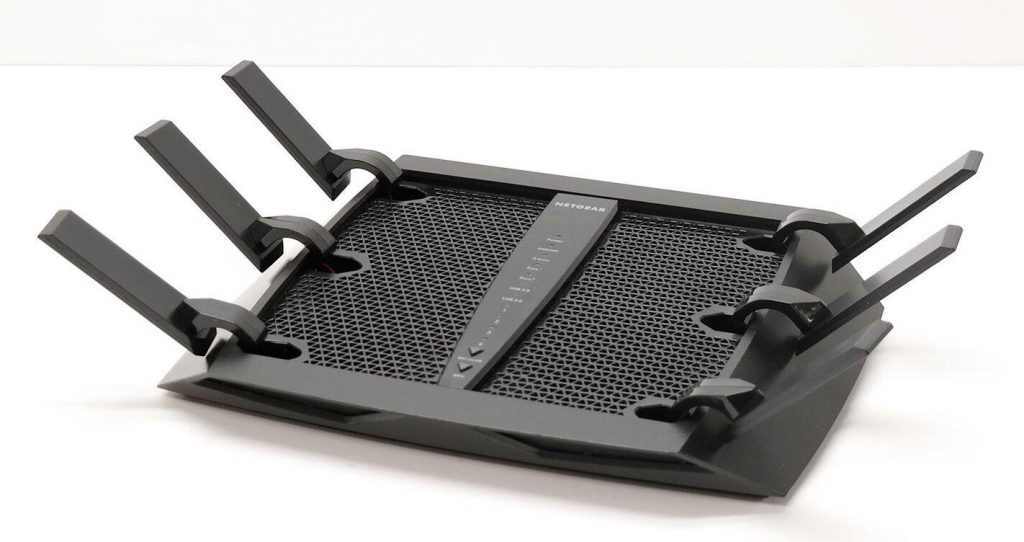 With its coverage of 3500 Sq Ft, you'll be able to cover medium two-story homes with ease. The additional 5GHz band brings the capacity to handle up to 55 devices. With 6 beamforming antennas encircling the device, you'll have multiple streams and more robust signal strength across the corners of the two-tier building.
Plan Suitability & Performance
You can choose your plans depending on the activities and number of devices at your home. Go for the 500 Mbps plans from AT&T and Verizon if you've limited devices to deal with. The 600 Mbps from Xfinity will also be ideal for pairing with in case of the increasing list of devices.
The robust hardware setup fuels heavy streaming and gaming activities. The strong memory duo guarantees seamless access for your voice/video calling devices, laptop, tablets, and other smart home appliances.
Ports & Connectivity
With 2 USB ports, you don't have to compromise choosing between printers or other accessories. The 4 Ethernet ports will leave wireless bandwidth for other mobile gadgets & tablets. With the Netgear Nighthawk application, there is hardly anything to worry about, installations or management.
Security Features
WPA2 configuration, double firewalls, and DoS protection are paramount to your data security. Using Netgear Armor and its comprehensive parental controls, you'll be able to control your exposure and offer real-time protection for your devices from intrusions and other cyber threats.
Conclusion
The advantage of the additional 5GHz band is a welcome addition for two-tier homes and small offices with plenty of devices. Top-tier network security from Netgear Armor makes this stand out from its competitors, albeit at a subscription cost.
Simultaneous Tri-Band

Handles over 55 devices

Circle Smart Parental controls

Supports MU-MIMO

6 Beamforming Antennas

Netgear Armor security
3. Best for Gamers: ASUS RT-AC86U
Asus backs the doubled throughput with huge hardware improvements. Connect more devices and indulge in gaming without noticing a blip in performance — credit to ASUS for overhauling the CPU and memory duo of its predecessor. Plus, WTFast Game Accelerator support make it the best wireless router to use in a 2 story house with gaming enthusiasts.
Why is it a suitable choice?
The flexibility of the three beamforming antennas on top of the router puts it at an advantage in covering multiple homes. Wi-Fi coverage of 3000 Sq Ft and device capability of 30 devices will be put to use in any two-tier household.
Plan Suitability & Performance
A solid processing unit enables the routing device to support up to 1 Gigabit plan. Depending on your usage and activity requirement, choose plans ranging from 500Mbps of AT&T or 600Mbps of Xfinity. If you are looking at heavy activities, choose an r 1000 Mbps plan of Verizon FiOS or a 1Gigabit of Google Fiber.
At the helm of a high-speed plan, ASUS backs the strength of the routing device to cruise through graphics-oriented games like Far cry-5, Call of duty, and 4/8K streaming at different times while simultaneously supporting surfing, voice calling, and productivity tasks.
Ports & Connectivity
Connect your printer and hard drives using the USB ports. Wire your TV, gaming console, and work PC to the router with 4 Ethernet ports and get access to wired high-speed connectivity. Asus includes a lifetime of commercial-grade security at no additional cost.
Security Features
Don't fret about using the web portal to install the device. Asus keeps it simple and quick. Switch to the even friendlier interface of the Asus router app that makes the management easy. Customize your parental controls, schedule access timings, and customize firewalls to keep the network secure.
Conclusion
If you are looking for a budget gaming router with lifetime security, RT-AC86U offers the requisite features without causing a dent in your wallet. The Mesh compatibility, a tremendous advantage the router possesses, will come in handy for scaling to larger households, putting it above the Orbi device.
WTFast game accelerator

Adaptive QoS

Lifetime Internet security

AiMesh compatibility

Parental controls
4. Best Mesh Router for 2 Story Home: Netgear Orbi RBK50
The improved bandwidth of the Orbi RBK50 mesh Wi-Fi and the capacity to handle more devices comes because of a memory upgrade over its previous version. Its flexibility, seamless roaming, and extensive coverage make it one of the best 2 story house routers in the market.
Why is it a suitable choice?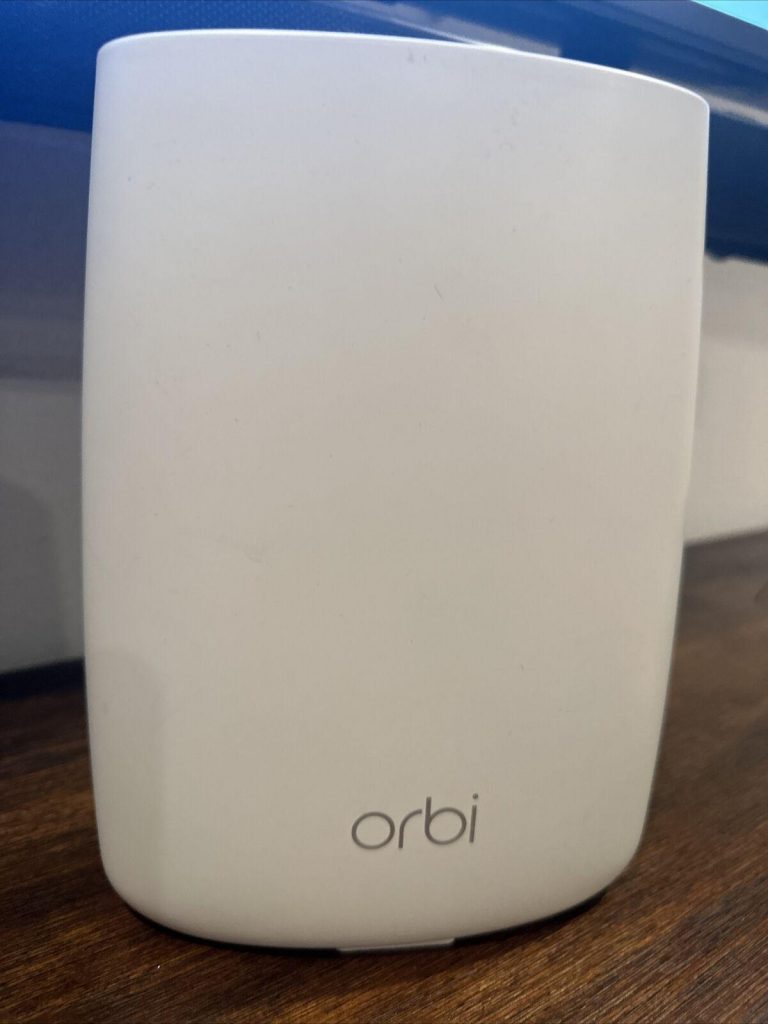 Don't let the lack of external antennas doubt its capability. The units have 6 internal yet powerful beamforming antennas that can extend the range up to 5000 sq ft, capable of covering large two-story homes. It can easily support up to 30 devices across a large surface area.
Plan Suitability & Performance
Complement this power mesh system with a Gigabit connection from Google Fiber, Xfinity, or AT&T and bring sufficient bandwidth for all the streaming and gaming devices at home. Simultaneous video calling, surfing, and mobile gaming fall within the purview of this excellent mesh system.
Ports & Connectivity
Each unit has 4 Ethernet ports to guarantee stable wired high-speed internet. The orbi devices come with a mobile-app-based installation and management. Set up the central unit, configure the satellite unit, and play around with placement with the signal strength indicator.
Security Features
Netgear offers a bunch of security features: WPA2 encryption, circle smart parental controls over, and firewalls over and above the Advanced protection of Netgear Armor, a valuable feature for protecting your IoT gadgets.
Conclusion
If you are looking for a solid mesh unit for a two-tier commercial space, Orbi RBK50 combines all the essential features at a very competitive price. Its dedicated backhaul and wired connectivity make it stand out compared to its competitors and make it my top pick as a mesh Wi-Fi for 2 story houses.
MU-MIMO

Extensive coverage

Fast lane technology

Netgear Armor security

Excellent wired connectivity
5. Best Value for Money: TP-Link Archer AX55
Upgrades to the processor and memory help AX55 deliver better performance and support more devices than its predecessor, AX50. The all-around features and its competitive pricing make this a great value-for-money router for two story houses.
Why is it a suitable choice?
The range of 2500 Sq Ft makes it an ideal choice for a small two-story home. It can support up to 25 devices in a household at the behest of advanced features like MU-MIMO and OFDMA.
The routing device has 4 formidable beamforming antennas on its rear that ensures stable signal quality while minimizing dead zones in the two-tier homes. Find the best place to put the router in a 2 story house, and you'll hardly face any signal-related issues.
Plan Suitability & Performance
While the router is geared to handle up to 1-gigabit plans, credit to the latest wireless standards and aggregate speeds, it will be overkill for most households. The 500-600 Mbps plans from Xfinity, Verizon, and AT&T, would be ideal for working with and getting the best performance.
TP-Link's hardware upgrade gives the router to breeze through high-quality 4k videos in your smart tv, support work from solutions, and make high-clarity audio/video calls while supporting surfing and gaming in mobile gadgets.
Ports & Connectivity
TP-Link doesn't compromise on wired connectivity. A small household will find good avenues with 4 LAN ports to connect their primary gadgets. Small offices can use the USB 3.0 port to share printers or network storage devices within the network. An intuitive interface design of the tether app keeps the installations very smooth.
Security Features
Monitor and control your network remotely. The latest WPA3 encryptions and SPI firewalls offer security to the network, protecting the network from unauthorized access. With Homeshield Pro, you'll get sophisticated protection from intrusions and DDoS attacks.
Conclusion
Do you want to future-proof your large home with the latest standards within a budget? There is hardly anything to go wrong with this device. Its mesh compatibility makes it easier for future upgrades, adding more value and keeping it above the Asus counterpart.
To learn more, read my full review of the TP-Link Archer AX55.
Wi-Fi 6 support

Alexa compatible

MU-MIMO &

OFDMA

OneMesh unit

Latest security standards
Subscription costs for security
6. Best Budget Option: Asus RT-AC67P
Are you a student or working professional looking to purchase an excellent long-range Wi-Fi router on a budget? I recommend the Asus RT-AC67P.
Asus RT-AX67P is well equipped to cater to a two-story home with better throughput, coverage, and higher speed limits. Thanks to the improvements in the processor and memory unit over its preceding version. Efficient QoS and wallet-friendly price makes this a good budget Wi-Fi router for multiple floors.
Why is it a suitable choice?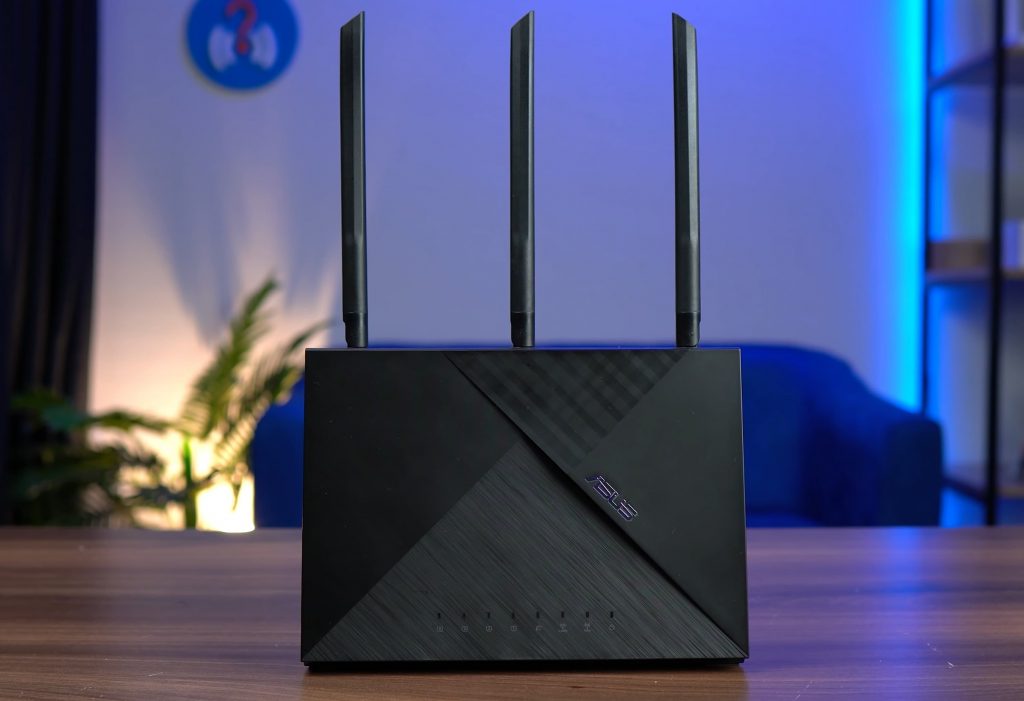 Are you living in a household with plenty of mobile devices to accommodate? RT-AC67P can support up to 30 devices spread across a 3000 Sq Ft surface. You don't have to worry about the signal quality or frequent drops, credit to the 3 adjustable beamforming antennas towering on top of the device.
Plan Suitability & Performance
Depending on your neighborhood availability, go for internet plans ranging from 200 to 300 Mbps. The 300 Mbps plan from AT&T and Verizon works well for this routing device. If you engage in gaming activities, switch to a 500 Mbps plan. Its limited memory would demand optimizing the load across all the connected devices.
You'll be able to support seamless surfing, video calling, mobile online gaming, media consumption, and productivity tasks simultaneously. Multiple instances of HD quality streaming or console gaming will affect the overall performance.
Ports & Connectivity
Do you have more devices sharing the wireless bandwidth? Connect the primary gadget to the router with 4 Gig LAN ports; you'll be able to share the capacity efficiently. If you have to share a printer or memory device or a USB dongle within the network, the USB 3 port guarantees fast transfers.
Security Features
Use the web application to set up the router. Once you are done, switch to the Asus router app for hassle-free management. Protection of WPA2 & firewalls is paramount to data security. The parental controls will come in handy if you've kids and teens accessing the internet at your home.
Conclusion
Are you looking for a reliable Wi-Fi router for under $100? Asus RT-AC67P comes with an affordable price tag without compromising on essential features like MU-MIMO and Beamforming, making it one of the best wallet-friendly options for multi-level homes over its competitors.
3000 Sq Ft coverage

MU-MIMO &

Beamforming

Has parental controls

Easy to setup

Wallet-friendly
Limited security and customization
Frequently Asked Questions
What is an ideal range to cover a 2 story home?
The answer depends upon how big your house is. However, for an average 2-story home, any router covering between 2500 sq ft to 4000 sq ft should do. If you have a larger house or thick walls, you might want to go for a device that promises a 5000 sq ft coverage.
What is the best place to put a router in 2 story house?
Keeping the router on the ceiling of the lower floor or the floor of the upper floor would be the best possible way to ensure maximum connectivity in a 2 story house. Alternatively, you could also have it connected to the staircase that connects the first and the second floor. However, a more center-focused router placement is ideal.
What is better: traditional routers or Wi-Fi mesh systems?
When it comes to providing coverage across a two-story house, a mesh system usually does a better job as they tend to create 1500 sq. ft. coverage zones wherever they are placed. You can add another mesh unit to increase the coverage where you feel it is weakening up. However, traditional routers aren't all that bad either if you place them the right way.
How much should I invest in a wireless router for a 2-story house?
While routing devices cost from $100 to over $300, you will need to shell out anywhere between $150-$250 for the best of the lot. However, the cost isn't a metric of how good they are, and you need to check out other features such as coverage, connectivity speeds, ports, etc., to determine if the router suits your needs.
Verdict
Finding a router that can fulfill the requirements of a multi-story house is a bit tricky. I hope this article helped you find the perfect one. Summing up, here are the top 3 Wi-Fi routers for 2-story houses, based on some specific needs:
If you are into gaming or high-quality streaming, get Asus RT-AX88U for the best performance across both floors.
Netgear Orbi RBK50 is the best option for those looking for a mesh system for their relatively large house with multiple floors.
If you wish to get a cost-effective option that can cover two floors, ASUS RT-AC67P is your best bet.
I hope that this list has helped you find just the right router for your 2 story house. If you still have confusion, please comment below or get in touch with me.
For Morton, reviewing a router is just like spending another day at the office. As BCCA's senior copywriter, Morton believes is explaining every concept concerning routers, networking technologies, and additional routing specs. Also, Morton is our go-to man if we are looking to get the ISP-dependent internet plans tested across devices.