Installing the DD-WRT firmware can improve your connection, offer better VPN support, allow you to customize QoS, and increase network security. However, not all routers are compatible with the firmware and finding one can be tough. That's why I've made this list of DD-WRT compatible routers.
You shall browse the internet, open multiple tabs, and find the routers that support DD-WRT or you can trust this guide and pick the best-suited router from this list. The former requires a research-oriented mindset and consumes huge time, the latter saves you huge time and gets you the best options.
This article will answer your questions and guide you in making an informed decision. I looked into devices that fulfil the basic requirements for installing DD-WRT and offer multiple features with the potential to be exploited.
9 Best DD-WRT Compatible Routers in 2023
After a comparative analysis of over 30 routers in the market space with no dearth of products from Netgear, D-Link, Asus, TP-Link, I have narrowed it down to 9 devices that fit best for specific scenarios.
Ranging from dedicated premium gaming routers to all-around performers, I delved into routers that provide a balance of utility, price, and features for households/ small enterprises (value-for-money options) and the budget options that tend to basic requirements.
1. Best with Wi-Fi 6:

Asus RT-AX88U
As the primary essence of the DD-WRT firmware is to make the router more secure than ever, I feel there aren't many better options to accommodate it than the Asus RT-AX88U. Essentially a gaming router, the RT-AX88U already comes equipped with QoS support and an excellent wireless range, which makes it more appropriate for invested gamers.
Also, as compared to the RT-AX86U, the RT-AX88U is more accommodative towards the DD-WRT firmware, in part due to the better wireless speeds and improved range.
Why is it best suited for DD-WRT Firmware?
The DD-WRT firmware is meant to amplify the innate capabilities of a router and it is only appropriate to flash it on the RT-AX88U, owing to the existing skill sets. Starting from a diverse set of high-speed ports to an intuitive web interface that supports power cycling, this router has everything to assist the DD-WRT flashing.
Speed & Coverage
As far as the speeds are concerned, the dual-band router supports 1148Mbps for the 2.4GHz band and over 4804Mbps for the 5GHz or near the band. Topping the path-breaking speeds is the long-range network consistency that extends up to 4500 sqft, in terms of overall coverage.
However, with DD-WRT firmware installed it becomes easier to amplify the range to up to 6000 sq ft. Also, DNS caching is way better, even inherently, which ensures that the web addresses load faster.
Design & Build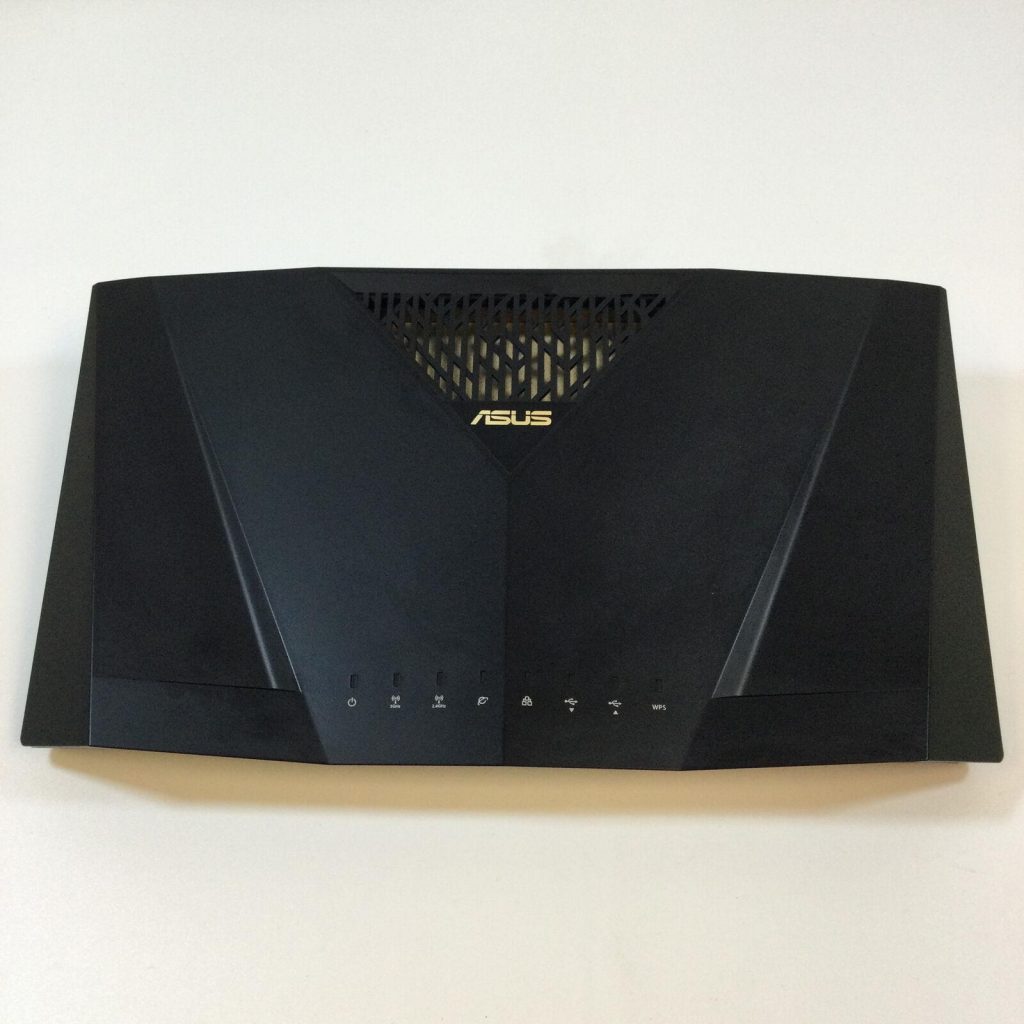 The well-ventilated RT-AX88U weighs close to 2.2 pounds and measures 11.8 x 7.4 x 2.4 inches. The plastic-clad form factor doesn't heat up a lot despite the integrated processor working that bit harder to process the encrypted and decrypted traffic, something that is possible to adopt with the DD-WRT firmware installed.
Finally, there are four external antennas for shouldering a majority of the routine workload.
Port Management & App Support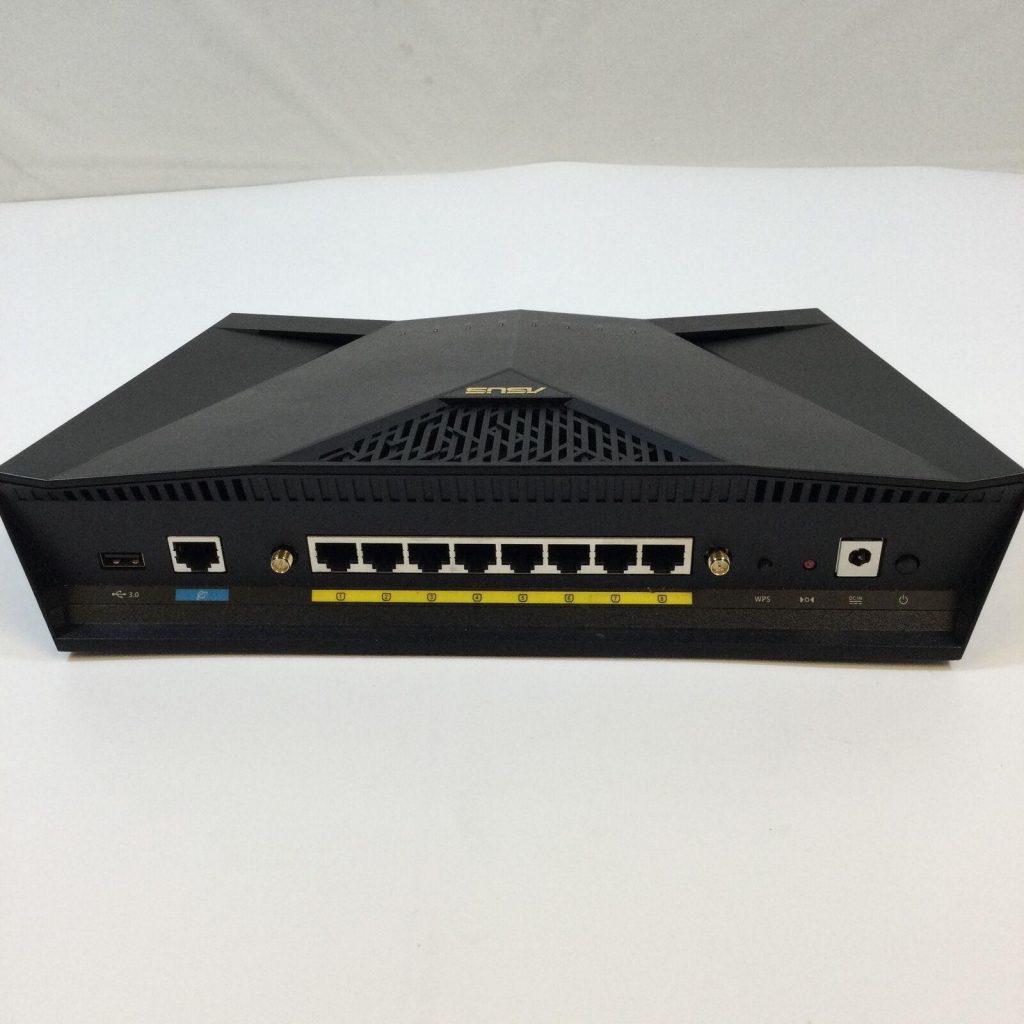 The RT-AX88U from Asus comes loaded with 8 LAN GigE ports. This functionality lets you connect the router directly to several bandwidth-intensive devices like Smart TVs, Gaming consoles like Xbox One, PlayStation, etc. Plus, Asus offers a dedicated router app to help you control the device and even monitor the usage patterns, remotely.
Other Features
What makes the most sense to a router enthusiast is the IPV6 functionality for redirecting online traffic better. Plus, there is a 1.8GHz processor with 4-cores in play to manage VPN regulated traffic better, in case you choose to secure the entire home network by installing a VPN at the backend.
Asus also offers 256MB of flash memory for storing firmware details. However, there are two USB 3.1 ports available, in case you want to connect external data hubs and peripherals. The 1GB RAM works in tandem with the chipset to help you make the most of Quality of Service— an attribute that furthers the router's ability to prioritize certain tasks over others.
Conclusion
Overall, the Asus RT-AX88U is one of the more balanced routers on the list that might feel a tad pricey to some. However, the specs sheet is certainly justified as if you plan on flashing a router with DD-WRT firmware to increase its gaming capabilities; this is the perfect product to consider.
Plus, as compared to other routers on the list, the RT-AX88U boasts better overall security specs like device blocking, malicious website blocking, risk assessment, and more, which ensure better device health, with or without the DD-WRT firmware flashed.
Comes with adaptive QoS

Supports VPN pass-through

Several high-speed ports

Excellent range

Reliable near band speeds

Comes with MU-MIMO support
Real-time 2.4GHz band speeds are slower

Pricey
2. Best for Gaming:

Linksys WRT3200ACM
The Linksys WRT3200ACM comes with a Killer prioritization engine that gives higher priority to gaming activities and reduces latency during gaming.
Complement your Alienware or gaming PC with this Linksys router and get an improved Twitch streaming performance. With support to open-source firmware, dd-wrt opens up the higher potential of the router.
Speeds & Coverage
Conditional to higher internet speed from ISP, the router can deliver peak speeds of 600mbps in 2.5GHz and 2600mbps in 5GHz frequency. It can cover large surface areas up to 2500 sq ft while supporting over 20 devices.
Design, Build & Hardware
The Linksys dd-wrt router weighs close to 3.57 lbs with a sleek-looking black matte design. The device owes its powerful performance to a dual-core processor clocking at 1.8GHz, complemented by a RAM of 512MB and storage memory of 256MB.
Antena & Ports
The router has 4 short, yet powerful antennas reinforced with MU-MIMO and beamforming. The array of one WAN port, four LAN ports, one USB 3.0 port, and an eSATA/USB 2.0 combo port primes this device for high-wired gigabit connections and shared network storage devices/printers.
App Support
The WRT3200ACM comes with support for mobile applications but gives limited control over the router settings. There's also a Web GUI to guide you through the installation. You do get parental controls but it is the lack of other advanced settings that make the dd-wrt firmware more appealing. It is also compatible with the OpenWRT firmware.
Conclusion
If you are looking for a dedicated gaming router to reduce your gaming latency and improve your gaming experience, the Linksys WRT3200ACM can be a viable solution. But the DFS, tri-stream 160MHz potential, and open-source readiness make this more appealing for its premium price.
1.8GHz dual-core processor

Killer Prioritization Engine

MU-MIMO

Open-source ready

Tri-stream 160MHz
Lack of mobile application support

Expensive
3. Best Port Arrangement:

NETGEAR Nighthawk X6
In Nighthawk X6, Netgear gives a gaming router capable of covering large homes and offers a stable internet connection to multiple devices. With the tweaks coming through dd-wrt firmware, the potential of the router improves bridging the gap between its utility and price.
Speeds & Coverage
The tri-router is geared to deliver high-speed internet scaling up to 600mbps and 1300mbps on 2.5GHz and two 5GHz frequencies respectively. With extensive coverage of 3500 sq ft, the router can support up to 45 devices. This makes the router suitable for 4k streaming on multiple devices.
Design, Build & Hardware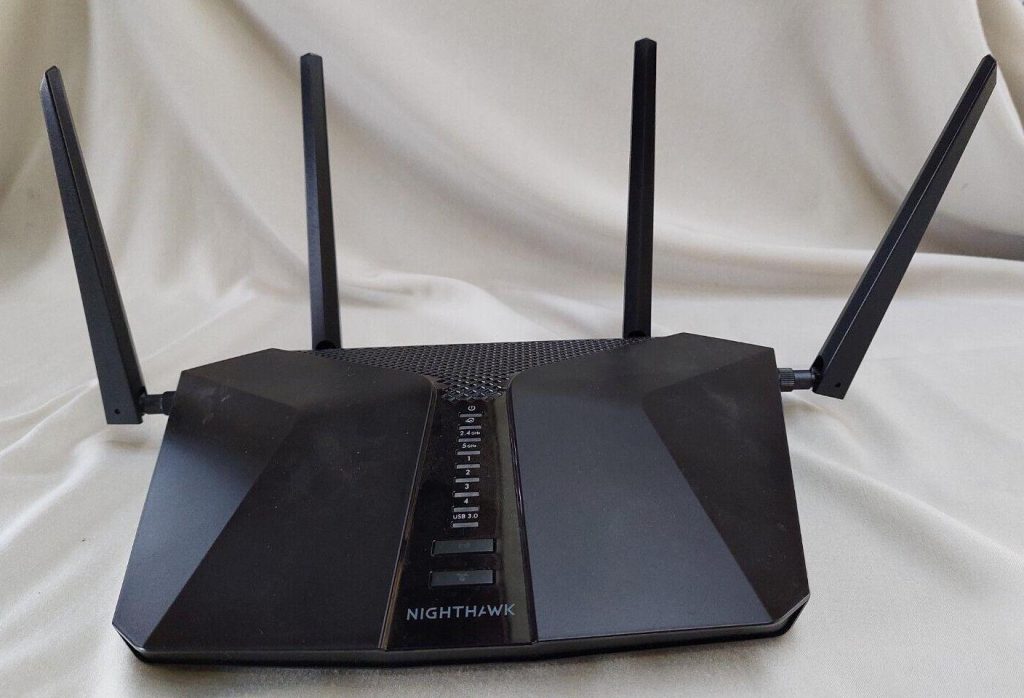 At 1.03 lbs, the Netgear router is neither lightweight nor heavy. With a glossy design, the black body has a bulky presence. It houses a 1.7GHz dual-core processor, an operating memory of 256MB, and storage of 128MB.
Antenna & Ports
You can find 6 external antennas attached to the backside of the router. The router's large footprints enable it to accommodate one WAN port, four LAN ports, two USB 3.0 ports, and one eSata port. It gives ample avenues for keeping your gaming console, desktops, tv connected. The network storage devices, printers, and external dongles get their room in the router.
App Support
Netgear Nighthawk application keeps the installations simple but doesn't offer extensive controls of the web GUI. With parental controls, you can block websites using URLs, keywords with a schedule.
Conclusion
The support of 160 MHz channels, beamforming, 4×4 MU-MIMO, and its dedicated eSATA port, makes it a probable solution as a gaming router for large homes or as a workhorse for small-medium home-office setup.
160MHz channel support

1.7GHz dual-core processor

Dynamic QoS

Twin USB 3.0 and eSATA port

15 Channel DFS
Expensive

Limited Genie Mobile application
4. Best With VPN Support:

TP-Link Archer C3200
The Archer C3200 from TP-Link is powered by a dual-core processor clocking at 880 MHz, featuring support for Wi-Fi 5 Multi-user – MIMO, and the latest encryption standards of WPA 3 to keep your internet connection secure.
Speeds & Coverage
With some support from ISP, high speeds of 600mbps in 2.4GHz and 1300mbps in 5GHz come within the purview of the router. The users can stream HD media from firestick, play online games and attend business meetings and VoIP calls on up to 25 devices, spread across a surface area of 2500 sq ft.
Design, Build & Hardware
Weighing close to 3 lbs, the Archer sports a highly ventilated black design. The casing accommodates a dual-core processor clocking at 1GHz with three offload co-processors, 256MB operating memory, and storage memory of 128MB.
Antenna & Ports
The router comes with 6 foldable external antennas branching out of the lateral sides. With one WAN port, four LAN ports, one USB 3.0 port, and one USB 2.0 port, high-speed wired connections, sharing printers and network drives within the home network becomes easier.
App Support
TP-Link brings one of the most modern, simplistic user-interface designs in mobile applications and the web GUI. Users can easily install the router, irrespective of the platform.
The parental control accessed through the web interface gives the ability to control the content visited by devices in the home network. You can add multiple devices with time schedules. The interface allows users to adjust bandwidth for devices to optimize the network and enable security options to protect the network from cyber-attacks.
Conclusion
Archer C3200 is a workable solution for congested apartments, large households or small enterprises looking for a tri-band VPN router to accommodate more devices simultaneously.
Dual-core and 3 offload processor

Airtime Fairness

VPN support

Bandwidth control QoS
Non-adjustable antennas

Low storage
5. Best Under $150:

D-Link DIR-882-US
The D-Link DIR-882-US brings a lot of advanced features at a very affordable price Powered by a dual-core processor, the router comes with two USB ports, 4×4 spatial streams, and the potential of tapping into high-speed internet with dd-wrt firmware.
Speeds & Coverage
Technologies like MU-MIMO and Beamforming, the DIR-882 can deliver high-speed internet to multiple devices. It can scale up to 800mbps on 2.4GHz and 1733mbps on 5GHz, respectively. Its coverage can extend up to 1800 sq ft, supporting up to 15 devices.
Design, Build & Hardware
At 1.25 lbs, this sub $150 router looks sleek, sans the four large antennas. The LED lights are hardly noticeable, making their presence less conspicuous. The 128MB operating memory and 16MB storage memory act as a limiting factor in data-intensive activities, but it does carry enough space for the dd-wrt firmware and further updates.
Antenna & Ports
The router comes with 4 large dual-band antennas. The D-Link router has 4 Ethernet ports and 1 WAN port offering room for gigabit-wired connections. The USB 3.0 & USB 2.0 port enables sharing network-attached storage devices and printers.
App Support
The QRS mobile application and D-Link Web GUI sport a simplistic design that ensures quick setup and management. The smart connect technology maintains stable connectivity to the device by switching between frequencies. The web GUI allows you to filter websites, create schedules for internet access, enable device priority, set up VPN, customize and configure security settings.
Conclusion
The support of 160MHz channels brings a high-speed potential to the router. With support to shared NAS/printers and other technologies, the DIR-882 makes a convincing case as the perfect router for small/medium-sized or home-office environments.
Advanced SmartBeam

160MHz Channel support

QoS priority for devices

Dual-core processor

Intuitive user-interface
Low operating/storage memory
6. Best For Office Use:

MOTOROLA MR2600
If you can find enough patience to manage your router through the web interface, the MR2600 from Motorola delivers high-speed internet with Smart QoS, decent NAS performance, and multiple security features.
Speeds & Coverage
The routers can deliver high-speed internet up to 800mbps on 2.5GHz, 1733mbps on 5GHz frequency. With a coverage area of 2000 sq ft, the routing device can support over 20 devices easily for the 200 Mbps internet plan.
Design, Build & Hardware
At 1.1 pounds, the Motorola router is lightweight. Sporting a black chequered design, nothing looks out of place except the USB port in the front. The black casing finds room for a dual-core processor, RAM of 128MB, and storage memory of 16MB, which gives just enough room for dd-wrt firmware.
Antenna & Ports
The 4 adjustable antennas, reinforced with MU-MIMO and beamforming can disperse stable Wi-Fi signals across a large surface area. It comes with four LAN ports, one WAN port, and one USB 3.0 port, ensuring high-speed wired bandwidth for TVs, gaming consoles, and desktops.
App Support
The MR2600 is solely managed by the web-based GUI. Lack of mobile application removes the possibility of remote monitoring for parents with kids/teens at home. The installation and router management happens through the web interface.
The web interface allows users to create customized URL filters, set up internet access schedules, and add customized parental control rules for multiple devices. You can set up guest networks and protect your devices in your home network from security threats.
Conclusion
If not for the lack of mobile application support, the Motorola MR2600 will find itself in smaller homes with kids. It offers an affordable solution for working professionals sharing an internet connection under the same roof.
Dual-core processor

Adjustable/Removable Antennas

Beamforming (Both Implicit & Explicit)

MU-MIMO

DLNA media sharing
Lack of mobile application support
7. Best for Large Homes:

Asus RT-AC68U
If you are looking to find a middle ground, where router-specific capabilities meet the best possible price tag, there is no point second-guessing the Asus RT-AC68U! The router isn't just a competent networking device but also the perfect choice to flash with DD-WRT if you want to use it for a bigger home or office premise.
Having the open-source firmware flashed helps you increase the router coverage, which is already better when compared with the older RT-AC68U.
Why is it best suited for DD-WRT Firmware?
The availability of a standard dual-core processor with a reliable clock speed of up to 1GHz makes it one of the more formidable candidates to embrace the DD-WRT firmware. Therefore, if you ever plan on installing a VPN to manage the traffic in the clandestine mode, the routing SoC, coupled with 256MB of RAM, can easily handle encrypted and decrypted transmissions with ease.
Speed & Coverage
Despite the DD-WRT firmware pushing the processing setup to absolute limits, the router is still capable enough of exhibiting speeds of up to 600Mbps and 1300Mbps, for the 2.4GHz and 5GHz bands, respectively.
I tried using the router with an active 500Mbps internet plan and could get speeds of up to 120Mbps for the 2.4GHz band and 455Mbps for the 5GHz channel. Upload speeds, however, were restricted to 15Mbps and 44Mbps, respectively.
The router coverage extends up to 3000 sq ft, which can be optimized further with the DD-WRT firmware installed. This single thing can feel like hitting a lottery if you need a router for a multi-story house or warehouse.
Design & Build
From a structural perspective, this plastic-made, durable router features three external antennas and overall dimensions of 6.3 x 3.3 x 8.6 inches. The 1.40-pound device is easy to carry around and doesn't heat up a bit despite the open-source firmware letting you amplify its existing capabilities.
Port Management & App Support
Getting the best throughput across wired LAN connections is now easier with 4 Ethernet ports to rely on. Plus, there are two USB ports, in case you want to connect peripherals and data hubs to the same. If you can get the DD-WRT firmware flashed onto the router, you can view and monitor the internet usage patterns easily, with the compatible Asus app.
Other Features
In addition to the existing specs, the RT-AC68U also offers Adaptive QoS support for traffic prioritization, IPv6 standard, and advanced security specs in parental control, website blocking, and more.
Conclusion
Overall, the Asus RT-AC68U is one of the more dependable DD-WRT compatible routers on the list, best known for its excellent collection of LAN ports, better reliability, and excellent range, both with or without the DD-WRT firmware.
However, the web interface pertaining to this product is enriched with customizable options, especially related to VPN, which separate it from other routers on the list, especially when it comes to expanding the capabilities with the open-source firmware.
Reliable QoS

4 LAN ports for faster connections

IPv6 support is available right out of the box

Excellent range for the price

Light and portable
Lacks MU-MIMO support

No Link Aggregation support, out of the box
8. Best Under Budget:

NETGEAR Nighthawk R6700
The Netgear Nighthawk AC1750 offers the right balance of utility with features like Beamforming plus, parental controls, Armor Cybersecurity, VPN support that keeps your devices connected to a secure, high-speed internet.
Speeds & Coverage
The router can achieve high speeds of 450mbps in 2.5GHz, 1300mbps in 5GHz, depending on the limits placed by your ISP. With coverage of 1500 sq ft, offering support of up to 25 devices, the R6700 is the right choice for smaller-medium homes.
Design, Build & Hardware
The device weighs approximately 1.6 lbs, placing itself midway between heavy and lightweight routers. It sports a black textured design with air vents on the sides. The 128MB of flash storage suffices to accommodate the dd-wrt firmware, and a RAM of 256MB plays a vital role in HD streaming, Wi-Fi calling and online gaming.
Antenna & Ports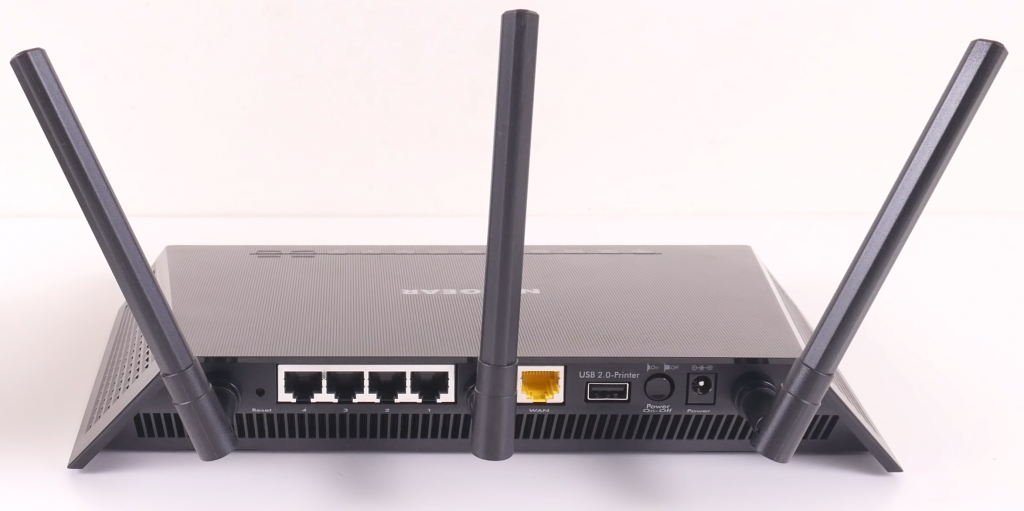 The rear end of the router accommodates 3 antennas and the collection of ports and power i/o. This sub $100 wireless device comes with one WAN port, four LAN ports, and a USB 3.0 port at the front. A small household has ample avenues for 1-gigabit wired connections for your gaming console, smart tv, or your work desktop.
App Support
Nighthawk mobile application allows you to control your home network, even while you are away from home. The setup wizard guides through the installation with minimal input from the user's end. The Web GUI opens up to advanced settings.
By setting online time limits, creating a bedtime schedule, and controlling the exposure on applications, you get more control over your kid's internet consumption. NETGEAR Armor protects the devices in the network from viruses, malware, and intrusions.
Conclusion
Enabled by dual-core processors, the R6700 brings a plethora of features with the potential tweaks of dd-wrt, makes this an excellent value for money option for any small-medium household with students and working professionals.
Fast Network Storage

Cloud Storage

VPN Support

Easy Voice controls

Beamforming+
Limited mobile functionality

Front side USB placement
9. Cheapest Option:

TP-Link Archer A7
The TP-Link Archer A7 doesn't boast advanced technology as MU-MIMO or Beamforming. It offers QoS, parental controls, high-speed internet with extended coverage in a very limited budget, with the potential to be increased by the dd-wrt firmware.
Speeds & Coverage
The router can achieve speeds of up to 450mbps in 2.4GHz and 1300mbps in 5GHz, conditional to the internet connection offered by the ISP. With extended coverage of 2500 sq ft, TP-link claims the routing device can support up to 50 devices simultaneously.
Design, Build & Hardware
At 0.90 lbs, the router is easy on the hands as it is on the wallet. Two thin grooves divide the shiny black casing into three equally sized rectangles with the indicators lining up on the front part and the port antennas on the third part. The router has an operating memory of 128MB and a storage of 16MB fulfilling minimal requirements for a dd-wrt firmware.
Antenna & Ports
The Archer A7 has 3 antennas towering from its rear end. The TP-Link device has four ethernet ports, one Gigabit WAN port, and a USB 2.0 port. The USB 2.0 port will be ideal for sharing printers than network storage devices, owing to its data-transfer rates.
App Support
The tether mobile application supports both iOS and Android-based devices, offering an intuitive, user-friendly interface on both platforms. Owing to the interface, the users can cruise through the initial setup within a few minutes.
With parental controls, you can create multiple profiles, add multiple devices, customize blacklist/whitelist with keywords/URL and restrict/allow the internet with time schedules. You can also monitor your child's internet usage, prioritize devices, and protect the network from intrusions.
Conclusion
If you are looking for a budget solution to manage your network, protect your children from undue exposure, and monitor internet activity, TP-Link Archer A7 can be the right router for you with its potential furthered by the dd-wrt firmware.
VPN support

Parental and access control

TP-Link Mesh compatible

QoS by device

Alexa compatible
Limited control over settings

No USB 3.0 port
Frequently Asked Questions
Can I get a router pre-installed with DD-WRT firmware?
Yes, DD-WRT routers are available in the market. There are multiple vendors offering routers installed with DD-WRT firmware. They are available at a premium over the price of the router. The service providers offer a warranty, maintenance, and support to flash routers as a part of their package.
Does installing DD-WRT affect the Manufacturer's Warranty?
Depending on the company and its policy, installing an unsupported or changing the firmware can void its warranty. While there are companies that promote open-source-ready routers available in the market, the users should install DD-WRT firmware with caution or through an authorized service provider to avoid bricking the router.
Are there other firmware apart from DD-WRT?
Yes, there are multiple open-source and custom firmware projects that target wireless routers. There are various versions of OpenWRT projects like LEDE, DD-WRT, Gargoyle, etc., each of them trying to improve a different aspect of the router. Other popular firmware projects are HyperWRT, Tomato, FreeBSD, Zeroshell, VyOS, etc.
What are the advantages of having a DD-WRT router?
The router's functionality is limited by regulators. Installing a DD-WRT router opens the potential of the router. Improved IPv6 functionality, overclocking/improved performance, Customizable QoS, Blocking Ads, support for VPNs is amongst the few advantages of having a DD-WRT installed router.
What are the risks involved in installing DD-WRT to a router?
Overclocking unlocks the hardware potential, but it could cause damage to components. Flashing comes with the risk of voiding the manufacturer warranty. Any missteps in installing DD-WRT firmware can completely brick your router, making it useless. Ensure the benefits of installing a DD-WRT firmware outweighs the loss. Be ready to lose the comfort of user-friendly management applications.
Can the dd-wrt firmware be uninstalled without voiding the warranty?
Yes, it is possible. The dd-wrt interface provides options for selected models to revert to the router's original firmware. Trying to downgrade the router software runs the risk of bricking the router. I recommend exercising utmost caution and following instructions carefully or let an expert take care of the downgrade.
Verdict
Requirements and personal choices are the essential factors in deciding the right dd-wrt routing device. The analysis considers multiple scenarios and aims at finding the best fit for an assumed requirement.
The

Linksys WRT3200ACM

is a premium option, but a go-to option if you are looking for a dedicated gaming router.
Netgear Nighthawk X6 is a dd-wrt compatible router with high potential and easily caters to a medium household with multiple devices.
The

TP-Link Archer A7

and

MOTOROLA MR2600

offer value for money routers with a higher potential unlocked by the dd-wrt firmware.
For Morton, reviewing a router is just like spending another day at the office. As BCCA's senior copywriter, Morton believes is explaining every concept concerning routers, networking technologies, and additional routing specs. Also, Morton is our go-to man if we are looking to get the ISP-dependent internet plans tested across devices.