You can't expect budget gaming routers to push high-end performance exhibited by the beast-like gaming routers. However, if you don't want to stretch your budget more and are looking for reliable options, then this article is your go-to resource.
Besides, you don't really need to spend huge on an expensive router unless you really need it or are participating in gaming tournaments. For most of your needs, a budget router with gaming capabilities shall be sufficient. It doesn't matter what your needs are, you might find something that fits your requirements here.
The article covers a diverse range of gaming-friendly routers, which includes the ones that support ultra-fast internet via the latest wireless standards (Wi-Fi 6) and optimizes signal transmission through advanced technologies like MU-MIMO, OFDMA, and Beamforming.
Best Budget Gaming Routers of 2023
Gaming routers, although placed at the premium side of the market, have their cheaper yet worthy alternatives if you know how to look for them. After a comprehensive analysis of over 25 routers from various OEMs, I have drilled down to a final list of the top 7 routers.
The list starts with routers with gaming optimization engines, dedicated bands, gaming ports, gaming dashboards, and easy optimization modes to improve your gaming experience. It shifts to value for money additions and cheaper alternatives as you move towards the end of the list.
1. Best Overall:

TP-Link Archer C5400X
Adding the requisite hardware unit and features to sustain heavy gaming, TP-Link upgraded its predecessor model C5400X with an optimization engine that speeds up gaming performance with XBOX or Playstation. Link aggregation on the TP-Link Archer C5400X assures you of stable connectivity, making it ideal for hardcore gaming enthusiasts.
Why is it suited for gaming?
Operating with simultaneous tri-band, the router employs advanced technologies like MU-MIMO and NitroQAM to deliver individual top speeds of 1000 Mbps in 2.4GHz and 2167 Mbps in dual 5GHz bands. With Beamforming, the router can deliver signals and support up to 55 devices spread in a large 3500 sq ft house.
The router features an intelligent traffic prioritization engine that minimizes latency and optimizes the internet throughput for superior gaming performance when you are engrossed in competitive gaming. With dual 5GHz channels, you can afford to dedicate a 5GHz band for gaming traffic.
Hardware & Performance
Are you looking for a router that boasts a powerful hardware unit? C5400X runs on the power of a 64-bit quad-core processor clocking at 1.8GHz, 1GB RAM, and abundant storage of 16GB, making it capable of handling data-heavy activities over multiple devices simultaneously.
Also Read: Best Routers for Connecting Multiple Devices
The powerful hardware unit is vital to its capacity to ease through high-end graphic games like Assassin's Creed, Red dead redemption, The Witcher, etc. While it accommodates multiple gaming rigs in a 5GHz, it can use the rest of the available bandwidth to cover the data-streaming activities in plenty of devices.
Design & Ports
A square-shaped body emanates the gamer spirit through its combination of black and red design. The router has 8 huge external antennas around the chassis. It weighs approximately 3 pounds and measures 11.3 x 11.3 x 7.2 inches.
With 8 Ethernet ports and the support for Link aggregation, you will hardly run out of wired high-speed connectivity for your gaming consoles like Xbox One, Sony PS4/PS5, etc. The router comes with 2 USB 3.0 ports to accommodate sharing printers, network storage devices within the network.
Setup & App Support
With the Tether application, setting up Archer C5400X gets easier. The web interface opens up access to tweaks and optimizes your gaming functions. Enable smart connect, airtime fairness to balance your bandwidth across multiple devices.
Security & Other Features
TP-Link's Homecare keeps your network safe from cyber threats. If you want to prevent kids' excessive exposure to the internet, you can do them through profile-based age-appropriate filters. Allot schedule through parental controls in Homecare.
Conclusion
Archer C5400x, backed by a potent processing unit, brings the efficiency of an intelligent prioritization engine. The stability of wired ethernet connectivity and the advantage of Link aggregation keep it apart from the rest of its peers.
Powerful hardware
Tri-band speeds
Dedicated gaming band
8 Ethernet ports

Link Aggregation support

HomeCare security
No Wi-Fi 6 support
Expensive
Bulky
2. Best Runner Up:

ASUS RT-AX82U
In RT-AX82U, Asus offers a gaming acceleration boost and improves the internet throughput of its predecessor while retaining most of its hardware unit. The dedicated gaming port and a mobile gaming mode make the ASUS RT-AX82U an ideal choice for households with a combination of mobile gaming devices and consoles.
Why is it suited for gaming?
The advantage of the technologies like MU-MIMO and Beamforming brings top individual speeds of 574 Mbps on 2.4GHz and 4804 Mbps on 5GHz. With the advantage of 160 Mhz Channels, combined with the high data rate of 1024-QAM, the router supports up to 25 devices and covers 2500 sq ft house. With OFDMA, the router transmits data efficiently.
Connecting your gaming console to the dedicated gaming port prioritizes the internet traffic for gaming. Switch to mobile gaming mode through the router app and enjoy the reduced lag and latency in your mobile devices.
Hardware & Performance
Asus retains the hardware unit from its predecessor. With a triple-core processor clocking at a high frequency of 1.5GHz, the router comes with a capable processing unit to transmit and support gaming in multiple devices simultaneously. The synergy of 512MB RAM and 256MB storage plays a vital role in handling data-intense activities.
Switch between different gaming modes at your comfort without compromising on the quality. Credit to the capable hardware unit, the RT-AX82U delivers a seamless experience in high-end graphics gaming, Twitch streaming without any hassles.
Design & Ports
The compact router sports a trendy design, true to its gaming spirit, with customizable lights on its front. Weighing close to 1.6 pounds, the routing unit measures 10.96 x 7.26 x 6.5 inches, including the 4 external antennas.
Asus accommodates 4 Ethernet ports (including a dedicated gaming port) and 1 WAN port to offer the stability of wired high-speed connection for gaming activities. With a USB 3.2 Port, users can share storage devices within the network.
Setup & App Support
Install the router with the Asus router app or the web interface. Asus doesn't compromise on its user-friendliness on both interfaces. Switch to mobile gaming mode in a single touch with your mobile app.
Security & Other Features
ASUS ecosystem offers an advantage with AiProtection pro and its lifetime protection against cyber threats. With comprehensive parental controls and bandwidth allocation for priority devices, keep your home network under your control. The router comes with an exhaustive traffic monitoring system to offer insight into usage for further optimization.
Conclusion
Despite the absence of Link Aggregation, the RT- AX82U gets closer to the top of the list, credit to its overall value addition to gaming-related activities. Latest wireless standards, high data rate.
Wi-Fi 6 support

Dedicated gaming port

MU-MIMO &

OFDMA

160MHz Channels

AiProtection Pro security

Adaptive QoS
3. Best for 4K Streaming:

ASUS RT-AX3000
In RT-AX3000, Asus downgrades its hardware unit of its much-powerful predecessor to accommodate its price tag. The ASUS RT-AX3000 brings the advantage of the latest standards in Wi-Fi-6 and a dual QoS system to deliver a formidable gaming experience.
Why is it suited for gaming?
A total speed of 3Gbps translates to top speeds of 574 Mbps on 2.4GHz and 2402 Mbps 5GHz, respectively, ideal for delivering a seamless gaming experience on multiple gaming devices, credit to MU-MIMO and Beamforming.
With the improved data rate, credit to the 1024 QAM combined with the efficiency of OFDMA, the router alleviates the doubts of any delinquencies in data transmission. This enables the router to support up to 30 devices and a large area of 3000 sq ft.
Note: If you're not looking for gaming-centric features but want a routing device that can provide you coverage of up to 3000 sq ft, then check this.
Hardware & Performance
With three powerful cores clocking at 1.5GHz in a Broadcom chipset, ASUS puts together a robust hardware unit with an operating memory of 512MB and storage for 256MB.
The entire hardware unit can handle multiple instances of data-intense activities, rather it be a group of gaming enthusiasts getting together for the weekend or working professionals winding down to a weekend of binge-watching movies.
Design & Ports
A sleek, modern design leaves the impression of a miniaturized sports car. A matte-black chassis weighs approximately 1.2 pounds and measures 8.82 x 6.06 x 6.3 inches.

Asus puts 4 external antennas on its rear to deliver stable wireless signals to devices, while 4 Ethernet ports and 1 USB port guarantees sufficient wired connectivity for gaming rigs.
Setup & App Support
Asus router app offers a user-intuitive platform and pre-designed setup process that leads you through the installations in a few minutes. The router app makes the remote management of the network easier with remote management.
Security & Other Features
Are you looking for a robust internet security system? With AiProtection Pro, you get comprehensive commercial-grade security from malicious websites and intrusions. The dedicated guest network keeps the network safe from any external infections. Just like routers that come with parental controls, this device also comes with parental controls to manage your kid's internet exposure.
Conclusion
Asus RT-AX3000 brings the advantage of Wi-Fi 6 standards with the 160MHz channels, with a combination of traditional and adaptive QoS, lifetime security, and comprehensive traffic monitoring with a price advantage over its much more expensive XR500.
Wi-Fi 6 support

160MHz Channels

MU-MIMO & OFDMA

Long wireless coverage

Secured by AiProtection Pro

AiMesh compatible
4. Best with Duma OS:

Netgear Nighthawk Pro XR500
In XR500, Netgear replicates the gaming package of forerunner XR700, albeit with a less powerful hardware unit. The Netgear Nighthawk Pro XR500 brings the comfort of the DumaOS gaming dashboard, geo-filters, and access to a gaming VPN that takes your gaming comfort to a new level for professional gamers.
Why is it suited for gaming?
XR500 can handle the data loads of intensive gaming, owing to its throughput capacity of 800 Mbps on its 2.4GHz and 1733 Mbps on 5 GHz. The support of advanced features like MU-MIMO and Beamforming makes the router capable of supporting up to 20 devices efficiently and covers areas measuring up to 3000 sq ft.
DumaOS software gives a unique advantage to this Netgear router. With features like Geo-Fencing, Application-based bandwidth allocation, congestion control, Low Ping, and latency reduction, you will have an advantage over your gaming peers.
Hardware & Performance
At the helm of a dual-core processing unit, clocking a high rate of 1.7GHz on a Qualcomm chipset, XR500 eases through gaming. The memory duo of 512MB operating memory and flash storage of 256MB is crucial to handle other devices at your home.
The gaming ecosystem of the XR500 gives you ultimate control over your bandwidth in improving your gaming performance. Access to geo-filters and gaming servers of high-end games like Far cry, call of duty, the battlefield takes your gaming comfort to a notch higher.
Design & Ports
The glossy black chassis comes with sharp cuts and angles, leaving an impression of a futuristic device. At 1.8 pounds, the routing device measures 12.7 x 9.6 x 2.2 inches.
Netgear places 4 external antennas on its rear midst the selection of 4 LAN ports, 1 WAN port. The USB 3.0 ports on its side can accommodate both printer and storage devices.
Setup & App Support
Setup the router with the web interface or through the nighthawk mobile application. The DumaOS web interface is the highlight of the gaming ecosystem. With complete control over your bandwidth to prioritize gaming traffic, monitor the network, you can get the best out of the internet.
Security & Other Features
The WPA2 encryption keeps the network safe from unauthorized usage. With security features like SPI and NAT firewall protection, Denial of Service attack prevention, and secure remote access through VPN, the router keeps your network less vulnerable to cyber threats.
Conclusion
The advantage of the excellent gaming ecosystem of the XR500 comes at a premium price tag, putting it at a disadvantage to the overall utility and the price advantage of its peers.
Low latency gaming
DumaOS & Gaming Dashboard

Geo-Filters &

Gaming VPN

1.7GHz Dual-core processor

Two USB 3.0 ports

160MHz Channels
Still pricey
WPA 2 standard
5. Best Tri-Band Router:

Linksys MR9000
The Linksys MR9000 improves its RAM to accommodate tri-band operations and support more devices. Linksys brings overall utility with a capable processing unit and adequate bandwidth to support data-intense gaming activities.
Why is it suited for gaming?
MR9000 operates on simultaneous tri-band with 256QAM and achieves top speeds of 400 Mbps on its 2.4GHz and 867 & 1733 Mbps on its secondary & primary 5GHz band, respectively. Features like MU-MIMO, advanced Beamforming technology make the router capable of transmitting data efficiently and simultaneously across 3000 sq ft.
The dual 5GHz band enables users to dedicate a frequency solely for gaming and streaming devices. The additional bandwidth translates into a crucial performance boost for high-end graphics gaming in mobile devices and gaming consoles.
Hardware & Performance
Lay your doubts on the hardware capacity of Linksys router to rest. MR9000 has four processing cores clocking at 716MHz on a Qualcomm chipset. With a memory duo of 512MB RAM and 256MB storage, the router becomes a potent processing unit.
With high internet throughput and additional bandwidth working in tandem, the Linksys router offers the right environment to support a diverse range of devices. It cruises through data-intense activities like online gaming, streaming smart TV, and Twitch streaming.
Design & Ports
Linksys sticks to its standard classic design with a compact, perforated chassis. The entire unit weighs 1.30 pounds and measures 8.38 x 6.33 x 2.15 inches in dimensions.
With 4 external antennas towering from the router, it offers stable wireless connectivity. With 4 LAN ports and 1 WAN port, you will be able to wire your gaming rigs to the router.
Setup & App Support
The simple design of the Linksys application sets up the initial configuration with a set of pre-designed steps. The web interface has more customization options ranging from prioritizing bandwidth for devices within the network to create a separate guest network access.
Security & Other Features
Linksys sticks to standard security protocols with WPA2 encryption to prevent unauthorized usage. The inclusion of firewalls, MAC-based access filters, and parental controls brings an additional layer of protection to the network.
Conclusion
Despite the lack of dedicated gaming features, the additional 5GHz band, easy mesh compatibility, and a capable hardware unit give MR9000 a unique advantage over its peers. EA8300 is an alternative tri-band choice of a router that houses similar hardware but compromises on its throughput to accommodate a much lower price.
Tri-Band operation

MU-MIMO &

Beamforming+

Long coverage
QOS prioritization

Velop mesh compatibility

Works with Alexa
No Wi-Fi 6
WPA 2 security
6. Best Budget Router:

TP-Link Archer AX21
In Archer AX21, TP-Link rehashes its previous version AX20 and finds a way to accommodate it at a much lower cost. Bringing the latest wireless standards and a quad-core processing unit, TP-Link Archer AX21 offers a quality gaming performance at a $100 price range.
Why is it suited for gaming?
If you are looking for a value for money choice to do the bidding as a gaming router? Advanced technologies like Beamforming and the effectiveness of OFDMA make this router achieve 574 Mbps on 2.4GHz and 1201 Mbps on 5GHz. The router can accommodate up to 40 devices in a 2000 sq ft house.
If you have PS5 and other devices supporting Wi-Fi 6 at your home, TP-Link Archer AX21 offers an affordable solution. It features QoS by device, which allows you to prioritize traffic for your gaming console and other priority mobile gaming devices.
Hardware & Performance
A quad-core processing unit clocking at 1.5GHz in a Broadcom chipset is imperative for its capacity to handle the high internet throughput. Combined with 256MB RAM and 128MB, the unit can handle data-intense activities in limited devices.
If you are a small-medium household with a limited set of devices, the Archer AX21 would be the right device to blanket your home with the internet. Capable of supporting high-end games, 4K Streaming, the router allows you to optimize the network for different activities.
Design & Ports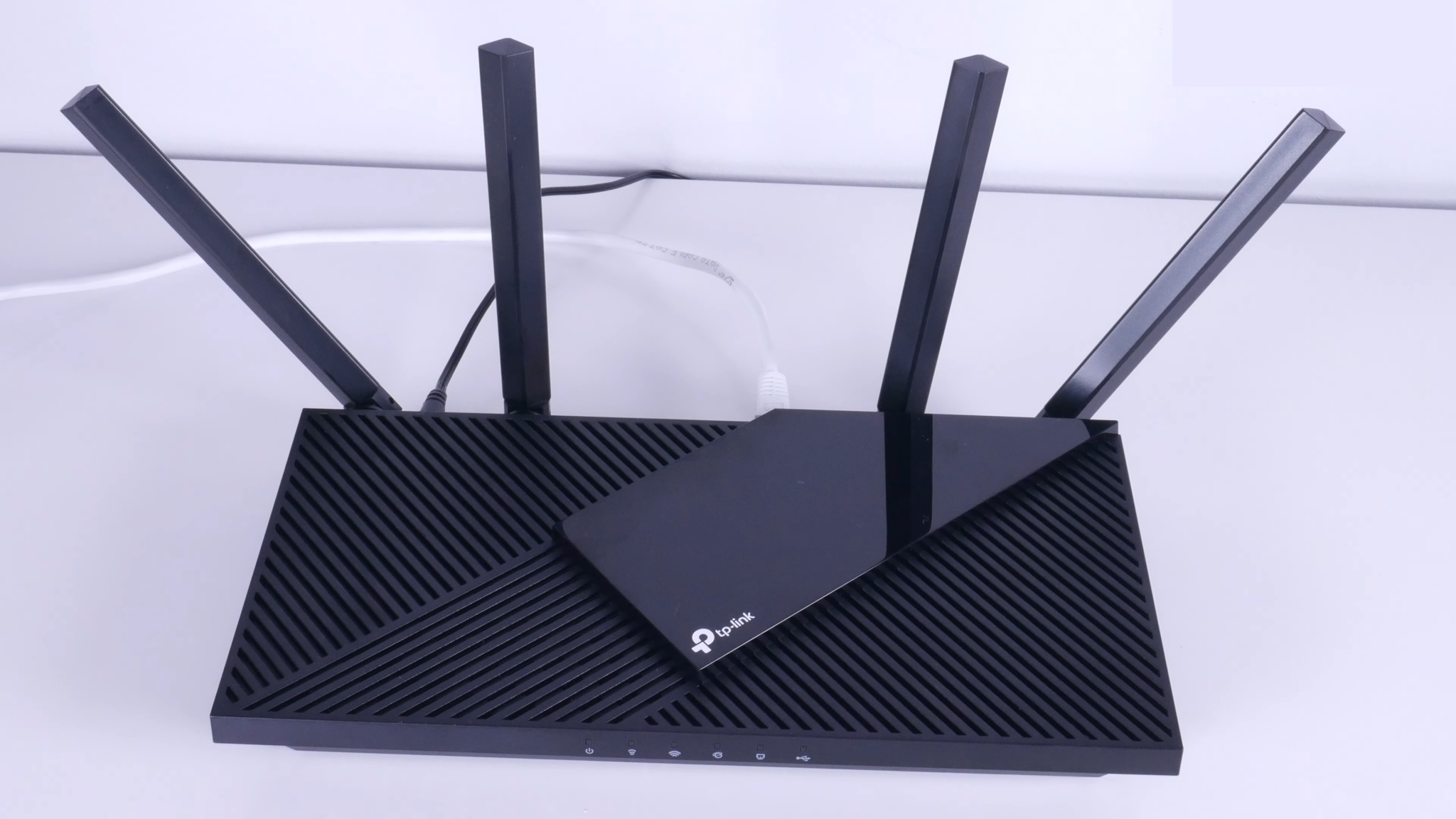 With an improved vented design, the sleek striped chassis weighs as light as 1.1 pounds. Archer finds room for 4 external antennas on its rear in a unit that measures 10.2 x 5.3 x 1.5 inches in dimensions.
If you prefer wired connectivity for your gaming rig, TV, and workstation, Archer accommodates them with 4 Ethernet ports and 1 WAN port.
Setup & App Support
The Tether application finds a way to keep the installation and the idea of network management simple and robust. Install and monitor your network at the comfort of your mobile app. TP-Link doesn't let your location get in the way of controlling your network, with its easy remote monitoring.
Security & Other Features
TP-Link brings the latest encryption standards of WPA3 to keep your network secure from unauthorized access. TP-Link offers firewalls, access controls, and inbuilt VPN to protect your data and the network.
Conclusion
Archer AX21 is probably the best budget router for gaming, owing to its selection of the latest features and advanced technology. A great sub $100 wireless router to future-proof your home network and your gaming requirements.
Wi-Fi 6 support
Affordable price

MU-MIM & OFDMA

Airtime Fairness

WPA 3 encryption

Supports over 30 devices
7. Cheapest Option:

D-Link DIR-1750-US
In DIR-1750, D-Link finds a way to combine a few advanced features in a redesigned version of its previous model. With adequate wired connectivity and a dual-core processor, D-Link DIR-1750-US is an ideal choice of a cheap gaming router.
Why is it suited for gaming?
The D-Link router brings features like MU-MIMO, Smartbeam to deliver high internet speeds efficiently to multiple devices and achieve high speeds of 450 Mbps on 2.4GHz and 1300 Mbps on 5GHz. The router can support up to 20 devices across a small-medium house measuring up to 1500 sq ft.
With a QoS engine to set up high priority to gaming devices, the D-Link clears your doubt on its ability to support data-intensive online gaming. Wire your gaming console to the router through one of the Gigabit Ethernet ports, stay assured of stable internet.
Hardware & Performance
The D-Link router comes with a dual-core processor on a Mediatek chipset. The router comes with a memory duo of 128MB RAM and 128MB Flash storage that can handle limited devices.
Limited by hardware units, users have to optimize and balance the data-heavy activities like online gaming, 4K media streaming, Wi-Fi calling, Twitch streaming, and large file transfers.
Design & Ports
A matte-black chassis sports a simple wedged design with 4 external antennas towering from its rear half. The lightweight router weighs close to 0.90 pounds and measures 7 x 8.5 x 1.75 inches.
While the router misses a USB port, it does come with 4 LAN ports and 1 WAN port to accommodate the primary gaming rig and smart TV.
Setup & App Support
The D-link Wi-Fi app keeps the network management simple. The web interface opens up access to the QoS engine, access controls, firewalls, device blacklist, and other advanced port configurations.
Security & Other Features
D-Link offers the latest WPA3 encryption standards and SPI firewall to protect your network from unauthorized access. The router supports VPN to keep your data safe. The presence of URL filters and scheduled parental controls help restrict the internet activity of your kids.
Conclusion
D-link DIR-1750 offers features like MU-MIMO, Beamforming along with a reliable dual-core processor. The price advantage and its overall utility keep the router on this list.
Dual-core processor

MU-MIMO &

SmartBeam

QoS Engine

WPA3 encryption

Mesh compatible
No USB Port

Middling range
Frequently Asked Questions
What is a good budget router for gaming?
TP-Link Archer C5400X brings plenty of gaming features along with excellent hardware, wired connectivity, and support to Link aggregation. The ability to dedicate an entire band to gaming traffic makes this a great value for your money.
What is the difference between a gaming router and a regular one?
The major difference comes through its QoS features. A gaming router is designed to identify and prioritize the incoming gaming data above the other activities. It minimizes latency in communication, thereby reducing any packet(communication) loss.
Are budget gaming routers worth it?
In online/competitive gaming scenarios, a few instances of split-second delay can set the tone for your gaming experience. A dedicated gaming router, not being one of the fanciest ones in the market, can make a lot of difference in optimizing incoming traffic and avoiding any loss in communication.
Will a gaming router increase Internet speed?
Your internet speed is contingent on your Internet service provider. Your gaming router does not increase the speed beyond the limits of your ISP. However, it will improve the performance of the available bandwidth with a capable processing unit and prioritizing devices/applications.
Verdict
Finding the best affordable gaming router to complement your gaming interests is contingent on the number of devices in your household and personal preferences. I have compiled the routers that offer the best combination of features to support your gaming activity without causing a huge dent in your wallet.
For Morton, reviewing a router is just like spending another day at the office. As BCCA's senior copywriter, Morton believes is explaining every concept concerning routers, networking technologies, and additional routing specs. Also, Morton is our go-to man if we are looking to get the ISP-dependent internet plans tested across devices.