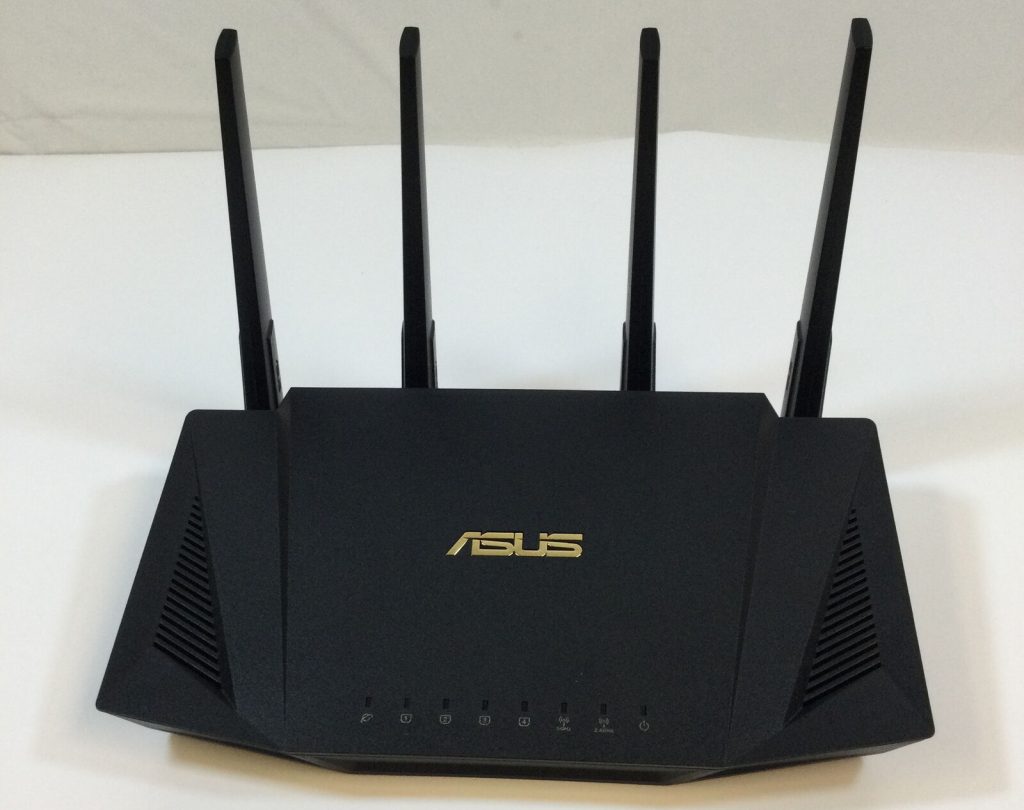 As a significant consumer tech player, ASUS has been at the forefront in delivering value-for-money products. One such device from its portfolio takes center stage in this article; ASUS RT-AX300, aka RT-AX58U. Does it justify the hype? How does it fare in gaming and heavy streaming? Let's find that out in this ASUS RT-AX3000 dual-band Wi-Fi router review.
Before heading into the intricacies of the specs, let's find out what sets it apart from its preceding model, i.e., RT-AC58U. Improvements to the throughput capacity and support to the latest wireless standard (Wi-Fi 6), the upgrades to the memory unit, and a high-speed tri-core processor make this a robust all-around performer.
Asus AX3000 Specs
Before I dig deeper into the review of ASUS RT-AX58U, let's quickly go through the specs sheet below:
| | |
| --- | --- |
| Wireless Standard | Wi-Fi 6 (802.11ax) |
| Band Frequency | Dual-Band |
| Speeds | 574 Mbps (2.4GHz) + 2402 Mbps (5GHz) |
| Range/Coverage | Up to 3000 Sq Ft |
| AiMesh Compatibility | Yes |
| Processor | 1.5GHz Broadcom BCM6750 (Tri-Core) |
| RAM Memory | 512MB RAM |
| Flash Memory | 256MB |
| OFDMA | Yes |
| Beamforming | Yes |
| MU-MIMO | Yes (2 x 2) |
| 160MHz Channels | Yes |
| Voice Assistant | Yes (Alexa) |
| Adaptive QoS | Yes |
ASUS RT-AX3000 Review
With specs out of the way, let me break the Asus RT-AX58U review into different aspects and get to the nitty-gritty.
1. Design & Key Features
Asus puts compactness as a prime aspect of RT-AX58U's aesthetics. Sticking to its traditional design, you'll find four fixed yet adjustable antennas on its rear. The golden logo finds itself in the center of the matte-black body with heat vents on either side. Asus places all the LED indicators on the front below its logo.

The power slots, reset button, and ports are aligned on the rear side. Asus packs 1 WAN port, 4 Gigabit Ethernet ports, and a USB 3.2port within 8.82 x 6.06 x 6.3 inches, even with extended antennas. The routing unit weighs 1.18 pounds.
The upgrades make the router support the latest wireless standard. The latest features, like MU-MIMO, and OFDMA, play a critical role in optimizing communication, making it one of the best Wi-Fi routers for multiple devices. Comprehensive parental controls come in handy and keep you in control of consumption.
2. Speeds & Throughput
The support to 160MHz channels is at the helm of its improved capacity. The individual speed limits of 574Mbps on the 2.4GHz frequency and 2402Mbps on 5GHz can be helpful in homes with a substantial activity load.
The test results were impressive, with a 940 Mbps connection of Verizon FiOS. Devices consistently raked download speeds between 800-830Mbps on the 5GHz, while staying within 5-10ft of the Wi-Fi router. Gadgets clocked upload speeds over 450Mbps. On the 2.4GHz frequency, the download speeds remained consistently above 300Mbps.
3. Coverage & Device Allocation
Swivel the 4 powerful beamforming antennas around and find the best location for your router to get stronger signals. As far as the Asus AX3000 range is concerned, it's rated as 3000 Sq Ft. So the wireless router should be able to cover medium-large homes, apartments, and small offices with ease.
Asus recommends an optimal device limit of up to 30 devices, making this a solid standalone routing device for smart homes. You'll find adequate bandwidth for security cameras, video doorbells, Alexa devices, gaming consoles, smart TVs, desktops, tablets, and other mobile gadgets.
4. Service Package Suitability
Asus RT-AX58U is one of the most capable 1000 Mbps routers that work well with Gig internet plans, complemented by its aggregate capacity of 3Gbps. If you live in large cities, you'll find the perfect match and get affordable subscriptions with the 1 Gig plan of Google Fiber.
If you're not one of those lucky ones, you'd still be able to get ultra-fast internet at a tad higher price. The 940 Mbps plans of AT&T, Verizon FiOS, Spectrum, and 1Gbps plan of Xfinity will allow you to exploit the capabilities of the Asus dual-band router.
5. Hardware & Performance
Asus puts together a tri-core processing unit on a Broadcom-based Chipset. The CPU brings solid capabilities with its ability to clock at high speeds of 1.5GHz. The high operating frequency makes an enormous difference in handling super-fast internet connections.
It is hard not to mention the importance of a solid memory setup. The duo of 512MB RAM & 256MB storage allows the ASUS dual-band router to become a robust multi-tasking machine. It can cruise through multiple instances of 4K streaming, graphic-intense online gaming, laptops, and a plethora of other smart gadgets, including mobiles and tablets.
6. Security Features
If you don't want to spend extra on internet security subscriptions, Asus offers a solution for you. With AiProtection Pro powered by TrendMicro, you'll have commercial-grade protection from Intrusions, malware, and other malicious contents.
It supports an array of VPN protocols, WPA3 encryption (learn how to configure a router for WPA 3), and inbuilt firewalls to offer additional security and privacy to the devices connected to the home network. Comprehensive parental controls give more control over internet consumption and exposure, a feature essential for a household with kids.
7. ASUS RT-AX58U Setup & Management
There is very little to worry about installation and management of your home network, even if you are a novice at networking. Choose the Asus Router app if you are comfortable with mobile apps. If you prefer to stick to the older ways, Asus offers you the portal-based guided setup, which will also take you through the process in a few minutes.
The app's intuitive interface allows you the freedom to manage your network, even when you are away from home. Create guest networks, set up parental controls, tweak advanced port settings for gaming, and customize firewalls via the user-friendly yet comprehensive web-based portal.
Pros & Cons
Wi-Fi 6 standard

MU-MIMO &

OFDMA

160MHz Channels

Commercial grade security

AiMesh Compatibility
No multi-gig port

No Link Aggregation support
Frequently Asked Questions
Does RT-AX58U support AiMesh?
Yes, you'll be able to use the ASUS router in tandem with other routers and 
extenders to create an AiMesh network. It can act as a primary router and
as a node giving you the flexibility to scale your home network 
per your requirements.
Is the Asus AX3000 worth it?
Backed by a robust triple-core processor and solid memory unit, Asus packs a 
multitude of features in this mid-range device. Commercial-grade internet 
protection, the latest wireless standards, and a user-intuitive interface 
make this a great buy. Find more details in the Asus RT-AX58U review above.
Is the Asus RT-AX58U good for gaming?
While it lacks gaming dedicated features like modes or gaming VPN, or dedicated
ports, ‌the adaptive QoS and manual QoS allow you to prioritize your gaming devices, ‌optimizing the gaming traffic. This makes it a worthy mid-range alternative for gaming enthusiasts.
What is the range of the Asus AX3000?
The Asus router is one of the best options for large households. Its coverage of 
3000 sq ft makes it an ideal standalone routing device for both medium and 
large-sized smart homes. Ideal placement will allow you to cover every corner of 
the house, and avoid dead zones
How many devices can connect to the ASUS AX3000?
The Asus routing device can handle over 30+ devices. While even more
devices can connect to the router, the excessive load is prone to stress its
performance levels. Optimizing the load by balancing data-intensive activities will
allow you to make the most out of the ‌internet capacity at your disposal.
Conclusion
The improvements in throughput capacity and the latest features puts the router at the helm for handling high-speed internet connections. Dual QoS, comprehensive customization, and user-friendly interface to future-proof your internet make the 150-dollar wireless router a bargain purchase for gaming enthusiasts.
Suggested Reviews:
For Morton, reviewing a router is just like spending another day at the office. As BCCA's senior copywriter, Morton believes is explaining every concept concerning routers, networking technologies, and additional routing specs. Also, Morton is our go-to man if we are looking to get the ISP-dependent internet plans tested across devices.