Are you looking to compliment your gaming/work setup with a 1000 Mbps router? Do you need extra bandwidth to accommodate multiple devices? Are you planning to fortify your home network with advanced internet protection? The gigabit routers in the list will do that for you.
Having a capable hardware unit is paramount for handling gigabit speeds. You'd enjoy more control over the home network with bandwidth allocation & prioritization. The ability to manage the devices remotely feels like a superpower. More so when you have a bunch of kids at home.
A study of essential requirements of diverse households allowed me to narrow down the critical requirements and preferences. The gigabit Wi-Fi routers listed here align with requirements and a set of preferred features for most households. They include features like MU-MIMO, OFDMA, game acceleration, QoS, Parental Controls, and, importantly, internet security.
9 Best 1000 Mbps Routers in 2023
From over a list of over 35 routing devices, I have narrowed it down to my top 9 routers that can handle 1000 Mbps with considerable ease. Starting with the premium, top-tier options, the list covers the right pick for large homes, gaming enthusiasts, and automated multi-tier households.
You'll find a bunch of value-for-money 1Gbps routers in the middle. I reserve my best budget recommendations for the end of the list.
1. Best Gigabit Wi-Fi Router:

TP-Link Archer AX90
TP-Link makes AX90 a better fit for gigabit internet. Compared to its predecessor, this model has upgraded RAM, improved speeds, and a handy multi-gigabit WAN port. The latest wireless standards, tri-band operability, and the set of other advanced features put TP-Link Archer AX90 at the top of the list.
Why is it suited for Gig Internet?
Complement the routing device with a high-speed connection from Google Fiber or A&T Fiber. Operating at simultaneous tri-band, the device can support top speeds of 574Mbps on 2.4GHz, 1201 & 4804 Mbps on its dual 5GHz frequency. If you want more control over bandwidth allocation, use the comprehensive QoS to prioritize devices.
Advanced features like MU-MIMO and OFDMA allow you to exploit the internet bandwidth and share it efficiently amongst 30 devices. It is also one of the few high-end wireless routers that cover 2000 sq ft homes without any signal drop.
Hardware & Performance
TP-Link puts together a 1.5GHz quad-core processing unit with 512MB RAM and 128MB storage memory. The inclusion of 160MHz & DFS channels to the device will enable you to avoid network congestion within the household & with the neighboring networks.
With 8 streams to connect to, you'll be surprised with this device's ability to support competitive multi-player gaming, heavy 4K/8K streaming, and remote work solutions simultaneously.
Design & Ports
At 2 pounds and a mix of glossy striped designs, the routing device comes with 8 external high gain antennas equipped with Beamforming. They can deliver stable signals across the entire household, leaving no dead zones.
Plus, it accommodates a 2.5Gbps WAN port, 1 Gig WAN port, 3 LAN ports, and two USB ports within 10.9 x 7.32 x 2.16 inches.
App & Security Features
With its intuitive design, the Tether application keeps installations and network management simple. Homeshield Pro gives you advanced protection for IoT devices. The WPA 3 encryption standards (learn how to make router use WPA3), firewalls, and inbuilt VPN support, along with comprehensive parental controls, create a secure home environment.
Conclusion
Do you need a standalone wireless router for your automated home? TP-Link Archer AX90 comes with a multitude of features like 160MHz, DFS channels, and QoS that make it the best router for gigabit internet. The Wi-Fi 6, alongside tri-band operation and a handful of features, easily outwit the ASUS counterpart.
Tri-Band operation
Wi-Fi 6 standard

2.5G WAN Port

OFDMA, MU-MIMO,

Beamforming

DFS, 160MHz Channels

IoT Protection
Subscription-based internet security
2. Best Runner Up:

ASUS RT-AX82U
In RT-AX82U, Asus keeps the hardware unit of its forerunner while adding additional gaming features to it. A dedicated gaming port and an optimized mobile gaming mode remain the highlighting features of ASUS RT-AX82U routing unit.
Why is it suited for Gig Internet?
Do you have the privilege of access to high-speed internet from top players like Verizon, Google, or Xfinity? It's high time to switch to a gigabit plan and a capable 1000Mb router. Exploit the high-speed internet with top speeds of 574 Mbps on 2.4GHz and 4804 Mbps on 5GHz.
Given the latest wireless standards (Wi-Fi 6), MU-MIMO, OFDMA & adaptive QoS, the gigabit-capable router delivers a breezy performance to over 25 devices. It's well equipped to cover homes as large as 2500 sq ft.
Hardware & Performance
A 1.5GHz triple-core processing unit gets the support of 512MB RAM and 256MB storage. Additional support for 160MHz channels makes it easy for multiple devices to access data-intense activities. The powerful hardware on RTAX82U qualifies it as one of the best Wi-Fi routers for 1000 Mbps connection.
Optimized for gaming, the device can support other data-laden activities, including streaming, remote work solutions, large file transfers simultaneously.
Design & Ports
A trendy RGB color-oriented design comes with 4 external beamforming antennas attached to its rear. At 1.6 pounds, the unit measures 10.96 x 7.26 x 6.5 inches with its antennas unfolded.
Asus has 4 Ethernet ports, which include a prioritized dedicated gaming port. The ultra-fast transfers of the USB 3.0 port can be handy.
App & Security Features
The Asus router app allows you to optimize the gaming traffic with a single touch. AiProtection Pro lines up with comprehensive parental controls, lifetime internet security, QoS bandwidth allocation, and a real-time traffic monitoring system. The features empower you to have more control over the home network.
Conclusion
Are you looking to future-proof your home with the best router for 1000 Mbps and dedicated gaming-oriented features? RT- AX82U is your best bet. All the latest features combined with a mobile gaming mode make it a tough competitor to our top recommendation Archer AX90.
Wi-Fi-6

OFDMA

160MHz Channels

MU-MIMO

AiProtection Pro internet security
3. Best for Streaming:

Netgear Nighthawk RAX45
Do you need a reliable wireless router that's capable of handing 4K streaming, TV streaming, or content streaming, in general? Well, Nighthawk RAX45 is what comes to my mind. Read on to know more about it in detail.
With improvements to the processing unit & storage, Netgear makes the Nighthawk RAX45 suited for higher throughput capacity compared to RAX40. The latest wireless standards with a well-protected ecosystem warrant a place as a strong contender at the top half of the list.
Why is it suited for Gig Internet?
Aggregate speed of 4.3Gbps makes this an efficient 1000Mb router to pair with cheaper of the 1 Gigabit service provider among Google Fiber, Verizon, or AT&T. The RAX45 can deliver top speeds of 480 Mbps for legacy devices on 2.4GHz and 3840 Mbps on 5GHz.
Got plenty of devices at home? The latest features, MU-MIMO & OFDMA, optimizes the communication in delivering an uncompromised performance with up to 20 devices. Medium-large homes will ‌cherish the 2500 sq ft coverage of the 1Gbps router.
Hardware & Performance
Worried about the performance with multiple TV and plenty of devices? On the back of a triple-core processor clocking at 1.5GHz, the RAX45 is prone to cruise through. The presence of 512MB RAM and 256MB storage should ease your apprehension about its multitasking ability.
Are you a content creator or a designer, or a live streamer? Get a lag-free streaming performance even with the highest quality content. Mobile gamers, remote workers can prioritize devices with QoS to get the best out of their gigabit connection.
Design & Ports
The gig-speed wireless router carries a trendy wedged design with a ventilated rear. Netgear packs the powerful unit within 1.25 pounds and a sleek demeanor measuring 11.6 x 8.11 x 2.25-inches. Is wired connectivity paramount to your usage?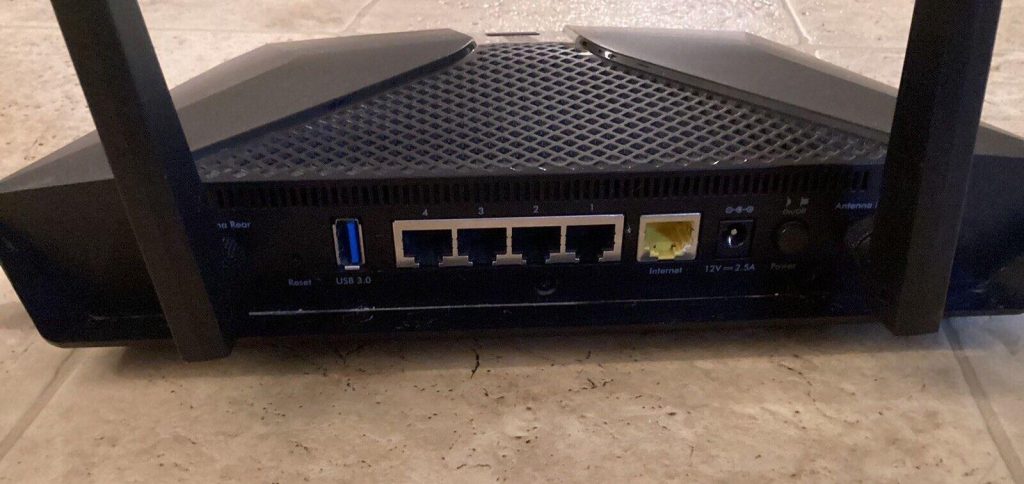 RAX45 comes with 4 Ethernet ports, 1 WAN port & a high-speed USB 3.0 port.
App & Security Features
Do you require remote monitoring in your household? Nighthawk mobile application brings you control at the comfort of your palm. If you are paranoid about internet security, Netgear Armor offers the right package in terms of real-time updates & comprehensive parental controls.
Double firewalls, inbuilt VPN support, & WPA 3 encryption offers an additional layer of protection to privacy and any unauthorized usage.
Conclusion
Is internet security one of the essential factors for you? Netgear has the best package in terms of offer combined with RAX45. The gaming dedicated features keep Asus above Netgear RAX45, a tough competitor at the top and a capable Gigabit router. Overall, it's one of the best routers for gigabit internet, to say the least.
Wi-Fi 6 standard

DFS & 160MHz Channels

Excellent processing setup
WPA 3 encryption standard

MU-MIMO, OFDMA, Beamforming
Pricey Armor subscription
4. Best for Xfinity 1000 Mbps:

TP-Link Archer AX55
Huge improvements to its processing unit & operating memory make TP-Link Archer AX55 more well-equipped than its predecessor. Higher speed capacity with improved coverage and features to navigate higher throughput & outmaneuver congestion makes AX55 a qualified inclusion to our list.
Why is it suited for Gig Internet?
Are you in search of the best router for Xfinity 1000 Mbps connection? The aggregate speed of 3Gbps, complemented by MU-MIMO & OFDMA, makes this an ideal match for Gig Internet from Comcast Xfinity, Google Fiber, and AT&T Fiber. High speeds up to 574 Mbps on 2.4GHz for the legacy devices and 2402 Mbps on 5GHz, makes it a worthy router for 1000 Mbps.
A capable hardware unit translates to an ability to handle over 25 devices with ease. It can extend its range to cover medium-large urban apartments measuring up to 2500 sq ft.
Hardware & Performance
The Qualcomm chipset with a dual-core processing unit clocking at 1GHz, combines with 512MB RAM, making it sufficient for medium-sized households. The 160 Mhz & additional DFS channels offer you a way for navigating network congested environments.
Operate gaming consoles while you're streaming TV in high-resolution with no hassles. Make video calls, attend virtual meetings & conferences with no lag or loss in video quality.
Design & Ports
A highly ventilated chassis is a design remnant of its predecessor. The AX55's sleek stature accommodates everything within 10.2 x 5.3 x 1.5-inches while weighing less than 2 pounds.
You'll find 4 external beamforming antennas interspersed with 4 LAN ports, 1 WAN port, and a fast USB 3.0 port on its rear.
App & Security Features
Tether application has a simple, intuitive interface that keeps things simple during installations & management. The Homeshield protection against intrusions and DDoS attacks coupled with firewalls. Plus, access controls and VPN create a secure network for the devices at home. Parental controls allow you to set time limits and control internet usage.
Conclusion
The additional 160MHz & DFS channels will come in handy for you if you are living in a congested apartment. A plethora of features that come with TP-Link Archer AX-55 carries a huge price advantage. This makes AX55 a worthy competitor to other Wi-Fi 6 based gigabit routers and Netgear RAX45.
Wi-Fi 6 standard

MU-MIMO &

Beamforming

160MHz Channels

DFS Certification

Airtime Fairness
Subscription-based advanced protection
5. Best for Gaming:

ASUS GT-AC2900
No list is complete without a gaming-friendly routing unit. The excellent array of gaming features in ASUS GT-AC2900 makes it a better choice than its predecessor. Gaming acceleration boost, dedicated gaming port at a competitive price-point put it close to the top half of the list.
Why is it suited for Gig Internet?
Do you live in a large household with a bunch of gaming enthusiasts? In search of one of the top-rated gaming routers on a budget? Choose a Gigabit plan from the service providers like Verizon, AT&T, or Google to combine with this gaming beast. It can deliver speeds up to 750 Mbps on 2.4GHz and 2167 Mbps on 5GHz.
With features like MU-MIMO, adaptive QoS, the device can prioritize and handle up to 30 devices. The coverage of GT-AC2900 extends up to 2500 sq ft, making it an ideal choice for medium-large households.
Hardware & Performance
A dual-core processor clocking at 1.8GHz adds valuable processing power to cope with high-speed internet and gaming. At the helm of 256MB Flash storage and 512MB RAM, the routing unit can be an efficient multi-tasker easing through data-intensive streaming & online multiplayer gaming.
Design & Ports
Multi-color accents over a black chassis stand true to its gaming spirit. It weighs 1.72 pounds and measures 8.75 x 6.65 x 4.37 inches. The device has 3 beamforming antennas towering on top of the vertical routing device.
It comes equipped with 2 USB ports, 3 Ethernet ports capable of Link aggregation, and a dedicated gaming port.
App & Security Features
The user-friendly design of the ASUS router APP keeps things easier, even for a novice. AiProtection Pro comes with lifetime internet protection, a comprehensive traffic monitoring system, and a set of sophisticated parental controls. Inbuilt support of VPN protocols, guest access, WPA2 encryption keeps the network safer from any threat.
Conclusion
Have a bunch of gaming enthusiasts at your home? Seeking the best gaming router for 1GB internet? With reduced ping, dedicated gaming port, access to gamer's VPN puts this 1Gbps router above the pricey mesh system.
WTFast gamers network

Gaming acceleration

MU-MIMO, Beamforming

Link Aggregation

AiProtection Internet security
6. Best 1000 Mbps Mesh Router:

TP-Link Deco X60
The 1024-QAM data rate amplifying the top individual speeds in the 5GHz is a vast improvement over its predecessor. The extended coverage & additional capacity to handle plenty of devices makes TP-Link Deco X60 an ideal 1000 Mbps mesh router.
Why is it suited for Gig Internet?
Given the latest features of MU-MIMO & OFDMA at disposal makes, the mesh system is capable of speeds up to 574 Mbps on 2.4GHz and 1201 Mbps on 5GHz. Set up your priority for devices with QoS, and make the most out of your gigabit internet plan from any service providers like AT&T, Google Fiber, Xfinity, or Verizon FiOS.
Find the right location for router placement with the auto-connection test and get the best out of this two-pack Wi-Fi 6 based mesh system. Blanket your home with high-speed internet even if you have 100 devices spread across a 5000 sq ft area.
Hardware & Performance
Deco X60 gets a quad-core processor in a MediaTek chipset clocking at 1GHz. Combine that with a 512MB operating memory and 128MB flash storage, you have a capable Wi-Fi 6 based gigabit wireless router that eases through the demands of a large household.
Don't worry about multi-player gaming, even if you have high-quality streaming devices loading up your internet. The processor & memory duo is built to handle loads of a large house, ranging from 4K Streaming devices, online gaming, Home-office setups & a plethora of smart gadgets.
Design & Ports
The cylindrical units house 4 internal beamforming antennas. Minimalist aesthetics puts the device at 4.49 x 4.3 x 4.3 inches in dimensions and approximately 2 pounds, making it easy to fit into any household.
Use the wired backhaul with one of the two Ethernet ports and leave adequate bandwidth for wireless devices.
App & Security Features
The Deco mobile application makes everything easier. Be it setting up your mesh system, finding the right placement combination, or monitoring the home network. Real-time IoT protection of Homecare, combined with WPA 3 encryption, and comprehensive parental control, is a huge value addition to every smart home.
Conclusion
Do you live in a multiplex home? Do you have an annex or a huge front yard/backyards to cover? Couple your gigabit internet with Deco X60 and get the privilege of seamless roaming & connectivity. Speed limits and price advantage, keep the Wi-Fi mesh system below the Asus gaming router.
Suggested Read: Top-rated Wi-Fi 6 mesh systems of 2023.
Wi-Fi 6 based mesh system

WPA3 encryption

Smooth installation & management

Coverage of up to 5000 Sq Ft
Handles up to 110 devices
7. Best for Work From Home:

Motorola MR2600
In search of a budget-friendly router for 1 Gig Internet? Motorola MR2600 could be your best bet! With high throughput in both the wireless bands, the Wi-Fi router complements the WFH setup.
A fast USB 3.0 port, an improved processing unit with Motorola's aggressive pricing, makes Motorola MR2600 better than its predecessor. The combination of dual-band speeds, wired connectivity options & the selection of features justifies its inclusion to the list as an affordable router for 1 Gig internet.
Why is it suited for Gig Internet?
The inclusion of MU-MIMO & smart QoS adds more value on top of its speed limits and stable performance. Individual speeds of 800 Mbps on the 2.4GHz and 1733 Mbps on the 5GHz band enable you to bring the best out of a gigabit connection from AT&T, Google Fiber, or FiOS.
The routing unit can handle up to 20 devices in a medium-size house. If you are looking for an affordable option to cover areas as large as 2000 sq ft, it's hard to go wrong with MR2600.
Hardware & Performance
You have a dual-core processor clocking at 880MHz to handle the processing requirements of the household. The combination of 128MB operating memory and 16MB storage limits usage in terms of simultaneous data-intensive activities.
Shuffle between high graphic gaming or 4K streaming to avoid stressing the Wi-Fi router's performance. You'll be able to support a plethora of devices in your household, including PCs, tablets, smartphones, concurrently.
Design & Ports
A simplistic black chassis comes with 4 external antennas equipped with beamforming. They focus signals towards devices & improve signal quality. The device weighs 1 pound and measures 7.06 x 12.0 x 7.12 inches.
Use the 4 Ethernet ports & 1 WAN port to connect devices on the network. Faster transfer rates of USB 3.0 port come in handy.
App & Security Features
The absence of a mobile application app leaves the idea of remote monitoring out of the table. Use the web interface to set up firewalls and guest networks. The admin portal offers you parental controls and access filters to limit exposure and usage. It uses WPA2 encryption to keep unauthorized users at bay.
Conclusion
MR2600 is a great value-for-money option for home-office setups. The selection of features, including MU-MIMO, Beamforming, combined with its excellent throughput capacity, puts it above the Netgear counterpart.
Affordable price

MU-MIMO &

Beamforming

Dual-Core processor

Parental controls

Easy to understand web-interface
8. Best Budget Wi-Fi 6 Router:

Netgear R6700AX
A complete overhaul to its hardware to support the latest wireless standards makes this a great option compared to its preceding model. The strength of the multi-core processing unit and an excellent set of features pushes Netgear R6700AX into the list of recommendations.
Why is it suited for Gig Internet?
Do you live in any of those urban areas within the reach of Google or FiOS fiber connectivity? Combine the gigabit plan of your choice with R6700AX to get the best with top speeds of 600 Mbps on 2.4GHz & 1200 Mbps on the 5GHz band. And you will save a ton of money on the routing device and the ISP package.
The latest features like MU-MIMO & OFDMA allow up to 20 devices to get the best bandwidth by reducing latency in communication. It can extend its coverage up to 1500 sq ft.
Hardware & Performance
R6700AX gets a solid quad-core processing unit clocking at 1.5GHz. Acting in tandem with the unit is the 512MB RAM and 256MB storage memory adding efficiency to its tasking ability.
Be it data-laden gaming or streaming media in high quality, the hardware unit breezes through it. Run both activities simultaneously without affecting the optimal performance of the routing unit.
Design & Ports
The Netgear R6700AX accommodates the heavyweight unit in sleek matte finish chassis weighing 1.1 pounds and measuring 9.27 x 7.26 x 2.25 inches. At the helm of 3 external beamforming antennas, you can be assured of signal quality within your household. Prefer the stability for wired connectivity?
You'll get four Ethernet ports at your disposal.
App & Security Features
The Nighthawk mobile application is your friend for quick setups and remote management. You can leave your concerns about internet security to the Netgear Armor. The real-time protection with the latest WPA3 encryption standards and parental controls keeps your network safe from cyber threats.
Conclusion
In search of a router for 1000 Mbps with a secured network ecosystem? Don't look beyond Netgear's R6700AX. If the absence of a USB port doesn't concern you, R6700AX is one of the best budget routers around $100 to possess. If not for its limited aggregated speeds, it would be well above the Motorola & tp-link competitors.
Quad-core processor

OFDMA

MU-MIMO

Beamforming

Netgear Armor protection
9. Cheapest Option:

ASUS RT-AC67P
The ASUS RT-AC67P gets an upgraded processing unit, an improvement over its preceding model to match its improved speed limits. You don't want to miss out on this one if affordability is what you're after. A cheap 1000 Mbps router that brings you the ‌features to support a medium-large household.
Why is it suited for Gig Internet?
The advantage of MU-MIMO brings the efficiency to handle top speeds of 600Mbps 2.4GHz & 1300Mbps on 5GHz bands across multiple devices. You can stream 4K quality videos, crank up on the quality gaming with the 1Gbps plans from Google Fiber, Verizon FiOS, or AT&T fiber.
Do you need to cover your large home? This device can extend up to 3000 sq ft & blanket your home with quality internet. Connect up to 30 devices to the home network with no hassles.
Hardware & Performance
The 1.2GHz dual-core processor is crucial to its performance & handling high-speed internet. The improved speed limits & higher data rate for the 2.4 GHz are paramount in handling multiple legacy devices.
The memory combination of 128MB RAM & 128 MB storage enables balanced multitasking. Manage your data-laden streaming and online gaming activities across devices, without affecting the overall performance.
Design & Ports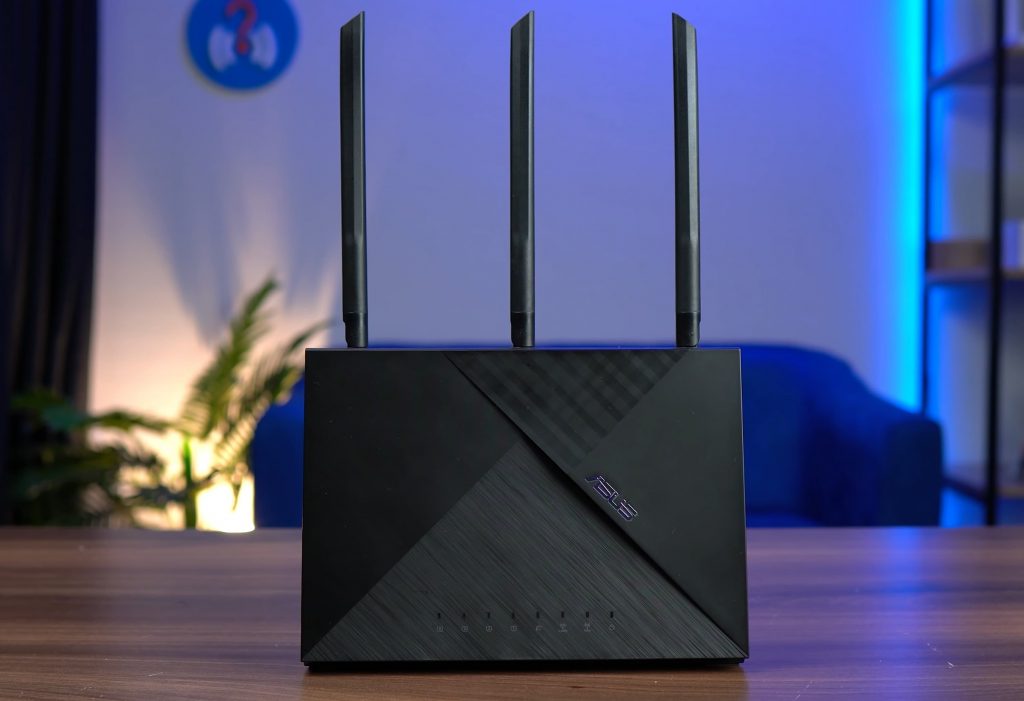 You'll find 3 external antennas equipped with beamforming towering over a matte finish multi-tonal gray chassis. The lightweight unit weighs a little over a pound while measuring 8.66 x 6.3 x 3.43 inches.
It fits 4 Gig Ethernet ports, 1 WAN port & a USB 3.0 port to cover the requisite wired connectivity options.
App & Security Features
Asus router app makes your installations & management simple. Features like WPA2 encryption & firewalls prevent unauthorized usage and entailing data bandwidth loss. Get more control over the network with parental controls & maintain a watch over kids; exposure to the internet.
Conclusion
Are you looking for a cheap wireless router for a 1000 Mbps connection? The Asus RT-AC67P brings the right package for your large home without compromising on the essential features or hardware capacity. The limited security options keep it at the end of our list below a much-capable Netgear counterpart.
MU-MIMO

Beamforming

Dual-core processor

Parental controls

Wired Connectivity
Buying Guide: Things to Consider
If you are not sure about the suitable device for you from the list above, you can use the buying guide as a reference. I've listed the essential features that will help you find the best Wi-Fi router for gigabit internet. Shall we begin?
1. Wi-Fi Standard & Speeds
The Wi-Fi standard is an essential factor in measuring the capacity of your routing device. Wi-Fi 5 and Wi-Fi 6 based routers operating in simultaneous dual & tri-band offer improved ability and adequate bandwidth to accommodate more devices.
Pay attention to both the aggregated & individual top speeds. An aggregate speed measuring multi-gigabit per second distributed across dual/tri-band frequencies is a good starting point.
2. Coverage & Devices
The number of antennas plays a crucial role in determining the coverage. Flexible, external antennas allow you to focus on signal delivery in a particular direction. Antennas equipped with beamforming are crucial for optimizing signal delivery.
The processing unit and flash memory decide the number of devices a Wi-Fi router will ‌handle, without hindering the overall performance. A multi-core processor and larger operating memory are critical to support plenty of devices.
3. Ports & Connectivity
Using wired connectivity gives you more advantage in allocating your bandwidth to wireless devices. Connecting smart TVs, gaming consoles through ethernet ports give you a lossless internet experience, bringing the best out of your internet service.
4 Gigabit Ethernet ports should be sufficient for smaller-medium households with limited high-quality streaming devices. Look for Wi-Fi routers with USB ports if you want to share media drives or printers within the household.
4. Installation & Management
Most wireless routers in the market use a pre-designed installation wizard that helps you set up and run within a few minutes. Look for mobile app support and remote management if you need more control over the internet, even when you are away from home.
Features like parental controls, access, and web filters allow you to control the kid's internet exposure. The web interface gives you more control over the customized settings, inbuilt VPN, firewalls, etc. TP-Link and Asus are known for their user-friendly mobile application & comprehensive web interface.
5. Security & Other Features
Internet security is a critical feature for your home. Protect sensitive information & secure the control of smart gadgets in an automated home. Having subscription-based protection offers real-time security for IoT devices with frequent/periodic updates.
Are you looking to assign priority for the devices at home & avoid overcrowding frequencies? Look for features like QoS & Airtime Fairness. If you have gaming consoles, look for a routing device with a gaming prioritization engine. MU-MIMO & OFDMA optimizes the data communication to multiple devices simultaneously.
Frequently Asked Questions
Do I need a special router for gigabit internet?
Yes, the gigabit Internet lies on the top tier of internet speeds. It requires a router with gigabit throughput, a powerful processing unit, and adequate memory. A bunch of matching features like QoS, wired connectivity, parental controls allow you to get the best out of your internet.
What activities can a 1000 Mbps router handle?
1000 Mbps is a wealth of internet bandwidth. It can handle automated homes with plenty of smart gadgets while supporting 4K/8K streaming on multiple devices. It can ease through high graphics multi-player gaming too. Throw any combination of data-intense activities mentioned, the gigabit internet will cruise through it.
Which is the best gigabit wireless router?
TP-Link AX-90 is one of the best routers for gigabit internet. With the simultaneous tri-band operation, high-powered antennas, easy mesh support, & top internet protection, Archer AX-90 is ideal for a large household. Innovative features & capable hardware make this router an excellent value addition.
Is 1000 Mbps good enough?
For smaller-medium households, a 1000 Mbps internet can be overkill. 1 Gigabit can support small-medium businesses & remote work solutions with ease. If you have multiple heavy streaming devices & gaming consoles with plenty of other gadgets, you'll still find the adequate capacity to accommodate all the devices.
Verdict
Without a capable wireless router to complement your plans, it's hard to get the best out of your gigabit-speed internet. A routing device with matching speed limits and a great selection of features will help you get the best out of your internet & the best ROI for your money.
I've laid down my top suggestions with different potential scenarios to locate the best router for 1GB internet:
If you are looking for additional bandwidth to accommodate your automated home,

Archer AX90

offers the right balance.
Choose between

RT-AX82U

or

GT-AC2900

if you are looking for routers with gaming dedicated features, with the budget being the differentiating factor.
Multi-tier homes or households with extended annexes or workshops will find a good value for money with

Deco X60

.
For Morton, reviewing a router is just like spending another day at the office. As BCCA's senior copywriter, Morton believes is explaining every concept concerning routers, networking technologies, and additional routing specs. Also, Morton is our go-to man if we are looking to get the ISP-dependent internet plans tested across devices.